I've blogged an awful lot this week (yes, I know), but I had to get in one more time and congratulate my friend Hayley Campbell, who has her first book out this week. You might have spotted her earlier on my blog in a rather fetching six-foot-tall Seawig.




Hayley's an inch taller than me, so I always stand up very straight around her. Not that I am competitive or anything, ha ha. Hayley once wrote an article about the first time we encountered each other, at a party, which hung on that fine cliché, 'our eyes met across a crowded room' (of balding comics people heads). The article's a funny description of being tall - welcome to my world - go read it.



(Keep reading...)

Now, this book she's written, The Art of Neil Gaiman, doesn't even really need advertising, because writer Neil Gaiman's millions of fans tend to be MEGA FANS and will buy anything by or about him. But don't just consider this book because it's about Neil, and has an introduction by Audrey Niffenegger, it's also about the launch of Hayley's book career, and this is a new writer who's going far. Is already going far! And she's done a great interview with Irish writer Pádraig Ó Méalóid for popular online comics journal The Beat. Go have a read; you get a great insight into Hayley and Neil's close relationship, and Hayley's great sense of humour.



Hayley's photo (cropped) by Ellen Rogers


I was chuffed to get a tiny mention in one of the links. (Cheers, Pádraig!) Here it is, blink and you'll miss it:





This refers to a comic that's buried so deeply in that linked blog post that most people may never find it. But it's one I made during a workshop at the Cartoon Museum. We started out with a bit of character development. I was having lunch with Hayley after the workshop, so I thought I'd make it about her (and her rather fierce temper). I explained to the kids that she's obsessed with houmus.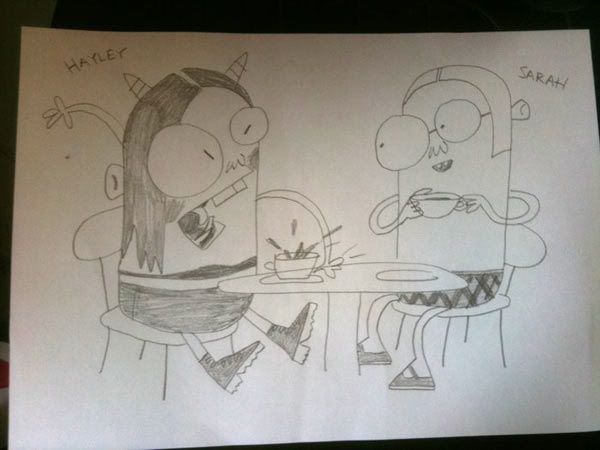 And then we made books. I trot out this one quite a lot now when I do workshops, showing people how it's possible to put together a whole book in 15 minutes. It was quite funny once when I showed pictures of this book at a British Museum workshop and a kid who knew Hayley was there. Apparently he gained a whole new respect for her after seeing this comic. (I'm not exactly sure why.) So here we go: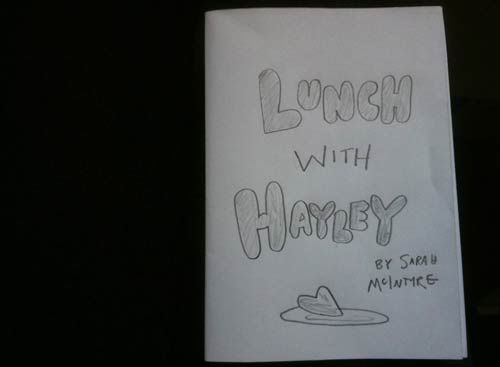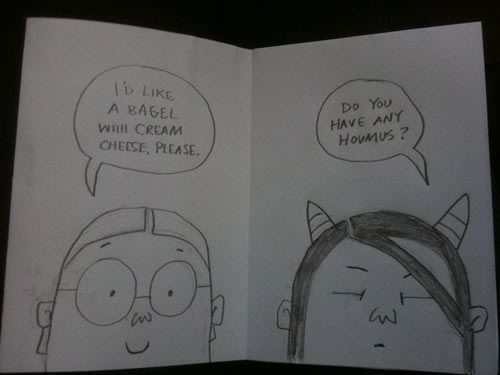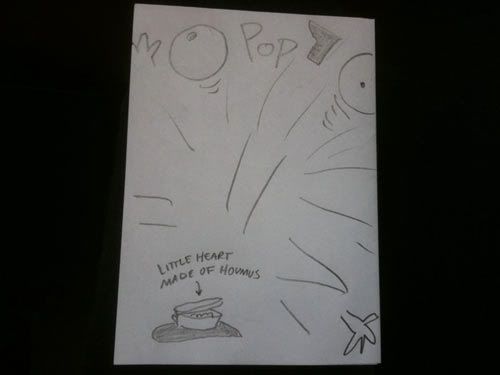 You can follow this dark little heart of houmous over on Twitter as @hayleycampbelly, Neil Gaiman as @neilhimself, Pádraig Ó Méalóid as @slovobooks, Audrey Niffenegger as @AANiffenegger and there's a London launch at Gosh Comics in Soho (where Hayley used to work) on 11 July. Be sure to keep an eye on Hayley's blog. I should add that it's not really suitable for children, she swears like a sailor.

Congratulations on your launch, Hayley! Can't wait to see what you get up to next.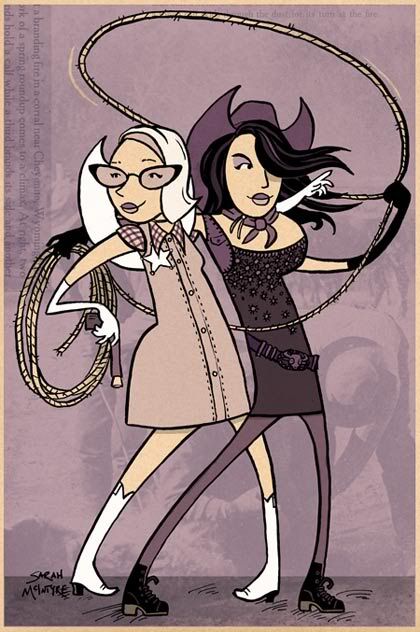 The Art of Neil Gaiman is out now in the USA, and comes out in the UK in mid-July.