Look! I have come up in the world; I now have a Inflatable Shark Blower-Upper! :D




Now here's the thing about the Hay Festival: it's a public collection of people who usually come up with their ideas for books while sitting alone in their houses or studios, very often in their pyjamas. And suddenly, they're taken to rural Wales and thrust onto stages in front of hundreds of people to entertain the audience for an hour. ...WHOAAAA. (Hang on, this wasn't mentioned in the book contract!)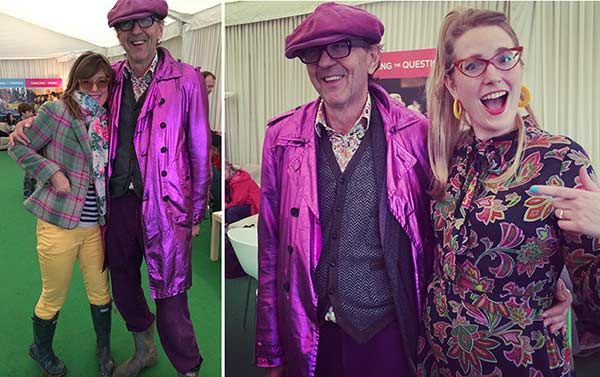 Ad man Robin Wight and his wife, lighting up the Green Room

And here's the other thing: festival organisers don't want their writers/illustrators/musicians/poets/actors/translators/etc to come to the festival and hide their talents (as is natural to most Brits), they want them to be BIG! FASCINATING! FAMOUS! ...or at least, as much of these things as they can possibly muster.

It's a bit like school visits, when kids ask me, 'Are you famous?' The first couple times they posed the question, I flapped my hands about and said, 'Oh no, not very, not at all, really...' and the kids' faces fell; they lost a bit of interest in me. That's when I realised it was MY JOB to be famous, at least to those kids, right then. Make their eyes go big. Doing any less than that was letting them down.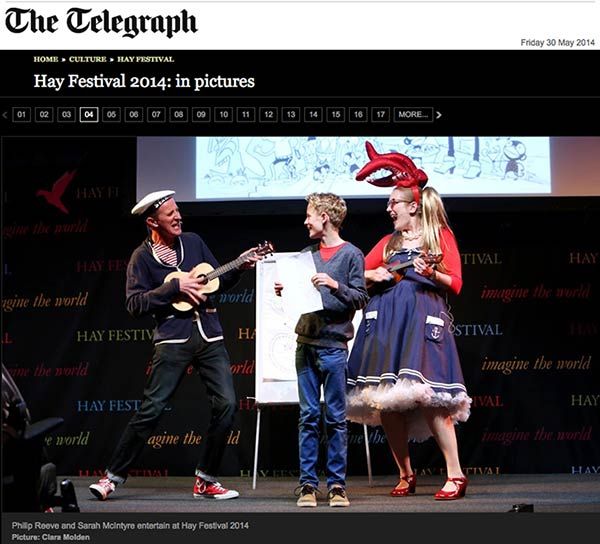 Photo by Clara Molden for The Telegraph. See more Telegraph Hay photos here.


Being Famous has nothing to do with how many people have actually heard of us... NO, NO. It's about letting go of the fear of looking stupid in front of people - realising we just WILL look stupid, it's inevitable - and then mucking about as flamboyantly as possible and trying let as many people as possible take part in the fun. Some people don't need to be over-the-top, they can sit on a dark stage in a single spotlight and look wise, and wear intellectual/slimming black clothes, and spout bons mots. But it's not an easy way to entertain 500 children for an hour, particularly if they're mostly five-year-olds.




Ha ha, welcome to the world of being children's authors at literary festivals. One great way to break the ice when we walk into the Green Room is to grab as many people as we vaguely recognise and take as many stupid photos as possible. The fabulous Holly Smale and Philip Ardagh are always up for this, which is one of the reasons I love them!

...Actually, once Ardagh gets started, you can't get him OUT of the photos.




Hey, look, writer Steve Cole also brought a ukulele! Ukes were all the rage this year.




I have a confession to make: I was scared spitless about the ukulele song I was planning to perform for my There's a Shark in the Bath event. Philip Reeve and John Dougherty had written it for me (the second song I've ever learned) and I'd figured out how to play it, but the last time I'd tried, the song had TOTALLY BOMBED. It was at a huge school assembly in Spain, the Spanish kids had very mixed English language abilities, the room was boomingly cavernous and I couldn't even hear the strings or my own voice. I was out of key, the kids weren't following along, I was trying to make up for the agony by adding more enthusiasm and realising I was just looking like an Incredibly Sad Person. I wanted the floor to open up and swallow me, and had chills thinking about it for weeks. I did NOT want to do that at Hay.

But I still had this song. A good song. Maybe slightly too gloomy-sounding; I put the chorus into a major key to make it more bouncy. I kept forgetting which version I was playing.




Playing a song at home is very different than trying to get a crowd of people to follow along. And I wasn't confident enough in my own voice or playing just to perform the song, I wanted it to be a way the audience could get involved. I wrote a frightened-sounding post on Facebook about it. Then I deleted it, thinking, all these other seasoned authors are going to think I'm SO unprofessional!

But when I arrived in the Green Room, Holly Smale (author of best-selling Geek Girl) and David Sanger, my Scholastic publicist, were there, and they both said they were game to help me out. Being on a stage with two friendly people is SO much easier than doing it alone.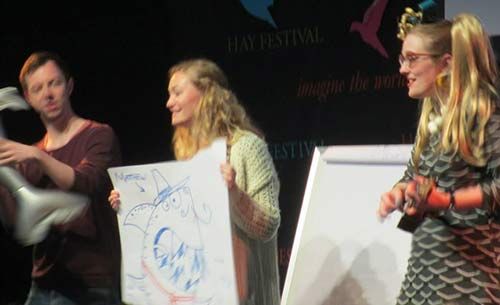 During the song at the end of the event, Holly and David sang along, led the kids in stomping and shouting, and were totally awesome. It was a wonderful moment of book world solidarity. I was almost tearfully grateful. And just knowing they'd be there to help, and seeing their friendly faces in the audience for the first three-quarters of the event gave me so much more confidence.




I taught everyone - kids and adults - how to draw a silly shark, and a kid named Matthew volunteered his name to give to the shark. Here's Matthew with his little brother at the signing following the event. I'd never met his mum before, but she e-mailed afterward, finishing with: Matthew said it was the best ever that he had seen at Hay - So thank you.




I was so absorbed in signing people's shark books and looking at their drawings that I let a bunch of adult people standing behind me give me a thorough briefing on some radio interview they wanted me to do, and I happily agreed, and didn't listen to a word they said. So I turned up, vaguely thinking I was going to be in a little cupboard with one other local radio person, answering questions for five minutes. And it wasn't that at all! It was a whole other BBC event, with an audience, the National Poet of Wales Gillian Clarke, comedian Marcus Brigstocke, painter Shani Rhys James, presenter Nicola Heywood Thomas and two excellent musicians from a group called The People The Poet. Also, we started off talking about Maya Angelou, and I had no idea what to say, other than things everyone says about her. And my memory stirred to something I'd heard on Hay radio earlier in the week, where writer-illustrator Lauren Child was being asked about Belgian gun crime, or something like that. Eek!

But the radio show went fine; I got to meet the other people, who all turned out to be fascinating, look at their books, hear their music and just talk a bit about how I like to get kids drawing. (Which is something I know about, big relief.)



Shani, Gillian, Sarah, inflatable shark, Nicola, The People The Poet, Marcus

If you like, you can listen again for a month to a podcast of the show over on the BBC Radio Wales website.




Thanks for hosting, Nicola!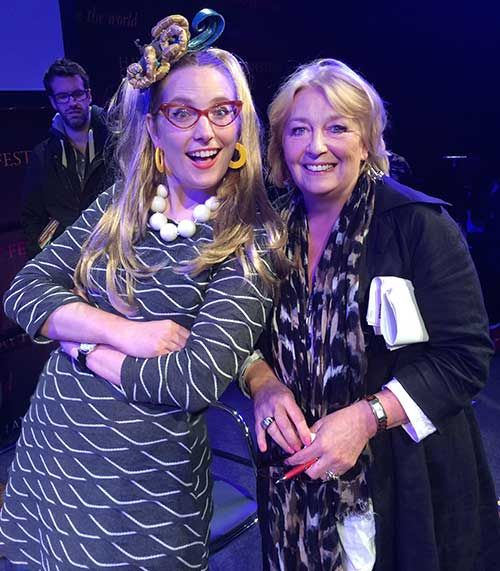 My second event (or second I'd known about in advance) was The Big Draw with my Oliver and the Seawigs co-author Philip Reeve, Horrible Histories illustrator Martin Brown, hosted by the excellent Paul Blezard. We'd done the event two years earlier, and had gotten such a buzz from it that we were keen to do it again. But we only wanted to do it if we could have Paul hosting, because he has a tremendous way of whipping up the audience while Philip, Martin and I have our backs to the audience, drawing.




And draw, we did! The audience of over 700 people helped us come up with six funny animal characters, then we turned out attentions to the big strip of paper across the stage and had them advise us on making a GIANT COMIC STRIP. It was nuts, we were all finishing each other's drawings, colouring in, adding speech bubbles to each other's cartoons...





The end-of-event deadline drew closer... would we finish?!




And, drawing on stage, we were battling to balance our own usual senses of getting lost in drawing (being in 'the zone') with trying to listen out for what the audience would want to happen next. It's quite tricky!




And in the end... we DID IT! WAHEY!



Photo by Sarah Reeve

Ha ha, if any of you don't like the way the comic turned out, you can BLAME THE AUDIENCE. It was their ideas. But I think we all had lots of fun.




We only had 30 minutes after that event before going on stage again, Martin to his event, and Philip and I to present Oliver and the Seawigs. Quick costume change! These photos by steward Trish Thomas make me laugh, it looks like Philip and I are having a massive on-stage row.




And we are, in fact, STILL TALKING TO EACH OTHER. The audience were great, and after everyone had drawn their own Sea Monkey, Sam Reeve, Philip's son, even came on stage and help us lead everyone in singing the Sea Monkey sea shanty. Thanks, Sam!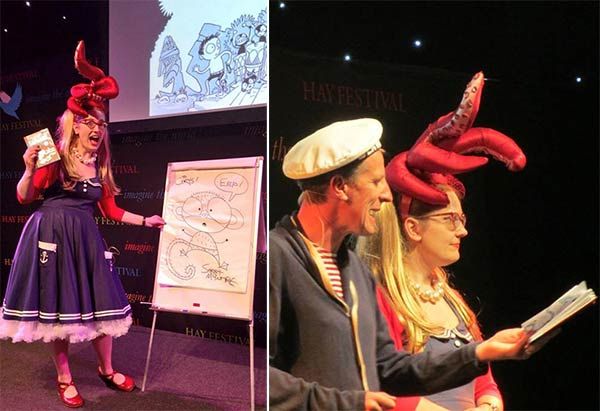 Photo on left by Gemma Cooper, on right by Trish Thomas

Then we signed books and signed, and signed. (Our little drawings make the signings take a bit longer.)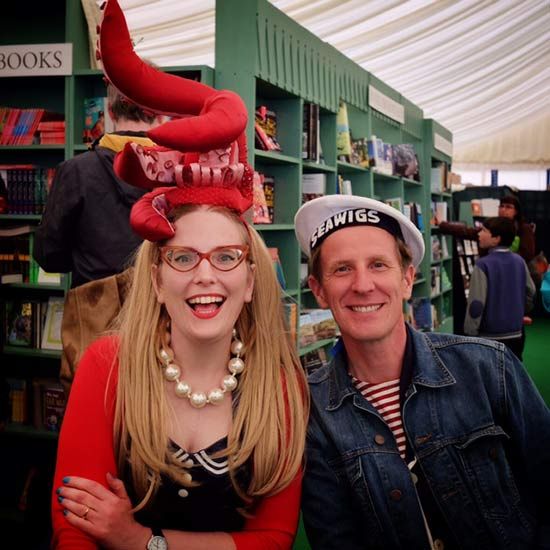 Photo by Sarah Reeve

We signed so much, that I had to run off to catch my train and didn't get to say hello to half of the people I wanted to talk with. That was rather agonising.

But I DID get to see a couple events on my first day. I'll post a few more photos to give a better idea of the overall festival. The first event I got to go to was Jasper Fforde's, introducing the third Dragonslayer book in the series he plans to make a quartet. I absolutely love his Thursday Next books, which start with The Eyre Affair. He actually has a very similar sense of humour to Philip Reeve; if you enjoyed reading Philip's Larklight trilogy and Goblins trilogy, you'll love Jasper's work, too.





I bought the first book in the series, The Last Dragonslayer. One of the joys of festivals is that you don't only get to listen to an author speak, but you get to meet them afterward and spend a minute or two making an absolute idiot of yourself in front of them as you try to pack in everything you want to tell them, forget it all completely, and satisfy yourself with an inane selfie. Hooray!




The other event I got to attend was Toni Morrison, talking with Jerry Brotton about Desdemona, her adaptation of Shakespeare's Othello. I'm originally from the USA, and Toni Morrison was always a huge figure in our culture, and I remember reading Beloved when I was about 15 and feeling quite shocked by it. As I came in, I scanned the huge auditorium to see if there were any seats left, close enough for a decent view. Aha! ONE seat left, in the second row! I wriggled my way into it and got ready to be amazed. But from the seats behind me blew PUFFS of indignant air. Of ALL PEOPLE to sit in front of us!... SO INCONSIDERATE. THAT HAIR. And you'd think getting here early would give us an advantage. HARRUMPHHH. I looked around and two peeved-looking middle-aged women behind me were looking daggers at my bunches and fascinator. (My smallest fascinator, I have to say. But still.)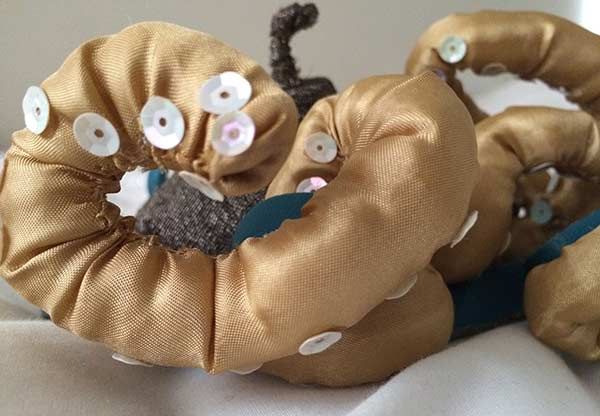 The lights began to dim. I couldn't get out without making the whole row stand up. I couldn't unclip the fascinator without a mirror and it would've been super-awkward attempting to strip off my hair extensions on the spot. I hunkered down as low in my seat as I could, my knees pressed painfully against the metal seat in front of me.




Toni began to speak her words of wisdom, but those women behind me were still blowing their outraged puffs of air. Wow, British middle-class women have SUCH a way of making a person feel totally unwelcome without actually telling that person to B***** OFF. I could feel their eyes boring into me. I tried to hunker down lower and listen. I couldn't see anything through the head in front of me. My back started to throb, then send stabs of pain through me. The women huffed. I stayed down.

It was okay. Toni's great, but it was really hard to concentrate. I was freaked out about my upcoming ukulele song. I felt a tragic sense of loss, that I was right there in front of this great woman and missing so, so much of everything she was saying because I was self-absorbed, distracted, insecure... She talked about removing Iago from the story as a main character, because he takes over and never gives Othello the chance to have a good monologue. I thought about removing the two women behind me so I could sit up and have a good listen. She talked about Goodness, and the difficulty in portraying interesting good characters, and how it's something she's exploring - perhaps most in wise, older women - and as she was saying this, a jangly ring-tone went off right behind me. One of those WISE OLDER WOMEN behind me frantically dived into her handbag and switched it off. ...Oops, and there it went AGAIN! I tried not to guffaw. It wasn't hard, because I wasn't sure if I'd ever be able to stand up again, and at last, I staggered out of the theatre to go do my Shark event, wishing I'd sat right at the back.

So that was what will probably be my one-and-only encounter with the living legend that is Toni Morrison. Later I was talking to Paul Blezard, who was pondering the significance of being the person who's job it was to let Toni know that Maya Angelou had just died. Two Grande Dames of American literature. He'd met Maya years earlier, and had one very good interview with her, and he and Toni were able to talk about Maya, as someone they'd both known; he a little bit, and her, very well. I think, by conveying the news, he felt a bit in awe to be a tiny part of their history together. I rubbed my back and reflected on how we get to be a part of a few things in life, but we never know which encounters will really be the special ones. Toni and me, it wasn't to be.

Ah, well. Back to my world of fruitcake children's authors and drawing and stuff. And eating. Here's my dinner date, Sam, drawing Monster Consequences with me and doing a Comics Jam (with a small contribution across the table from The Telegraph's Martin Chilton.).




Ah and there's Steve Cole again! He's taking over from Charlie Higson to write the next Young Bond book.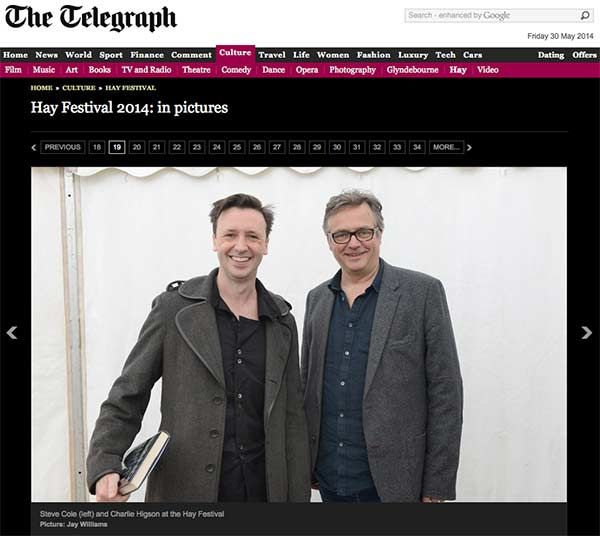 Photo by Jay Williams for The Telegraph

Charlie was wearing a rather fine tweedy cap.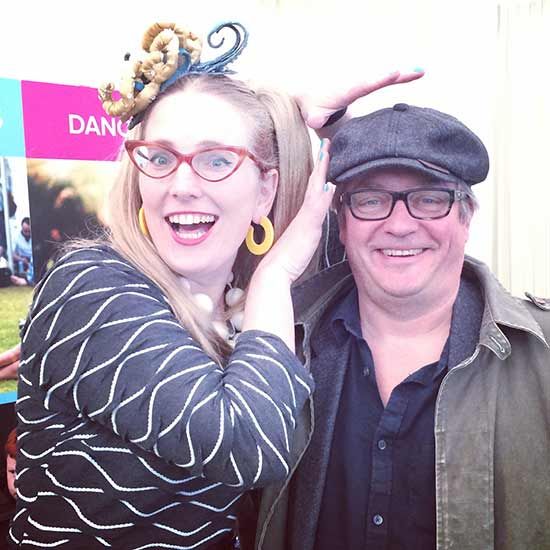 I'd met Welsh writer Fflur Dafydd a few months ago on my last visit to Hay, doing school visits. She's one of the many, many people I wanted to spend all afternoon chatting with, and sadly it never happened.




But I did get to have breakfast with comics creator Karen Rubins, who was staying in the same house as I was, and running seven comics workshops for The Phoenix Comic. (Do subscribe, The Phoenix is a wonderful weekly comic!) And I had dinner at the River Cafe with lovely Norwegians Helga and John Rullestad, who are a big part of running the SILK book festival in the town of Skudeneshavn, which I'd visited with a Hay group in February. (Norwegian blog post here.) Stuart and I are going back for their festival in November and really looking forward to it. I'll be doing one of my events there with Rosie Goldsmith (another person at Hay I didn't manage to catch up with properly). Thanks for a great evening, John and Helga!




And a big thanks to the whole team who made Hay happen! Here's writer-illustrator Steve Anthony (whom I met for the first time) with children's programmer Mary Byrne.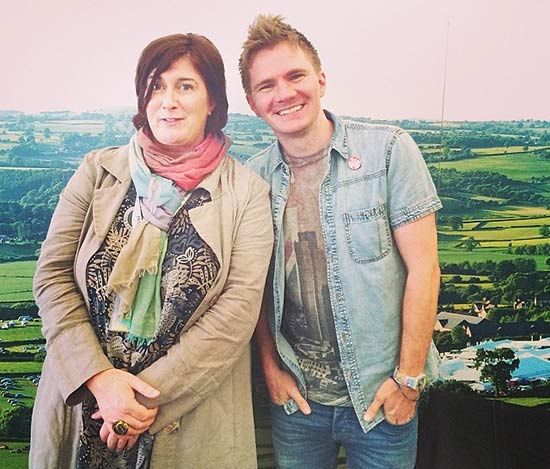 Photo tweeted by Steve Antony

Mary and Heather Salisbury have been working their absolute hardest to get all the logistics right, and we were amazed at how smoothly everything went. A big thanks to Penny and the team in the kitchen, drivers Darren and Les, all our event stewards and helpers, and of course to my publicists who were always there to help: Keo Baxendine from Oxford University Press and David Sanger from Scholastic. And a special thanks to Jean Moseley, who let Karen Rubins and I stay right in her house - she doesn't normally run a B&B - and who looked after us so well.




Hay Festival's still going on, and you can follow updates on the Twitter hashtag #HayFestival, follow them at @HayFestival, Director @PeterFlorence, Children's Programmer Mary Byrne at @marysbookstuff and get news from @BBCRadioWales, @TelegraphBooks, journalist @MartinChilton and photographer @ClaraMolden.