A very happy birthday today to my fabulous studio matey Gary Northfield! Every year I draw him an uglier card: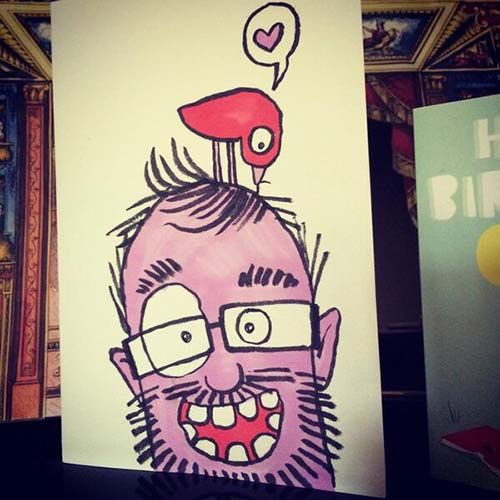 Gary's a good 'un, and the person who taught me how to do events (here was one of my first events with him), and the person who's stuck with me in the studio since we set it up in 2009. (Here's a blog post from our first day!) If I ever can't do events, I always pass people on to Gary, knowing that he'll do them as well (or much better!) than I can. He's great at making kids laugh and at getting them drawing.




Elissa Elwick and I love working with Gary at the Fleece Station studio, but not only is he loads of fun, but his work's hugely inspiring, and has influenced my own work quite a lot. He has an art college background in printmaking and understands loads about artists techniques, and his storytelling skills in comics are second to none. He totally understands how stories - and jokes - work. If you haven't seen his book The Terrible Tales of the Teenytinysaurs with Walker Books, go out and find a copy now. And sign up for The Phoenix Comic, where his Gary's Garden strip is a regular favourite. You can follow him on Twitter as @gnorthfield and Instagram as @stupidmonster.