This drawing was going to be a simple Sea Monkey and a signature on a wall, but it's always too tempting to draw an entire mermaid. So if you ever visit the Centre for Literacy in Primary Education, near London's Waterloo station, Iris will give you a big wave.




I've been wearing my Seawigs dress a lot, but I hadn't have a chance yet to wear this lovely number from Sika Designs, so I thought I'd give it a twirl.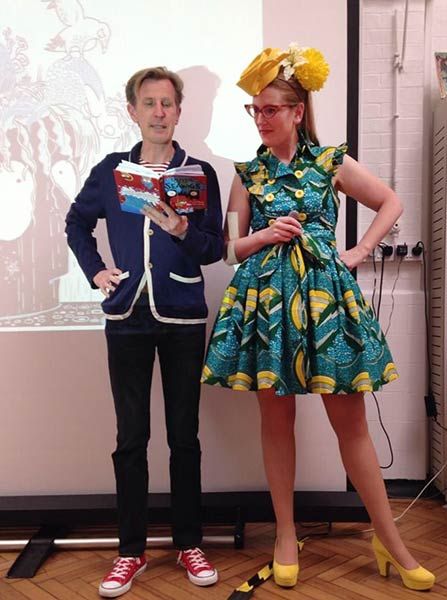 Photo tweeted by Charlotte Hacking

With my super-fashionable, trés-expensive yellow hat, of course.




My co-author Philip Reeve and I had a great time talking with teachers at the CLPE conference, particularly highlighting the way drawing and making comics can inspire a love of reading in kids (and adults!). Philip explained how he gets cross when people credit Oliver and the Seawigs only to him, and forget to mention the illustrator (me!) because the pictures are such a vital part of the story, and we came up with the ideas for it together. (It's like leaving out a name in Laurel & Hardy, Morecambe & Wise, Reeves & Mortimer... why would you?) And we encouraged the teachers never to try to wean kids away from stories with pictures; we live in a very visual society that is getting more and more so, and to try to convince children that so-called 'proper books' are the ones without pictures is to tell them that books are irrelevant to their lives. They may want to read some books without pictures at some point in their lives, but there's nothing wrong - and A LOT of right - about them reading and developing their literacy in text and image at the same time.




We arrived a bit early at the conference, so were lucky enough to be able to sit in on a fabulous talk by Tim Wright. Tim's an internet-based writer, and does all sorts of creative stories online, pulling in audiences interactively and setting up programmes that will let the story keep going without him. He understands the power of visual images with story, and the need for people to interact with online stories to engage with them. For one project, he was following a trail set out in Robert Louis Stevenson's Kidnapped, walking across Scotland, and marking his way online as he went. Some people didn't just read the story passively online, but actually showed up along the route, wanting to walk with him, and to take turns reading recorded passage from the book for the daily postings. Right now he's doing a #golfonthemoon project; I didn't quite get it, so I'll need to explore the hash tag more, but I think it's basically people mocking up pictures and videos to make it look like they've been playing golf on the moon. A playful Moon Hoax. I love that about the Internet, how people can play with ideas like this, and feel instantly inspired to create their own little stories in a larger framework.

But Tim did express fear over the way that kids never have Alone Time; they always have a device with them and can be contacted and scrutinised by their peers during every waking hour. But it's not just kids, I find myself spending less time completely alone than I used to; I need to be careful about this; I get a lot of creative energy from collaboration, but sometimes I just need to sit down and work out problems without talking to anyone. It's all about getting a good balance.





We were very glad to see our talk followed by Tom Fickling and Liz Payton from The Phoenix Comic, a perfect example of great reading material for kids that inspires them at the same time as helping them grow in textual and visual literacy. And Marcus Sedgwick, who's also made a graphic novel, Dark Satanic Mills, with his brother Julian Sedgwick, a great example of visual story collaboration. Which is a fascinating contrast to Marcus's book She is Not Invisible, which I enjoyed very much and which features a blind narrator and deliberately cuts out every visual reference.

A huge thanks to the team who ran the conference! The venue - a converted old school - is lovely, and I was dying to explore the picture book collection. I didn't get photos of everyone, but here on the left is Eddie Burnett, the bookseller for the day from Jubilee Books. (Eddie used to run his shop on a bus!) And left to right: Primary Advisory Teacher Sue Dunn, CLPE Chief Executive Louise Johns-Shepherd, CLPE Marketing Manager Fatim Kesvani, CLPE Literature & Library Development Manager Ann Lazim. And thanks to Teaching and Learning Manager Charlotte Hacking for tweeting lots of photos on the #c21writing hashtag (click to find more photos and updates), to Oxford University Press's Elaine McQuade for coming along and taking us out for lunch, and to CLPE Primary Advisor Teacher Andrew Kite, who was our contact person for the day; it was a good one!