For the past couple years I've been trying to get over to the East London Comics & Arts Festival, organised by young and beautiful Nobrow Press, and always had some reason I couldn't go. But this year I headed up to Hoxton station and walked along Hackey Road to see what all the fuss was about.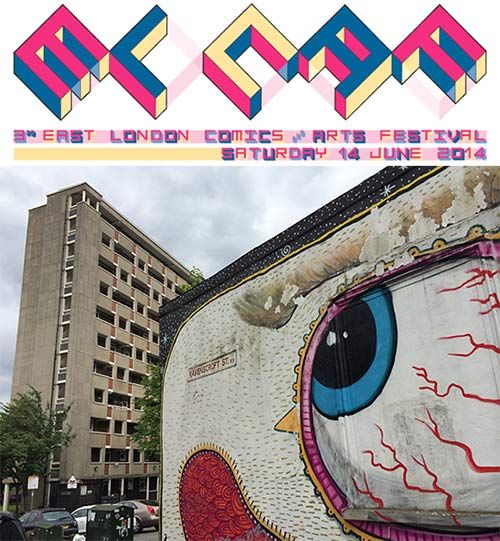 I hadn't been up to Hackney Road for ages, and there was lots on which to feast my eyeballs.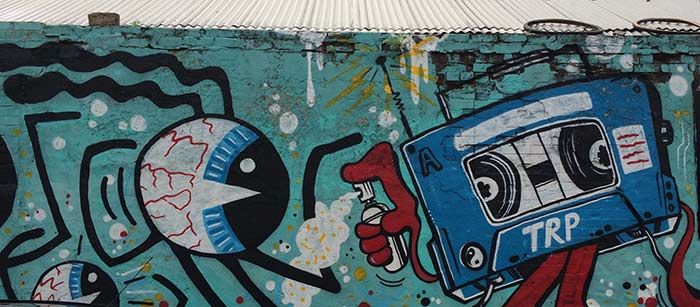 Check out this cloud-blue house, just past Hackney City Farm. And then I finally reached the ramshackle little factory area where the fair was happening, and at 10:15am, there was already a queue to get in. I'm very glad I was early, as I saw complaints on Twitter from people who arrived after 1pm or so, when the festival was running a one-in-one-out policy. Steve May said he couldn't get in at all, although Steve Antony said he arrived half an hour before closing and managed to get in and do a fast sweep of the place. Whatever the case, the venue started out comfortably full, but by lunchtime was HEAVING.




I made a beeline for the table of one of my all-time favourite self-publishing heroes, Philippa Rice. And she had a new comic out! I bought one for me, and my sister. You can read my interview of Philippa about We're Out here. Philippa has such a great playful way of making comics, both with drawing and with collage, and I love her gentle humour and beautiful colour palettes. Her work's almost the exact opposite aesthetic to the Comics Unmasked exhibition I visited earlier at the British Library, and I think hers is just as subversive, in its own way. A couple weeks ago, I read an interesting Spiked article, surmising that some people

'...think that unhappy and twisted stuff is correspondingly profound, while comedy is trivial and facile. The truth is often the other way round, where horror and gore are really just sentimentality, prurient and moralistic at the same time, while comedy allows marvellous slippages of meaning that are much more intelligent.'

EXACTLY. And the humourous alternative doesn't have to be The Beano, either. (People always seem to mention The Beano, and there's so much more out there.) Philippa's comics are one of my first ports of call.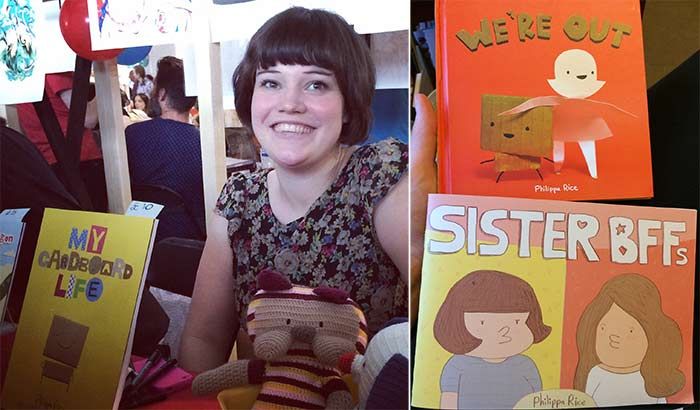 And one of my other ports is Isabel Greenberg's table! I love her Encyclopedia of Early Earth so much; it completely taps into the woodcut-printmaking, limited colour palette aesthetic I appreciate, and I like the way she sets up a story as some epic legend and then humanises it with little anachronistic bits of dialogue and humour.




I haven't been keeping very good tabs on people on the Internet, and I thought her latest mini, Rites, Customs and Histories of the Great Empire of Migdal Bavel was a comic, but it's more of a historical guide with text and pictures. It looks beautiful all the same, and I snapped one up. And then my eye was caught by the colourful Magic Capes display next to hers, and I ended up buying a copy of this gorgeous double-sided accordian print, The Firebird, by Lesley Barnes. I'd never heard of Lesley, but check out her website, she's amazing. She also picks up on a lot of folkloric imagery. Lesley was exhibiting with Tereza Rowe, who has a lovely young-readers comic out with Candlewick Press, Hearts.





Check out one side of The Firebird, so lovely! I really need a fireplace mantle to display this properly.




Oh man, I'm totally going to get lost in her website. Goodbye, world. She's @lesleybarnes on Twitter.



I Didn't See it Coming from Lesley Barnes on Vimeo.

And of course Felt Mistress and Jontofski! (Or Louise Evans and Jonathan Edwards, if you prefer.) I'm endlessly inspired by the different ways Jonathan pushes himself with experiments in drawing and painting, and I love the way he and Louise collaborate on amazing costumed monsters, tapping into her expert tailoring skills. (You can see my blog post from their Creature Couture launch earlier on my blog.) Here's a peek into their new booklet, The Hiber-Nation, and if I ever cosplay someone else's character at a comics convention, it's going to be this one, Myfi Snark. Check out her amazing blue-and-yellow Welsh tweed ensemble!




My studio mate Gary Northfield was gutted he couldn't come along, because he's a huge fan of French comics artist Anouk Ricard, and her Anna & Frogo books. So I got a text begging me to pick up a signed copy of her new adult book, Benson's Cuckoos (which I did). Here's her Drawn & Quarterly website (in English), and her own blog (in French).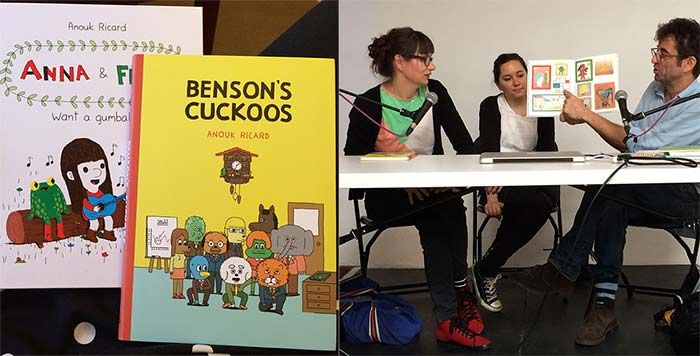 Anouk comes across as quite shy, but the interviewer and translator did a wonderful job. (I'm sorry, I didn't catch their names. Can anyone help me here?) Anouk used to draw with pencils and pens, but she's recently gone to working purely digitally, with a Cintiq screen. She much prefers it to the Wacom pad, where she could never quite get the hang of not seeing her hand drawing. And she has much more fun drawing animals in human situations than people; she said she finds people boring. 'You can draw animals in so many different shapes, and use such different colours.' Right now she's adapting a Guy de Maupassant story Une vie, because she wanted to try drawing costumes from an earlier era, but still using animal characters.

It was great to see Greek creator of picture books, comics, screen prints, graphics and lots more besides, Katherina Manolessou. She's one of the first people I ever discovered in small press books, perhaps ten years ago, at the London Artists Book Fair. You can read my blog about her Zoom Zoom Zoom launch here.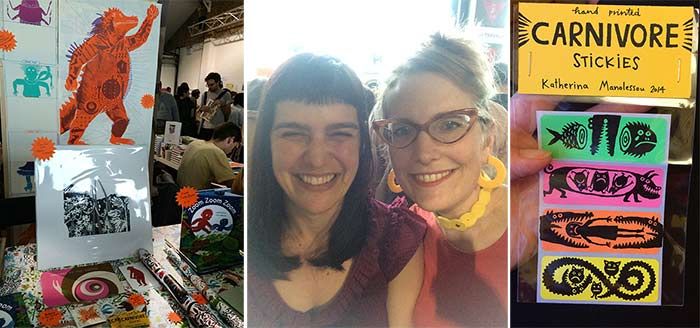 And Viviane Schwarz! I got a copy of her Rabbit Stew in its first printing, when we shared a room for Thought Bubble festival in Leeds. But I want more for prezzies; it's a brilliant, twisted story about a family trying to relate to and encourage their daughter while being a bit freaked out by her. Here she is with my fab friend co-author David O'Connell. (Our picture book Jampires launches this September.)




I was so glad to see that ELCAF had planned family activities. (A lot of comics festivals have failed in this area, although they're gradually improving. David O'Connell and I are going to be a big part of the family activity area this year at Thought Bubble.) I loved the way Alexis Deacon set out this mural workshop: he's already made sea-life shapes on a the paper in one colour, and kids went in and decorated them. In the other activity area, families sat around two big tables full of toy parts, which they could assemble into their own weird and wonderful new toys, a bit like that neighbour kid in Toy Story 2. The kids were really getting into it.




Fab to see some beautiful experimental comics by Andy Poyiadgi, and a wearable book jacket by Otto Graphic.




I've had a big poster hanging on my studio wall by Swedish artist Matthias Adolfsson, so it was great to see him drawing at ELCAF. To say Matthias's work is incredibly detailed is an understatement; go check out his website. And here's The Book Sniffer blogger Emma O'Donovan with her Matthias loot, and David O'C smashed in between us, heh heh. (That's Matthias in the stripey shirt.)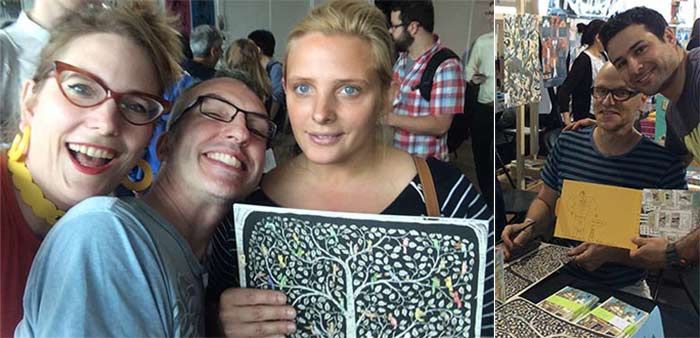 Lovely comics and dance moves from Kristyna Baczynski and Dan Berry! If you haven't heard of Dan's Make It Then Tell Everybody podcasts, go check them out, they make for great listening. Dan's also organising the 24 Hour Comics Marathon I'm taking part in this October for the Lakes International Comic Art Festival in Kendal. Dan said that all seven of us who are doing the 24 Hours were their in the room, but I didn't manage to spot Fumio Obata... boo!




No comics fair is complete without these guys: Joe Decie, Adam Cadwell, Warwick Johnnson Cadwell.




I'm a huge fan of Joe's work. Here's my review of The Listening Agent:

I love this book. Joe Decie has such a wonderful way of noticing small things about daily life, creatiing a witty commentary about them and then taking the situations one step further into the surreal. I keep having to buy new copies of this book because I keep giving it away to friends. When people tell me they don't read comics, understand comics, or think they're all about superheroes in tights, I urge them to read this; the way it deals with the ordinary makes the little stories in it completely extraordinary. I'd also recommend Decie's earlier book, 'The Accidental Salad'. In both, you get to see him being a bemused dad, dealing with his own foibles and gently pushing back against things in society that irk him. Decie uses beautiful ink linework and the subtle ink wash tones give the book a wonderfully human feel.



Warwick keeps some of my very favourite sketchbooks, I follow him on Twitter, Instagram, around comics fairs, etc. Ha ha, the first time I met him, I was running a table at a Birmingham comics fair and was so excited that I shut down my table for an hour and took him out for coffee. (It was my first con and I learned later that you're not really supposed to do that.) I bought another copy of Dangeritis, his collaborative comic with Robert Ball, which is full-on fights, car chase scenes, stupid moustached silliness, and drawn with jaw-dropping skill. (I nicked Adam's Instagram of Robert since I forgot to take a photo on the day.)




And not to forget Adam Cadwell, who is a brilliant artist in his own right and has started up Great Beast Comics with his friend Marc Ellerby; they're publishing some really exciting stuff. 'Like what?', you might ask. Well, besides Dangeritis, Great Beast have just come out with Rachael Smith's House Party, which raised crazy-big levels of money with Kickstarter crowdfunding. Congrats, people! Here's Rachael, with Dan Cox (Hitsville UK with Great Beast) on the left and John Cei Douglas (Show me the Map to Your Heart with Great Beast) on the right.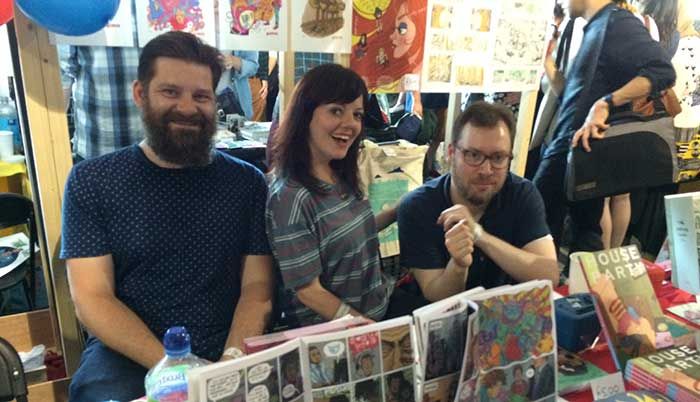 And some of my favourite people were manning the Blank Slate table: Darryl Cunningham, Martin Steenton (his last day at Blank Slate!), Bridget Hannigan and Woodrow Phoenix.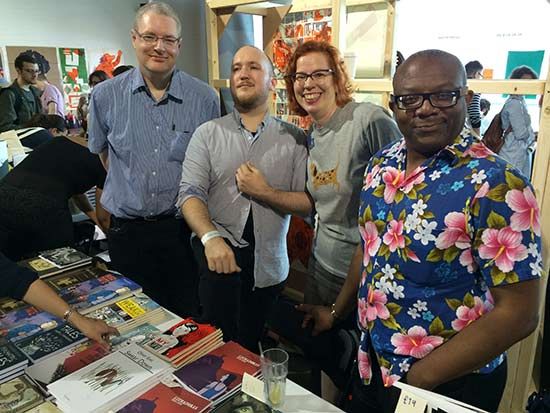 Woodrow has his giant book on display at the British Library and you can view all the pages with him on June 17 at 6pm, July 22 at 6pm and August 12 at 3pm.


SHE LIVES - a fast preview of a very big book by Woodrow Phoenix from superadaptoid on Vimeo.

Oo, it's John Aggs! John's partner Nana Li cut off his long, thick hair, and I'm still doing big double-takes every time I see him. He has a new book out, full of guns and furries, and it really isn't my thing, but gosh, can the guy draw.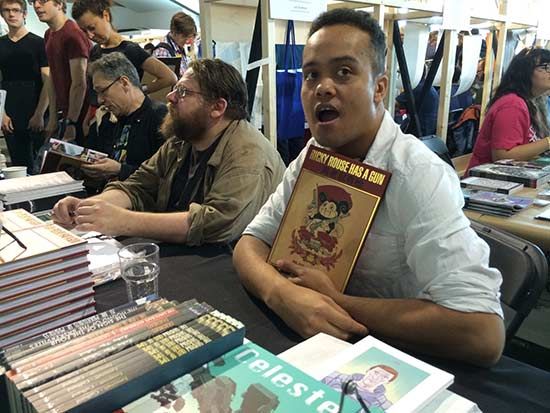 Oh, and who's that guy to the left of John? It's Mark Stafford, and check out the notebook sketches he was making on the day. And seated with him, two more super-talented dudes: Ed Hillyer/Ilya and Rob Davis. (In my children's book world, you probably know Rob for his Horrible Histories work, but don't miss his AMAZING Don Quixote books, and I'm super-excited about his upcoming The Motherless Oven.




Gareth Brookes (sans beard) and Hannah Berry (also without beard). The ELCAF percentage of beards in the crowd was unusually high.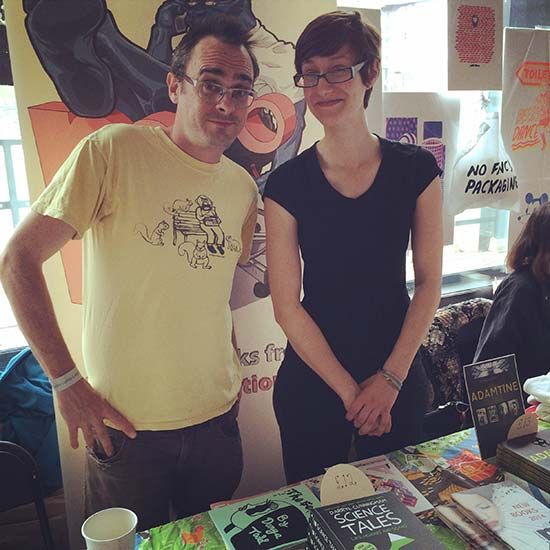 I promised I wouldn't post the photo of Andy Poyiadgi when I accidentally made him knock over his neighbour's table display.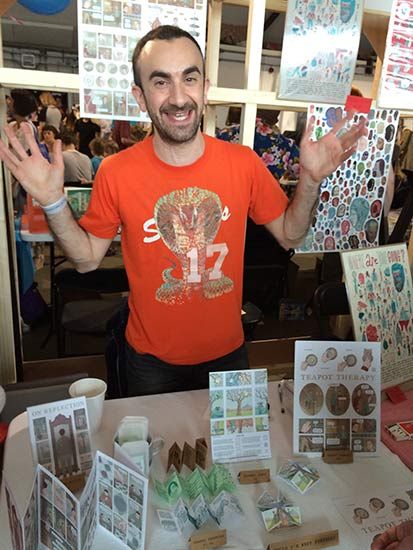 And great to see Barnaby Richards with Tor Freeman and Alice Lickens. Barnaby has a book coming out with Blank Slate, I think this autumn, which is exciting.




I wasn't able to stay all day, so I missed talks by Seth and Chris Ware. But I'd seen Chris give a Comica Festival talk before, and I don't know either of them, so I was more gutted to miss the post-festival drinks with people. Ah, well. All in all, a brilliant festival, and beautifully curated for a certain aesthetic which I really admire. I'd love to see the festival get a larger venue, so no one would have to be turned away. But I recommend if you go next year, be sure to get there early. And you can check out Nobrow's lovely shop on Great Eastern Street in East London, a great place for a good browse.