Recently a couple people have asked me for tips about running workshops tied in with the Summer Reading Challenge's theme of Mythical Maze. There are loads of things you and the kids could do, but here are a few ideas I've come up with to start you off!




* Design your own Mythical Maze: You've seen the maze I've drawn, with homes in it for each of the Mythical creatures; draw your own maze, and make homes in it for your favourite characters, either from myths or from any of your favourite stories! (Why not a Goblins maze? A Horrid Henry maze? A Shark maze? A Gruffalo maze? The Phoenix comic maze?) Alternatively, make a 3D maze with a box and folded cardboard for the walls, and decorate it.



Photo by Dave Warren

* Play Mythical Creature Consequences:
Simple version: Fold a piece of paper into three pieces, so it can be unfolded one segment at a time. The first person draws the Mythical creature's head, the second person draws the torso, and the third person draws the legs.

Alternative version: Keep each segment hidden from the next person: the first person draws the head and makes the lines of the neck just visible in the second segment, and folds over the paper to hide it. The second person draws the torso, without seeing the head, making the lines of the waist just barely visible on the third segment, and folds over the paper to hide it. The third person draws the bottom third of the character, then all three people watch as the paper is unfolded and the new creature revealed!

Here's one I drew with two other artists: Jonathan Edwards and Warwick Johnson-Cadwell. Another name for this game is Exquisite Corpse.



Borrowed from the Gosh Comics blog

* Play Mythical Writing Consequences: Write one sentence setting a character off on an adventure. For example, decide on a treasure (or horrible thing!) that the creature really wants, and set it off on a Quest. Pass the sheet around the table, with everyone adding a new sentence to the story.


* Costume fun: I love dressing up! Choose one of the Mythical characters and make a costume! Here's a Mermaid costume (by helen_geekmum), but I've also seen excellent tails made out of painted paper plates for scales. If you make a costume, do tweet a photo with the #SummerReadingChallenge hash tag so we can all see it! (And that goes for all the activities!)


Edit: Oh, wow!!! I absolutely MUST include this photo just tweeted in by librarian @HamertonSally! First awesome Medusa hair of the summer!!


* Make a mask! Some masks you could make include a snake-y Medusa hat or mask, a Minotaur headdress with horns, a Garuda beak, a Mermaid wig full of washed-up sea objects, or a fishy tail. (You can download potential mermaid wig items from my Build your own Seawig activity sheets.)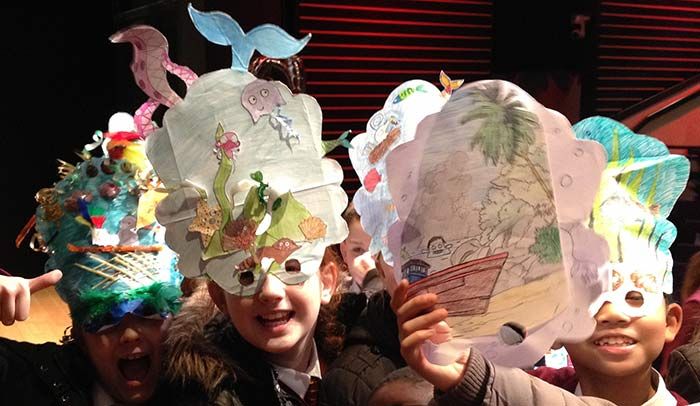 * Comics Jam session: Pick one or two of the characters and have them interact in a comics panel. Pass the paper onto the next person and have them pick up with the second comics panel. Have a third person pick up the story in the third panel (or the first person, if there are only two people), and so on. Creating four panels is a good achievable target, but the Comics Jam could continue as long as the participants want.

You can create the panels as simply as folding a piece of paper into quarters. But here's a printable Comics Jam sheet I came up with for a Dublin workshop, if you want a bit of help. Feel free to adapt it to be more Mythical Maze themed. (Download the PDF here.)




I usually lead Comics Jams with groups of 20 people or less, but here's an example of a giant Comics Jam!




(Click here to read more about this Dublin Comics Jam and get more detailed instructions.)

An A3 folded-paper, four-panel Comics Jam: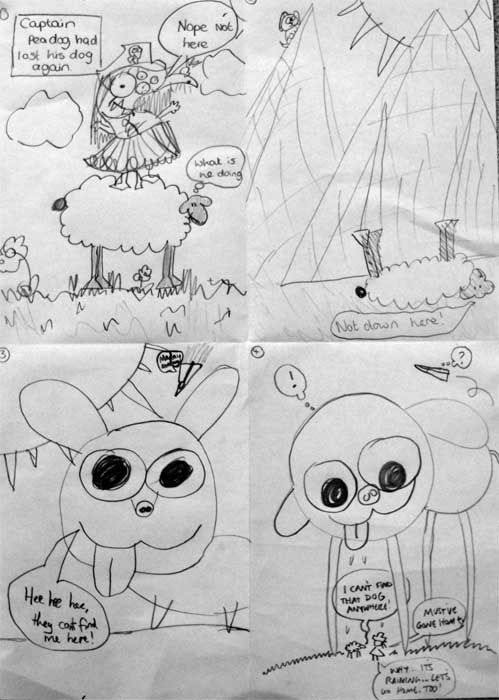 Psst! My Jampires co-author David O'Connell and I haven't officially launched this website yet, but it has some tried-and-true, printable tips on leading Comics Jams if you'd like some help. Click on 'Set up Your Own Comics Jam'.

* Make a Comic: Read one of the myths starring one of our Mythical Maze creatures, then create a comic inspired by the character. (Chose one of the Anansi tales, for example, either to adapt one of the stories as a comic strip, or to come up with a new story.)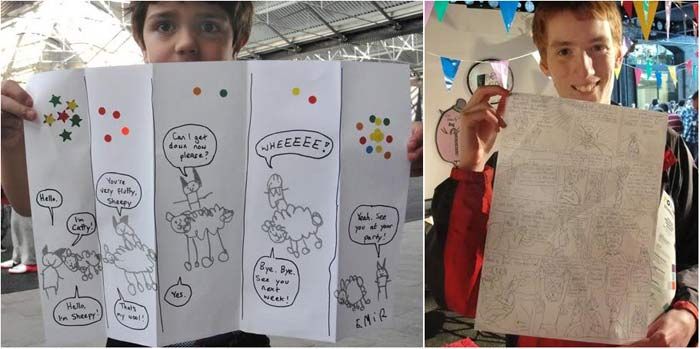 * Make Your Own Book! You could make a comic book, or a picture book or a book with just words. Perhaps you could write a line of a poem on each page. A fun way to start is by designing a colourful cover out of card, cut paper, glue and stickers. Feature your character on the front cover, then use folded paper to create a story inside.




When you're finished, staple or sew the folded paper booklet into the cover.





Bonus idea: create a poster advertising your new book! Swap book quotes with the other kids, promoting your book (see below):




* Make a Diorama! Create a world for one or more of the Mythical Maze creatures. Or for any book character!

You can do this lots of different ways. Here's how comics artist Philippa Rice builds a little living room for the characters from We're Out and My Cardboard Life:




I got the idea for making a shoebox world from Ezra Jack Keats' picture book, The Trip: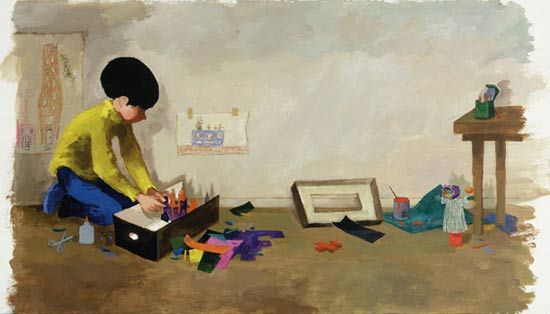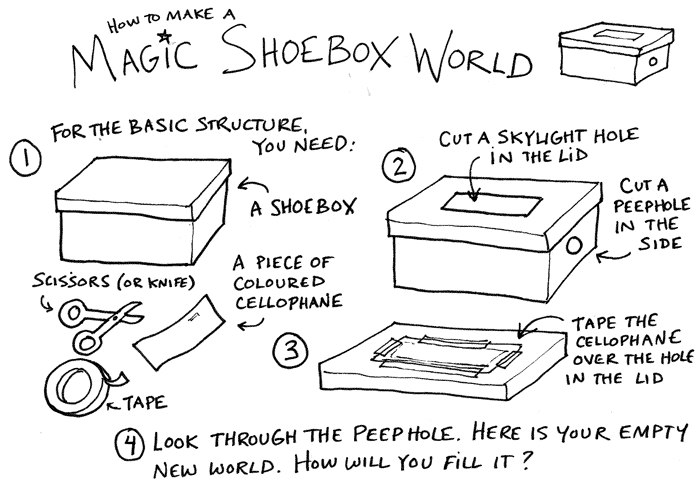 Here's a world a neighbour friend and I built in a box, using paint, foil, wire, a bicycle light and Sculpey clay:




* Create a Mythical Maze boardgame! This can be as simple or as complicated as you like. Draw a basic route, then add perils and rewards. Decide if you want to play your game with dice, or perhaps kids could advance on a display board that shows the number of books they've read.



(This photo's from a workshop I ran at a Leicester library, click here to see more.)

If you want ideas for your gameboard layout, you can download and print my board from When Titus Took the Train. Feel free to trace it, simplify it, or adapt it for your own Mythical Maze game.




* Create a Name Totem: Did you know that when you cut your name out of paper, it can look like a cool mask? Use your own name to inspire a new Mythical creature! Here's my name, Sarah: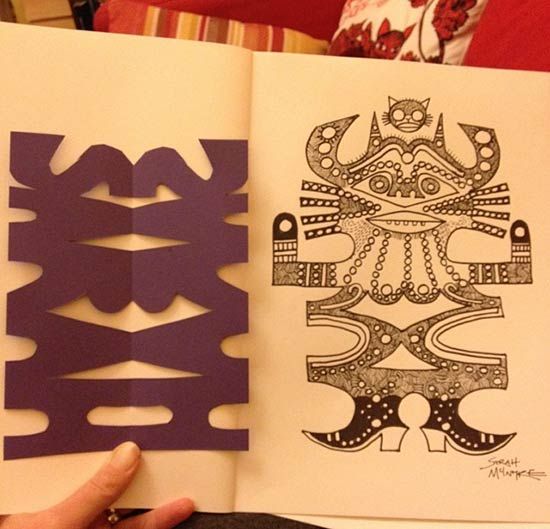 And here's how you do it!




Here are some more by @damyantipatel:




* Create a Mythical Maze mural: Let everyone add to it! Cover a wall in paper, leave the posters nearby, and have people draw their own versions of the mythical characters. Be sure the youngest ones can reach! Perhaps have them write a short description of the character next to their drawing, or even a very short story.




Last weekend, Alexis Deacon used a great way to inspire kids and create a mural that has a lovely unified feel to it. He created vague creature shapes using one colour of paint, then the kids could go in with black markers and turn the shapes into more detailed creatures.




Oil pastels can make beautiful, vibrant images: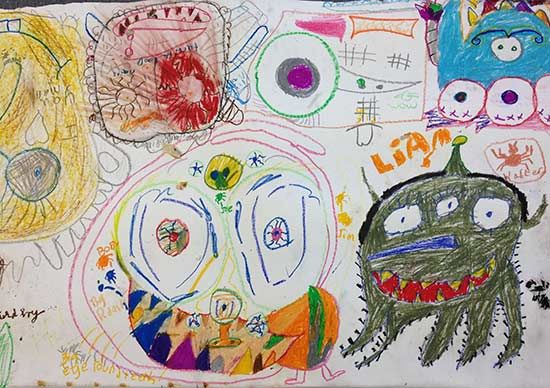 But be careful, they're messy!




* Create a Life-Size Cardboard Maze! I've never actually done this, but Viviane Schwarz has! Find out more about it on her blog.



Photo by John Peacock

* Make a paper dragon kite, studying books on kite making and Chinese parade costume

* Create an Anansi web, perhaps tucking into it cut-out creature drawings by the kids. (Welsh librarian @martincoles has been posting photos of his library web.)

* Create a giant paper Nessie around the walls of your library. Feature a book cover image on each of her humps!

* Build a yeti cave. Create a fun place for kids to climb in and read books, with Yeti peeking out from the entrance to wave them in.

Hope that helps! Please do add any more ideas you might have in the comments here, and spread the word, if you think your fellow librarian friends might find these suggestions handy!