Do you have those occasional moments, when you're looking in the mirror and you realise you have blue hair and sparkly gloves and look like Dame Edna, that you think, how did I ever start doing this? If you'd told me I'd be doing things like this, even ten years ago, I never would have believed you.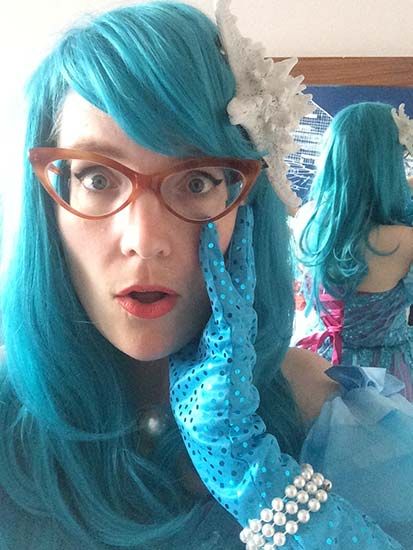 The number one thing that struck me about the Manchester Children's Book Festival was... THE SEA MONKEYS. They were everywhere!!! Here are two that my co-author Philip Reeve and I drew for Simply Books indie bookshop just outside of Manchester, in Bramhall.




Kaye Tew and James Draper who run the festival asked us early on if it would be okay to use the Sea Monkeys from Oliver and the Seawigs for their mascot and we were thrilled to see them popping up all over the Internet before we even arrived!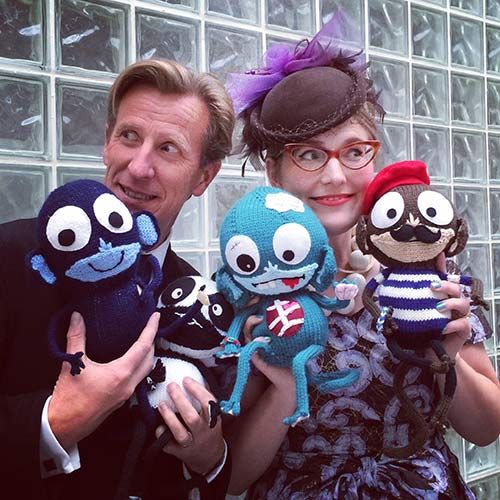 The chief instigator of the Manchester Sea Monkey Invasion was Ann Lam, who's here (bottom left) with her two kids (her daughter helped her out with quite a bit of the knitting). She used the knitting and stitching pattern that my studio mate Deadly Knitshade (aka Lauren O'Farrell) designed and can be downloaded free from my website.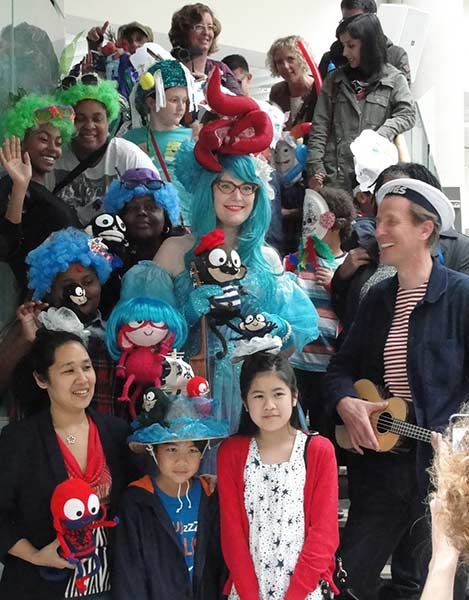 Check out all those awesome Seawigs!!! Loads of people made them for the Grand Seawig Parade. Here's Manchester librarian Debra Conroy looking incredible... and more Sea Monkeys!





Having the parade indoors was a great idea, as the rain couldn't put off anyone or ruin their fabulous headgear.





And I got to feel like Grace Kelly, or Evita, or the Queen, doing the balcony waving thing, ha ha.





Philip and I also visited Manchester Children's Hospital, which runs its own on-location school, and the staff had absolutely thrown themselves into the spirit of things. They said it was amazing, how many different things they could make out of a paper sick bowl!




We visited as guests of ReadWell, a wonderful charity that provide books to children in hospital. They go around with their rolling shelves (shown here) so kids can choose what they want to read. And the books are new, so that there won't be problems with infection for the kids in the isolation wards.




We led an event and a Seawigs Parade in the big lobby, and then went around visiting kids in the wards, and we could see how they'd light up when it was their chance to pick out a book. The school had enjoyed bringing Oliver and the Seawigs into the curriculum and it had inspired a lot of craft projects besides the Seawigs, including this diorama of Cliff the Rambling Isle.




It was fun seeing kids of all different ages - and their parents - getting involved and having fun, despite having some major physical setbacks. You can follow ReadWell on twitter: @ReadWellUK.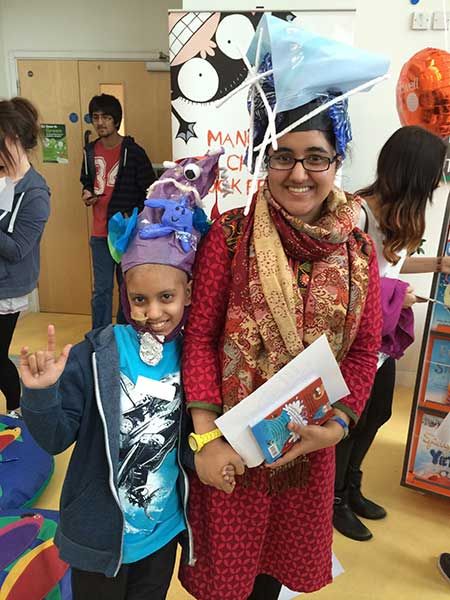 Great Seawig by Tracey Gallier! She's Assistant Head Teacher at the Manchester Children's Hospital School.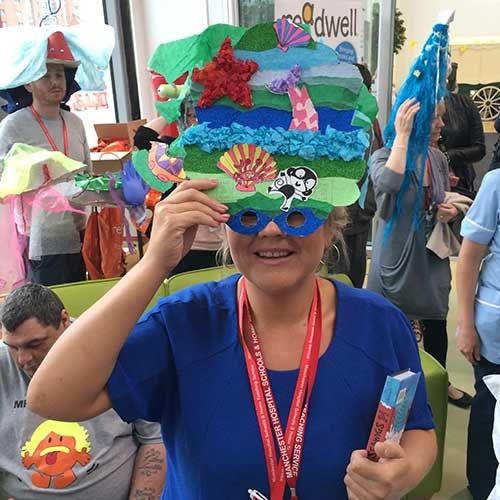 So much creativity! You can read more about our visit to the hospital over on the festival blog.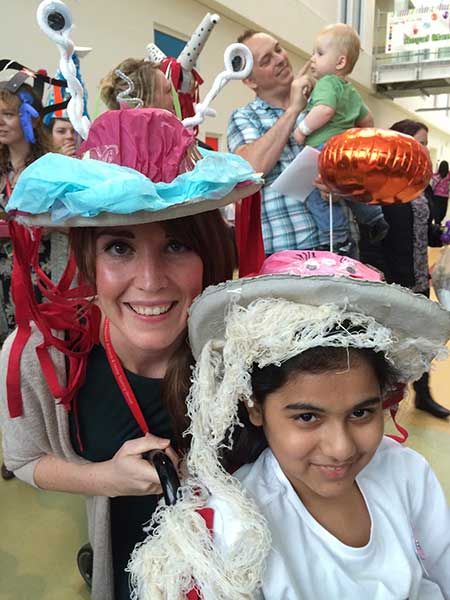 Janet and Maisie Chamberlain, both sporting fine Seawigs: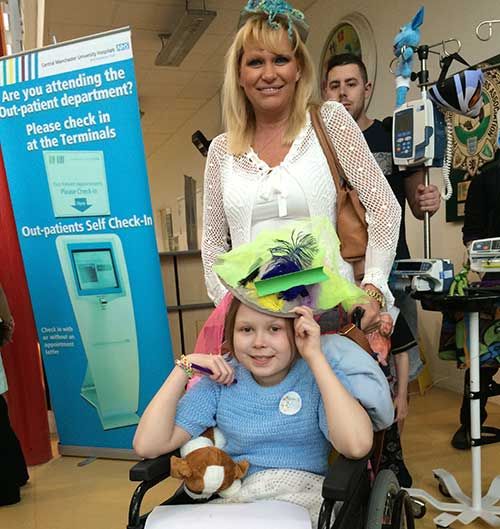 And little Joseph, who had our big flip chart Sea Monkey named after him and somehow managed to get back and make quite an elaborate lion thank you card for us before we visited him in his room. The glue was still wet! This guy was awesome, and had loads of good questions and comments for us. He had a full Seawig of decorations on his roving medical stand, which was named Mr Robot-Man.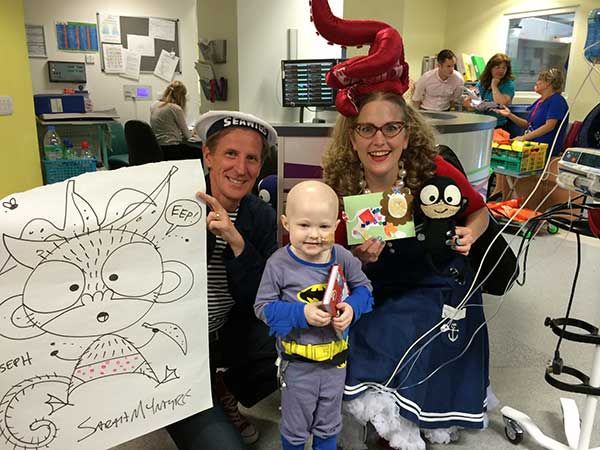 The Sea Monkeys followed us wherever we went. When my husband Stuart and I checked into our hotel, there was one right there at reception!




And when we arrived in our room, there was a magazine with a big picture, which made me feel a bit giddy. (Thank you, Lancashire Magazine! Click on the pic for a larger image.)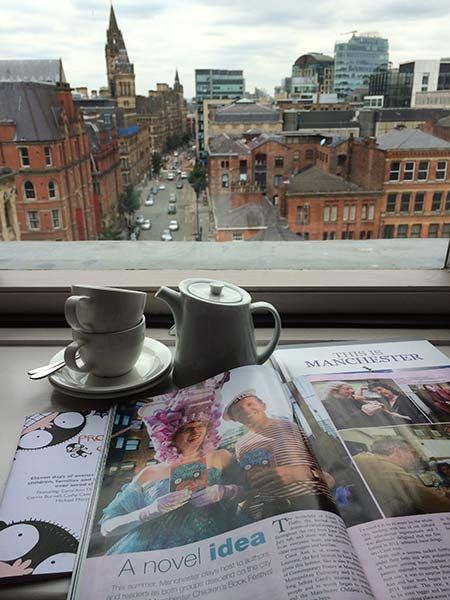 When I saw that, I realised just how much costume the organisers were expecting, and they weren't going to get the six-foot Seawig, as I'd have to have arrived by forklift. And I'd forgotten my fancy gloves. So Stuart and I paid a visit to Afflecks Palace and stocked up.




Look, another great Seawig! This one's by the excellent Rachel Bruce.




A huge thanks to the team for making the Grand Seawigs Parade day so much fun! And thank you to everyone who waited patiently for Philip and me to sign and draw in your books; we hope you like them.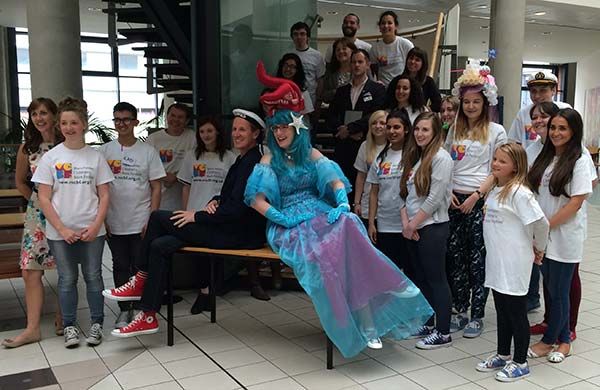 The night after our hospital visit and before our Seawigs Parade, we went to the opening launch event, where local drummers and dancers did some great performances for us.




The festival was also raffling off some of the Sea Monkeys, which disturbed me greatly, as I wanted to take them ALL HOME WITH ME.




Check out Ann Lam's notebook; she made some lovely sketches planning out different themed Sea Monkeys to go with different events.




And each Sea Monkey had its own profile!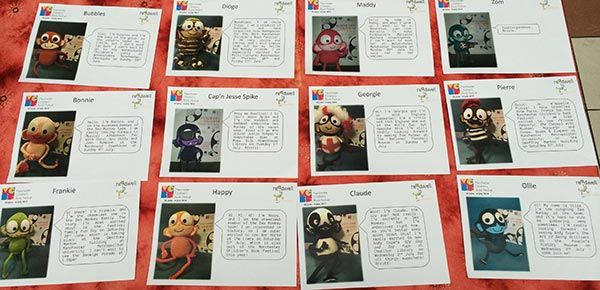 Rachel Bruce and I joked that it was really an early version of a dating website, and that Zom doesn't care about looks, only brains.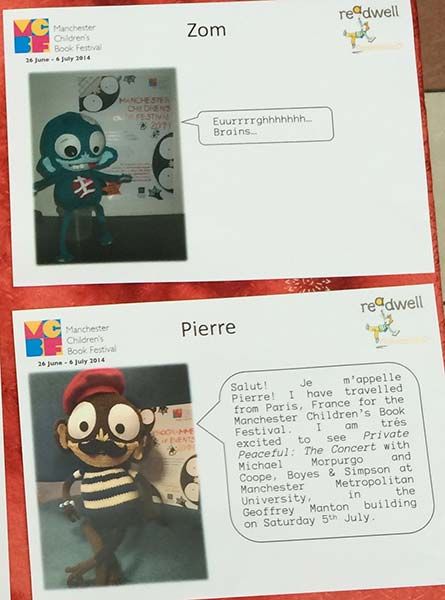 Poet Laureate (and original instigator of the festival) Carol Ann Duffy officially opened the festival by reading one of her poems. This is the third year the festival has run, and organiser James Draper said they might go from doing it every two years to doing it every year, which is exciting and will take LOTS OF WORK. We passed by her office when I was looking for a mirror to fix my wig, and she works with James, teaching at Manchester Writing School, part of Manchester Metropolitan University.




I showed you the Sea Monkey picture that Philip and I drew for Simply Books; here we are outside the lovely shop, with owners Andrew and Sue Steel. They've been running it for ten years, and had no experience in running a bookshop. But Andrew was tired of his job, they brainstormed what they really wanted to do, and took the risk to do it. They really focus on being part of the community, and we saw lots of people come in for a chat and a cup of tea or a piece of cake in their little cafe, as well as buying books.




They had illustrator art everywhere. Here's a stairway painted for them by Emily Gravett as their reward for a competition: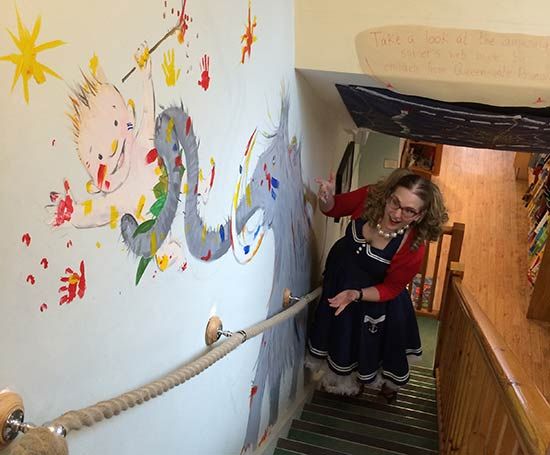 And pictures on their wall by loads of illustrators we knew! See if you can identify any!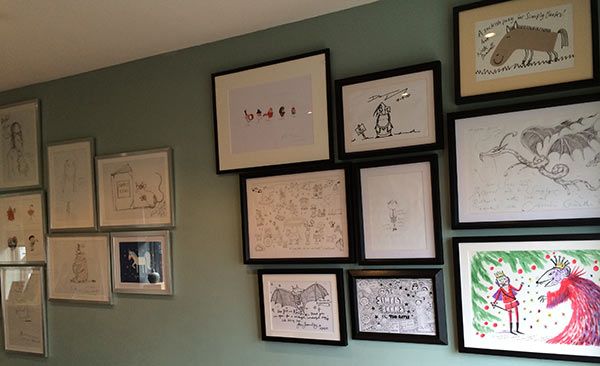 Sue took us to a school in Cheadle, Lady Barn House School, and we talked about Oliver and the Seawigs with them and led them in drawing Sea Monkeys. One quick teacher even managed to have a whole poster finished, made up of some of their drawings, before we left!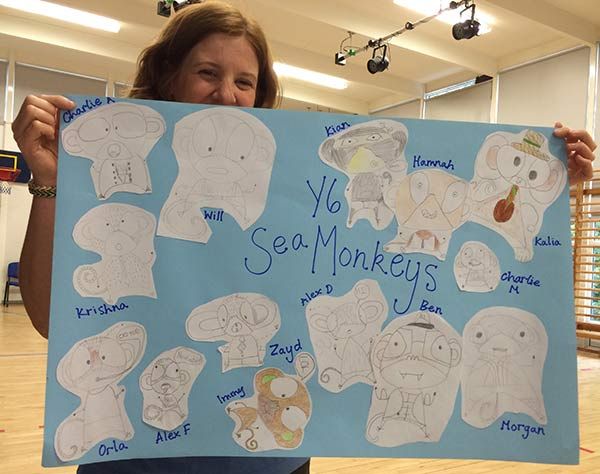 Thanks so much for hosting us, Lady Barn House! (And for the packed lunch you sent along with us!)




The festival's running for quite a long time - 26 June - 6 July - so we only overlapped with a few of the other guest speakers. But we were very glad to have the chance to spend time with writer Cerrie Burnell, author of a picture book called Snowflakes. Do you know the Evil Emperor Penguin comic strip in The Phoenix Comic? It's written and drawn by Laura Ellen Anderson, who also illustrated Snowflakes! We got to have dinner and breakfast with Cerrie and talked about books, including how we both felt it was important to show mixed-race families in picture books. (Her Snowflakes and my There's a Shark in the Bath both include parents from different races, but it's just an incidental detail in both, not part of the story.)




Huge thanks to everyone who made the festival possible, to wonderful Manchester-based publicist Liz Scott, who liased for us and made everything run smoothly, and to Kaye and James, who have been working their tails off for this. They're a great double act! You can follow the festival on Twitter at @MCBF2014 and be sure to keep an eye out for daily updates on their blog.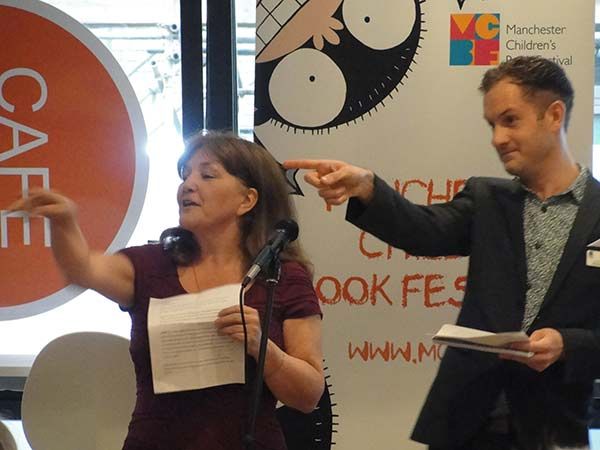 The festival's only just begun, and the Sea Monkeys are itching to try out all sorts of new shenanigans. Here's James, keeping a very close eye on them.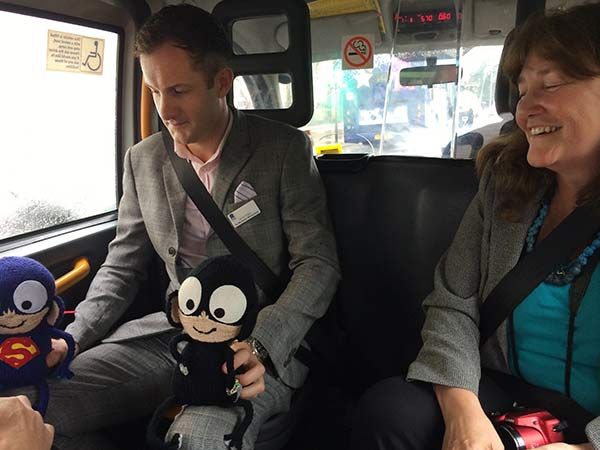 Goodbye, Manchester! Huge apologies to people I didn't manage to catch up with while I was there - the whole thing was a bit of a whirlwind - and I hope to see you again soon.