COMICS are very much a part of this year's Mythical Maze Summer Reading Challenge! Get a kid hooked on comics and you have a kid who loves reading. In fact, you don't even have to 'get' kids hooked on comics; if you leave a kid in a room with a good comic, he or she will go right for it. And the miracle of comics is that, as soon as they've read the comic, they'll very often want to make one! What other form of reading inspires such instant creativity?



Pop over to the Summer Reading Challenge website, where I've created a comic Story Starter: two panels of a comic, and you (or a kid you know) can continue the story.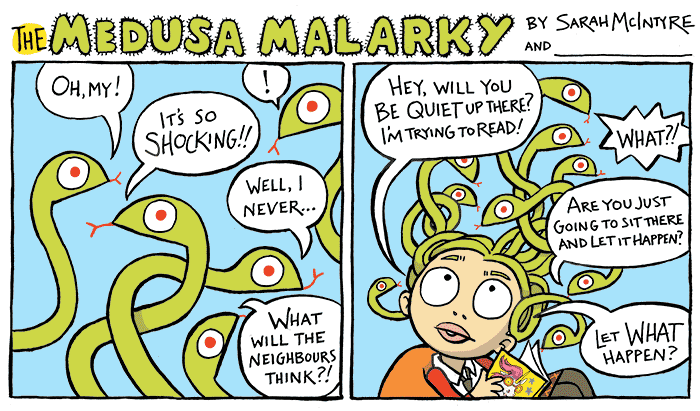 The downloadable sheet only provides six panels, but you're more than welcome to make lots more panels on another sheet of paper, or just use the first two and create panels any size and shape you want. (You can even finish the story just with writing and no pictures, but it's making comics I'm more excited about. Drawing a stick Medusa is JUST FINE.)




It might be fun to bring in some of the other Mythical Maze charcters! Or perhaps bring Medusa in the comic right where you live, to your home, school, supermarket, etc. Or take her and her snakes to the moon, it's your call. If you'd like to enter it into the competition, the closing date is 8 September 2014.





The Summer Reading Challenge is setting out all sorts of Story Starter competitions by different writers and illustrators; keep checking back to the website. (Please do tweet me - @jabberworks - your comic, I'd love to see it! Use the #SummerReadingChallenge hash tag!)




It's great seeing different library displays popping up on Twitter! Here's one tweeted by @EmilyFellah in London: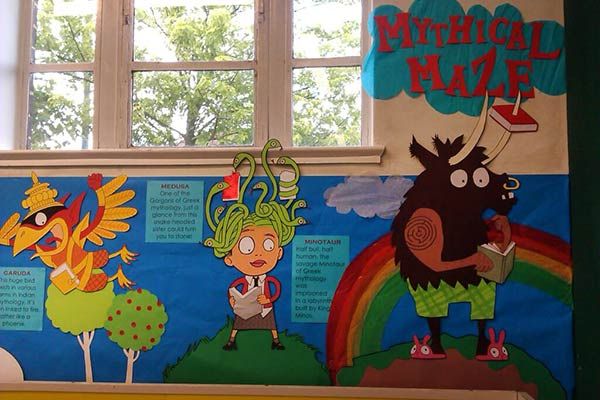 And another by @MartinColes in the Vale of Glamorgan:




Don't forget, I've listed a bunch of ideas for Summer Reading Challenge activities here on my blog. Hope you have fun with it!