Since my co-author Philip Reeve and I COME FROM THE FUTURE... we can see into the future, all the way to September, when our mothership Oxford University Press will be launching our new book together...
CAKES IN SPACE!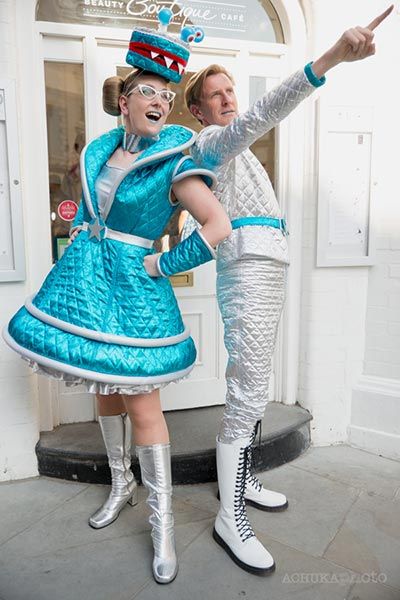 Photo by Michael Thorn, Achuka

Until Tuesday, no one had seen anything printed except the orange uncorrected proof copies, which were only half illustrated, with pencil roughs in the second half. But just before our press pre-launch party, a few copies of the final version arrived in Oxford, and the team brought them for us to look. Super exciting!!



Photos by Michael Thorn, Achuka

I can honestly say Philip and I are both thrilled with how it came out! It's printed on lovely paper and just like Oliver and the Seawigs, is such a nice thing to hold. Here it is, being displayed by Julia Harrison from Daunt Books Marylebone, who will be hosting our Publication Day launch party in September. (I hope you can come!)



Photo by Michael Thorn, Achuka

These front endpapers weren't in the earlier proof copy! Here's a peek at the planet Astra and her family are setting off on their voyage to colonise, until something goes terribly wrong with the Nom-o-Tron food machine.



Photos by the Nova Mundi Tourism Board

Oliver and the Seawigs had a blue colour theme, and this one's orange. And did the editorial team come dressed to theme... oh yes!




Photo by Michael Thorn, Achuka


Check out these great fascinators, made by our super-talented designer, Jo Cameron!




And Jo somehow managed to find this perfect retro dress in Cakes in Space colours! Here she is with our Oxford University Press publisher Liz Cross and our editor Clare Whitston. I love working with these people; they've given us so much creative freedom but at the same time, being right there with timely help whenever we need it. (The fabulous Elaine McQuade should also be in that group but she's taking the photo.)




And here's our wonderful publicity team! The two on either end are the freelance publicists, Liz Scott and Philippa Perry, who led us around earlier in the day on the amazing Operation CAKE DROP. And from OUP, from left: Harriet Bayly, Charlotte Armstrong, Alesha Bonser and Keo Baxendine.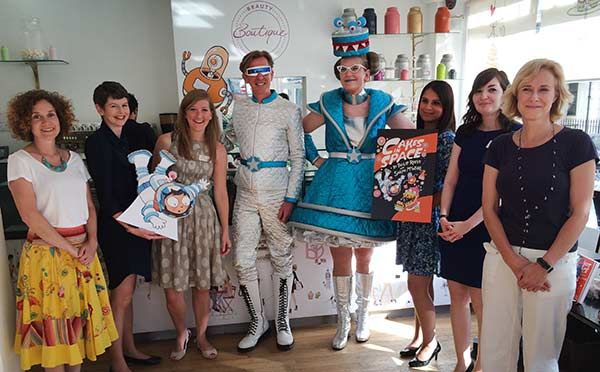 We held the party at BB Bakery, between London's Covent Garden and the Strand, and it was perfect; I've often walked by (and yes, Instagrammed) the amazing cakes in the window. They look like the most fabulous hats you could imagine.




And gosh, they made a good cup of tea!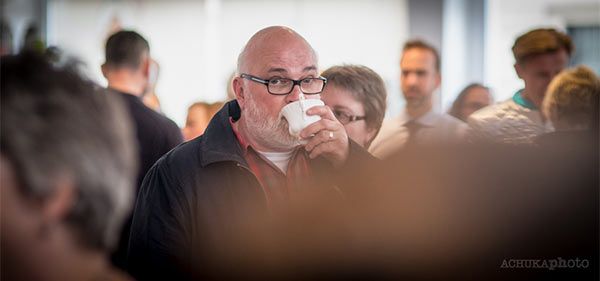 David Maybury and Hayley Campbell seem to approve. ...Wait, that is not tea! I don't know what was in there, but it was very potent and super tasty. Photo of mystery cocktail tweeted by one of our favourite bloggers, Sister Spooky.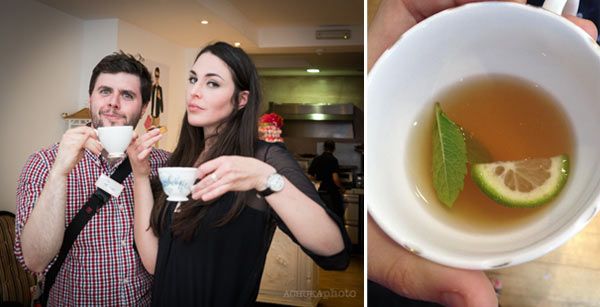 Photo by Michael Thorn, Achuka; photo on right by Laura Heath/@sisterspooky

OUP had invited booksellers, librarians and media people, and Liz Scott introduced them to the book and talked a bit about what it was like to work together.



Photo by Michael Thorn, Achuka

Here's OUP's Elaine McQuade, Philip's agent Philippa Milnes-Smith, and Cheltenham lit fest organiser Jane Churchill. I somehow didn't manage to get a photo of my agent, Jodie Hodges, but she's always such a massive help to me.




Then Philip and I sang our NEW SONG! It was a bit rough as it was our first-ever performance, but we had fun with it and it got some laffs... possibly because of all the people looking in from the street, wondering what on earth was going on in there.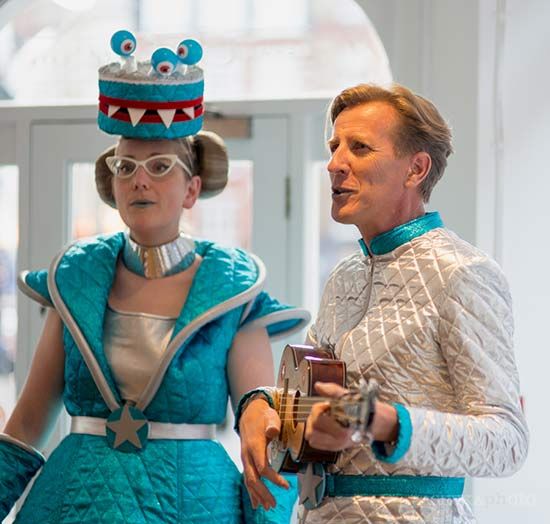 Photo by Michael Thorn, Achuka

Also, I should point out that Philip was wearing BLUE LIPSTICK. This is a very different Reeve from the tweedy fellow we know so well. Oh, and David Maybury's not one to miss out on getting painted.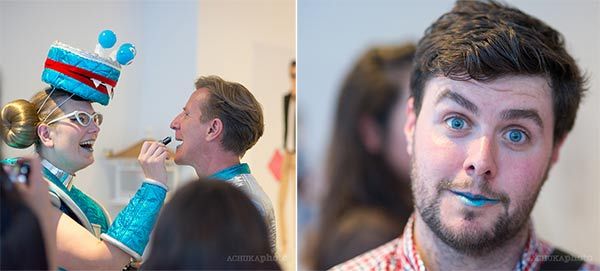 Photo by Michael Thorn, Achuka

Nice photo-bombing, Maybury & Campbell...




Ha ha, here's a link to a lipsticking video David shot: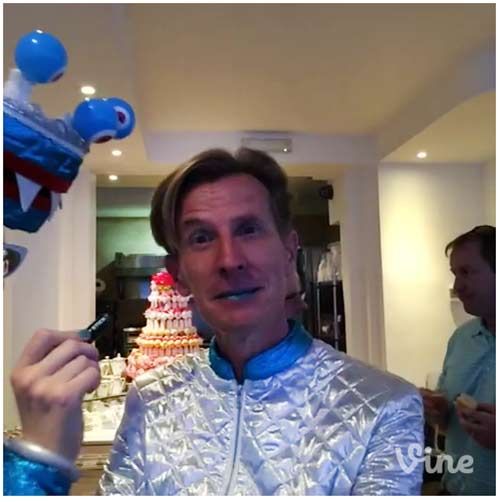 Huge thanks to photographer Michael Thorn, who took such great shots during the evening. You can check out the whole gallery of photos over here on his Achuka website. Do have a look, they're lovely! Michael also runs a great blog about children's books, and you can follow him on Twitter: @achuka. Here he is, a rose between two unicorns.




A peek at the crowd... oo, I love Kirsten Grant's multicoloured dress.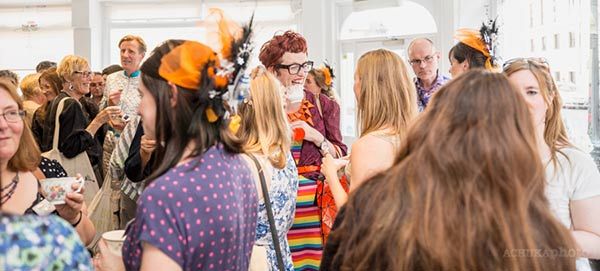 Photo by Michael Thorn, Achuka

Speaking of costumes, I'm planning to do another blog post about them specifically, but the dress, gauntlets and suit were made to our sketches by Wendy Benstead and her team (who work upstairs in my studio building). And my sculptor friend Eddie Smith helped me make the hat. (Eddie's the guy who built the Giant cling-film Seawig with me for the Golden Hinde pre-launch party.) He figured out how to make the mouth open and close! You can see it if you click on David Maybury's vine video:




And no party would be complete without my excellent studio mates. There they are on the right, Fleece Station space cadets Elissa Elwick, Lauren O'Farrell and Gary Northfield.



Photos by Lauren O'Farrell

We're an excitable lot.



Photos by Lauren O'Farrell

Hope to see you at Daunt Books in September for the Cakes in Space Publication Day party! In the meantime, here's a list of events on my website if you want to see if I'm flying in my jetpack to your area anytime soon.