When Oxford University Press publicists asked last year if Philip Reeve and I had any Cakes in Space-themed photos to use for book fair publicity, this was the best we could get together at the time: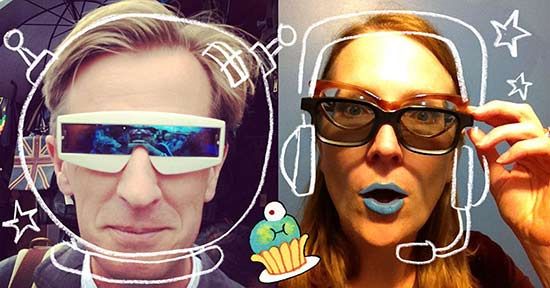 But we knew we wouldn't be able to draw outfits onto ourselves for stage events. (Actually, that would be very cool; possibly for another book.) And dressing up in space costumes is... just plain fabulous, so we set about designing something for ourselves. First, I needed a hat! Of course. There's this line in Cakes in Space, when space voyager Astra first meets a killer cake:

The top of the cake flipped open like a pedal-bin lid, revealing a wide mouth and lots of shiny teeth.

...And that seemed a good template for an INTERESTING piece of headgear.




My sculptor friend Eddie Smith offered to help me with the mechanics of it, and he's generally just good at this sort of thing. (He built the structure for my Giant Seawig. Read about that in an earlier blog post.) So here's Eddie, with a rough prototype, made from cardboard, tubing, a turkey-baster squeezeball, and cork and a bit of folded inner tube. Fill the inner tube with air and it tries to straighten; the mouth opens.




Ha ha, here's the more finished version, in action!




Those plastic balls they sell at the pound shop make great eyeballs. I did a test one, to see if it would take the Posca paint pens. Eddie's great to work with, he can solve any problem, and he's just set up a new Facebook page for his 3D art. Do do pop over, have a look, and give him a 'like'!




Now for the rest of the costumes! I can sew a little bit, but I need to take my machine in for reconditioning and I don't have a lot of time, with all the book work and events I've been doing. One day I was in the studio and someone popped by to collect some post that had been delivered, or use my printer or something, and we got talking; she said she designed costumes. A-ha!, I thought. That person was Wendy Benstead, and she has a whole amazing tailor workshop on the top floor of our building. I showed her these drawings I'd made of possible costumes, and she said she could do them!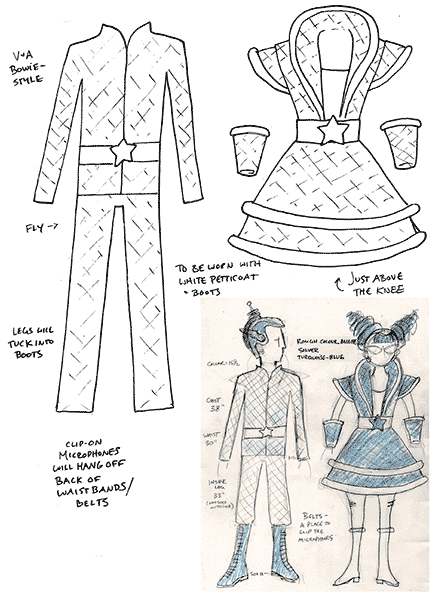 Here's Wendy with her Head Maker, Heather Coad. (They don't always wear matching outfits.) They do a lot of bridal work, but Wendy's training is in corsetry, and Heather loves cosplay, so they were chuffed to get a more eccentric costume commission.




To help keep costs down, I went out myself to find the materials, to the shops on Goldhawk Road. The silver quilting for Philip's suit was easy to find, but the turquoise proved more difficult. And I steered clear of the lighter blue because I was really worried about looking like a mattress. I got most of the fabrics on that road, but ended up sending away to Germany for the turquoise quilting. (I could have quilted some other fabric myself, but again... time.)




The first thing Wendy did was make what's called a toile, a rough cotton version of the outfit, just to get the pattern worked out. The toile wasn't terribly flattering, but Wendy reassured me that this was normal. It was much more fun when I visited the studio and saw some actual glittery material peeking out...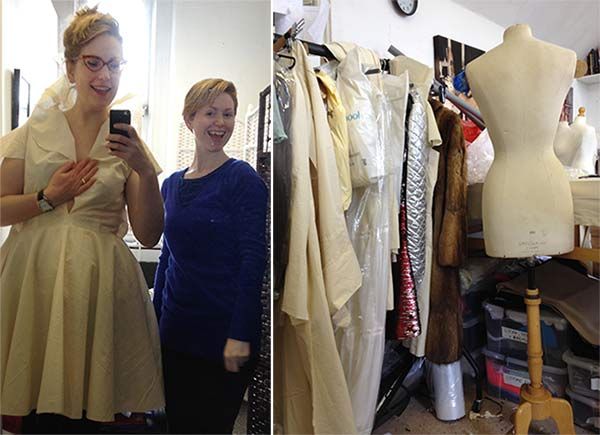 Here's some of my space dress, still in pieces:




Philip and I went for a couple fittings when he was in town for conferences and such. His suit was loosely based on some we'd seen in the catalogue for the Davie Bowie exhibition at the V&A Museum. Wendy played around with the tubing on my dress; we wanted to get a sort of retro Jetsons look.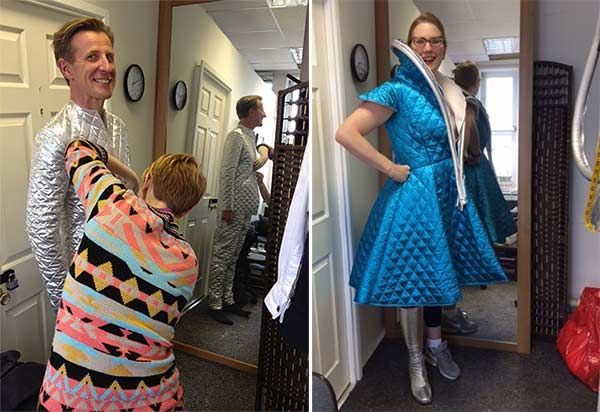 I was a bit worried with my cone-shaped skirt, that if I stood up on stage, the audience would be able to see right up my dress. So I found this big-mama petticoat on Ebay, again from Germany. It had a distinct pong of being stored too long in a wet basement when it arrived, but I gave it a good wash and it was fine. Gosh, is it fluffy.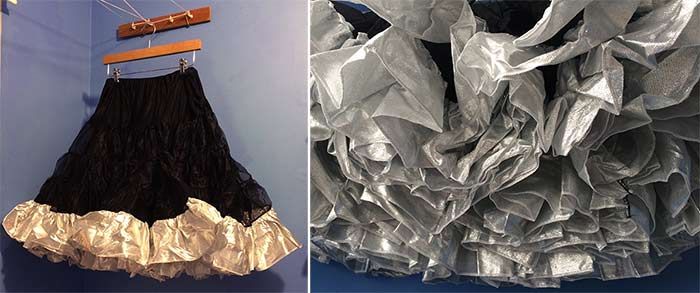 I thought I was going to shape my own wig, using these foam doughnut things, but I couldn't get that hair to do ANYTHING. I wanted it to look sleek and it stayed resolutely messy.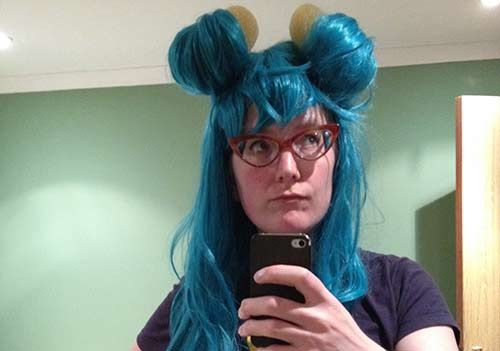 I gave up on the blue hair, but it looked great as a mermaid hairdo for our Manchester Seawigs Parade. Instead, I found some clip-on buns in one of the African hair shops near Peckham Rye station which worked much better. It's sort of a Princess Leia look... PRINCESS LEIA CAKE.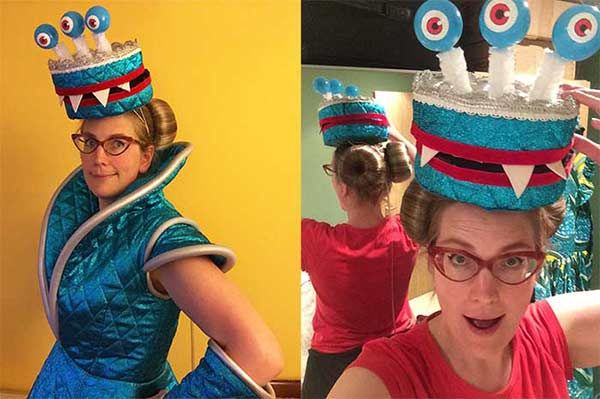 Months earlier, Philip had found some fab space specs in Camden Market while we were there with his family. (I think his son, Sam, actually bought them, and Philip convinced Sam to let him borrow them.)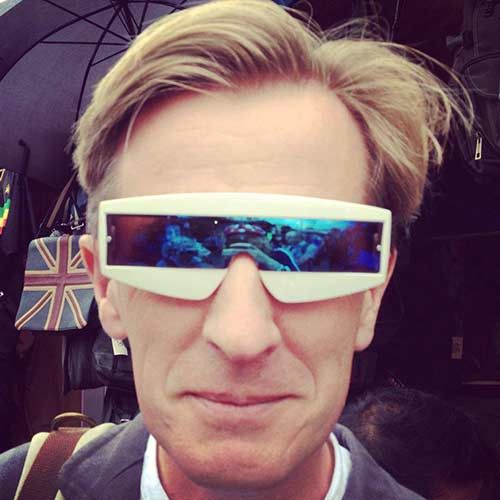 I wanted to paint my backup pair of glasses white, but I was scared of ruining the finish on them; Eddie recommended painting them first with PVA glue. I tried it on an ugly old pair first, and the glue and paint peeled off easily. And then I got a sheet of some glittery mirror stuff from 4D Model Shop in Shadwell and cut it into a necklace shape. Not bad! We looked like something out of a some British 1970s Sci-fi film, the kind that had slightly cheap sets, but it didn't matter. SUCCESS!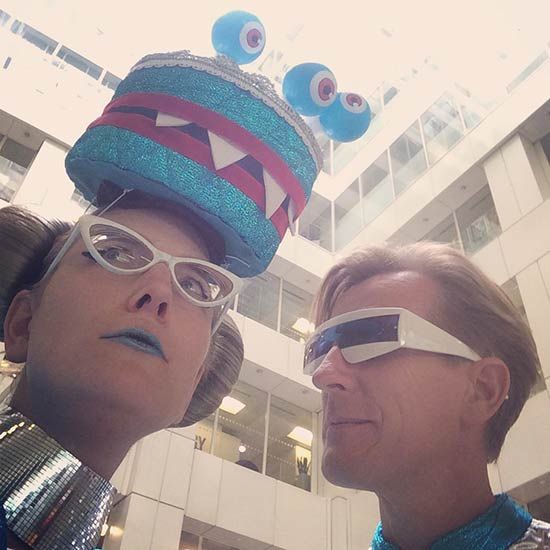 My boots were easy to find on Ebay, but we had a hard time finding glam turquoise boots for Philip. They don't really exist in Internet land. So we settled with white boots from Demonia, which do the job just fine.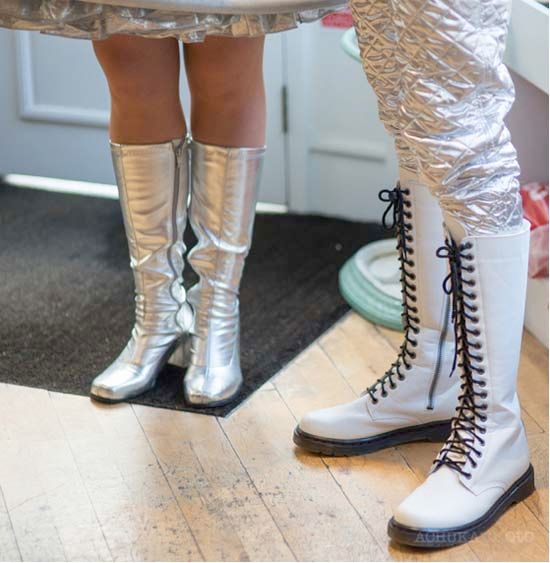 And then we were ready... WE CAN SPARKLE! Greetings, earthlings!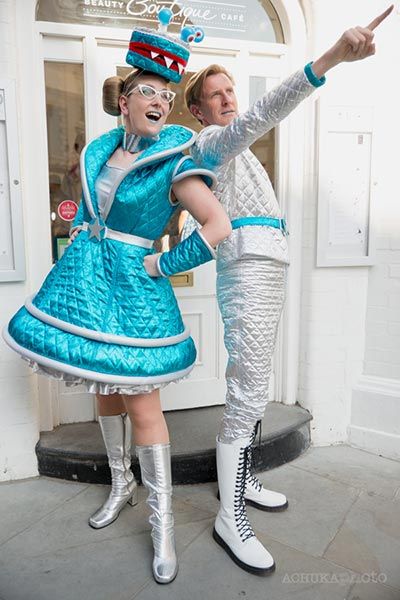 Photo by Michael Thorn, Achuka

Huge thanks to Wendy, Heather and Eddie for all your help with the costumes! And to Stuart, for putting up with me parading around the house looking weird and asking his opinion on things such as blue hair. He looked super-impressed when I put on the whole costume, and that was a fun moment. Again, do check out Eddie's Facebook page, and you can follow Wendy Benstead on Twitter as @CostumesByWendy. You can also read an interview with her and see more photos in Guise magazine here.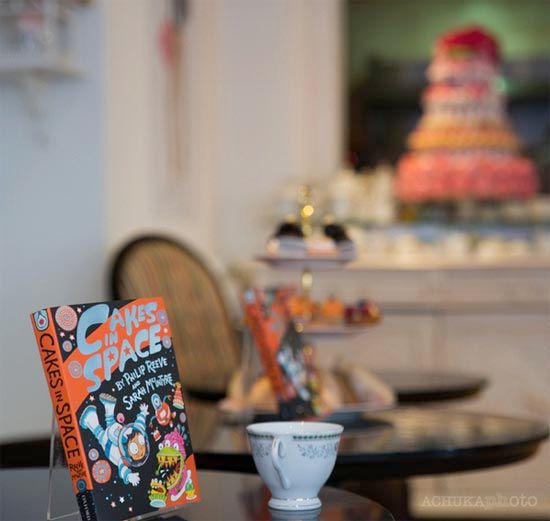 Photo by Michael Thorn, Achuka
Cakes in Space launches at the beginning of September with Oxford University Press.