Hatted up, suited and booted: just another day heading into the office...




Ha ha! It's so much fun when other people dress up, not just me. Yesterday I went to YA Lit Con (that's Young Adult Literature Convention, or #YALC), held as part of the London Film and Comic Con at Earl's Court in London. On the pavement outside, this lady in her fine threads won my heart... until she shot an arrow straight through it. Aiee!




Seriously, where else but these sorts of conventions do you get tens of thousands of mostly-unaccompanied kids and teenagers together in one place - many with MASSIVE WEAPONS - and have such a well-behaved, literate group of people? These people LOVE stories, and they often don't just want to read them, but become actual characters in these new myths and legends. I love this so much. Here's Martin Chilton's coverage of YALC in The Telegraph:




When I got to the Green Room, I went a little crazy with taking selfies with lots of people there. Steve Cole was super-chuffed to get his photo taken with one of the Doctor Who characters, Paul McGann. (Steve had written BBC books starring Paul's Doctor from '97-'99.) To be honest, I had a bit of a crush on him in the film Withnail and I; there are even two pages in Morris the Mankiest Monster based on screen shots I took of that film.





Hey look, Mark Gatiss! Editor of Oliver and the Seawigs and Cakes in Space, Clare Whitston REALLY wanted a photo with him. Wahey! I think he does a great job playing Sherlock Holmes's brother Mycroft in the BBC's Sherlock. Ooh, and writer Catherine Johnson got in for a shot!




Oo, and Clare quite fancied a shot with Giles from Buffy the Vampire Slayer, Anthony Head. And writer Bryony Pearce!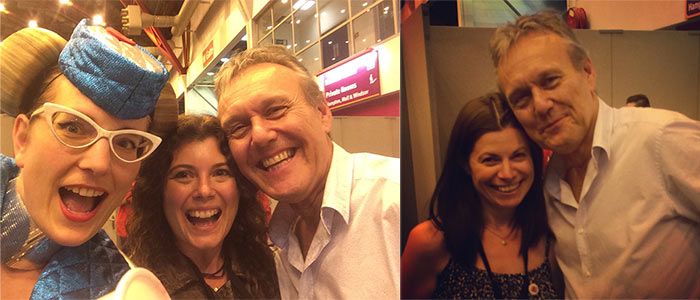 Then I got SOUNDLY TOLD OFF by one of the red-t-shirted YALC staff, saying that the Green Room is a place of refuge from fans and I was NOT to be taking any more photos. Which was actually pretty gutsy, as she was quite young, and it's not easy to tell off people like that. Respect.

But I did snap a few more very quiet Green Room photos of friendly faces, including YA Lit Con founder and Children's Laureate Malorie Blackman, fellow comics panelist Emma Vieceli, writer Catherine Johnson and writer Charlie Higson.




Malorie's been such a great laureate; this YA Lit Con was her idea, to get books and their authors right in there where so many kids gather for comics, film and dressing up. Then Katherine Woodfine and Booktrust set the gears in motion and put in a LOT of hard work to make it happen. You can read more about it in this piece Malorie wrote for The Guardian:




YALC really was two worlds colliding for me: usually I have my book world friends and my comics friend, and rarely do the two meet. If you look at book festival line-ups, you'd think UK children's book authors are quite evenly divided male-female, but if you go to children's book social events, I usually see a lot more women. Whereas, until recently, I'd go to comics gatherings and sometimes be the only woman in the room. This is all changing and it's great to see the different crowds mixing and merging. The place it really started for me was with the DFC weekly magazine, which is now The Phoenix Comic, and it brought out of the comics woodwork people who can write for children (and many who because solid friends).

I wouldn't label myself as a 'YA writer', but people of all ages have given me great feedback on my Vern and Lettuce comic, and I hate to think Oliver and the Seawigs wouldn't appeal to teens and adults. But as YA isn't specifically my label, I chaired a panel, rather than spoke on it. (What even is YA lit? I read picture books, grownup books with sex, newspapers, comics, cereal boxes and everything else as a teenager!) Here's our Going Graphic event with Marcus Sedgwick, Emma Vieceli and Ian Edginton, where we discussed adapting comics from pre-existing text-only books. I think the event went well, despite it being very noisy in the big hall; we had a great turnout and several people live-tweeted it.



Photo tweeted by @charlieinabook

At dinner that evening, Emma wanted to clarify that what she had said about writing and drawing; she meant that it's easier to get work if you can produce images, not just a script, but that that actual drawing part is WAY harder and more time-consuming than the writing. But I thought it was quite funny when she talked about how she'll sometimes have internal arguments between herself as the writer and as the artist; one side of her can get quite annoyed with the other. You can follow the three of them on Twitter: @marcussedgwick, @Emmavieceli, @IanEdginton. Ian's adapting Malorie Blackman's Noughts & Crosses, with artwork by the amazing John Aggs, and I'm with loads of people who are looking forward to that.

Emma and I did our signings next to each other and it was fun seeing some great costumes parade by. Emma has some MEGA fans for her Vampire Academy series, and she was able to provide a printed prologue for her ongoing BREAKS web comic.




One of the coolest things that happened all day was something I don't usually get to see at book festivals; three black boys, aged somewhere between 10 an 13, hung around for awhile watching me draw and sign in books. Two of them spent time looking through the books and bought themselves copies, and one of them asked me how I went about getting published. I was able to introduce him right there to my Oxford University Press editor, Clare Whitston, and he grilled Clare, quite professionally, about what he needed to do. He's written about aliens, and I suspect this kid could go places. Special kudos to their librarian, whom they said told them about the event, and may have even brought them and let them go off on their own to explore.

Sadly, I didn't get photos of them (and wouldn't have had adult permission to post them),
Edit: I DID get a photo of them, from Twitter! Thank you, Siobhan Dowd Trust! And a video!






but I DID get a great photo of Geekhood writer Andy Robb's kid. His whole family came by for copies of Oliver and the Seawigs, and I tweeted this photo. Then Andy tweeted back:




Hooray! This is what YA Lit Con's all about; I really hope loads of kids went away inspired from having seen book creators are real-life people, and realised that they could also write/draw/film/animate their own stories. Ah, here's Andy and gang... with a reviewer who's name I can't remember(?), writer Sally Nicholls, and blogger/writer Laura Heath (aka Sister Spooky, in the hat).




I went to see Natasha Ngan on her panel about blogging, but I got there a bit late and couldn't get close enough to hear anything. I was quite curious to hear about Natasha's fashion blog, Girl in the Lens, from which she earns more of an income than from her books. She works with her partner, Callum McBeth to come up with high-quality photo shoots, and I think the lovely visuals, along with her specific taste, are a big part of the secret to their success. Natasha's publishers had sent along 100 early editions of her new book The Memory Keepers, and they were snatched up so quickly that I didn't even manage to get one.




I don't watch Game of Thrones, but it had a BIG presence at the wider London Film & Comic Con. And of course everyone wanted to sit in the throne, including Mitch Benn, (whom I met for the first time in the Green Room). We nipped over with Emma to the second hall to see the comics area, and Mitch had fun ogling the two Batmobiles. (Thrones photo lifted off Mitch's Twitter feed.)




Here's a trailer for Mitch's book Terra. It looks like it has some links to my upcoming Cakes in Space book with Philip Reeve (both about girls have wacky space adventures), so perhaps I'll see him again at a future space-related event or something.



Lovely book world people! I think they were amused at how normal I looked there in full costume. Photo by Karen Ball of (from left) Susie Day, me, Sally Nicholls and Jo Cotterill (who's very active on the Girls Heart Books blog).




In fact, there were a LOT of girls there who heart books.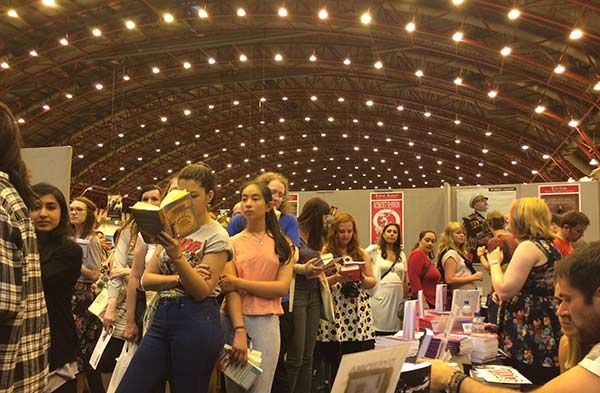 My favourite costumes are always the home-made, self-designed ones. Some of them were well suited to the hot, HOT hall, but... POOR CHEWIE! I really felt for whoever was in there; I think the heat kept the St John's Amubulance service fairly busy.




At the end of this first day, all the YALC writers, illustrators and publishers gathered for a party hosted by Booktrust. Here's Claire Shanahan passing out YALC-themed mini cupcakes, baked by Bluebell Kitchen. And a group photo, where Frances Hardinge, Patrick Ness, Lauren St John and the rest of us tall folk are hiding at the back.




YALC's still running today, and I hope lots of people will reflect on what a great weekend it's been, despite long queues. Huge congratulations to Malorie Blackman, Katherine Woodfine, the whole team at Booktrust including the event staff, London Film & Comic Con for bringing in such an excellent partner convention, my costume designers (I made the hat this time), and to my fellow comics panelists. Thanks for making it a great day!