SELFIE WITH CAMILLA! ^____^



Photo by Sarah Reeve

Yesterday the Summer Reading Challenge team took me and the Medusa fascinator to Exeter Library to talk and draw with children from St Leonard's Primary School ...and the Duchess of Cornwall! (Camilla is no stranger to the Medusa hat; you can see hers on a Royal Hats blog here.) I talked with the kids about the Mythical Maze characters I'd drawn, then they helped me draw a four-panel comic about an yeti-Medusa adventure, showing them how easy it is to make a story. And we all drew Medusa. (One kid had something like 46 snakes on his Medusa - it looked like an explosion!)




I talked a bit about how we are still creating myths and legends; no one can second-guess which will be the stories remembered for thousands of years, but we can try our creative best and who knows, perhaps people will still remember our characters for generations to come. I introduced them to my Oliver and the Seawigs co-author Philip Reeve and we pointed out the little Sea Monkey on the poster, saying it was our contribution this year to myth making.





I invited Camilla to come help me draw a Sea Monkey, and she was such a good sport about it! I liked her monkey, it's quite ferocious! I asked her if she wanted to draw it smiling or roaring, and she said, 'ROARING!'.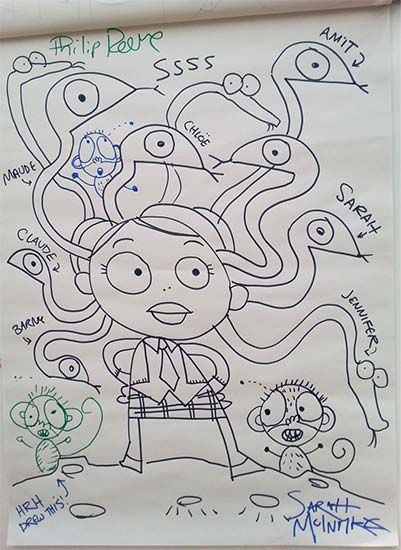 From The British Monarchy channel

And we all sang the Sea Monkey song! Camilla said she wouldn't be able to get the chorus our of her head, and I apologised. (It does have an annoying catchiness to it.) The Duchess has a real heart for children and getting kids reading, and we were super-chuffed she could come along.



Photo by Sarah Reeve

By the time we got back to London, people were already sending us links to news reports! Camilla wasn't the only one giggling, after I'd read this Daily Mail article by Rebecca English: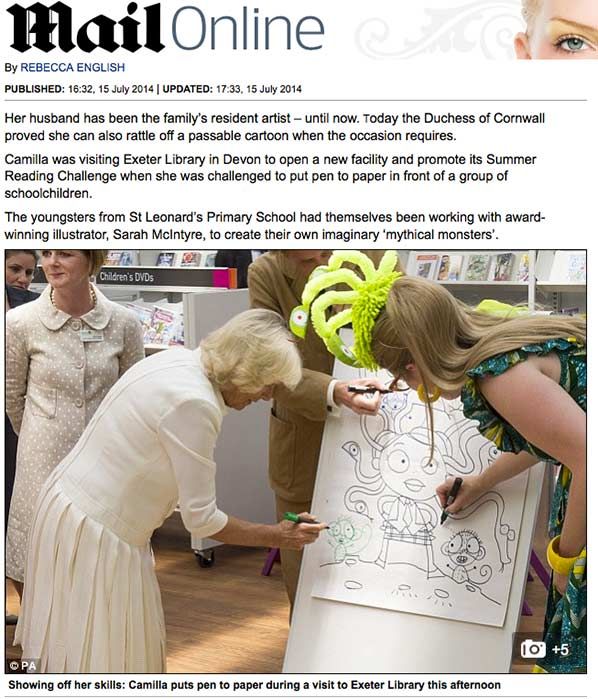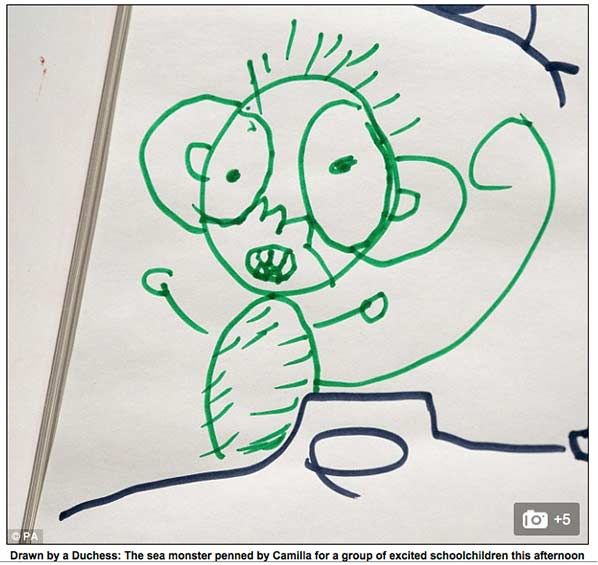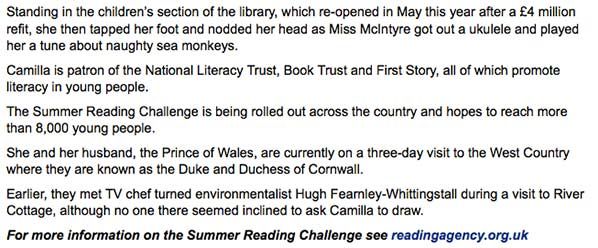 (Actually, there are more than 800,000 children taking part, not 8000, but otherwise it's a good write-up of the day.)
______________________________________________

Organising this visit was quite a feat! Big thanks to Head of Libraries, Culture & Heritage for Devon Ciara Eastell:



Photo by Sarah Reeve

And to Head Librarian Karen Bowdler and her son Connor:




And to Philip! He's not part of the Summer Reading Challenge but he's a Devon local, and it was SO much more fun doing the event with him helping me draw a bit and singing the Sea Monkey song with me. I wore one of my Sika dresses.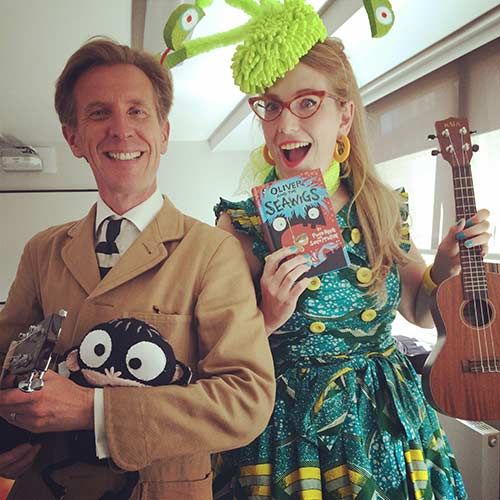 And we were both able to dedicate a copy of Seawigs to the Duchess:




Thanks to Philip's wife, Sarah Reeve for taking lots of these photos!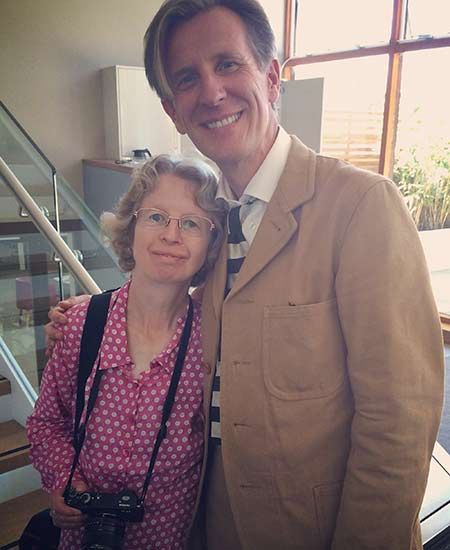 Here's our Summer Reading Challenge gang: Reading Agency director Anne Sarrag, writer Damian Kelleher and publicist Annabel Robinson and gleeful Sea Monkey.




Phew, what an odd day! Now back to work on my picture book...
______________________________________________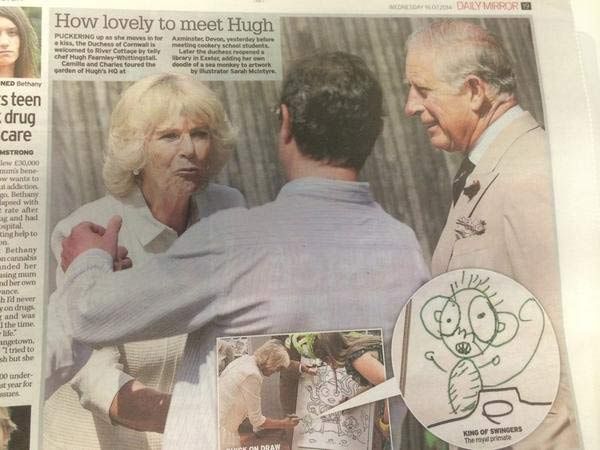 Daily Mirror tweeted by Lech Mintowt-Czyz
From Public Libraries News