Philip Reeve
,
Oliver and the Seawigs launches with Random House TODAY!!
Seawigs
is being published in 20 countries now, but how will it fare in the place where I grew up? ...I am SO CURIOUS.
Sea Monkey knitting pattern by Deadly Knitshade... Know anyone who knits? You can download yours free here!
I'm originally from Seattle, and growing up near beaches, tidepools and the San Juan islands did play a major part in the creation of our story.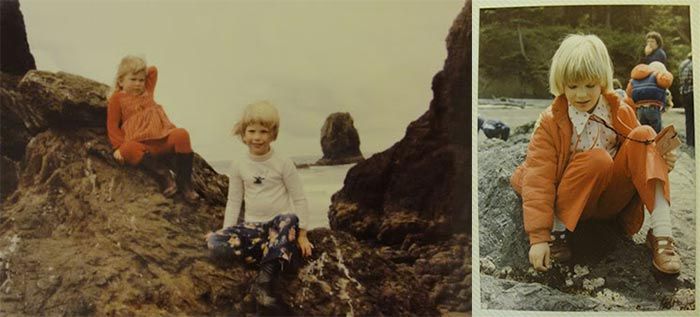 Here's a drawing I made as a kid of the rocks near
Cannon Beach
, in Oregon, where our family used to go on vacation almost every year. (You might also recognise it as the setting from the 1985 film
The Goonies
.)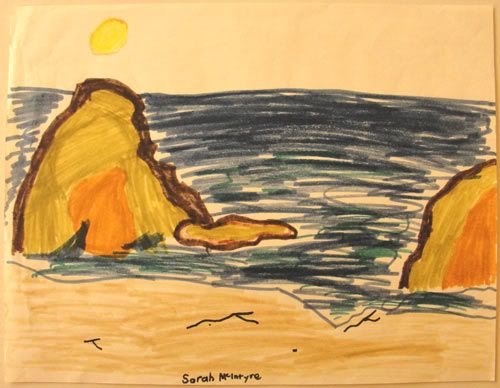 I drew some of the inspiration for the setting of
Oliver and the Seawigs
from my family visits to the fishing village of
Seldovia
, in Alaska. Here you can see the Crisp family house, supported on stilts and wooden pilings.
And here are some of my drawings from Alaska. I showed Philip these drawings when we were still coming up with the story idea, and we both thought it looked like the perfect place for our tale.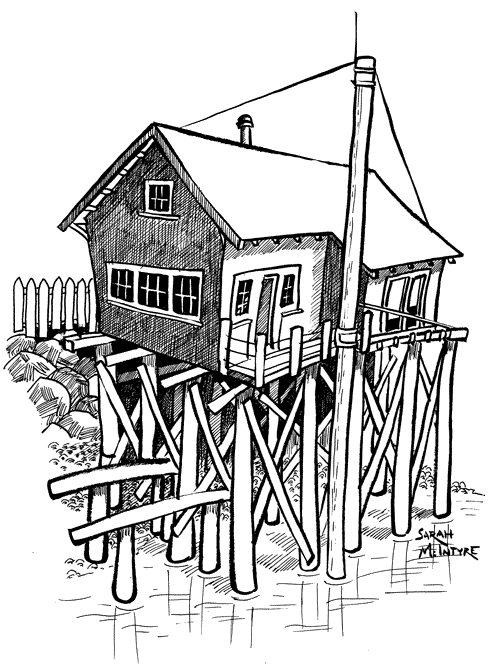 My Japanese-Hawaiian uncle's family owns one of the stilted cottages in Seldovia and I love watching otters swim by, and bald eagles swoop down and steal fish from the seagulls.
Another American influence comes from my dad's love of mountaineering. (Mr Crisp looks a little bit like my dad - mostly the nose and ears - and little Oliver is already an exploration pro by the age of ten.) When my sister and I each turned 16, climbing
Mt Rainier
- the huge snowy peak overlooking Seattle - was very much our coming-of-age activity. We were well-trained in using climbing harnesses and practiced hanging from trees in prusik slings to simulate what might happen if we fell down an icy crevasse.
Ha ha, see that little mountain goat? My sister and I used to laugh at them because they would follow us around, trying to lick up our pee. (For the salt, apparently, but... yuck!)
So what is a Seawig, you might rightly ask? Well, when you see an island, keep in mind that not all of them stay in the same place all the time. Some of them are Rambling Isles, which hunker under the water with only the tops of their heads showing, and look a bit like giants when they stand up! And they love collecting stuff on their heads, and take great pride in all the flotsam and jetsam that washes up on their shores. (Shipwrecks are particularly fashionable.)
You can find out a bit more about
Oliver and the Seawigs
in this video with Philip Reeve and me, filmed in my London studio. For part of it, I'm wearing a Marie-Antoinette-style Seawig I made our of saran wrap/cling film, but you can see a
MUCH LARGER version here
, heh heh.
Oliver and the Seawigs - Meet the creators from MB Films on Vimeo.
And learn how to draw a Sea Monkey! (You can also download a printable step-by-step guide
from my website
.)
Oliver and the Seawigs - How to draw a Sea Monkey from MB Films on Vimeo.
You can also watch
the Oliver and the Seawigs trailer
and a little
puppet show with Oliver and Iris the mermaid
!
If you or a friend get a chance to
knit a Sea Monkey
, I'd love to see it. Tweet a picture to Philip (
@philipreeve1
) and me (
@jabberworks
), using the hash tag
#Seawigs
, and we'll go EEP! EEP! with excitement. :D You can also find me
on Facebook here
, and Philip
right here
.
We hope you like the book! If you'd like to see my earlier Seawigs blog posts, and peek at some awesome things other people have made, you can
click here
.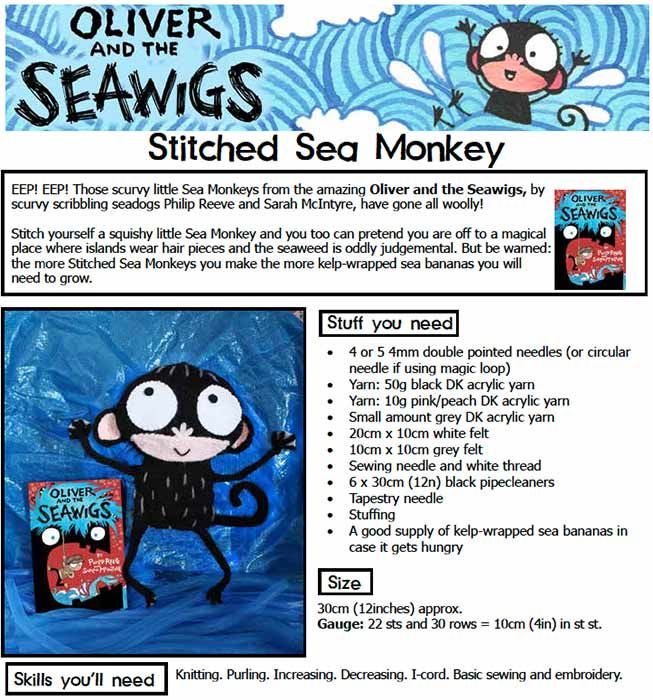 The Sea Monkeys are loose in America!!! My book with