So I have this big looming picture book deadline and a couple weeks ago Stuart kindly said, 'Do you want to cancel our little trip to Chichester?' And I said, 'NO!' because, you know, PRIORITIES. And it was great! Stuart often comes along to book festivals with me, but I'm running around doing events, so it's not really the same as going away on holiday.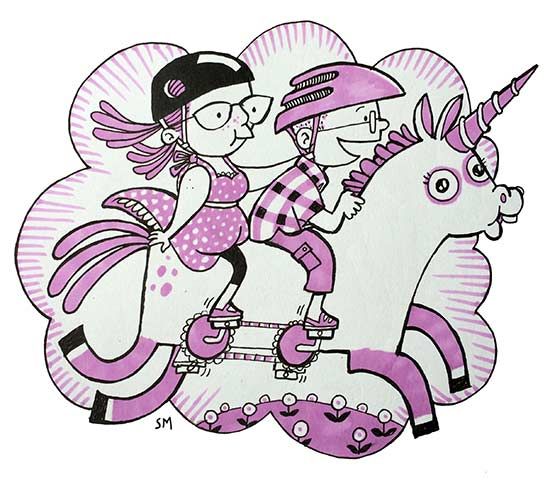 I thought it was going to be more of a relaxing trip, but we ended up cycling 63 miles over three days; Stuart clocked it on his little bike mile counter thingie. Chichester is a great area for cycling, lots of little paths through the wheat fields and by the sea.




We even cycled a little bit through the sea when we reached Bosham at high tide (pronounced BOZZ'um, we finally worked out).




One of the only things I knew about Chichester is that amazing illustrator Warwick Johnson Cadwell runs boat tours there (Chichester Harbour Water Tours), so we met up with him down at Itchenor Harbour and went along for a ride. I knew about this because almost every day he posts his 'Passenger of the Day' sketch on his Instagram. Actually, we missed the boat on the first day because it took longer than we thought to cycle from Chichester, so we saw him two days.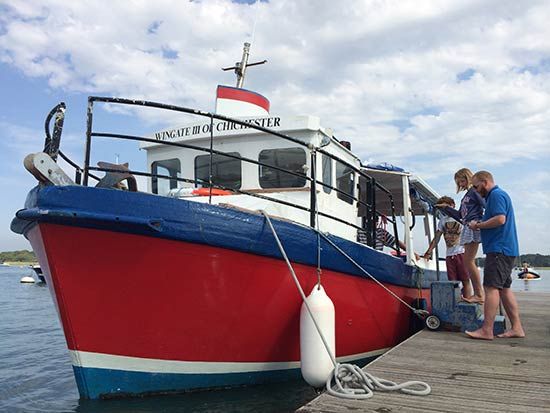 Warwick's kids used to read my comics when I was drawing Vern and Lettuce, so they knew about me a little, and it was fun getting to sit in The Ship Inn by the harbour and draw with them. And look, I got to be Passenger of the Day!! :D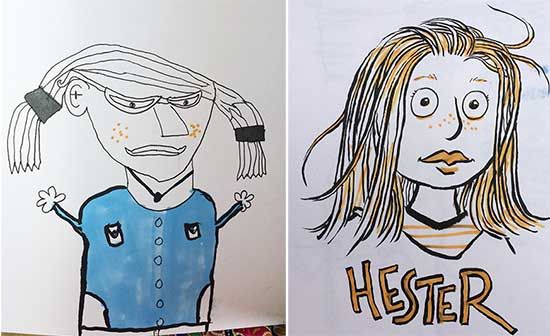 Hester and I drew each other and I LOVE her drawing. It's stylised in a very cool way.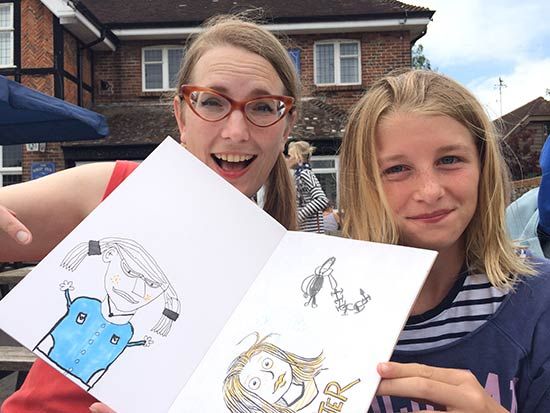 Willy and I drew all sorts of things: dragons, Slender Man, etc, but here are doodles of Warwick and him: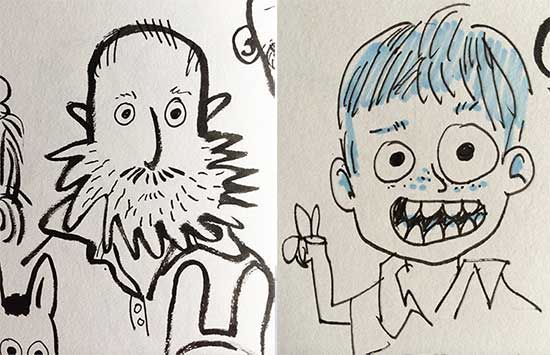 Stuart was rather excited because Keith Richards was sitting at a nearby table, wahey.




And a snapshot of a rough sketch I made of Warwick ('Skipper of the Day') and Hester on the boat.




Hester was making a comic (cover shown here) and was already making good progress on it by the time we docked. Thanks so much for meeting up, Warwick! You can follow him on Twitter as @WarwickJC. (He drew Young Tank Girl for the new Moose Kid Comics.)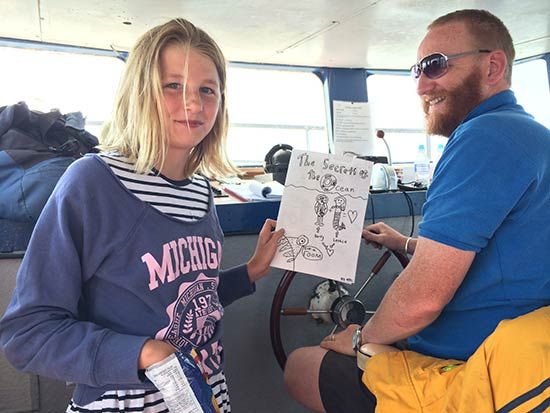 On another day, Stuart and I cycled over to the Witterings (isn't that a great name?) and visited the famous beach at West Wittering. Oh MY, was that car park packed! It took us something like ten minutes to cycle from one end to the other; there must have been 10,000 people at the beach that day. The car park was so dreadful that we almost left, but then when we locked up our bikes and walked over the dune, suddenly the beach opened up, and it was so big that it didn't feel crowded anymore, and we could see why people love going there. I didn't take a photo of the whole beach, but here's a view of some of those little sandworm piles that used to freak me out when I was a kid. They look like little poos, or brains or something. And we spotted some Sarcastic Seaweed, just like you find in Oliver and the Seawigs.




A few more snapshots. I'm not a very good landscape photographer and these didn't come out half as good as they look in real life. But then I put a spooky filter on them and suddenly they looked kind of dramatic, like a horror film, so there you go. (It didn't really look like a horror film.)




While we were in the Witterings, we stopped by to see my fabulous publicist Philippa Perry, who lives in East Wittering. She has a cat named Frodo who looks SO much like the cat I had growing up. The cat and I jumped on the trampoline together and I was quite smitten.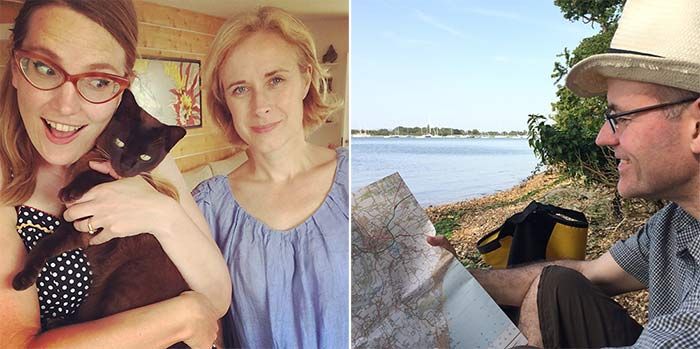 So a good holiday, and Stuart loved getting so many chances to ride his bike; I got a terribly sore bum from that, but the countryside around there is so beautiful that it was worth it, ow OW.