Oo, what's all that rustling and buzzing in the garden? It's a whole cast of characters from Gary Northfield's new comic book, GARY'S GARDEN, published by David Fickling Books and out today!




We at the Fleece Station studio are super-proud of Gary, who's been working so hard to make his amazing weekly comic strips for The Phoenix Comic. And now he's packaged up a whole bunch of them into a beautiful volume.




I love Gary's Garden so much. The little conversations between the insects make me laugh. It's masterfully drawn with such expressive, energetic line and a welcoming colour palette that pulls you right into the garden. Oh, and extra bonus, Gary even has a few cameos in it!





Our studio mate Elissa Elwick and I are wearing floral shrubbery on our heads to celebrate.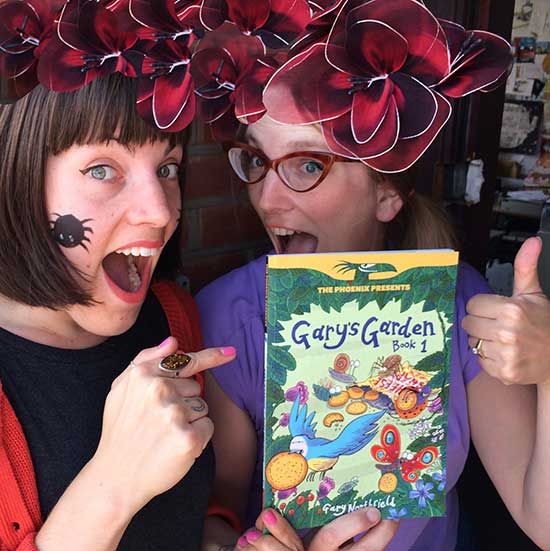 Check it out, who couldn't love all these cute animals running round having adventures? This book will be incredibly versatile, as it's kid-friendly but also appeals to grownups; perfect for any library collection, from primary school to adult. And it makes a great all-ages gift for any of your friends who love gardening, nature, or bugs. ...Say, you get your friend/partner/parent some boringly domestic thing for their birthday, such as gardening gloves or a spade. Why not stick a copy of Gary's Garden into the prezzie to dress it up and make it fun?




This panel made me smile, because it reminds me of working when no one's in the studio: I often think of jokes with no one to share them with. That's the great thing about having Gary and Elissa around, we can try out the funny bits in our books on each other, and generally muck around. So much better than when I used to work alone at home.




Gary's stuck with me at the studio since we set it up five years ago and he's the best-ever person to work alongside. He works incredibly hard on his books and his strips for The Phoenix and other publications, but then he'll take little breaks to have a laugh; we have a good rhythm and I've even come to love the same music.




You can see on the contents page how the book's broken down into little bite-size stories. Perfect for the reluctant reader, who might find a couple pages a real achievement. And hey look, it's dedicated to Ben Sharpe, our lovely editor from DFC and early Phoenix Comic days. (We once made him a whole personalised version of The Phoenix.)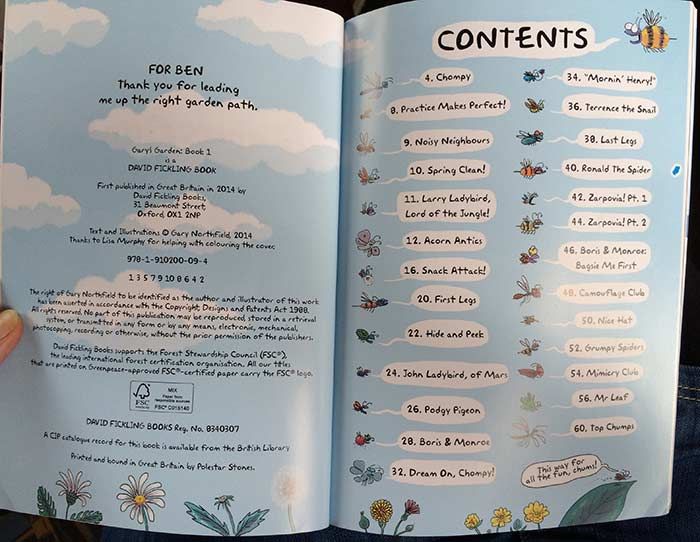 And special surprise... you haven't missed the Gary's Garden launch party! The book comes out today, but Gary's celebrating on Thurs, 4 September at the lovely Bookseller Crow bookshop in Crystal Palace, south London. We had his Teenytinysaurs book launch there and it was ace. Do come along! If you want a reminder or to ask questions, you can sign up to the event Facebook page here.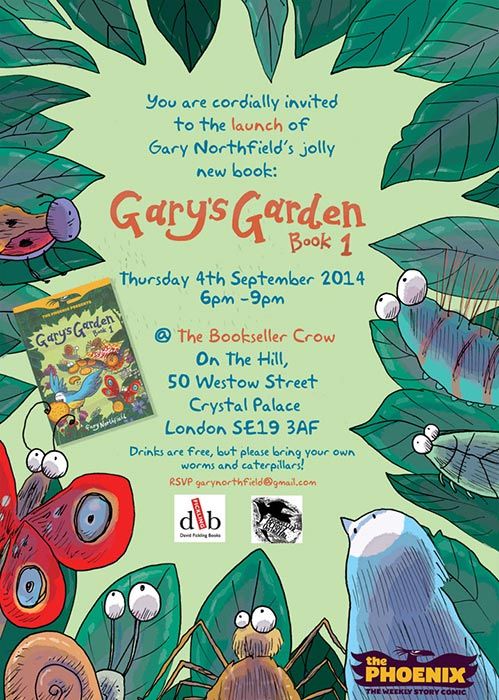 And don't just take my word for it that Gary's Garden is amazing, check out this review by Richard Bruton on the Forbidden Planet International blog!




And you can buy Gary's Garden right here, from the Phoenix Comic shop.




The other exciting books out today are How to Make Awesome Comics by Neill Cameron and Long Gone Don by the Etherington Brothers! But I haven't yet seen copies of them, so stay posted...