Last Friday I went to the huge international Science Fiction convention that is World Con, this year hosted right in my hometown! (It was, somewhat confusingly, also called LonCon3.) And I saw some familiar faces right away! Spot the family who were in my Nine Worlds convention blog post from the previous weekend... (The lady in the excellent Vivien of Holloway dress is Adela Terrell.)




And since I was going to lead a Comics Jam session, I wore my best Jampires dress! And brought along my beautiful new Jampire friend, knitted as a surprise by Ann Lam. Poor little Jampire; World Con was a BIG PLACE and he couldn't find jam anywhere, just post-apocalyptic landscape.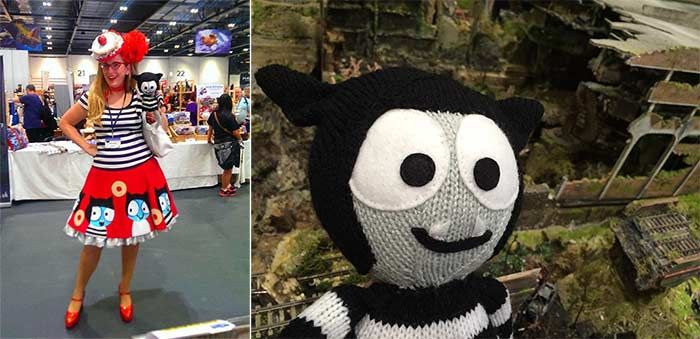 First photo tweeted by @ExLibrisNora


Meanwhile, I was schmoozing it up in the Green Room with writer Emma Newman in her amazing red frock coat. Wait, check it out, the Green Room at the Excel Centre was in this crazy pod on stilts. Funnily enough, I also sat right by George RR Martin in there, but since I don't watch or read Game of Thrones, the experience was a bit wasted on me and I chatted with fab Hannah Berry instead. Cons are like that for me, I don't know any of the people I'm supposed to know, because I never get a chance to WATCH TELLY.




So for the Comics Jam session, I brought along a range of indie/self-published comics, a mix of work by adults and kids, to show to the group. And I talked about how writing and drawing are one thing, but making their own books is even better, because they can learn how a whole book is put together, practice the form, and play around a bit with marketing it, designing covers, etc.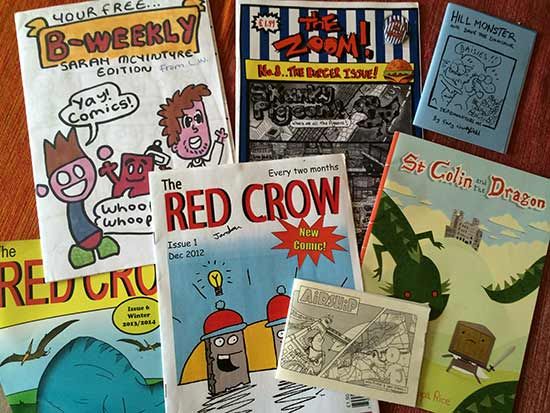 Here we are, in the midst of the Comics Jam, everyone working on panel number three at the same time.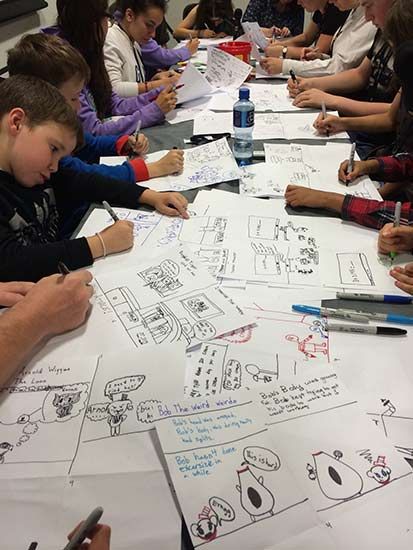 And a couple of the comics we came up with, each panel drawn by a different person: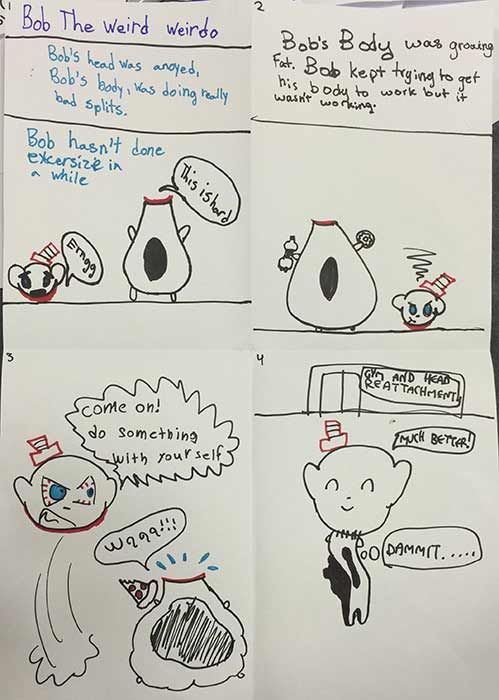 One of the dads in particular was very interested in helping his son find out more about making comics, and I was hugely pleased to be able to recommend Neill Cameron's brand-new book, How to Make Awesome Comics. In the past, I've recommended Scott McCloud's Understanding Comics, but I find Scott's book has a bit too much advanced technical theory for younger kids, say, under 10 or 12. Neill's book is a wonderful gap-filler and I know I will be recommending it often. (You can buy it here from The Phoenix Comic online shop, among lots of other great kid-appropriate comics.)




Oh, and as a side-note, Scott McCloud will be a special guest this October at the Lakes Internation Comic Art Festival in Kendal, which I'll be attending. Neill does lots of workshops at the Story Museum in Oxford and elsewhere, so keep an eye on his website events page.




If anyone from the Comics Jam is looking for guidance specifically on running more Comics Jams, I've created a guide with my Jampires picture book co-author David O'Connell on our Jampires.com website.



Click here to read more

I also spoke on another panel on art, and then went to see Audrey Niffenegger give the English PEN H.G. Wells talk. I sat next to Sophie Lyons, who'd studied on Audrey's novel writing course in Chicago. Audrey talked about Wells' short story The Door in the Wall, which I managed to find and read online late that night. It's like a dark inversion of one of my childhood favourites, The Secret Garden, about a man who once finds a wonderous door to a garden and then spends the rest of his life yearning for that garden; he's unable to find the door, except at the most inopportune times, when he feels he can't take time to walk through it. Good stuff.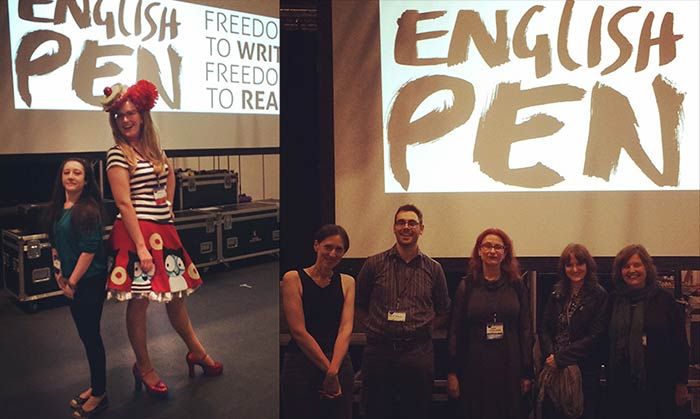 And here are some of the LonCon team! There's Maura McHugh, Erin Horáková, James Bacon and Esther MacCalum-Stewart, and they all looked after me very well. Thanks so much!




I knew Maura from trips to Ireland, where she had hosted me when I spoke to the Dublin chapter of Laydeez Do Comics. Maura does loads of things, but you might know her for the famous list she made of currently practicing female comic artists in the UK and Ireland... Ah, and I see she's widened it to Wome in Comics in Europe! You can follow her on Twitter as @splinister.




I made a quick foray into the Dealers Hall and saw the art exhbition, and was particularly pleased to see my ol' studio mate Ellen Lindner's books on display at the Soaring Penguin table, manned by John Anderson and Nora Goldberg.




So my experience doesn't even begin to encompass the vast scale of the con, and it ran for five days. There were Hugo Awards and about a thousand other events. But I was glad to have a little window into it, for the day I was there. Thanks, Maura and James, for inviting me to be a part of it!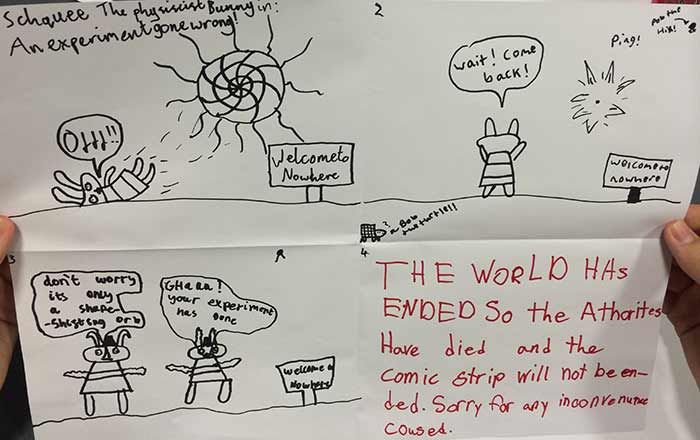 I'll leave you with a few more of the Comics Jams.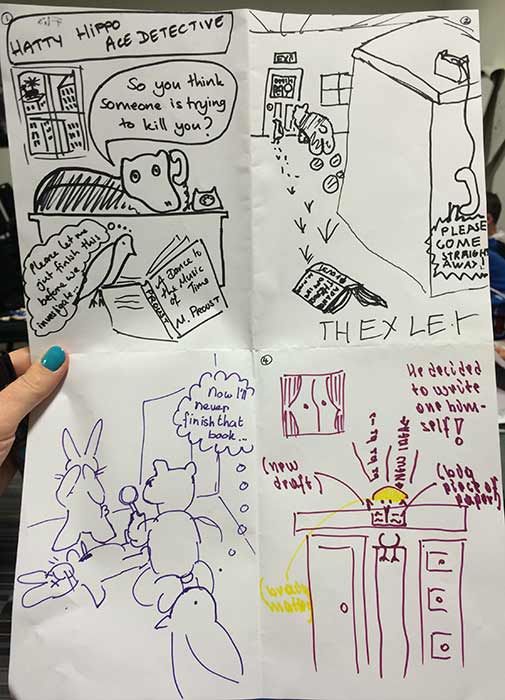 Edit: Just in, from @gilibugg on Twitter: