Last night the Fleece Station studio was out in force to celebrate the launch of Gary Northfield's new comic book, Gary's Garden! You may recognise Gary's Garden as a frequent strip in The Phoenix Comic, one of the comics in there that the parents like as much as the kids do because it works on so many levels.




Elissa Elwick and I both wore Chompy the Caterpillar-themed garb. Gary's Garden makes the perfect prezzie for kids (say, 5+ with some help reading), adults who love nature and gardening, anyone who likes a good laugh. Buy it here a The Phoenix Comic online shop! Gary works so hard on these comic strips, has such great drawing skills an perfectly pitched comic timing; we're all very proud of him. Look, Lauren O'Farrell (aka Deadly Knitshade) makes a perfect perch for Bob the Butterfly!





And here are the lovely Ficklings - David and Caro - who make it happen, at David Fickling Books, based in Oxford. It was also great to see Gary's Garden amazing designer Ness Wood (who also designed Jampires!), DFB's Phil Earle and John Dickinson. Jonathan Main and Justine Crow of Bookseller Crow in Crystal Palace hosted the party, and they've been great supporters of lots of our books, we love our indie. I love buying books from them, even online; they stock a great selection, including lots of beautiful graphic novels.




Gary's sister, Susannah Northfield, made the cake!




...Bits of which were consumed most elegantly by Gary and his partner Nicky Evans.




Speaking of elegance, just as David Fickling was giving his speech, a giant bird swooped down and placed a wafer upon his lips. We all bowed our heads for a moment of awed silence for this great book.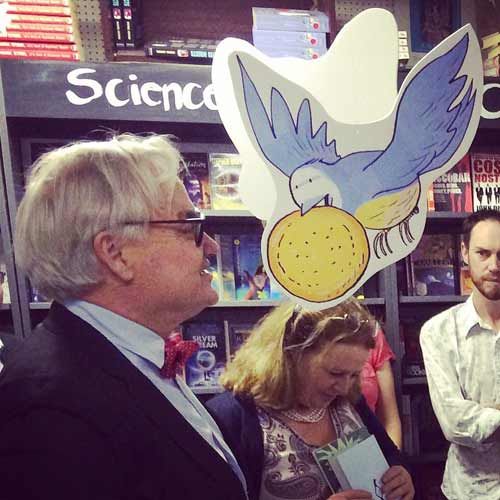 Gary made a big window display; here he is stage directing Nicky in setting it up.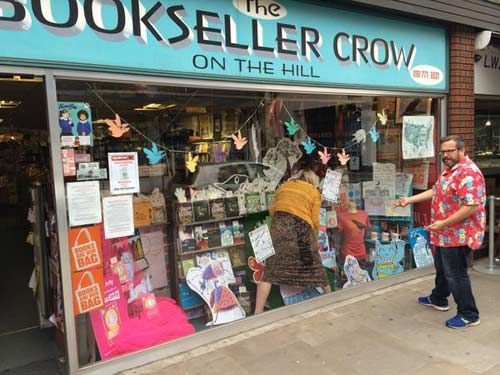 There were a couple other Phoenix Comic people present: the fabulous Jamie Smart (Bunny vs Monkey, also out now as a book!) and the excellent Matt Baxter, who creates the Live from HQ strip with the Phoenix comic-character editorial crew. I didn't manage to get a photo of Jamie, but here's Matt. And you can just spot illustrator and app-creator Heather Kilgour over his shoulder! There were quite a few comics makers there that I didn't manage to photograph, including Francesca Cassavetti.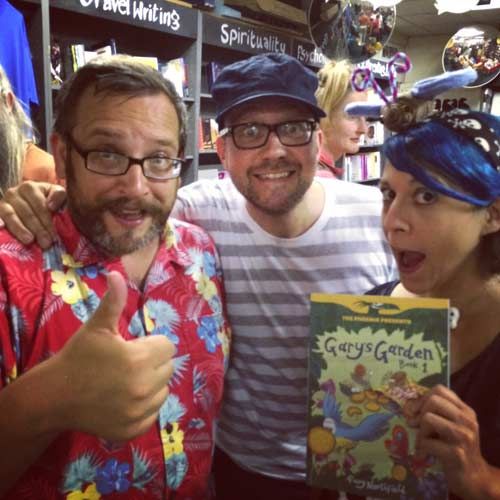 Hee hee, another hat photo.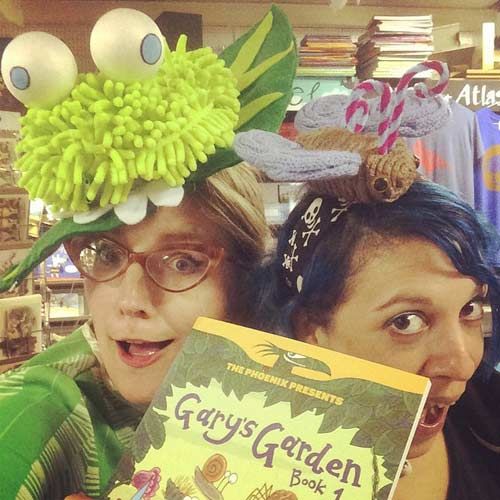 This Thursday (called 'Super Thursday' in publishing) was also the official publication date for my book with David O'Connell, Jampires, and wow, a couple of them showed up!




It was really Gary's night, but we had a happy mix of new creative stuff.




I was very proud of my Chompy hat, made from a pencil case, foam balls and pipe cleaners from Poundland, some felt, a yoghurt pot and a coat hanger.




When creating Gary-themed characters, it's very important to get the wonky eyes right.




Before the launch, we went for a top-notch Afternoon Tea in Alex Milway and Katie Lee's garden (Gary lived with them for a couple years while he was working on Gary's Garden), and Dave and I brought along some of our local Butch Institute Jampires-themed jam.




Huge congratulations, Gary! Gary's Garden is amazing, and everyone, spread the word and help it fly off the shelves! And subscribe to The Phoenix Comic for ongoing Gary's Garden goodness.