So Philip Reeve hijacked my previous blog post and turned it into a Manx Reeve & McIntyre pop quiz. But it wasn't exactly a comprehensive look at my visit to the Isle of Man for the Manx Lit Fest. The main reason I blog is so that I don't forget things, and Manx Lit Fest was so fabulous that I absolutely must go back and record it.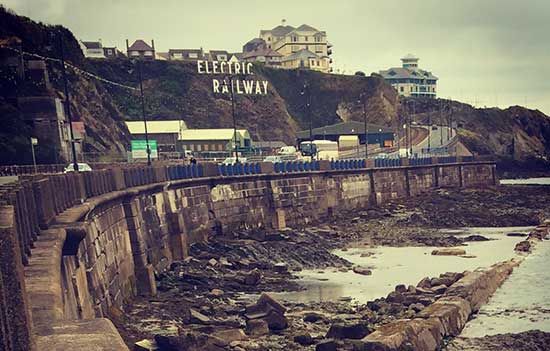 Writer Rakie Keig plunged me straight into a Manx cultural lesson when she drove me from the aiport to Douglas, where I would be staying for the weekend. We drove over the Fairy Bridge and she urged me to greet the fairies (as everyone does on the island, I learned from asking around). She also advised me never to say the word r-a-t, and subtitute the wod 'longtail' if I needed to say it. Her third tip was never to say I had come over from 'the mainland', but to call it 'the adjoining island'. Thanks for the tips, Rakie!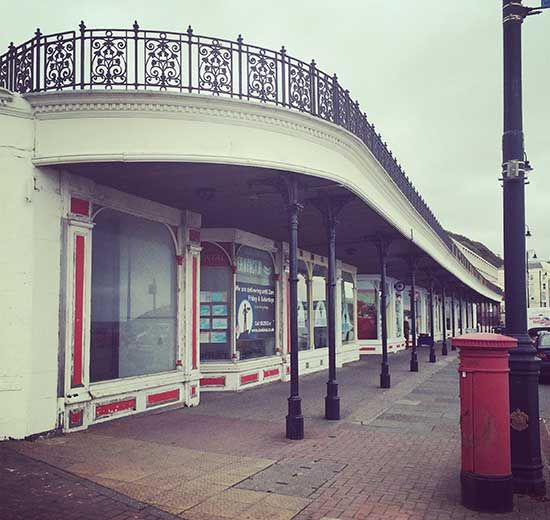 Douglas has a lovely long promenade along the beach, with a sort of faded grandeur that makes it easy to imagine the old days, when it was a prime seaside holiday destination. The Regency Hotel had lots of quirky old features, including a beautiful but tiny lift.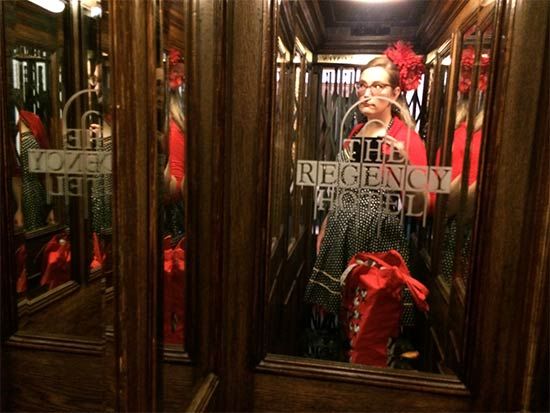 The lift had those sorts of grated gates you see on Russian lifts, and of course, I had to take a photo down the shaft. And then I imagined the pile of dropped camera phones at the base of it.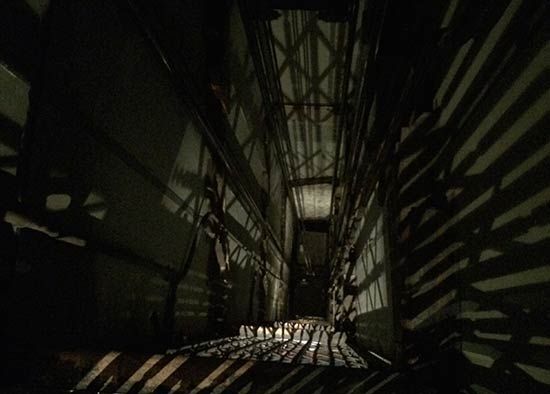 The lift became a major feature of my stay, and got tinier and tinier as my costumes grew larger.




My first event was a reception for the festival's sponsors, and one of the nice surprises was getting to meet a young author named Harri Sansostri. I meet a lot of kids who write, but I'd connected with Harri a year ago, when he was just beginning to try to promote his book on Twitter. He was sending the same promo tweet to everyone and I at first thought it was spam, but then realised his age, and we had a good conversation about promotion, which led to me writing this blog post for him. There was too much to say on Twitter, and I thought it might help Harri and other kids (possibly even adults!) who are trying to walk the fine line between promoting their books and being annoying. I'm sure I often go about it the wrong way, but Harri is proof that just getting out there and trying something, even if he got it wrong at first, can pay off in the end.



Photo by Steve Babb

Harri's learned so much since then about using social media and his mother came up to me and thanked me for giving him that advice, and he tweeted me later to say how helpful it had been. (Which was good to hear; some people would just get angry if another person referred to their early tweets as spammy!)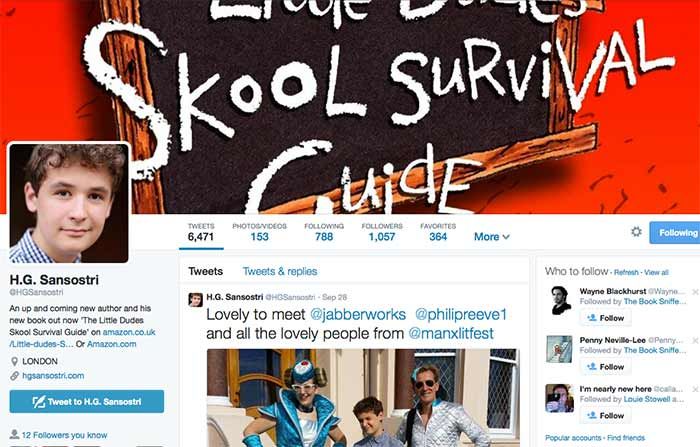 I was so pleased to see he's ploughing forward with his books, having finished the second one and working on the third. Here's an update about it on his website, and it's great to think he's already being invited to a literary festival. He's also done quite a few school visits, which is very impressive!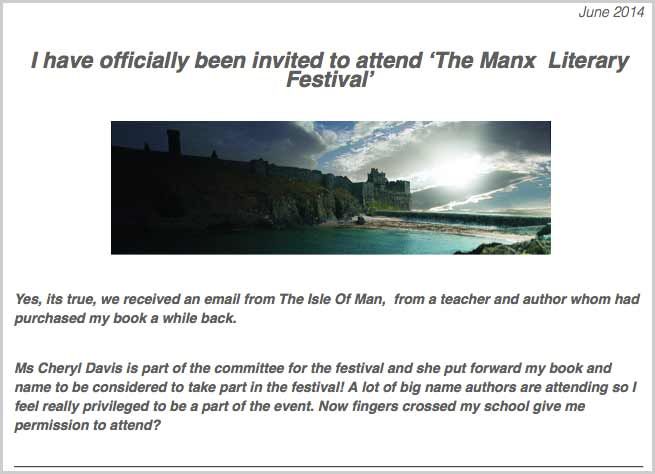 Another person I met at the reception was teacher-turned-rap-battler, poet Mark Grist. The only things I knew about rap battles are from watching Eminem's film 8 Mile, but talking with Mark so intrigued me that I went to see his event later, which was undoubtedly the most entertaining poetry evening I've ever been to.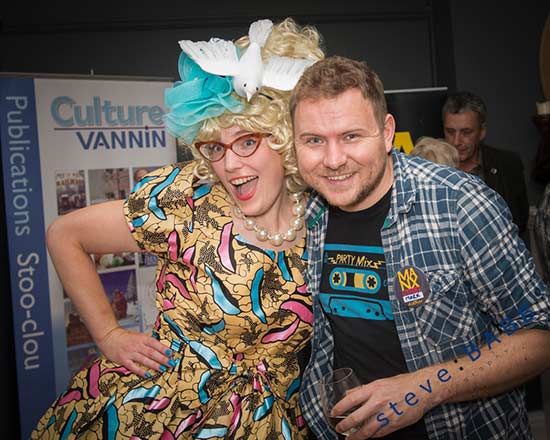 Photo by Steve Babb

The actual rap battle videos are quite sweary (one of them has over 4 million views), but you can see a family-friendly version here, where Mark talks about taking rap battles into schools.


http://markgrist.com/video.php

The thing I loved most about his gig was the way he wove stories about his teaching experiences in between poetry recitations; it was great comedy.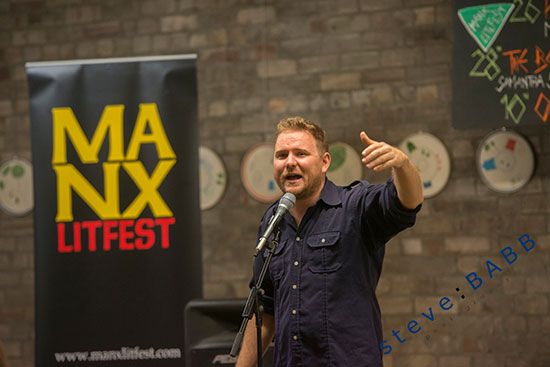 Photo by Steve Babb

After the reception, my Oliver and the Seawigs and Cakes in Space co-author Philip Reeve and I hosted the annual Book Fanatics' Quiz Night (see the previous post). The next day was Schools Day, and I spent the morning with the kids at Marown Primary School.




I led an Oliver and the Seawigs session with Years 2-4 and we finished by drawing Sea Monkeys and singing the Sea Monkey sea shanty.




These cheeky Sea Monkeys made me laugh:




The youngest children, Reception and Year 1, had already been reading Jampires, so I was able to build on what they already knew. We started out by drawing Jampires (who love jam), but then I had them think of their favourite food, and invent a little critter that might be obsessed with it. We even did a little bit of world building, talking about their creatures' homeland, filled entirely with their favourite food, and we drew trees with the food hanging from them (sausages, chocolate, salmon, etc).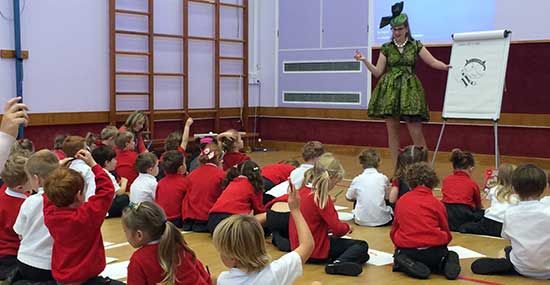 Besides the Jampires, it was fun seeing Pizzapires, Sausagepires, Chocopires...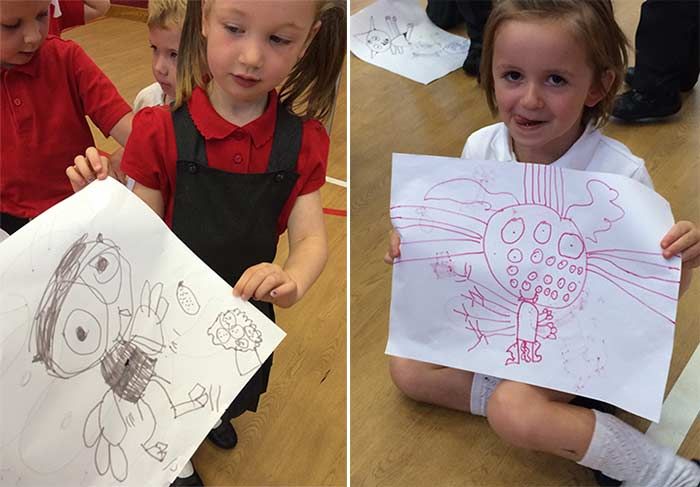 And then I finished with the oldest kids, Years 5 & 6. I led them in a Comics Jam, which was quite intense.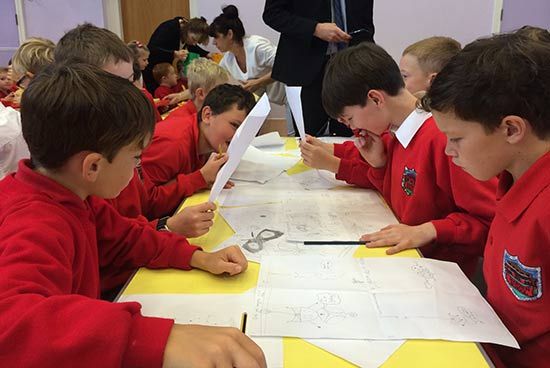 It's always fun watching them at the end of the session, when their comic is returned to them, and they can see where other kids have taken their story.




This loo door made me laugh, but no, the Marown staff do not have visible horns! Huge thanks to the school's Literacy Coordinator Megan Udy, who organised my visit, and to Nicki McMullin, from festival sponsor Isle of Man Bank, who drove me to my events.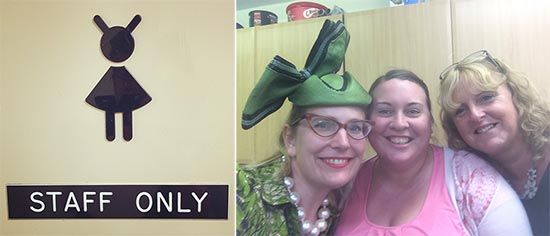 I did solo events in the morning, but I was glad to join up with Philip in the afternoon for a shorter visit Cronk-y-Berry School. (Isn't that a great name?).




In the evening, we had a Serious Literary Event in St Bridget's Chapel on the gorgeous Nunnery Estate, just outside of Douglas. (Here's Philip being all posey in the evening sunlight.)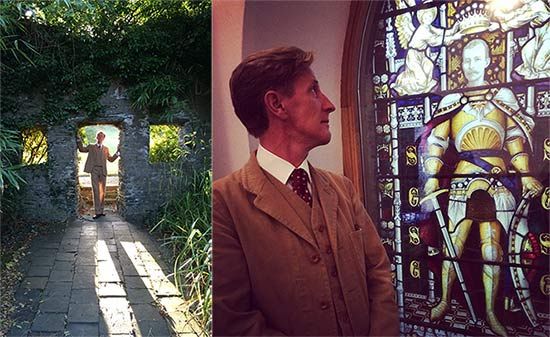 We were joined in our event by novelist Sara Crowe, author of Bone Jack, and we talked on the subject of 'Creating a Lifelong Love of Words'. A lot of what I talked about was the importance of visuals in getting kids reading, their love of comics, and the importance of making books to inspire kids to love books. You can get an idea of what I talked about in an earlier blog post I wrote here, about setting up school comics festivals. Actually, we talked about A LOT, but you really had to be there. Come to one of our events sometime!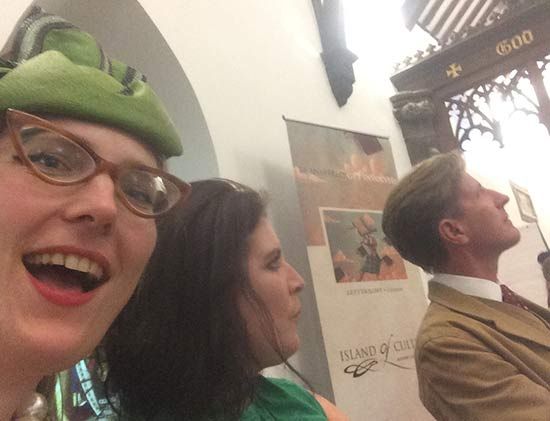 The next morning was Cakes in Space morning, and I assembled various bits of my costume on the hotel window ledge. Standard illustrator equipment, you see.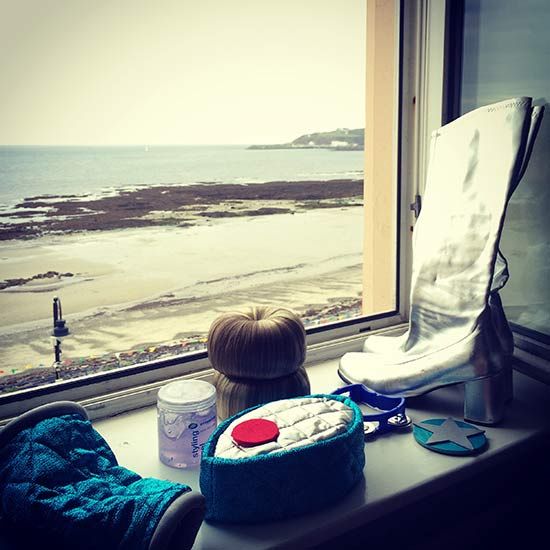 And then we went to Douglas' Family Library, where we were met by an eager crowd, and possibly our youngest ever!



Photo by Steve Babb

We demonstrated the power of SCIENCE with the Nom-O-Tron:



Photo by Steve Babb

Delighted everyone with the tuneful strains of our Cakes in Space song: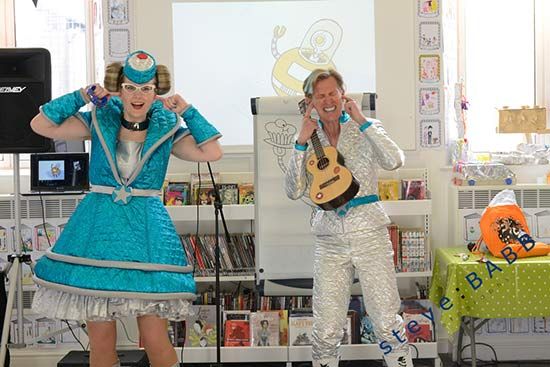 Photo by Steve Babb

And presented awards for the best Cakes in Space-themed craft projects! Check out THIS HAT:



Photo by Steve Babb

Utter genius, such a beautiful hat! It was created by the contest winner, a boy named David. Hurrah!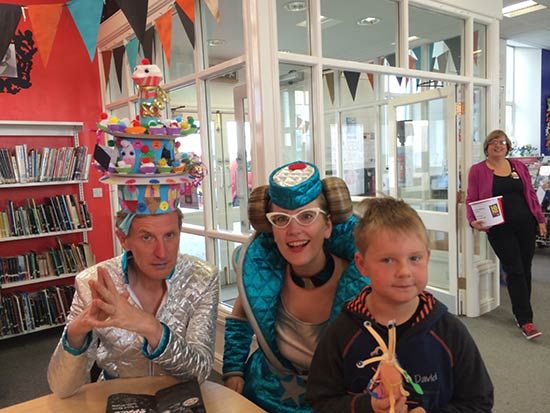 The hat was almost good enough to eat. (Stop that, Reeve!)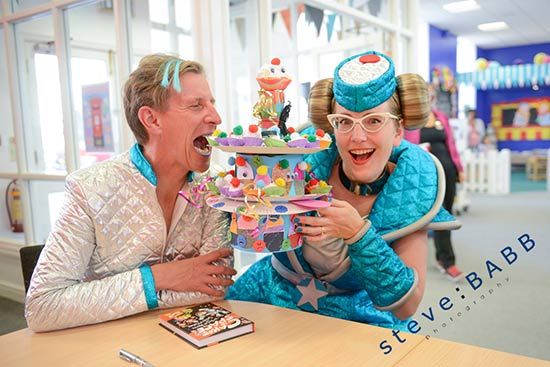 Photo by Steve Babb

Oo, look, David also made a Cakes in Space Poglite! So fabulous!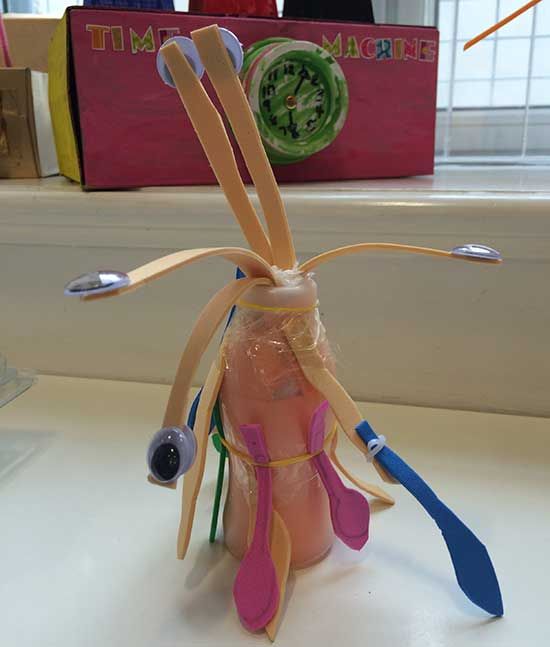 We didn't get explanations for these drawings, but they looked pretty amazing.




And we also did a bit of drawing ourselves, on the day!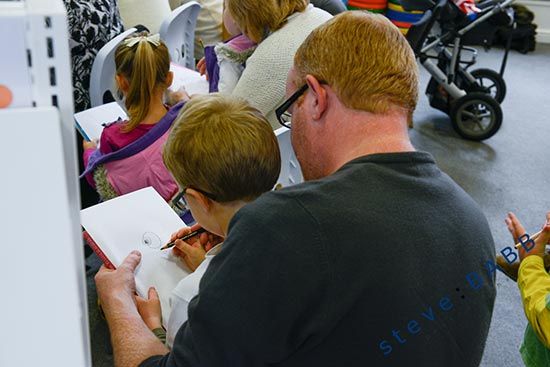 Photo by Steve Babb

I led the group in drawing Pilbeam the robot, whose voice was so expertly reenacted by Philip.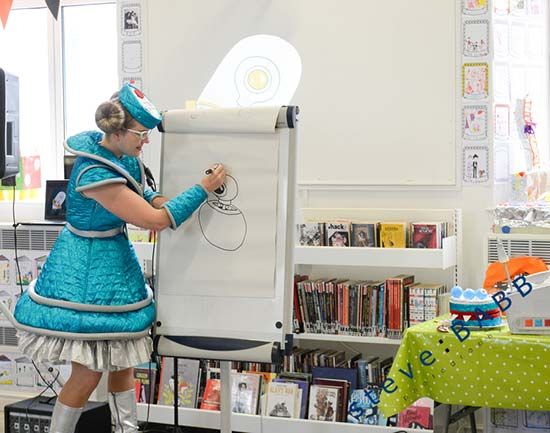 Photo by Steve Babb

Check out some of these great Pilbeams!




When we first started doing our Cakes in Space event, Philip and I were worried that drawing Pilbeam would be too complicated. But somehow, the step-by-step approach seems to work with even very young children. You can learn how to draw Pilbeam (as well as Astra and killer cakes) over on my website here.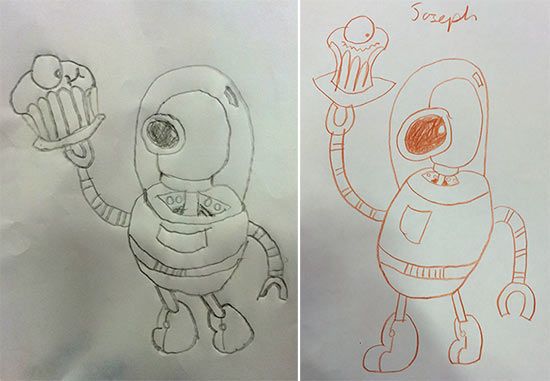 One of the nice things about the book signing session after the event is getting to see people's drawings up close, and having little chats with everyone.



Photo by Steve Babb

Big thanks, Family Library team, for a great morning! We were so pleased to see wonderful decorations everywhere, and the competition was a real bonus!



Photo by Steve Babb

After a quick costume change, our next stop was Laxey Glen Gardens for the Roald Dahl Family Day, where we did an open air Oliver and the Seawigs event. And we got to hang out with fabulously funny writer Mark Lowery! If you haven't read his Socks are Not Enough, go read it now, it had me laughing and dying with embarrassment for its main character.



Doughut fascinator created by Sally Hamerton, as worn at the Cakes in Space launch party!

One of the cool things about the Isle of Man was just HOW many people had read Philip's books. Here's a Murderous Maths fanboy popping out from the trees, and so many people told him how his Mortal Engines books had a huge impact on them. Even Mark Grist said he walked into a lamppost reading the end of A Darkling Plain.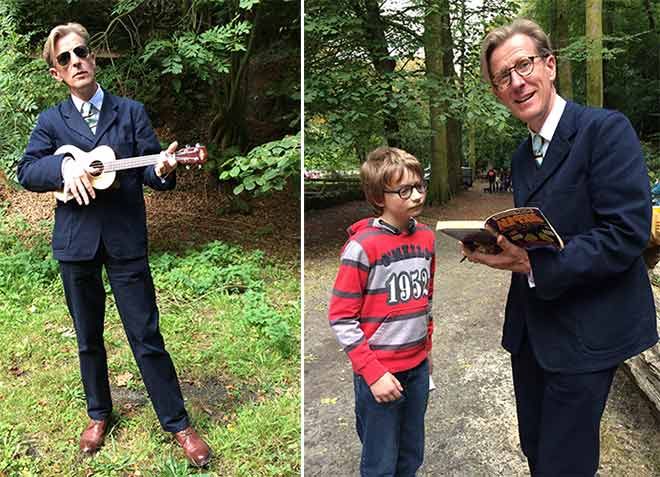 We were VERY lucky for sunny weather for the stage event, and we had to shout quite a lot to be heard, but we had a good audience and the dog on the stage slept peacefully throughout the show. Thanks to everyone who came along!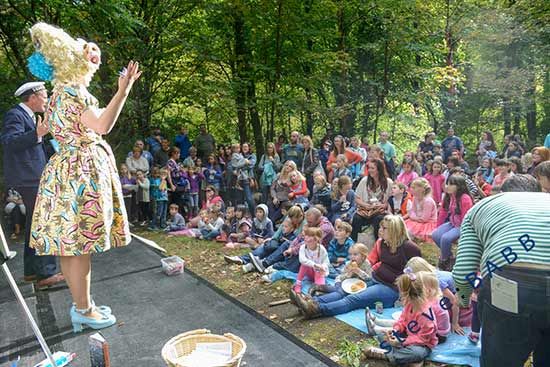 Photo by Steve Babb

We were hoping to do a bit of sightseeing, and just before we left, festival Treasurer Pam Cope kindly drove us to Peel, for a look at its magnificent castle. I'd been to the Isle of Man for a wedding 13 years ago, and I'd forgotten an awful lot, but I knew Peel Castle would be worth revisiting. And gosh, it's pretty.




And so many interesting parts to explore! Hey, where has that Reeve gone off to?




Hmm, something's flitting through that bit of ruin there...




Let's zoom in. Ah, 'tis just a little Manx faerie.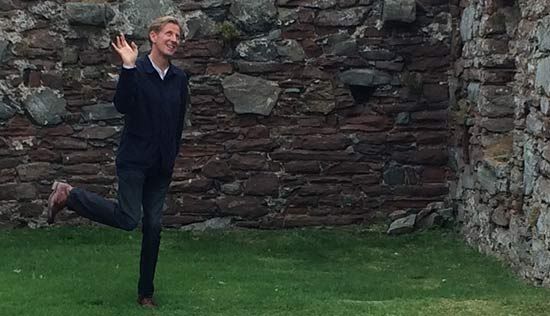 Of course, in such a dramatic location, one must create dramatic album covers:




And I took a photo of a beautiful, rusty, old boat in Peel Harbour, for Ian McQue, who draws such things so well.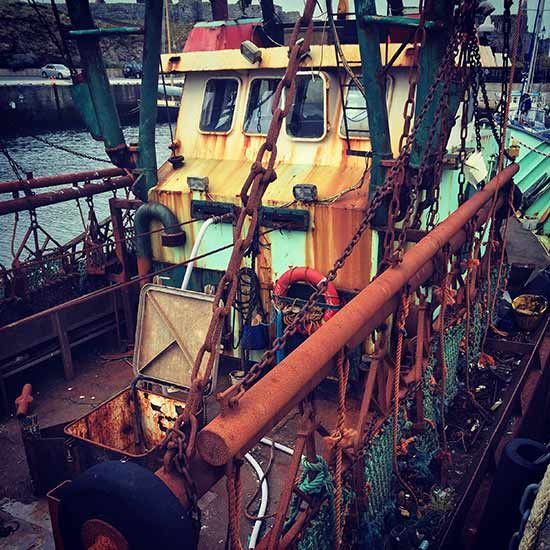 Festival photographer Steve Babb had us pose with the local Viking rope sculpture, and tweeted that we were arguing over our next book title.



Photo by Steve Babb

Here's my photo of Steve! He was great fun and took so many terrific photos! Thanks, Steve!




Manx Lit Fest was a brilliant festival and I recommend it to any authors or visitors. So much to see and do! Huge thanks to the festival team (having a tiny breather in a Peel cafe): Festival Director John Quirk, Pam Cope, Emma Quirk and Technician Andrew Kniveton.


\

But that's not the whole team; there were SO many other people involved, driving (thanks, Andrea Howroyd!), running events, baking, you name it. Here's volunteer Rakie Keig, the person who drove me from the airport:



Photo by Steve Babb

Harri Sansostri with the excellent staff of Bridge Bookshop in Port Erin, who sold books at our events:




And a photo of Harri with writer Donald Murray, who opened the festivities in Gaelic.



Photo by Steve Babb

I didn't get to see Nicola Morgan's talk about her book The Teenage Guide to Stress, but I heard great reports. Check out her website if you're thinking of booking an Author Visit, she has some great advice and resources.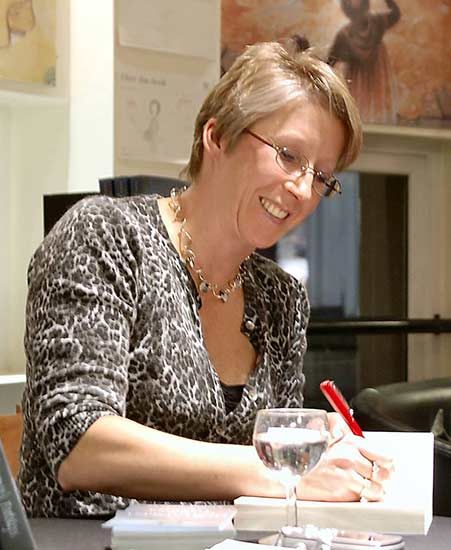 And one more photo of John Quirk, just because in the Mortal Engines books, 'Quirke' is a god, and that is undoubtedly why we got invited, ha ha... Thank you so much, John and team for a brilliant festival!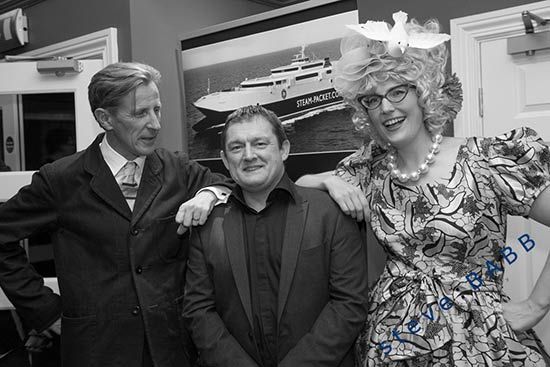 Photo by Steve Babb