Today The Bookseller announced the winners of the new Sainsbury's Children's Book Award! Congratulations to all of them, Fiona Watt & Rachel Wells, Michelle Robinson & Jim Field, and Sarah Courtauld! The team at Sainsbury's, writer Phil Earle and I worked together to come up with an award logo: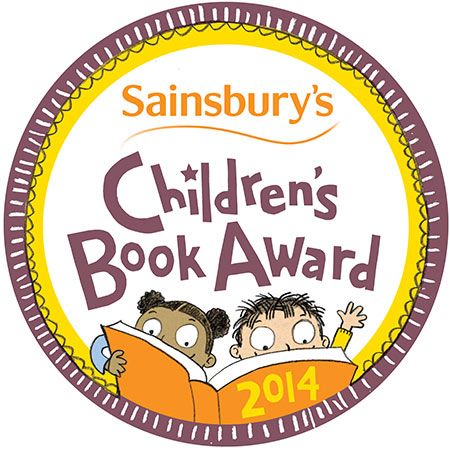 Picture books are my real passion, so I had a wonderful time reading my way through the stack. (I'll focus on the Best Picture Book category here because I had the most active part in that judging process.) I've been a long-time fan of Alex T. Smith's beautiful illustration, and I was thrilled his Hector and the Big Bad Knight was shortlisted. I love his compositions, the ways he turns people and objects into such interesting shapes and fills these shapes with beautiful patterns and amusing details. I loved reading aloud Judi Abbot's TRAIN!; she gives so much scope for funny voices and acting out different emotions using very simple words.




I'd only recently become aware of Jim Field's work and he totally blew my socks off with the winning book with writer Michelle Robinson, There's a Lion in My Cornflakes.




Jim and Michelle have ingeniously turned a simple 'What If?' story into a hilarious, beautifully designed flight of fancy. Jim's drawings are at once sophisticated and accessible, his slightly retro colour palette is bold and striking, and he uses intriguing devices to push forward the story, including pages of 'Free Lion' cereal tokens, tasty packaging and a letter from the cereal manufacturer. I absolutely adore the joyful complexity of the central pages, where all the kids in the neighbourhood are playing with the gorgeous lions they've been sent after collecting their tokens; I immediately wanted to count all the lions, then giggle at all their various antics.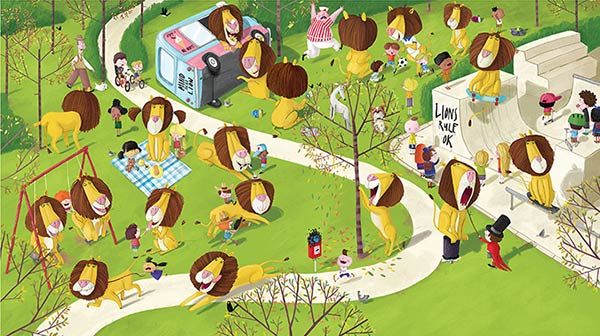 When I first read the book title, There's a Lion in my Cornflakes, it made me laugh, because my recent picture book, There's a Shark in the Bath, ends with an elephant in my Cheerios.




People keep asking me if I'll make that into a sequel, but Jim's done something similar so well that I think I'll leave this to him!



There's a Lion In My Cornflakes - Book Trailer from Jim Field on Vimeo.



Go find out more about how Jim made the artwork over on his website, and you can follow him on Twitter as @_JimField and Michelle at @MicheRobinson.




I was hugely pleased to be part of the judging process. Picture books are some of our greatest national treasures, and there's nothing that gives greater hope, comfort and excitement to a child than to be nestled in the lap of an adult, wrapped in the pages of a book, gazing into a whole other world. And picture books aren't just valuable for children; I hope that adults will appreciate how each book's a whole exhibition of art and design, contained within the portable walls of its two covers. Awards such as this one highlight the fact that children's books aren't just about nostalgia, but that Britain is producing exciting new stories all the time. I'm very proud to be part of this!

Big thanks to Phil Earle and the Sainbury's Children's Book Award team. It was great fun chatting about and debating books with you!




Apparently the girl in the logo looks just like Children's Book Buyer Mavis Sarfo when she was little! :D