Yesterday I was having problems drawing, which usually means I'm trying too hard. So I did a couple of pictures where I wasn't trying so hard, and they came out better than the work stuff. OH WELL. This one was in response to Jim Field's illustrations in There's a Lion in my Cornflakes (see my earlier post on that).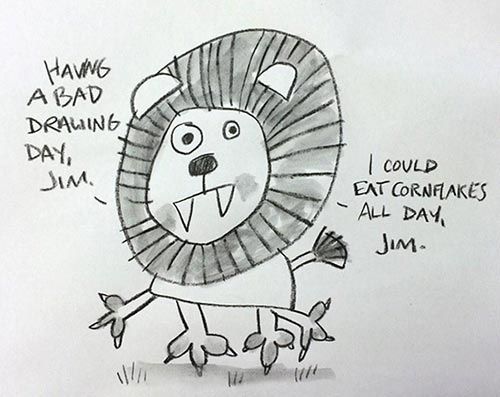 And this one's from asking everyone on Twitter what to draw, and I drew ALL the suggestions and gave them the names of the people who suggested them. There's not a lick of research in any of that, and I forgot what an axolotl was, so I made it up!




From tomorrow until Sunday, I'm going to be at the Lakes International Comic Art Festival in Kendal, which I hear is one of the best comics festivals in the country, along with Thought Bubble in Leeds, which I'll be attending with David O'Connell in November. Page 45 (a Nottingham-based mostly-comics shop) will be selling my Scholastic picture books this weekend and I think Forbidden Planet will also be selling some of my books. I'll be doing two signings, 10-2 on Sat and 10:30-2 on Sun, so do stop by and say hello! At the end of the week, I'll also be selling a limited number of copies of my 24-Hour Comic book (that I'll be making all at once, from Wed afternoon until Thurs afternoon) and during the time I'm there, you can pick up a copy directly from me of the Jampires comic book that the Jampires picture book was originally based on. I think I have about 25 copies of that one and it's £3. I might also do some on-the-spot sketches for people, we'll see how it goes. I'll definitely draw in any of my books!




Eek! I've never done a 24-Hour Comics Marathon before, I'm curious how it will work. I hope I can stay awake that long. Scott McCloud's going to be at the festival, too, and he's the one who came up with the original 24-Hour-Comic dare.

You can follow updates as the festival progresses on the #LICAF hash tag. Hope to see you there! If you're someone I know from the Internets, let me know, because I'm a bit slow with that sort of thing! It's so gutting to find out later that I've been talking with someone but never put two and two together to realise exactly who that person really was. Say hello and tell me who you are! :)