So what's it like to make a whole book in 24 hours? Last weekend I took part, with six other artists - Jack Teagle, Kristyna Baczynski, Warwick Johnson Cadwell, Dan Berry, Fumio Obata and Joe Decie - in the 24-Hour Comic Marathon at the Lakes International Comic Art Festival in Kendal.

I've posted the pages of my comic so you could read them online here. And you can read about the 24-Hour Comic dare on Scott McCloud's website.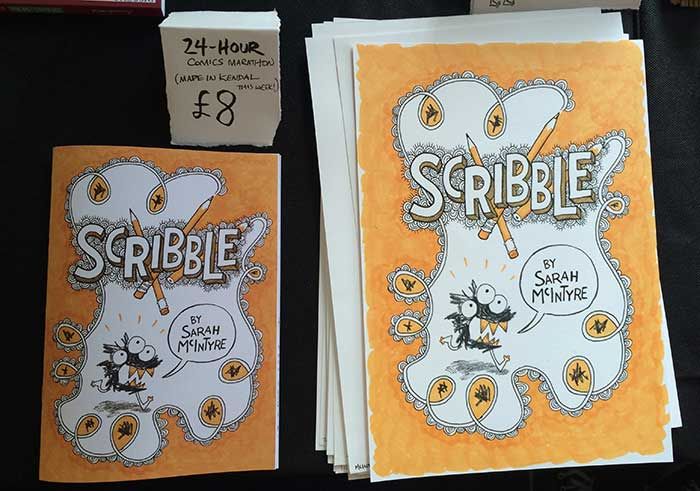 I was kind of scared in the days leading up to our 24-Hour Comic Marathon. The longest I've ever worked without going to bed is about 17 hours, and that was miserable. That was when my picture book You Can't Scare a Princess! was due, and I started to go a bit mental from lack of sleep. I did those hours a few days in a row and went between feeling horrible and headachy to feeling sort of elated, and thinking that everything was terribly funny and posting a very stupid video song on YouTube. I wasn't looking forward to doing that again. (My studio mate taped my face so I wouldn't do any more songs.)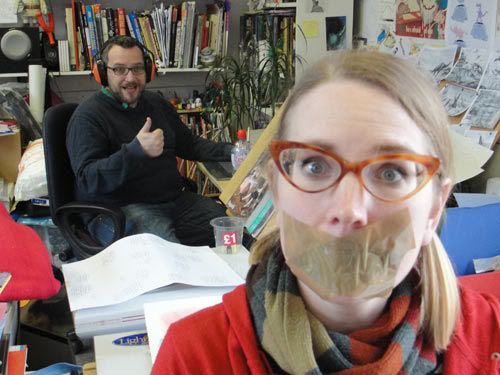 In the week before going to Kendal, I'd been very busy doing thumbnails roughs for the next book with Philip Reeve, so I hadn't had time to do much planning. Not that we participants were expected to plan for the 24-Hour Comic. The original idea was that people would begin the challenge completely unprepared, sometimes even get the story topic when the clock started. But our coordinator, the fabulous Dan Berry, let us think of our story in advance, and write down some ideas. Nearer the date, people started posting thumbnail roughs, and even pencil roughs. Dan tweeted that he'd made a whole rough draft of his book like this: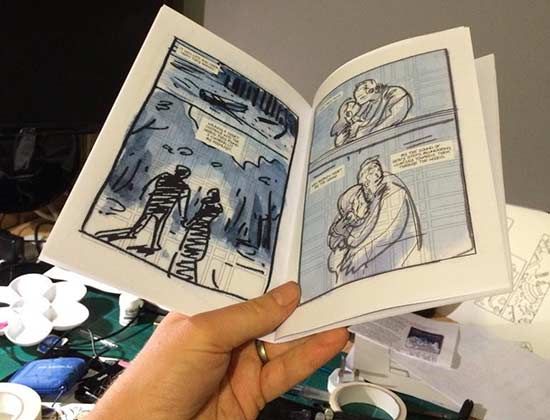 To be fair, he was running the whole thing and would be helping us if we needed it, so we couldn't begrudge him being prepared. Also, we were getting the comics printed and so he wanted them to be GOOD, not just finished. Kristyna Baczynski has a very detailed, precise style, and was also worried she wouldn't have enough time, and made pencil roughs (tweeting this photo):




I got very nervous that my comic was going to look terrible compared to everyone else's. I don't usually like to compare myself to others, but I didn't want to let everyone down by making the one sloppy, nonsensical book. I did start with a storyline, something I'd considered for a picture book but thought I'd like to try out as a comic. And I did these rough thumbnails, trying to see how it might adapt. But that was all. I could barely read my own doodles.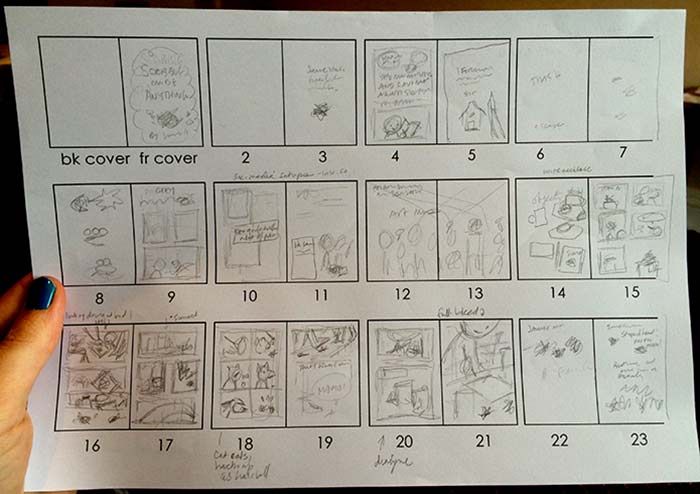 Here's Warwick Johnson-Cadwell and me looking at Dan's amazing sketchbook. And Dan's colour palette preparations, stuck to the wall of our workspace at the hotel.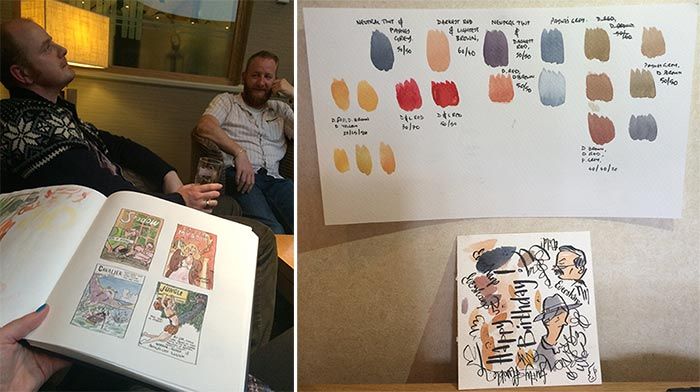 In the hours leading up to the 3pm start, I thought, I could either stress out and get started by doing some pencil roughs, or I could walk outdoors and get some fresh air, since I'd be sitting flat on my bum for a very long time. That seemed the zen thing to do. I went on the Woodland Trail behind the hotel. I tweeted photos of my fingers. I pretended I was BRAVE.




I wrote a postcard. My stomach was doing flips.




Some people arrived with a big delivery from Morrison's, who had donated extra food for our venture. The night before, Donya Todd (who was there with 24-Hour comicker Jack Teagle) promised she'd stick around while we were working and punch me if I started to fall asleep.




We'd had a good dinner the night before, and tried not to drink too much of the Fighter Fluid bitter, brewed specially for the festival. (That's Jack with a pint.) Kristyna was the last to arrive (here's a photo of her with Fumio Obata) and then we were ready to start.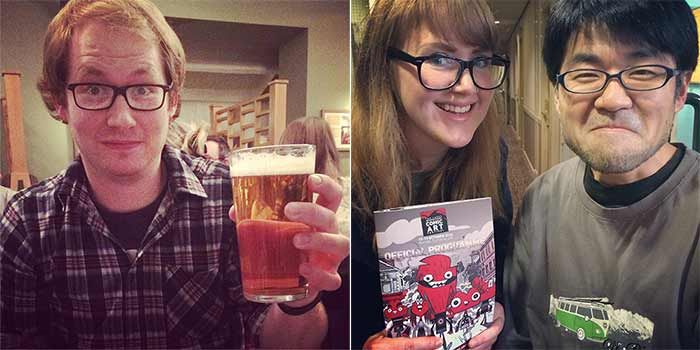 It was great working in a room full of other people. If I needed a stretch, I could get up and see what everyone else was doing. It's fascinating seeing other people's working methods. (You can see Kristyna and Dan, hard at work.)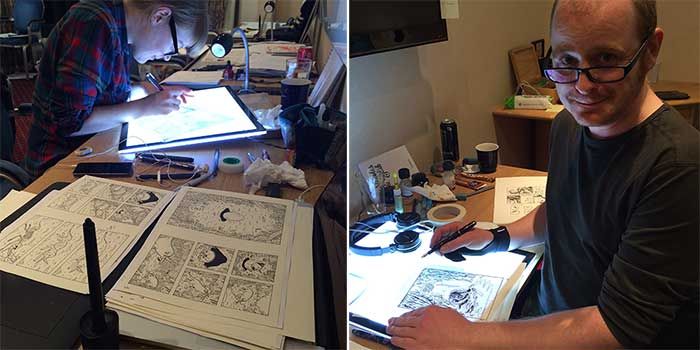 Kendal College loaned us the equipment, and the lightbox (for tracing) was better than the one at my studio. I might have to get me one of these:





Here's Jack at work. There were several of us who used very limited colour palettes, partly to save time: my colour was yellow, Jack's was red, Warwick chose blue and Kristyna chose green.




I hit a bad stumbling block very early on. I thought I'd use my new Letraset pens for colouring, and I'd tested them on a Letraset pad that came with the pens. It seemed to work very well, with no colour bleed. But when I started colouring the comic, the ink started pooling in a horrible way (particularly when I painted faces), and it ruined my first page. Fortunately I'd bought a pad of Fabriano cartridge paper as backup, so I redid the first page and recoloured it. But it cost me time. (You can see the difference in papers.)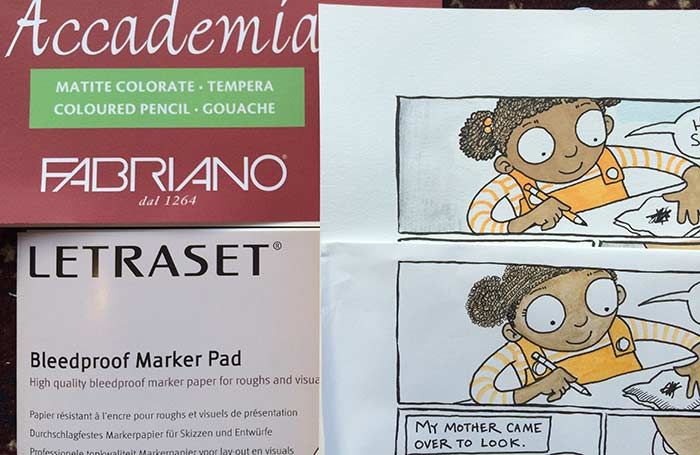 Other than paper, these are the only drawing materials I used. I knew I'd be rushed and didn't want to take chances with watercolour sliding around and spilling, and I knew I wouldn't enjoy colouring that many pages digitally. For this comic, it was all about pens. Occasionally I faked a little bit of watercolour wash with the black watercolour pencil and a bit of the water brush pen. But mostly I just used black line and the Letraset markers. They seem to run out quite quickly as the alcohol in them evaporates; I was glad I'd brought two of each.




Our pages were A5 size, and I drew mine 125% larger than that, and had made up a grid that size to put underneath on the lightbox, to make sure my panel borders stayed fairly straight. (I don't like to use rulers for that because I think they make my line look too mechanical.) Dan had some blue-tack and as we went, several of us started posting our pictures up on the wall above our desk, to give ourselves a sense of our comic was progressing. (Photo of Warwick and Joe Decie.)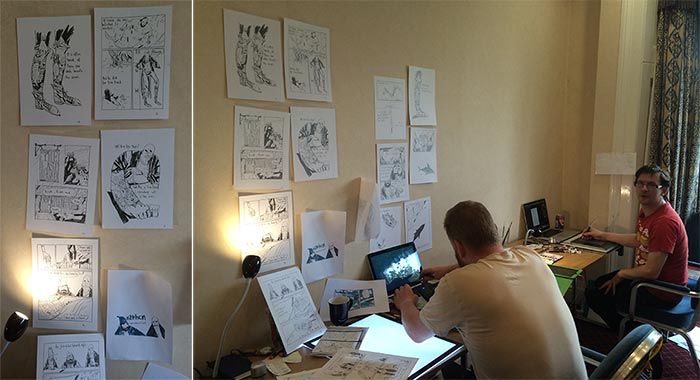 One of the awesome things about the way that Dan and the Lakes fest planned the event is that we all had Kendal College assistants! They arrived in two shifts (here's the first), and they stayed up to do anything we needed, whether it be scanning, getting cups of tea, whatever we needed.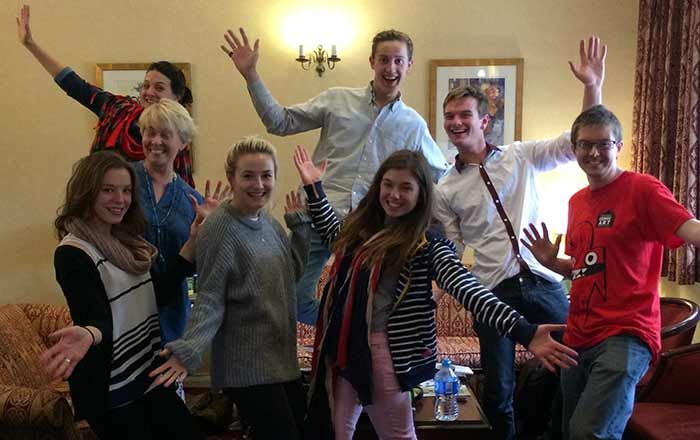 Here are Phil Welch and Katie White, who stayed with us the whole night and blogged the whole thing. (Go have a look!) And we had a visit from 24-Hour-Comic originator Scott McCloud, who had come all the way from the USA, and his wife Ivy!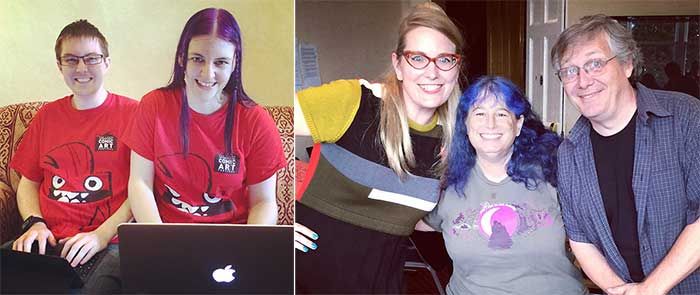 The assistants didn't seem to have a lot to do, and they could draw, so I thought I'd set them a task. I had a big crowd scene in my book, and I thought, I can either draw boring bumps for heads, or I could ask THEM to draw lots of people for me! And they did! I drew Jamie the Scribble, the speech bubbles and the basic museum architecture in this double-page spread, and they drew everything else:




Here's how I found them when I popped into the next room to see how they were getting on with it: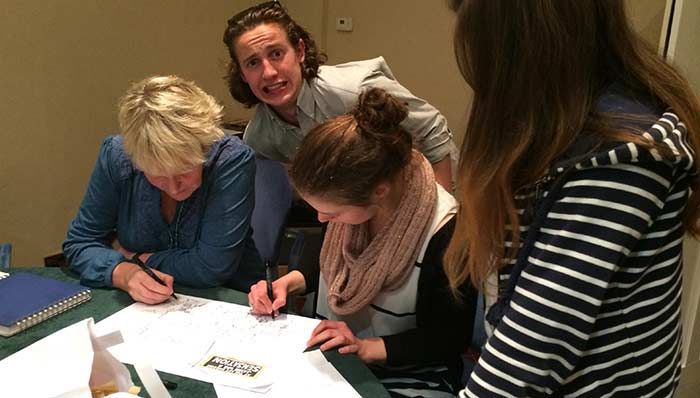 One of the students, Janet, was particularly good at drawing and also made this picture of Kristyna, Jack and me while we were working: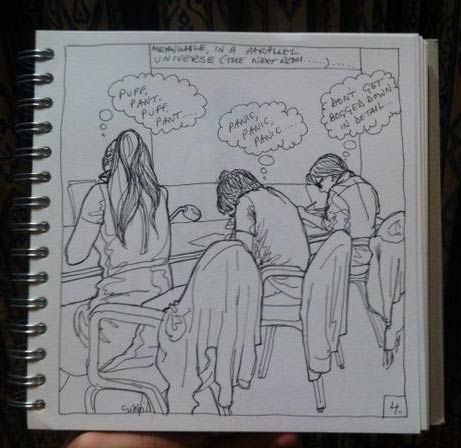 A few people jokingly protested that I wasn't allowed to get help, but I never have a problem with that; I always think that a book wouldn't exist if I hadn't started the project, so I'll do whatever it takes to get a good book! I wasn't the only one who got help; Donya sat between Jack and me for some of the time and coloured in some of the red bits of his comic. It was nice having her there, and I could half-listen to their conversations.




Here's Jack at his desk:




And Fumio, just beginning to look tired:




I had some Japanese girls in my comic, and I got Fumio to write a little bit of Japanese into my comic (Thanks, Fumio!):




And there were a few tiny cameos from people in the room: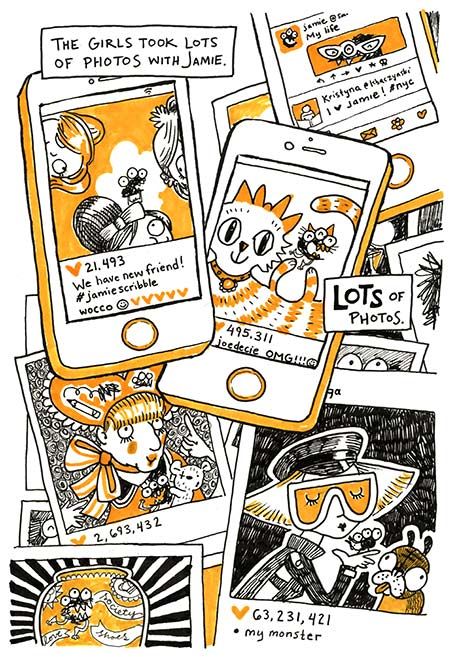 I started to get more confident about the whole thing as the pages went up on my wall. But I had one assistant coming in on the hour and telling me how much more time I had, to meet the target, and I didn't have a lot of extra time built in. Every one in awhile I'd look over at Warwick's amazing wall and have to remind myself not to compare our work.




Before we started, Joe and I had discussed the possibility of going upstairs for a few hours' sleep, around 1am or 2am. Joe DID go upstairs for a bit, but found he was so wound up about the comic that he couldn't sleep at all, and he came back down. I got too nervous, it didn't look like I'd have any extra time, and I thought I might be groggy if I had to wake up. So I kept going, all through the night. About 7am, my Comics Dark Night of the Soul hit; my brain was in pain and my hand was hurting from drawing too much. My comic got very graphic - harsh silhouettes - and I had my character weeping in agony.




Just a litte while after I drew that page, Scott and Ivy popped in again to see how we were doing. I felt DREADFUL, but we wanted to take a group photo of them, so I roused myself to look okay for the photo. And something weird happened, I suddenly felt totally fine. It felt like I'd known I was supposed to be tired, so I was acting the part, but I wasn't actually tired at all. I guess it's just getting a second wind, but it took me by surprise. Actually, I think this photo was from the evening before, so maybe Scott popped in three times. Anyway, it helped. (And spot Junko Mizuno and Nick Abadzis in there, too.)




The OTHER thing that helped was that the Lakes festival planners had booked a MASSEUR to come in and take care of us! I've never had that at a festival before! And hardly any of our team had ever had a massage, so it was so funny listening to them fret before they went into her room, and then watching their faces as they came out. (They all loved it.) I had my slot booked with Linda Ashton for 9:50 and I had that time implanted in my brain half the night, looking forward to it. Linda's the best.

In the end, we all finished our comics. And everyone's came out remarkably well. Dan managed to get them all printed that same night, and we had a chocolate medal ceremony at the festival in the Page 45 Room, where we all got presented with big Marathon bars.




Big thanks to Kendal's Absolute Digital Print, who printed up 50 copies each, free of charge. Thanks to the amazing Dan Berry, who made sure everything worked flawlessly and put so much heart into the project, to Kendal College and to Julie Tait, Sandra Wood and the Lakes team who supported it so well.




We were all allowed to sell our comics, with a few kept back for the festival. Some of the creators are going to sell their comics at Thought Bubble in Leeds from 15-16 Nov. I don't have any copies left to sell, but I'll be selling the original artwork from my comic there, and running the family activity area there with my Jampires co-author David O'Connell. I'm hoping to be able to do something with my story, we'll see.

Did I enjoy the 24-Hour Comic Marathon? Unreservedly YES. I always want to make these sorts of projects and this gave me such a good excuse to do it, knowing it wouldn't stretch out for weeks or months. Someone on the night remarked that it was the amount of work you'd often get from someone doing a whole term of art college. Having other people around, doing the same thing, made the process exciting and kept me from seeing going to bed as a better option. Would I do it again? I don't know, but I'm awfully glad I did it this time.

Read my full comic here.

Further reading:

Dan Berry blogged about his comic-making process here, and you can read his Nicolas and Edith comic here.
Kristyna Baczynski has blogged about the 24-Hour Comic Marathon here.
Warwick Johnson Cadwell has posted his comic, Tom Hand here.
And here's Stephen Holland's EPIC Page 45 blog post about the whole festival. EPIC.