CAKES IN SPACE
landed in North Cornwall! And there was much merrymaking to be had with the Earthlings there, and CAKE.
Photo by Mike Bralowski
Such a fine location for the
North Cornwall Book Festival
, at
Sue Harbour Robertson
's house in
Endellion
, we rejoice to find Earthlings inhabiting such fine dwellings. Also, the abode contained the perfect materials to rebuild a perfect Nom-O-Tron machine, as the original had somehow been left behind on the mothership. (Thanks for your help, Sue!)
Photo by Sam Reeve
My co-pilot
Philip Reeve
and I discovered that our host, Sue, was also not entirely of this world, for we assembled ourselves for her very first SELFIE. With alien expert
Moray Laing
, editor of the Doctor Who Adventures magazine.
And what fine humans there were to be found after our landing! Unfortunately we did not get a photo of our wonderful co-host and writer
Patrick Gale
, or writer colleagues
Matt Haig
and
Christopher William Hill
. But I got to meet one of my children's book heroes, writer and illustrator
Jill Murphy
.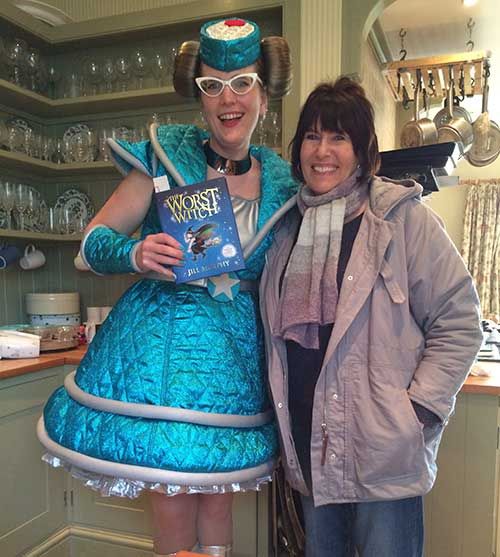 Jill's such a natural, convincing storyteller and her detailed pictures are warm and bring you right into the lives of the characters. I think my favourites of her books are
Five Minutes' Peace
and
Peace at Last
, both about weary parents.
Thanks so much to Patrick, Sue, the schools in the audience and everyone who made us feel so welcome!
Photo tweeted by @NCornBookFest
Travelling to Cornwall was also a good excuse to stop off at the Reeve Ranch, where Philip, photographer
Sarah Reeve
and I raced out for a couple quick hikes on Dartmoor.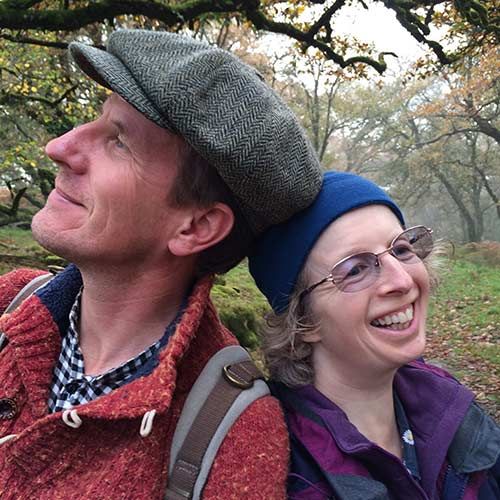 Here is Philip doing a good Serious Author face. Also, he is branching out in his career to knitwear modelling, which is always a fine thing.
He laid the grave accusation upon me that I was not taking the walks entirely seriously.
One evening, Philip was on a songwriting roll and he and Sarah helped me come up with a couple more book-related songs. So a very useful trip. Thank you, lovely Reeves!
OTHER NEWS
:
Zoe Toft
at
Playing by the Book
has posted an interview for
HAT WEEK(!)
with one of the illustrators who most influenced me,
Satoshi Kitamura
.
Go have a read!
And
Scottish Book Trust
have posted a encouraging response to our discussion about
Co-Authorship
. You can
read it here
, and I've added a bunch of links to the end of my blog post on the subject
here
.