Hello from Skudeneshavn in Norway! I've been doing intensive school visits today and Stuart's been traipsing about town, and we're both crashing in our guesthouse lounge having a rest before the official SILK Festival Opening Ceremony this evening.




We're staying in the same town I visited in February, Skudeneshavn, and it's great getting a chance to show Stuart around. (And if you're a burglar in England reading this, we have a big, scary German looking after our flat, so don't get any ideas.) We're staying at the guesthouse on the far right: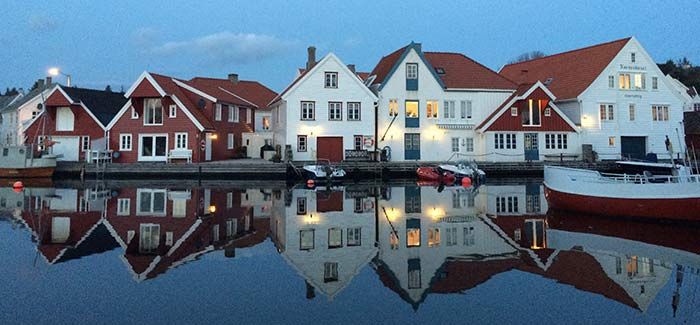 So here was my first visit this morning, to Grindhaug Primary School, where I showed the 11- and 12-year-olds how I made the Jampires picture book with David O'Connell (and the original comic book that inspired it). I led the group in drawing their own Jampire, then we talked about our favourite foods and designed creatures that could steal other food - Pizzapires, Chocopires, Spareribpires, etc. Then we used our characters to write stories in a big Comics Jam! Everyone finished with a four-panel comic, but each panel was drawn by a different person, so no one knew how their story would turn out. (When I explained about the word 'jamming' meaning something other than sticky fruit spread, they all knew the Bob Marley song, so that was good.)




And here's the second group, same ages, at Norheim Primary School!





I had a few minutes before all the kids were assembled when I could draw this poster for them: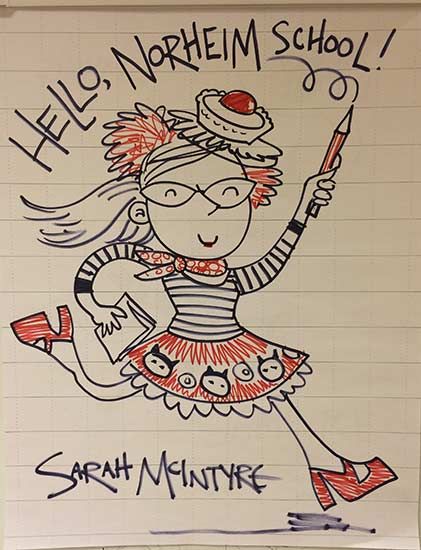 Big thanks to everyone who looked after me for the day, including John Rullestad (not pictured here), Head of the Department of Culture, Jan Arve Hveding (who popped in to say hello), the culture coordinator (let me check her name!) and Head of Karmøy libraries Hanna Mulelid.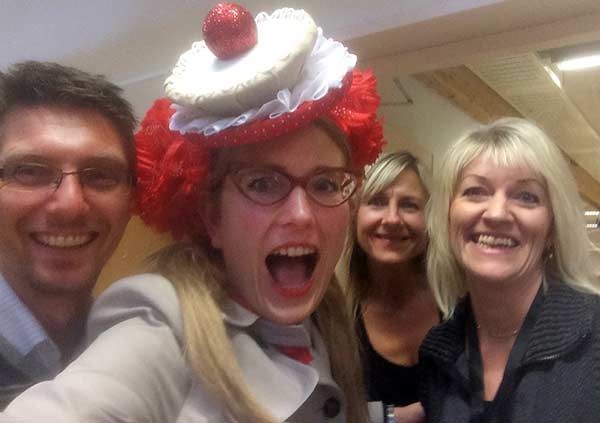 After Hanna drove me back to Skudenshavn, Stuart and I retired to the festival Green Room, where we found Norwegian writer Arne Svingen, who'd joined us at dinner the previous evening. Arne writes spooky books, mostly for older children, but all sorts, and does lots of school visits.




He gave me a big list of Norwegian illustrators that I want to look up (I don't really know anything about Norwegian illustrators yet), so I've posted some links here to go back and browse later:

* Ragnar Aalbu
* Anna Fiske
* Jill Moursund
* Inga Saetre
* Mikael Noguchi
* Sigbjorn Lellens
* Stian Hole


* Øyvind Torseter
* Svein Nyhus
* Nyu Diep
* Gry Moursund
* Ida Larmo
* Per Dybvig
* Flu Hartberg
* Reider Kjelsen
* Lene Ask
* Steffen Kverneland (trying to find a better link)

Speaking of Arne and spooky, I was a bit nervous of sitting in these two chairs in the Green Room; they looked like they might be alive.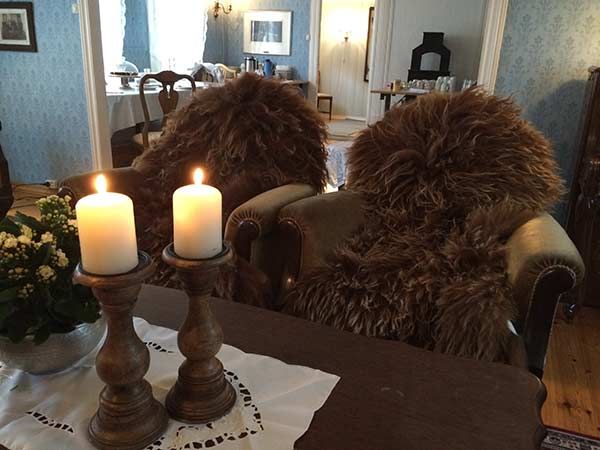 But other than that, he Green Room's awfully cosy. I rewarded myself for the school visits a bit too thoroughly with lovely CAKE.




Okay, here are a few of the Comics Jams, in case anyone from the school is checking to see if their work got onto my blog! (And if you look here on my website, you can read a comic I made recently and find more comics here.)




A lot of the kids had never made any comics, so I was impressed with how well they did. Also, notice that they are in English. *gape* I hate to say this, but Norwegian kids write almost as well in English as a lot of the English children I've worked with.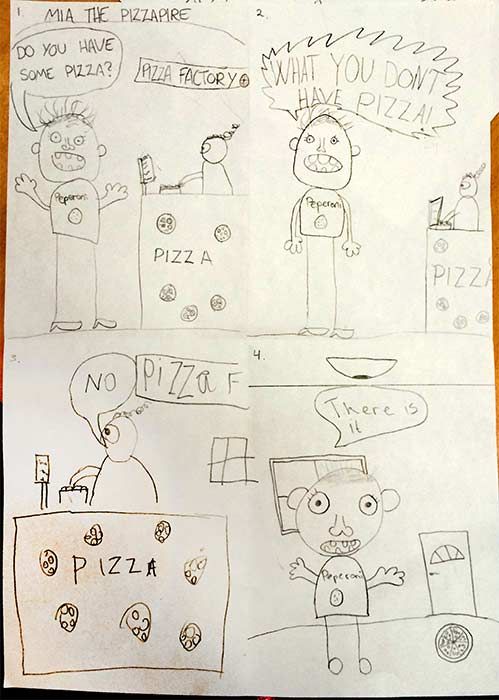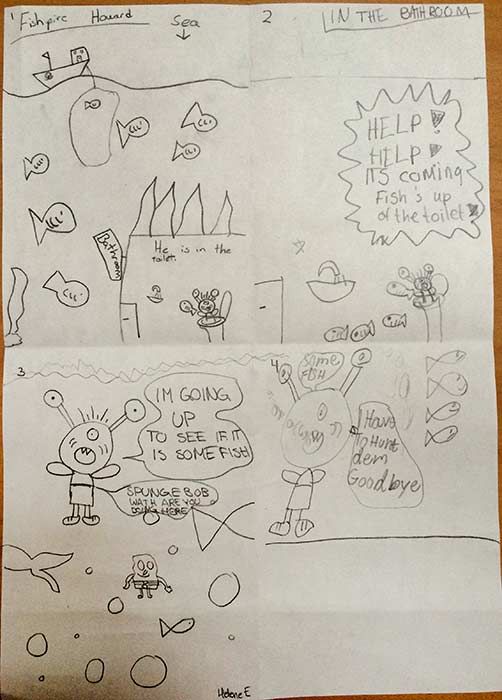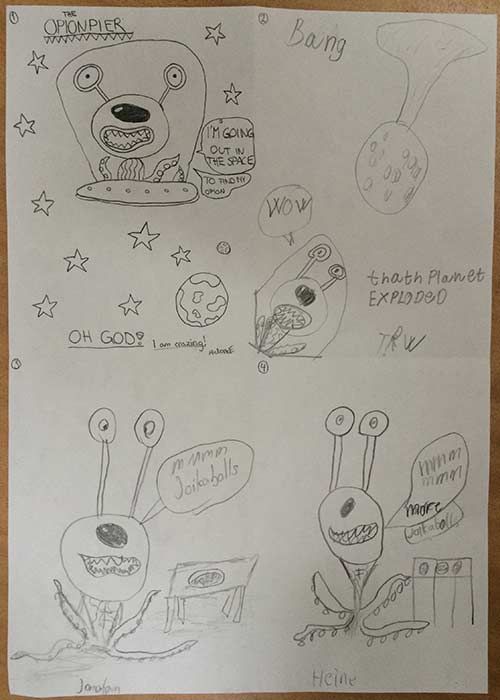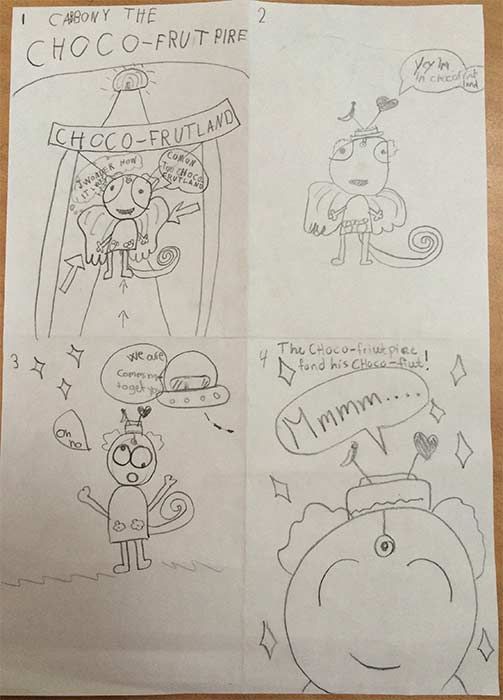 And I'll include a few more Skudeneshavn photos, just to help me remember this place; it's awfully pretty.




Last night we had a music concert in a little house that wasn't a pub, exactly, but had the same nice feel to it.




And when we went for dinner at Smiå restaurant, the downstairs was packed with guys from this ship: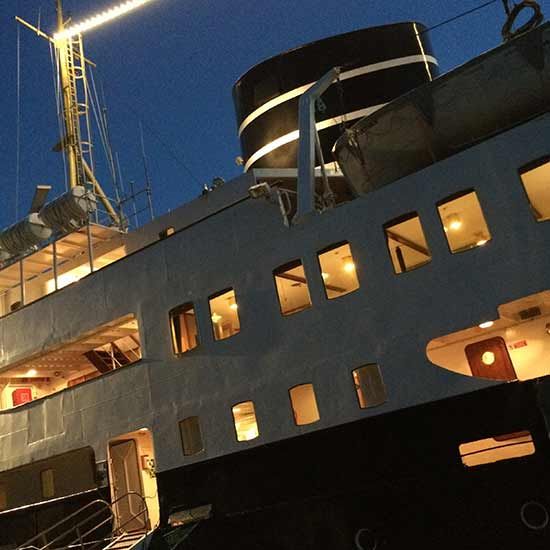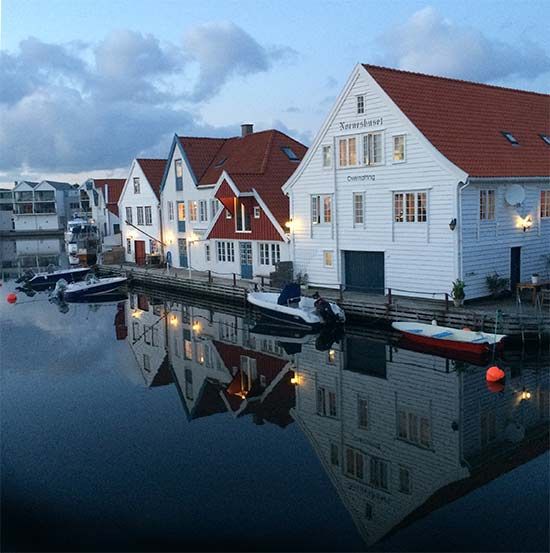 Another shot of our lovely guest house:


Click HERE for Part 2!