If you visit the island of Utsira (the one in the radio Shipping Forecast, in the North Sea, off the west coast of Norway), you may spot a little eeping Sea Monkey on one of the rocks. And you may wonder why it's there. Well, here is its story...




If you read my last two blog posts, you'll know I've been taking part as a barnebokforfatter (children's book author) in the SILK Festival in Skudeneshavn, on the island of Karmøy. When Utsira island librarian Margrethe Djønne saw me in the programme earlier in the year, she asked if Stuart and I would like to make a detour to Ustira for a couple nights, to visit their school. So after the festival, Margrethe (Maggie) and her mother picked us up at the local cafe and drove us from Skudeneshavn to Haugesund, where Stuart, Maggie and I caught the evening ferry boat.




Whenever we'd mentioned to Karmøy people that we were going to visit Utsira, they'd suck in air and shake their heads, warning us about the rough sea passage and telling us to lie down flat on the ferry to avoid getting sick. And that evening WAS quite windy.




We didn't sit up on the deck, no one did; everyone stayed on the lowest floor of the passenger section. And I thought the advice about lying down would just be for visiting tourists, who didn't have their sea legs. ...Nope. The ship was pitching like a galloping horse in slow motion. By the end of the 70-minute journey, EVERYONE was lying down flat.

But the advice was sound, no one got sick. At Utsira North Harbour, all the passengers put on their shoes and headed out into the darkness. And gosh, is it DARK on Utsira. Island resident and artist Marit Edie Klovning picked us up and drove us to a fisherman's house, where Maggie jumped out to collect some crab he'd caught for us, and his mother had prepared. Then Marit drove us all up the hill, stopping to turn the car headlights onto a mural on the water tower, painted of the island's first female mayor. The first female mayor in all of Norway, in fact, a midwife named Aasa Helgesen, who served from 1926 to 1928. In the dark, her massive head looked quite scary.





The car beams next lit up a white house, where we'd be staying for the next two nights. Maggie and Marit led us into the house, stocked the kitchen and showed us where the linens were, then disappeared back into the night. We lit some candles to make the place feel more cosy, delved into the food bags and feasted on crab and freshly baked bread.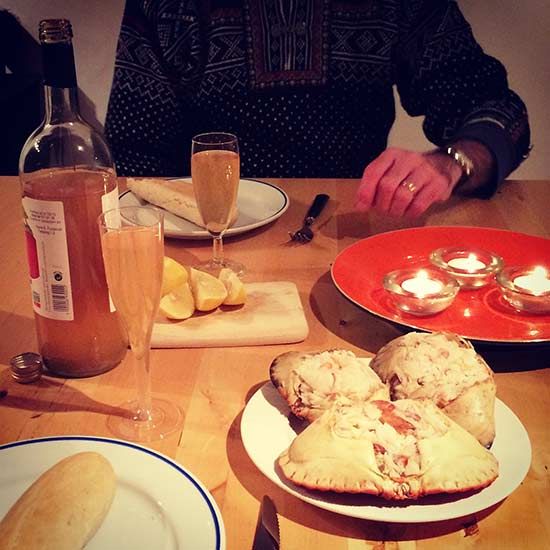 We weren't exactly sure where we were. As the wind wuthered outside, we did a bit of exploring, first the kitchen cupboards:




I'd been talking with a lot of Scandinavian crime writers earlier in the week, so we got a little bit too imaginative about what Kylling, Farinsocker, Finger Salt and Grillkrydder might be. Next the bookshelves, where I pulled out these two rather special books: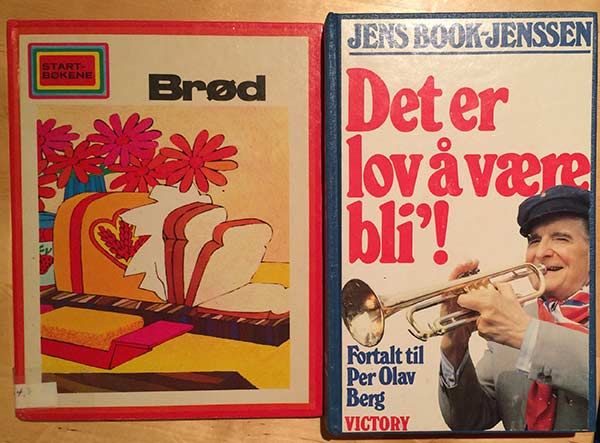 We couldn't read anything, but the people in them looked rather jolly. I think the one on the left might be writer-illustrator Alex T Smith in a previous life. The one on the right might be one of my great-aunts or something.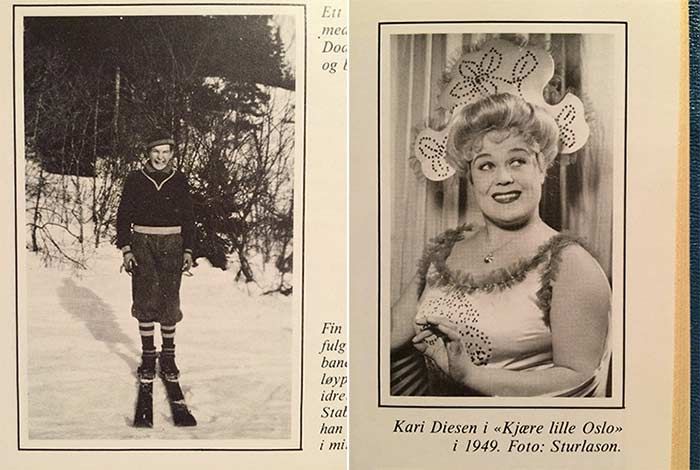 We went to bed, the wind still howling. We woke before sunrise the next morning, and in the dark blue sky, I could see an old lighthouse outside our bedroom window. I ran around outside to see where we were, getting my socks all wet.




That white house in the middle is where we were staying. It's the Lighthouse artist residence, and it's where the island hosts people who come to work with the school or put on a local exhibition.

Here's a photo of the lighthouse again, taken a bit later in the day:




And the view from the base of the lighthouse:





I got dressed up in my Jampires costume and Marit picked me up in her car to take me to the school, while Stuart stayed behind, with his own plans to hike around the island.




I thought that we'd only driven a little bit of the island the previous evening, but I quickly realised we'd already covered almost the whole place. Utsira is very small! Here's a map, with the Lighthouse marked in red. The 'Utsira kommune' is in the same building as the Library, right next to the school:



Map from Google Maps

Utsira is basically a pile of rocks with a valley down the middle, a harbour at either end. I took this panorama later in the valley, and you can see a surprising amount of landmarks from a single location: the harbours, the school, the library, the restaurant, the shop.




Marit swung by her son's house, with a big split rock out the back, which is where she gets her married surname 'Klovning', which in English would be 'Clovenstone'. (Which is also the name of a place in Edinburgh and the country in my co-author Philip Reeve's book Goblins.)




And we swung by the South Harbour for a peek. That flat white building to the right of the red boat house is where people might also stay if they were overnatting on Utsira.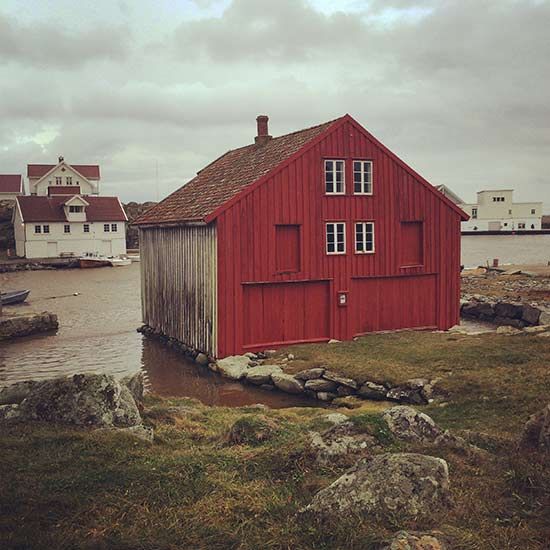 Then we arrived at the library! Wow, Utsira Library is well stocked! The first thing I saw was a little exhibition of Tove Jansson's Moomin books:




Maggie had put two of my books on display - There's a Shark in the Bath, Jampires and Oliver and the Seawigs - and I spotted quite a few other familiar names, too. Here's Maggie showing their Francesca Simon section. ('Rampete Robin' must be the Norwegian variation on 'Horrid Henry'.)




I drew a little poster for the library (something I often do, to make sure the flip chart pens really work):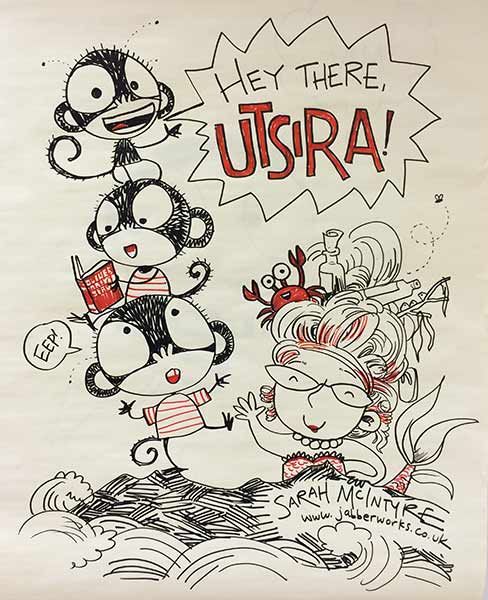 And then the children arrived! My first group was the younger half of the school's 22 pupils. I showed my books to them and read Jampires, then we all drew Jampires together.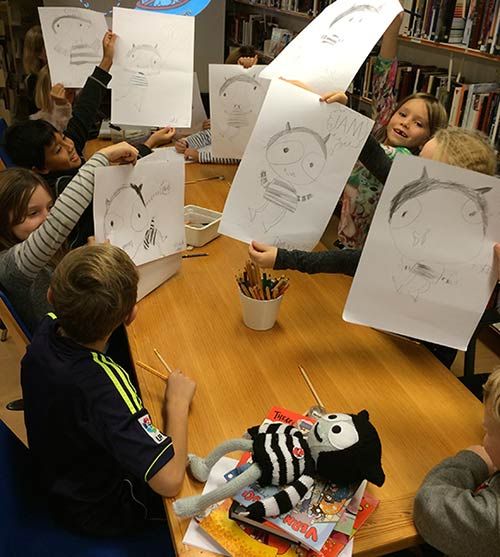 Jampires are a bit like vampires, but instead of blood, they suck jam out of doughnuts. I love how ours all had different personalities:




Then we talked about our favourite foods and they invented their own story creatures:




Here's a Pancakepire:




A Tacopire:




And a Pizzapire:




When the older half of the school arrived, we drew Sea Monkeys (from Oliver and the Seawigs and I led them in a Sea-Monkey-themed Comics Jam.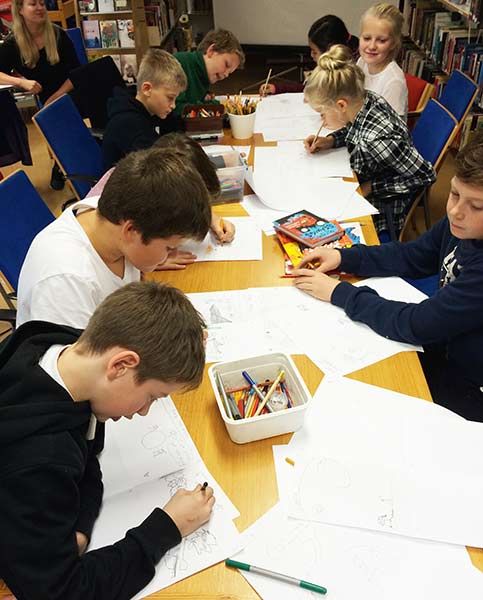 The idea was that we'd all draw four panels of a comic, but between each panel, we'd switch papers, so we'd be writing each other's stories. (Here's more information on running a Comics Jam.)




Utsira Library has a great comics collection for its size, and I wish I'd had more time to browse. Here are some interesting-looking comics Maggie showed me:




And picture books, too. This first one's a scrapbook of an artist's travel books, I think: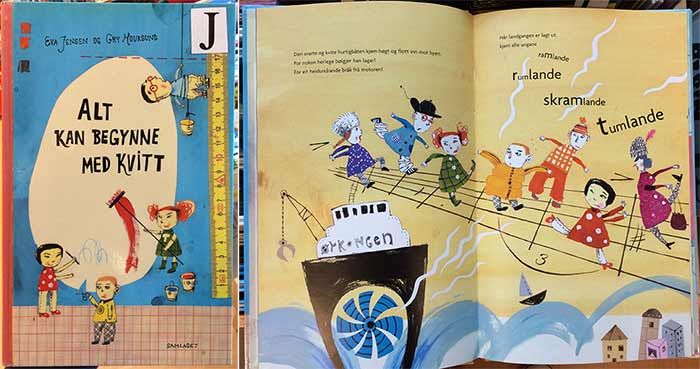 Maggie said that people don't tend to use the comics section very much, but I hope the kids I worked with will be inspired to explore a bit more in it. I mentioned my favourite comic, Calvin and Hobbes, which is called Tommy & Tigern in Norway, so maybe they can start with that one.

One funny thing about visiting Utsira: I'd assumed my visit would be kind of a big deal because they would get fewer visitors than your average school. But this was not the case! They have a decent budget for their cultural programme, a school cultural officer named Knut, and they bring in people regularly. So we didn't even have time to finish the Comics Jam because they were off to see an Oslo dance troupe perform! And I got to come along.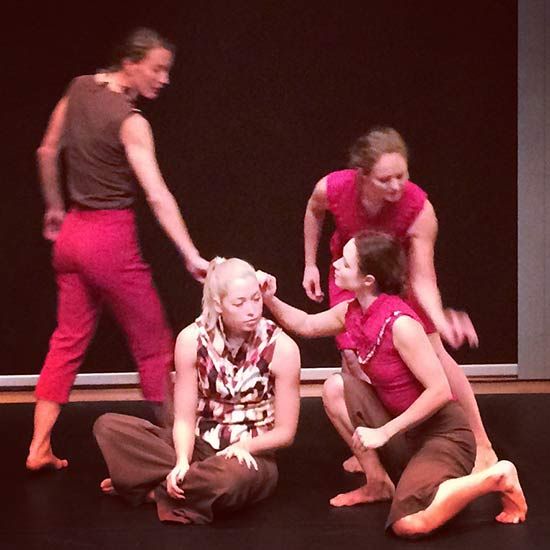 The troupe - Panta Rei Danseteater - led them in a warm-up, then put on a quite sophisticated modern dance about an old woman's diary, mortality and the passage of time.




After their performance, four of schoolchildren (who'd been working with the dancers) performed their own choreographed dance. And then the dancers sat on the floor and did a Question & Answer session. (And we all took a photo.)




The school theatre was new-built and gorgeous; apparently the community had been campaigning hard for the budget and won. The dancers had brought their own flooring, which rolled away into their van; then they pulled away the black curtain backdrop to reveal enormous windows overlooking much of the island. Amazing.




Lunch time with Maggie with Knut, the cultural officer, catered by the island's shop.




Maggie also asked if I wanted to meet the kindergarten children, and I said yes. But I was expecting they'd be four or five years old, and they turned out to be infants as young as a year old. (More of a day care, really.) They looked at me in slight bewilderment when I pulled out my ukulele. But they seemed to like it best when I drew a Jampire for them, and I left them, happily colouring it in.




Here's one of the mums, Katrine Klovning, collecting her son in a little onesie she'd knitted for him: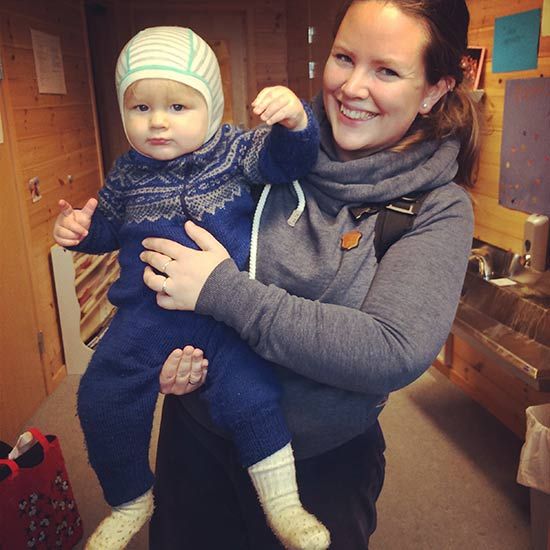 Stuart wasn't back when I returned from school, so I thought I'd set out by myself to explore the island, and went around behind the Lighthouse. Apparently Utsira is a birdwatching paradise; in peak season, there are more types of bird there than people. Oh look, North Utsira and South Utsira beach huts:




Even though I was wearing wellies, the ground was incredibly rough, and I had visions of pitching onto my face and not being discovered by anyone but the birds and sheep before nightfall.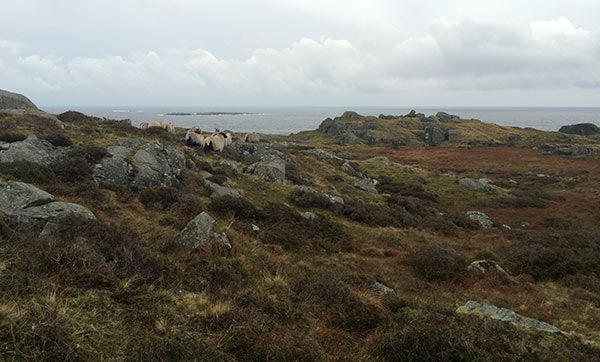 So I went back onto the main road, and met a fresh-faced Stuart coming up the hill. Hurrah! He'd already walked all the way around the rough parts of the island, but he came out again to walk along the roads with me.

I love this barn:




Such great textures and colours.




I made Stuart go all posey in his lovely new Norwegian jumper. (We actually bought it at a second-hand shop in London, still with the tags on. But we saw very similar jumpers being worn there, so he didn't feel like a silly tourist and wore it almost every day.)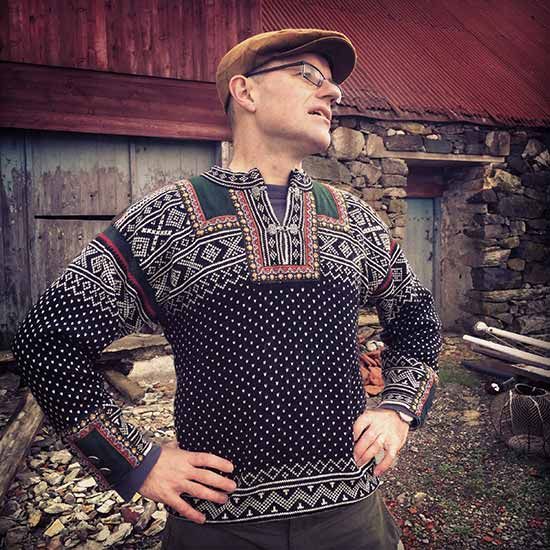 Check out this Warhol-inspired barn: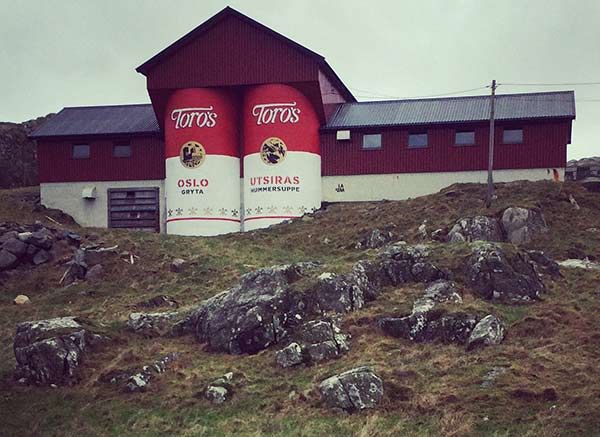 And speaking of soup cans, we had to visit the shop, to see what sort of things would be on sale when it's the only shop on the island. It was a wonderful shop, with loads of fresh produce, pretty much anything you could want. But I thought the canned food section was the most interesting because of the mysterious (and occasionally funny) labels. (What is 'Snurring'? A herring that snores?)




I recall a childhood song that went, Fish balls, fish balls, yummy yummy fish balls/ fish balls, fish balls, eat 'em up, YUM. (Or was it 'fish heads'? Anyway, I got the song stuck in my head for awhile.)




Lots of Lapskaus.




Kjøttkaker and Sodd. Heh heh.




But we didn't eat out of a tin that evening, it was much better than that. Maggie had talked with Daniella De Vreeze and Hans Van Kampen, who run the island's restaurant, Dahmsgård Utsira. They weren't planning to be open that evening, as it's not peak season, but they opened just for us and Danielle made us one of the most tasty dinners I've ever had.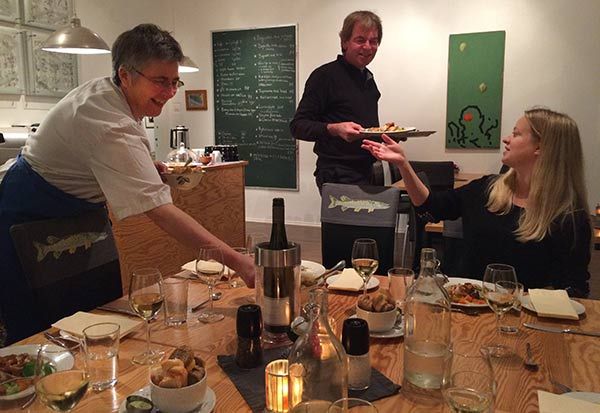 Not that it was overly fussy-fancy, it was just perfect; Daniella knew exactly how to prepare the mushroom sauce for the monkfish, and the vegetables were so tasty; the ice cream meringue dessert had some sort of special texture that was incredible.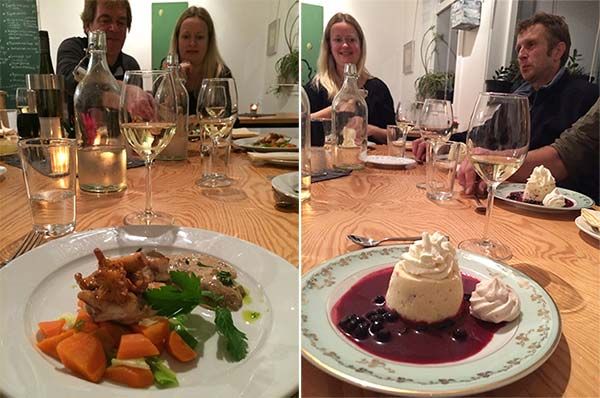 And lovely wine to go with it. Not at all what we'd expected to find in such a remote place! Here are Marit and Stuart:




And we were also joined by Arnstein Eek and Atle Grimsby, who work for the Utstira Kommune administration. It's funny asking people there what they do for their job, because everyone ends up doing a lot of jobs on an island, so nothing's entirely clear. Atle first came there because he loves the birdwatching, and then never left.




The only reading preparation that Stuart and I had done was on the airplane, from a book by Charlie Connolly that I'd had kicking about the house for almost ten years, called Attention All Shipping: a Journey Around the Shipping Forecast. I'd never managed to read it, so I ripped out the pages that we'd need (which was perhaps a bit naughty, but there you go). It was quite illuminating, and I learned that people from Utsira are called 'Sirabu' (not Utsirans). And, of course, our dinner companions knew all the people mentioned in the book, and Atle's Facebook-friends with Charlie. (I might need to go back and read the book properly now.)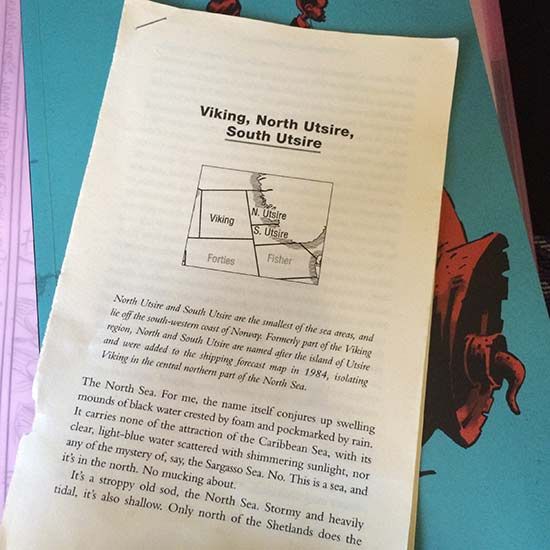 We didn't get to see Daniella for most of the meal because she was busy cooking, and Hans helped her serve. But Hans disappeared for awhile to help with the washing up, then we got to see both of them for awhile. They're Dutch, and bought the old school house about four(?) years ago to do up as a restaurant. They'd never run a restaurant before, just an art gallery, but Danielle had done a lot of catering for the gallery - over a hundred people at times - so she knew lots about cooking already. I think they said that they visited Utsira, found out the site was up for sale, and came up with a business proposal, right there on the island, in three hours. They're pretty awesome. They remind me a bit of a Danish film called Babette's Feast, about a French woman who brings fine cuisine to a rugged little island in Jutland. There's one other place on the island you can eat out - a pub that serves pizza, chips, sausages, that sort of thing, but it's definitely worth popping into Dahmsgård Utsira, even if just for cake and coffee.




The next day was Art Day; I'd been talking with Marit about her work over dinner and really wanted to see her paintings and studio. And Maggie and a few others had mentioned that they wanted me to add to the mural collection of the island, and I said I'd be up for that. So Marit took Stuart and me to her place, where we met her family and had some lovely breakfast.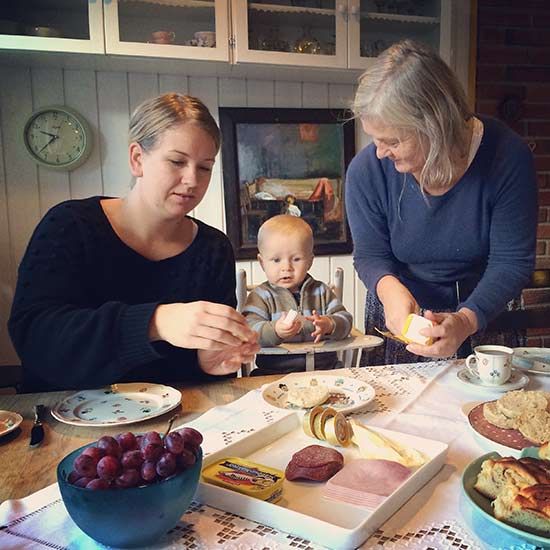 It was such a cosy house and table, her daughter was warm and friendly, and her grandson was super-cute. I love this photo, it looks like some sort of half-remembered Nordic painting.




Marit's husband used to work as a carpenter (and built their house, studio and workshop) but turned his hand in later life to becoming a fisherman, which he now does with their son.




Here's some lovely cinnamon cake Marit made:




And more nice packaging (this time it's pâté).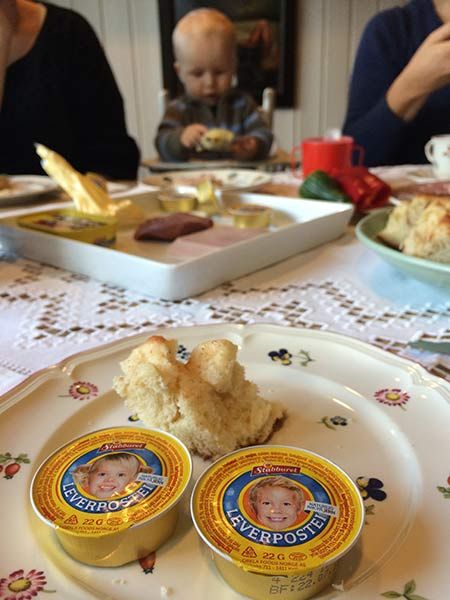 While I was talking with Marit's daughter, Marte Eide Klovning, I asked about her job, and it turned out that she's the island's mayor right now. She travels quite a lot, to go to meetings and things, so Marit juggles being a babysitting grandmother with making her artwork. I love the theatre poster hanging in her studio loo, with Marte on the left. I think she said it's a play about Aasa Helgesen, Utsira's (and Norway's) first female mayor.




Marit showed me a few of the paintings and drawings she had on display in the main part of the house:




This one in the kitchen's called The Maker, and has a real bit of lace stuck into it. Marit likes the idea of 'making' as much as 'painting'; she sees herself as much as a Maker as a Painter. I think I'm like that, too.




And here's a large one in the lounge. Until this trip, I never thought of Norwegian beaches as beautiful places, but they have soft white sand as good as Hawaii's (just less sun).




After coffee, we went around to the side of the house, to the separate building that's Marit's studio. You can see it there on the left, through the trees.




The first things I noticed were all the portraits on the back wall. Utsira had a Jubilee celebration of and Marit set herself the task of painting a portrait of every single woman on the island, from the youngest baby to a very old woman (104, I think). Many of them bought their portraits from her after the exhibition, but she still has some of them. I can't remember the exact number of portraits, but it was near 100.




The boxes were another part of the project; Marit likes looking for interesting driftwood on the beaches and she made these boxes out of bits she found. Again, there's one for each woman on the island, and it represents having a little space of one's one. Marit explained that a lot of people don't stay on the island, particularly women, and to keep living there happily, one really needs hobbies and a rich inner life. So these boxes are a bit like the things each one of them treasures around herself.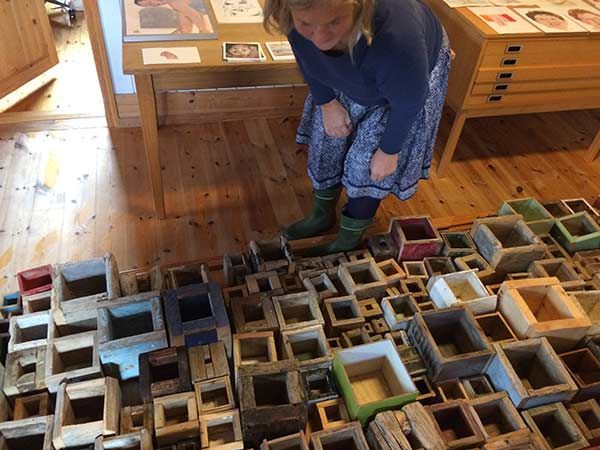 Marit had already sold this painting, but she showed me a postcard of it. I love the northern light on it; so atmopheric.




And this one, too. I once took a class at university on Northern European Landscape Art, and true to form, I've forgotten almost everything. But I have vague memories of other Scandinavian painters who use this sort of light in painting, and there's something very magical about it.




Here's a peek into two side rooms.




Marit's used some antique linens and lace effects in her paintings.




I was so pleased that Marit came to my talk on Skudeneshavn, and then took the time to show me around. Thank you so much, Marit!




The island prides itself on its mural artwork that's been springing up during the past few years. You see this light bulb as soon as you get off the ferry:




And there's a Norwegian video with a bunch more paintings shown here. I was starting to think I'd run out of time to paint a mural (which was okay with me) but in the last two hours, Marit kicked everyone into gear and raced me over to the school to paint a Sea Monkey on one of the rocks on the playground. I was quite happy with how it turned out, despite the rush, and I liked the location, where the little kids would be able to see it.




Then Marit and Arnstein Eek escorted me to another place to do a second mural, in a housing development by the North Harbour, and I expected to paint on one of the big blank walls. But that wasn't what they had in mind. Another artist, inspired by the Gaza conflict, had painted a sniper pointing a gun at a child with a balloon. And while the residents didn't mind the politics so much, they didn't like coming up the stairs in dim light and being confronted by a gun man. So they wondered if I could do something with it.

...Yikes! I didn't know what to think! Would the artist be angry with me for defacing his work? (They didn't manage to record the name of that particular artist.) What might I be saying, politically? I didn't know! And the ferry was leaving in 40 minutes. Marit helped me and we got to work.




Oh boy. What had I done? Well. Marit and Arnstein and another guy there seemed much happier about it.




The politics of Sea Monkeys. I don't even know; don't ask me to write a paper on that one. Also, we caught the ferry.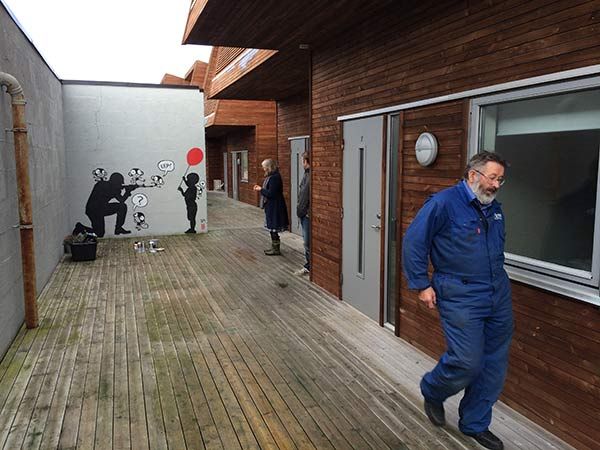 I was sad to leave. The Sirabu were so kind, and looked after us so well. The island is beautiful. I hope I can go back one day.




Big thanks to Maggie, Marit, the teachers, Arne, Arnstein, Daniella & Hans, Borislav the Bulgarian and the Englishman who both gave us lifts, everyone who pitched in to make the trip so wonderful. You can follow Utsira Kommune on Facebook if you want to follow their news. (I think the community is more active on Facebook than Twitter.) And they also keep a blog here.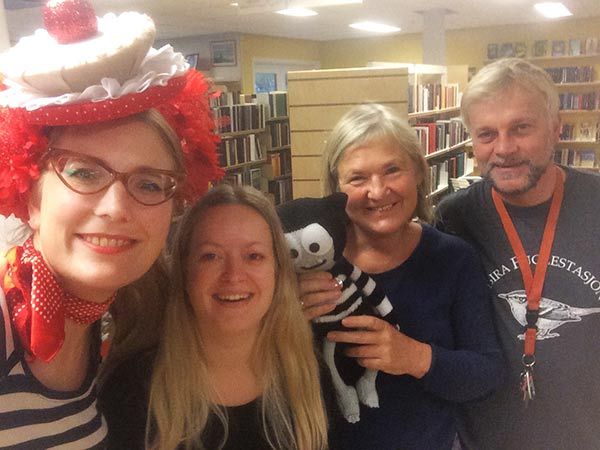 The ferry ride back to Haugesund was much quieter, only about a quarter of the passengers were lying down, and some were reading and chatting. John Rullestad from the SILK Festival met us at the dock and took us back to the Viking Museum at Avaldsnes, which I'd visited on my first visit. (Stuart did a quick run around.) We had coffee there with John's wife Helga Rullestad and my new Danish friend from this year's festival, writer Lene Kaaberbøl. Oh, and of course, we dressed up.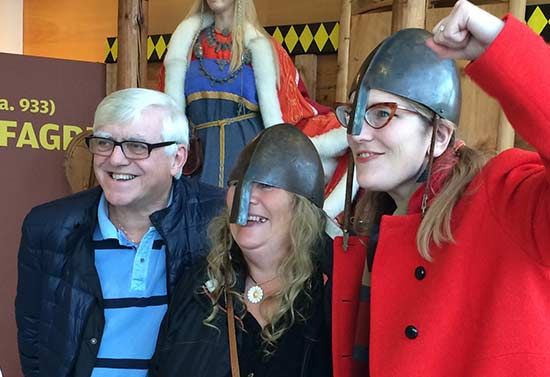 Stuart's gone completely native.




Just before we left, Maggie handed me a bottle to put into my luggage. So this evening back in London, I took down to our neighbours gifts of Risebrød (chocolatey rice thingies) and brown cheese, and also brought along the bottle so we could all have a taste. Good stuff, Utsira Akevitt. Very strong. Thanks, Maggie! :)




(And well done, reader, if you got this far! I know this is WAAY too long of a blog post, but I did it, really, for myself, as a souvenir. I didn't want to forget anything!)





Goodbye, Norway. We miss you already. x