Hey, I want to do a big shout-out for Thought Bubble comics festival in Leeds next weekend! This is one of the very best comics festivals in the UK - in the world, even - and worth travelling far to vist. Last year I went as a punter so I could just enjoy it, chat with people, go to talks and browse the comics. (You can see my blog write-up here.) This year David O'Connell and I are running the Family Activity area, Jampires present: COMICS JAMTASTIC!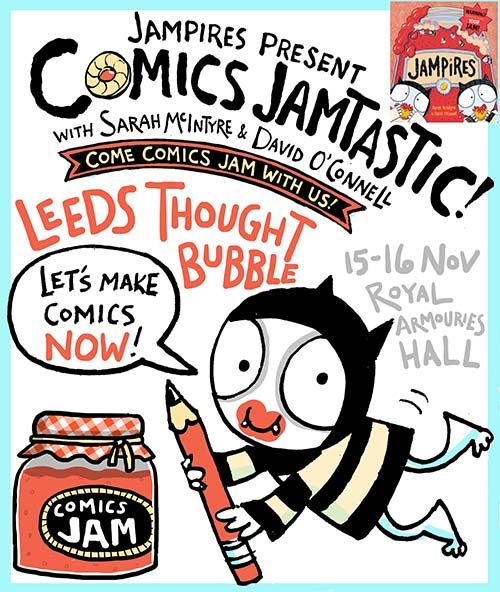 I've done this in two previous years - 2011 and 2010 - and it was great because it was a place people could crash at a table if they needed to sit down, chill out and just DRAW. We had visitors of all ages, and some great artwork and comics came out of it! Dave and I have been getting ready for it, with some decorative bits and bobs:




And Dave's been printing badges: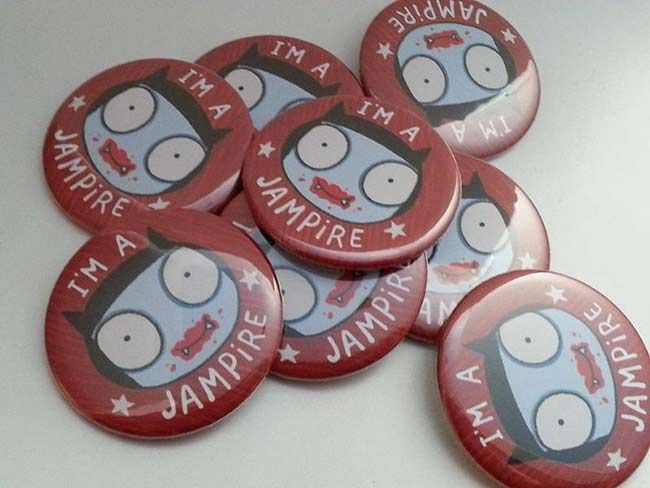 We'll do a bit of live drawing:




But mostly we want to see YOU draw! You can take part in Comics Jams with other people and watch your characters come to life as you swap papers. (To find out more about how a Comics Jam works, check out our guide here.) For young children, we'll have simpler Jampires-themed drawing activities. The festival's so large that there are three huge halls full of tables, but we'll be in the Royal Armouries, and Kristyna Baczynski has kindly drawn a floorplan.




I'm excited because we'll be near several other creators whom I know do excellent family-friendly stuff. I'm sure there are more people there who will be producing things that kids will like, but I've marked in pink the ones in our hall that I'm certain you should look out for, including Gary Northfield (my studio mate), Neill Cameron, Adam Murphy, James Turner, The Phoenix Comic, Cinebook (Yoko Tsuno, Yakari, Lucky Luke comics), Hope Larson (A Wrinkle in Time adaptation), and Zoom Rockman.




Of course, Dave and I will be selling and signing our Jampires picture book and also the Comics Jam it was based on, Jampires: the Great Doughnut Mystery.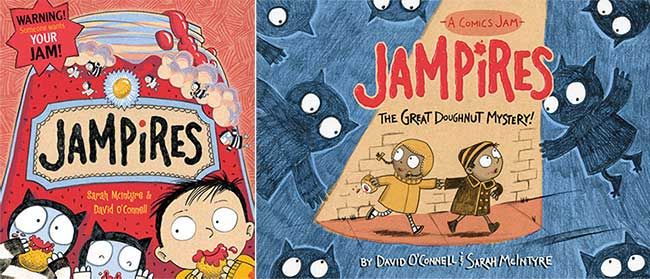 If you buy a copy of Jampires, we'll also give you a free pot of specially commissioned Jampires jam!




Dave will be selling his Monster and Chips books:




And I may have a few more picture books than these, but I'll definitely have my new books, Cakes in Space and There's a Shark in the Bath, along with original artwork from my Lakes 24-Hour Comic, Scribble (£20 a page).




I can't recommend this festival highly enough; do make an effort to come, and bring your family! It's a great place to stock up on Christmas prezzies, get ideas for making things, and be inspired by comics, many of which you won't be able to find in shops. Dress up as your favourite character if you like, it's all part of the fun!





EDIT: I'll also be selling some original drawings (something I don't usually get time to do), so stop by and have a browse of what's on offer if you're interested! Prices range affordably between £5 - £40.