Last weekend, the Jampires were out in force at Thought Bubble comics festival, to spread Comics Jam over Leeds! Here's team Jampires' David O'Connell, Matt Badham, Molly Bruton and me:




So what distinguishes Comics Jam from, say, raspberry jam?



Badges designed by David O'Connell; Jampires jam by the Butch Institute

A little explanation (as seen in the Thought Bubble anthology):




Our Comics Jam session attracted fellow Jampires like, uh, bees to honey. (These were Phil Welch and Katie White, who stayed with us and blogged all the way through the 24-Hour Comic Marathon at Lakes International Comic Art Festival in Kendal, earlier in the autumn.)




We ran a Comics Jam competition, and here's the winning comic! It's by 13-year-old Jordan Vigay and 10-year-old Jonathan 'Jonny Toons'.





Congrats, guys! Here are Jordan and Jonathan drawing away at our activity area tables, buoyed up by jammie dodgers.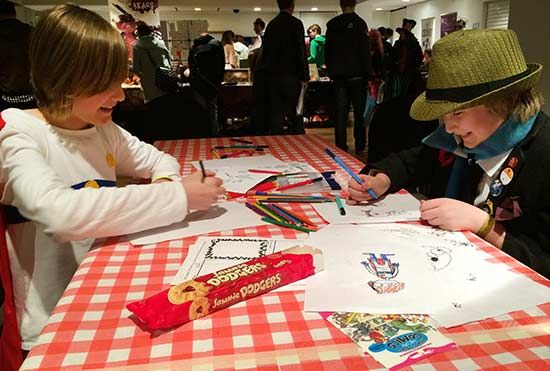 Actually, the competition was a close call. Their original Comics Jam was in black and white: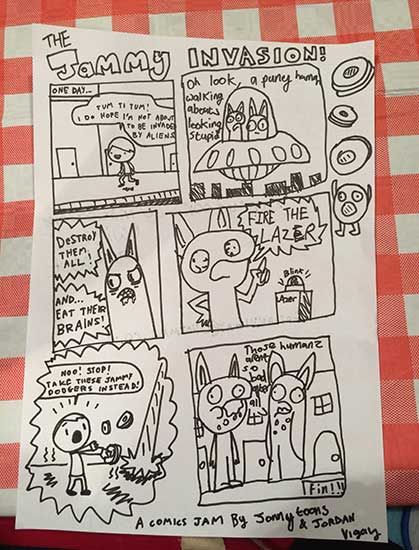 And was competing hard against this Comics Jam, which really zinged off the page with its colours.




So we struck a deal, that if Jordan and Jonathan promised to colour the comic right after the festival, they'd be the winners. (And they did, using a mix of digital and coloured pencils.) You can find out more about running Comics Jams at home (or in school!) over on the Jampires website.

So let's meet the creators: I filmed Jordan and Jonathan each giving a lesson on how to draw a character from the comics they self-publish. And you can get a glimpse of other kids getting involved with Thought Bubble:



If you're scrolling through this and can't see the video, here's the shot of Jordan and me with the Red Crow comic he publishes. (You can buy the latest issue, No.8, for £1.75 via his website.)




Issue 8 includes a Comics Jam that Jordan and I did at the end of my signing session in Page 45 bookshop's room at the Lakes festival.




Oh, and you may have noticed that Jordan dressed up! He's cosplaying as Captain Spaceington from James Turner's Star Cat (which is hugely funny and I recommend it for kids AND adults). Here's an interview with James on Comics Beat.




James was super-pleased to see his own cosplayer! Right behind him, you can see Liz Payton manning The Phoenix Comic table (a weekly comic which I also highly recommend).




And here's Jonny Toon's table! Not many 10-year-olds are on Twitter, but you can follow this one at @JonnyToons. (He's just tweeted the work-in-progress cover of his Christmas issue.)




I was very impressed with Jonathan's design skills for Crystal Orb...




...and the comics inside are funny and remarkably sophisticated for someone his age! Keep an eye on this guy, I think he may go far. It was great to see him teaming up with Jordan to draw stuff; they're a real power duo.




And of course, if you read the Guardian, Independent, Vogue, almost any newspaper, you'll have seen articles about Zoom Rockman, who's been making comics since he was 8. He's 14 now, and has a lot of issues under his belt. He sources local advertising and has been a real pioneer in kids self-publishing comics. Check out his website and you can follow him on Twitter as @The_ZoomComic




I love the Skanky Pigeon quill pens!




His younger brother, Ace Rockman, also loves to draw and drew up a storm at the activity tables. (Great hat, Ace!)




Here's a video Zoom made about how to make comics when he was much younger and still too shy to talk on camera.



And it was great to see the debut of TEAM KETCHUP with their comics anthology Issue No.1! They found local Yorkshire funding and the kids involved worked shifts at the table, selling their comic and badges and running their doodle area. If you have questions about how they did it, have a chat with coordinators @_Joolze, @Coldjenius and @beth_k_t.




And you can follow Team Ketchup collectively as @theteamketchup! Here's a recent tweet of their doodle wall: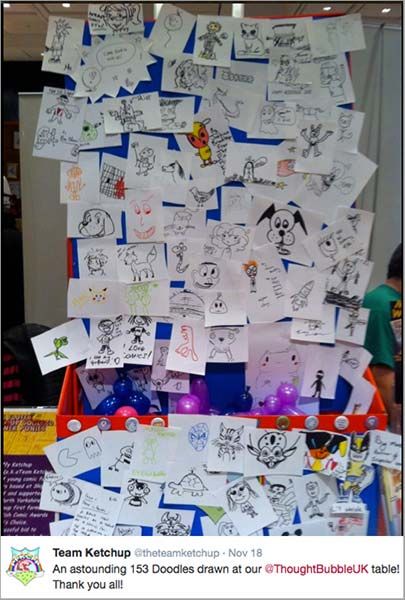 One of the coolest thing about Thought Bubble is seeing parents and kids geeking out together about books, comics and artwork. It's such an awesome way to spend time with your kid and let them see that reading is fun, without turning it into a lesson. This family were a joy to watch, and that little Green Lantern Guardian went straight for the books and got stuck into them. Ha, one of the funny things about Thought Bubble was that my picture books sold much better than my chapter books. Usually it's the other way around at book festivals; people see Oliver and the Seawigs or Cakes in Space and prefer them to the picture books because they have more words and are therefore deemed more like 'proper books'. Whereas I'd see Thought Bubble people leaf through them, realise they didn't have quite as many pictures, and move on to the fully-illustrated picture books, with 'proper illustrations'. This crowd is a visual crowd, and they appreciate reading pictures as much as words. It's a wonderful place to be.




My Jampires co-author David O'Connell and I kept looking over and breaking into broad grins as we saw our teammate Matt Badham working his magic. He's SO GOOD at relating to people, I wish I could work with him full-time. He could talk to anyone, on their own level, and he made a lot of people feel very welcome. It was almost poetic. (And he also sold a heap-load of books. Matt could very easily lead courses for booksellers.)




Here's a look at the two activity tables we had in our area. We had four tables in total: one for display, one for talking with people, book signing, laying out drawing supplies, and two table with chairs around them for families (and anyone who fancied a sit-down) to gather and draw. Some people wanted to keep their drawings, but we hung a lot of them up on the backboards and had a flip-chart ready for people to draw on and other creators to come over and do drawing demonstrations.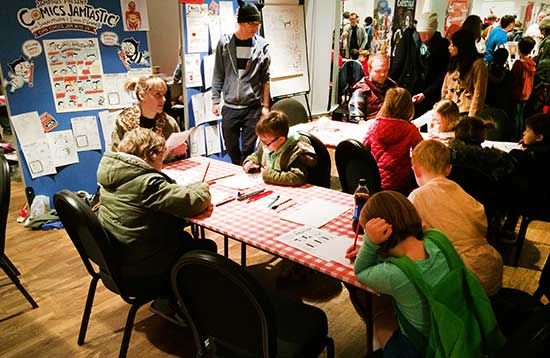 Some people did Comics Jams with other people, but a lot of kids were happy just to draw comics on their own. We found they didn't actually want much adult intervention; most of them were familiar with comics and happy to be left alone to get on with making things.




There were LOTS of jammie dodgers. When we ran out, we gave Jordan and Jonathan money to go off to the Tesco and buy us more.




It was fun seeing people of all ages getting stuck in.




Some people were a bit young to draw comics, or just wanted to do something a bit more relaxing, and we had a sheet posted, showing them how to draw a Jampire.




I always love seeing the Jampire variations. (I hope someone someday writes a symphony called The Jampire Variations.)




Flip chart fun times:




(Who can even SPELL 'submarine'?)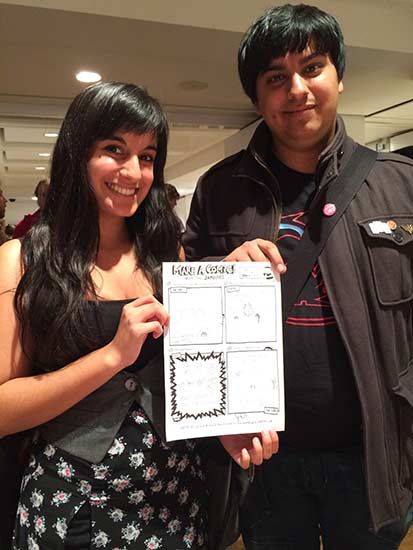 Here's Jordan and his mum, running The Phoenix Comic tables for awhile, so Liz could run around and talk to people.




And look at the fabulous volunteers, in their matching Thought Bubble staff t-shirts! They're designed by partners Donya Todd and Jack Teagle. (I sat next to Jack and Donya for a full 24 hours to do our 24-hour comic, and they're both ace.) The lady in the middle was our main contact for the family activity area, Martha Julian, and she really worked with us to make the best possible space for everyone. Thanks so much, Martha and team!




Of all the comics festivals I've been to, Thought Bubble and Lakes have by far been the best organised, and you could really tell, the way everyone talked about them so positively afterward. They made creators feel welcome, and we didn't have to fight like cats to make sure we had all our backboards, and they went out of their way to get stuff for us, to make things work more smoothly. Having a team in matching t-shirts is really helpful, there's always someone in view that you can run over to and get some help. I also did some planning with Lisa Wood (shown here) and Clark Burscough. If you follow @ThoughtBubbleUK, that's Clark manning the Twitter feed.




Huge thanks from Dave and me, and team Jampires!




Another cool thing about Thought Bubble is that kids can meet their favourite creators milling about everywhere! Here's The Phoenix Comic's Matt Baxter at the activity table:




Hey, look, it's my studio mate Gary Northfield! Gary did some awesome drawings and little watercolour paintings at his table. Check out his family-friendly The Terrible Tales of the Teenytinysaurs and Gary's Garden comic books; they're ace. Gary's the guy who originally walked me through how to do workshops and went with me on my first library event.




Check it out, Glasgow-based Adam Murphy and Lisa Murphy, creators of Corpse Talk! Lisa's done colourist work for Adam, Gary and lots of other people, and she's an important part of The Phoenix Comic team. I'd never really talked properly with her and Adam (other than fleeting festival chic-chat) but we had dinner together on our first night and really got to chat, which was one of my highlights of the whole trip.




Here's a look at their latest Phoenix cover. ZING!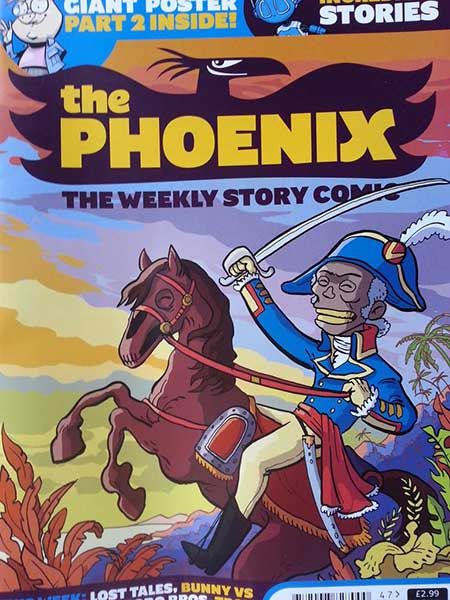 And it's Neill Cameron and family! Neill's latest book, How to Make Awesome Comics is something I've been waiting a long time for; something I can recommend to kids who want to know more about making comics but are too young for the Scott McCloud books. Neill packs in loads of inspiring challenges and tips to get kids drawing and writing comics. And he's great at running workshops, too. In fact, Gary, the Murphys and Neill are all good at that, book 'em into your event diary, librarians, festival people, teachers, etc. His wife, Di Cameron, works at The Story Museum in Oxford, so they're a story-packed power team.




Neill and Adam had printed up their own Comics Jam for the festival, a humourous horror story called The Curse of Barry Starkey, which you can read about on Neill's website here.




Thought Bubble was so large this year that it filled three separate huge venues, all inside the big square at the Royal Armouries. The Jampires Comics Jamtastic area was in the Royal Armouries Hall, and there was a real effort to make that area the most kid-friendly place, including a special chill-out lounge for people with autism. In the middle of the square, the organisers erected a white marquis called 'The Teepee', a slightly misleading name because it was Enormous. A lot of the celeb signings were happening in there. And across the square was New Dock Hall, which has much higher ceilings, black walls and hosted more of the grown-up comics (although there was still a lot of family-friendly stuff there).

I first made a bee-line for Philippa Rice's table. I love Philippa's comics, and she always makes the most beautiful table displays. When I do talks about getting kids involved in comics festivals, I always show photos of Philippa's tables because I think I would have LOVED to have made dioramas and things like this as a kid. Check it out: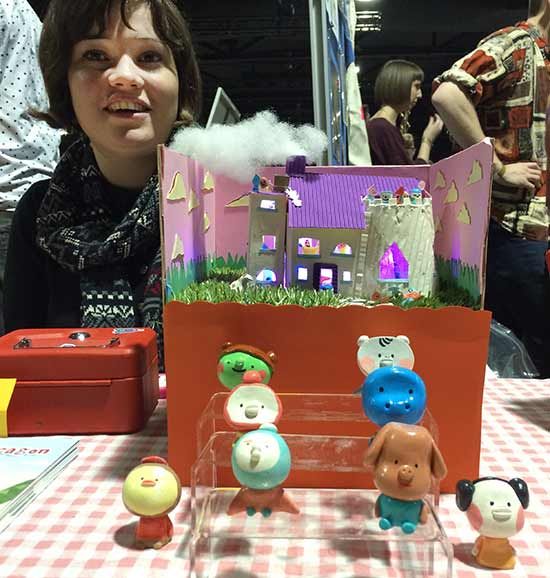 And a closer look. Those are real lights in there! So awesome.




Last year I came to Thought Bubble as a punter and had a great time going to events, browsing comics and talking with people at their tables. I'm quite tempted to do that again, one year at table, one year as punter, on and off. This year I hardly had any time to see anything, but the Jampires team let me off for half an hour to run around and see as much of the festival as I could. (Huge apologies if I didn't manage to say hello to you as I madly dashed about!) This book by Becky Palmer caught my eye, La Soupière Magique (The Magic Tureen?). Becky originally wrote it as The Biggest Helping but she couldn't find an English-language publisher, so she got it published in French instead, by SarBacane, translated by Emmanuelle Beulque. You can see some pages of it here on her blog and it is GORGEOUS. It's quite startling to think that this is her very first comic book. Wow!




Hey look, it's Dan Berry, who ran our 24-Hour Comic Marathon! He makes fab comics and always uses hand gel. If you're not following him on Twitter, get on the case: @thingsbydan. And he also makes wonderful, professional-quality podcasts with my favourite comics creators for his programme Make It Then Tell Everybody. Check it out!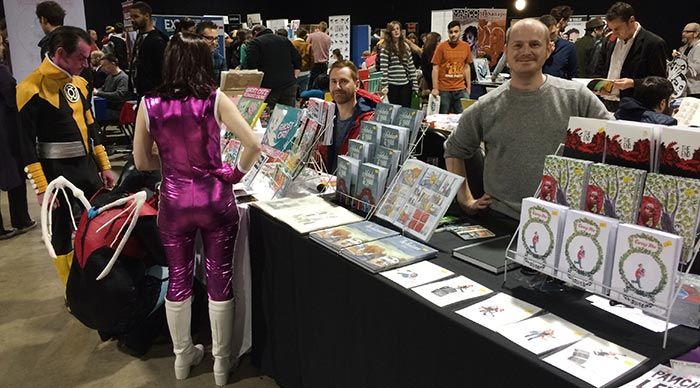 Here's Mhairi Stewart and friend manning the Roller Grrrls table she runs with Gary Erskine. There were table neighbours at the very first comic con I did by myself, and I was very clueless and they made me feel incredibly welcome. I love those guys.




And I'm a big fan of all three people here! That's Moshi Monsters' Nana Li, buying prints from North-Wales-based Jonathan Edwards (aka Jontofski) and Louise Evans (aka Felt Mistress).




Coffee time for Lizz Lunney, Joe Decie and Joe List. ...Oh, look, Decie has posted a Thought Bubble DRINKS TASTE TEST.




On Saturday night, Molly and I trotted along to the British Comic Award ceremony, hosted by a blue-suited Adam Cadwell and David Monteith, where we got to hear Maura McHugh interviewing Hall-of-Fame winner Posy Simmonds. Here's Molly, Posy and Maura with Alison Sampson, who won the New Talent award. Congrats! I was also hugely chuffed that Isabel Greenberg won Best Book for The Encyclopedia of Early Earth. (You can read my fangirl meltdown blog post about it here.) And it was no surprise, Luke Pearson winning the Young People's Comic Award again, this time for Hilda and The Black Hound. The competition was stiff, but Hilda is MEGA.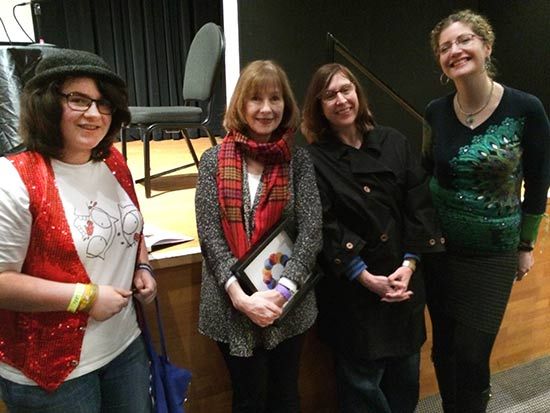 You can read about the awards over on their website here. (Vern and Lettuce won it back in 2011 and you can read my blog post about that here.) I was a judge last year and it was great to see fellow judge Jamillah Knowles again! She caught me up on some of the comics I was missing out on by being at a table.




Okay, now for a few costumes:




Ha ha, here's when things started to get a little weird: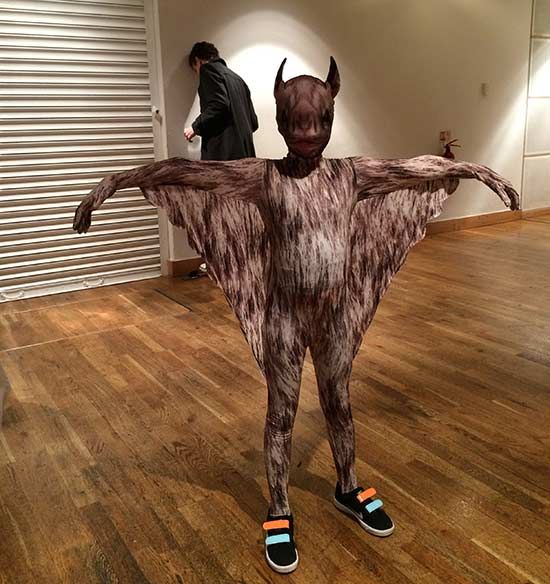 And finally, a good place to end, Dr Mel Gibson with the elephant in the room:




Oh wait! One more thing... what is this? Ha ha, this is what I look like to the kids I'm working with:




(THANKS, Jordan and Jonathan.)