Here's the angel who's going to flap down from heaven and miraculously write all my Christmas cards for me.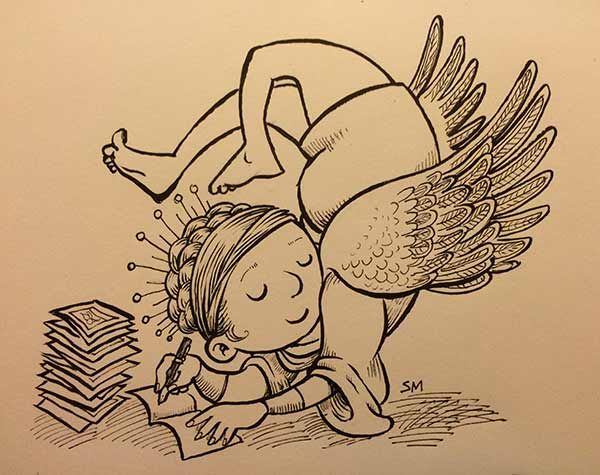 So you know how, in the last post, I gave you free Christmas cards to print out? Well, the problem with that is that you still have to WRITE them yourself. I'm terrible at writing cards. I don't want to write something short and meaningless, but it takes forever to write long customised messages to lots of people and it just makes me feel bad, because I haven't seen most of them recently enough. So I've been procrastinating.

Last night after dinner, Stuart and I were going to sit down and do our cards. But I crashed on the sofa and asked, 'Is it okay if I just doodle for ten minutes or so... to warm up?' First I drew Stuart in his slightly silly apron. (Good man, he was doing the washing up.)




And then I browsed Twitter, as you do, and kept seeing all these cool kids' drawings of animals and people with these kinds of eyes:




I thought I'd draw a picture summing up the allure of the Internet:




But I REALLY needed to get to work on those Christmas cards. So I drew myself writing them, a very attractive drawing.




This is what it FEELS like to procrastinate from Christmas cards. (Also, it's a Titian painting copied without looking at the paper.)




But really, wasn't I going to crack down and DO the cards?




See this lady? She's so good, she's writing her Christmas cards. Good lady. I love drawing that lady.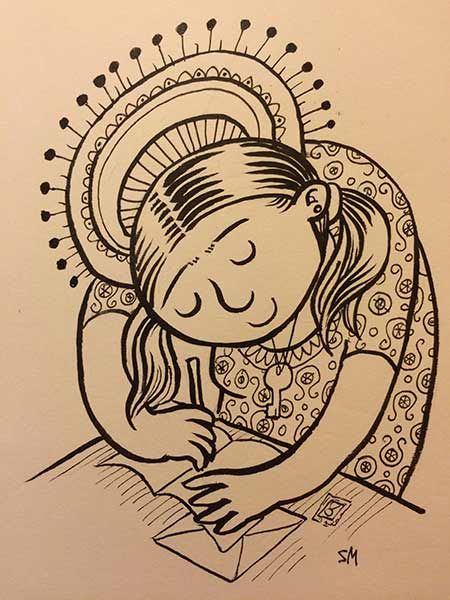 In other news, Nana Li and John Aggs posted this Instagram:




Yay! And Nicolette Jones has done her Sunday Times roundup, with lovely illustrations today by Sam Usher...




...Rebecca Cobb, Tony Ross and Emma Chichester Clark.




And hooray, she gives Cakes in Space a mention! Thanks, Nicolette!




I guess I should get started on those Christmas card, huh? Or I could watch what happens when someone dumps a huge bag of balls at the foot of an up escalator...