People often ask me about my drawing, how I draw, what kind of sketchbooks I keep. I get a lot of illustration students sending me questionnaires and I don't usually have time to answer them. But I thought I'd do this one as a blog post, since I often post drawing here but much less often talk about what goes into making the pictures. So read on, if you're curious! These come from a student on the MA in Children's Book Illustration at Cambridge school of art named Mark Nicholas.




How often do you use your sketchbook?

I go through stacks and stacks of cheap Seawhite of Brighton sketchbooks every year, maybe 20 or 30. Often I don't use a sketchbook, I just grab some computer paper out of the printer. I go through a big pack of computer paper every couple months. I try to do one fun drawing every morning, but then I do lots of other work-related sketches during the day, depending on what I'm working on. If I'm doing a school or festival event, I'll probably be drawing on a flip chart, not in a sketchbook. On some of my trips, I've kept comics travel journals in these sketchbooks, A5 size. If you want a peek at them, here's one from Alaska, and one from China.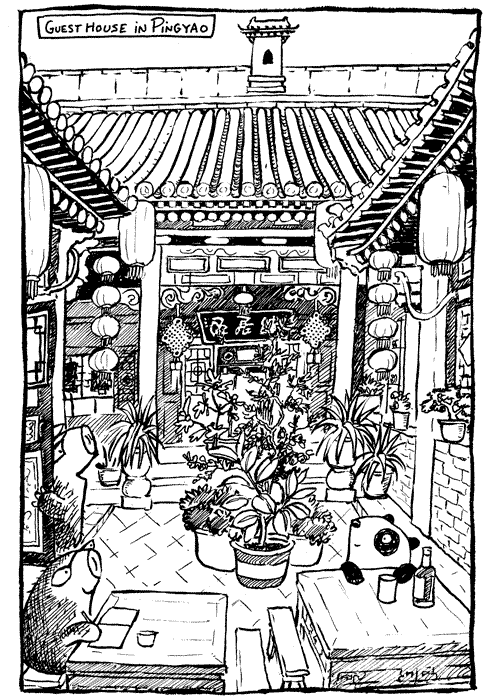 Actually, some of the Alaska sketchbook images have inspired things in both Oliver and the Seawigs and the book I'm working on right now. I mostly drew these first in pencil, then in Pentel brush pen and Faber Castell Pitt pens.





Have you always used sketchbooks from being a child (doodling) or is it something that you discovered through education? And would you now be lost without one? 

I was lucky, my mother was a teacher and understood the value of having good art supplies around all the time. My sister and I had little painting easels and all the art supplies we could want: coloured pencils, crayons, watercolours, poster paint, coloured paper, even oil paints and canvases. I kept sketchbooks but my drawing wasn't limited to sketchbooks; I'd draw or paint on anything. I had a babysitter who impressed me with her drawings of feet and horses, so I remember keeping sketchbooks full of foot and horse drawings. I also played a lot of sports in school and we'd spend hours traveling by buses and ferries to basketball games and such. So I'd draw portraits of my teammates and that would keep us mildly amused. Those weren't terribly good drawings, but at least people could see the likenesses.



 
Do you take one with you wherever you go? 

I usually do slip at least an A5 sketchbook into my handbag. But I'm happier when there's room for an A4 sketchbook and my bulky pencil case. I get cross that we women are expected to have very delicate little handbags when we're dressed up all fancy. That's so silly.
 
Can you complete a project without a sketchbook or is absolutely essential to the way you work?  

Again, I don't necessarily need a sketchbook, but I do need lots of paper. Whenever I draw something, the first drawing doesn't tend to be very good. I don't mind that, it's like I'm getting to know whatever it is I'm drawing. In drawing, say, a portrait, I'll discover how the face works; then the second drawing will be much better, because I'll have a good grips on the face's basic architecture, and be able to concentrate on the composition, and making nice-looking lines. My favourite way to work is to make an ugly sketch on very thin paper (such as computer paper), then use my light box to draw a second drawing over the top of it, tracing the good bits and improving the things that weren't working. It's easier to use the light box if the paper's not bound into a sketchbook. But when I don't have my light box available, I'll draw in a sketchbook in pencil, maybe a couple drawings, then choose the best one and go over it in ink.




Do you set aside time to make observations in your sketchbook which are unrelated to current projects to experiment with media and ideas?

Yes, I think this is essential. This year I did a lot less sketches just for fun, and I've blogged about feeling depressed because everything has turned into pressure work; I wasn't taking any time to play. And play is essential to making my work lively and interesting, and it's the only way my drawing stays limber. One of the worst things I did was let people talk me into doing small commissions, thinking 'I can do it as one of my morning sketches, it won't take any more time'. But because I didn't have the same sort of freedom to experiment and mess up, it wasn't really play time, it was just giving myself the pressure of more deadline work. I need to stop doing that. Drawing trees in Greenwich Park has been one of the most therapeutic things I've done, I feel much fresher if I start the day that way.




Axel Scheffler recently said to our course when talking about sketchbooks about how in his final art he tried to retain the spontaneity and freshness he created in his original sketches, particularly with characters.  Is that something you try to do?  I find that I tighten up a lot in my final art which I find challenging to prevent and I sometimes lose the life that I created in my sketches, do you often feel this frustration and do you have ways of getting over this? 

I don't think that's true for me; I think I discover the energy of a drawing while I'm doing the sketch, but a lot of that is about getting a good composition, which I can strengthen in the final drawing. I don't really like my sketches, I think the final drawings look much more exciting and pop off the page better. But I know what Axel means, I've seen artists who keep amazing sketchbooks while their final art looks a bit dead in comparison. I went to an exhibition of E.H. Shepard's Winnie the Pooh drawings at the Dulwich Picture Gallery and his pencil drawings were breathtaking. But his coloured paintings were very stiff and looked incredibly amateurish. It was rather comforting, to know that even he didn't always get things right.

Do you make notes in your sketchbook as well as drawings, are these just as important to your work? 

Sometimes I make notes. If I'm writing a comic strip, for example, I might sketch out the characters but most of the notes will be in writing, with arrows and crossed-out bits. I forget plots and dialogue almost immediately so I have to write them down, but if I see the words, I can instantly remember the pictures I had in my head.
 
What kind of responses do you get from your agent/publisher regarding your sketchbook work throughout a project, do they spot exciting developments in your mark making/ideas that you may not be aware of?

Character sketches have been important for some of my book proposals. For example, when Philip Reeve and I pitched Oliver and the Seawigs to Oxford University Press, we included a mix of pencil and ink drawings of Sea Monkeys, Iris the mermaid, the villain Stacey de Lacey and two of the rambling isles. The story idea was kind of far-fetched (islands that walk about and sculpt flotsam and jetsam into elaborate wigs) so we wanted to make sure the editors could really picture in their heads what we were talking about. (Check out Philip's sketchbook Tumblr; he also studied at Cambridge school of art.)




And David O'Connell and I drew a whole Comics Jam which we pitched to our publisher, which turned into our published Jampires picture book. (Our sketchbooks were the scanned pages we'd send back and forth to each other, page by page.) Here's one of the sketchbook pages, when we were adapting the comic into a picture book:




For my second book with OUP (Cakes in Space), the editor was already happy with the text and didn't need a pitch so I went into doing thumbnails roughs and pencil roughs (which are a little bit like working in a sketchbook; they're very rough drawings). For my third book with Philip, it has a larger cast, so I've created a sheet with all the characters drawn onto it. But some of them have already changed quite a bit, now that I'm doing the pencil roughs.

Has a random scribble in a sketchbook started a whole new project for you out of nowhere? 

Yes! In fact, my latest book, Scribble was inspired by something I doodled and tacked onto my studio wall. It was an actual scribble, with teeth, eyes and legs. A year or so later, I wrote a little story about it and tucked away the Word document in my files. When Dan Berry invited me to be a part of the team making 24-Hour Comics for the Lakes International Comic Art Festival in Kendal, I was able to use the scribble and the manuscript as the starting point for my story, which became a 24-page comic book in the short span of 24 hours. (You can read it online here.)



 
Do you look back at old sketches for inspiration and ideas if you're going through a patch where you don't feel so creative? 

You know, I don't ever really feel uncreative; I always have more projects in mind than I could possibly carry out. But having a blog full of drawings is very helpful. I have a terrible memory, so going back through those drawings reminds me of ideas I've had. For example, Philip Reeve was looking at my blog and saw I'd done a drawing of Sea Monkeys. He brought it up while we were working on the story, and that conversation inspired the Sea Monkeys which appear in Oliver and the Seawigs.




I think the best times in my entire life have been making sketches; there's something about losing myself in whatever it is I'm looking at that's almost like a drug. And there's nothing more companionable that drawing with other people. My husband doesn't draw very often, but some of my favourite times with him have been when we've gone on walks and done drawings together. I love collaborating with people and some of my best work has come out of collaboration. Even in the Scribble comic, my favourite page is one I let the art students help me with:




I'm quite gentle with myself when I draw for fun; I can approach my drawing from two different angles: the first is the critical approach where I scrutinise it and judge what worked and what failed. If I didn't do that, I'd never improve. But the second approach is almost motherly; I see my drawing as something that has a life of its own, and just like a child, it might not be perfect, but I know it's trying its best. So I'm quite affectionate toward it, and I don't scrunch it up in a ball and get angry. (That would be like beating my child for not being perfect. Kids need hugs, not beatings, and it's the same with drawings.) I think I'll only keep moving forward with my work if I can always keep those two approaches balanced.





I've posted some more thoughts on my Frequently Asked Questions page. And if you'd like to learn more about how different illustrators work, I'd recommend listening to a series of podcasts by Dan Berry called Make It Then Tell Everybody. He interviews some of the best people in the business and they give loads of interesting insights into how they all work. (Here's my interview.) Everyone works very differently and the most important thing is just to make and keep making every day, whether it involves a sketchbook, making sculpture, playing with your food or drawing silly faces on your tummy and then shooting a video of your belly button singing David Bowie songs. Sometimes the silliest things turn out to be the most inspiring.