This has been a Christmas season of hats. If I wasn't drawing them, I was wearing them. Hats this time of year are fun, because you can bung any old shiny thing on your head and it sort of works. Here's Ms Claus, with what might be cherries, Christmas balls, holly berries, or the skewered noses of Rudolphs past.




I don't really 'make' hats, I sort of assemble them from slightly more sedate hats from secondhand shops and whatever bits and bobs I can rummage up. My friend Helen Boyle (who edits WRD children's book magazine) was meeting up for fancy Afternoon Tea with Damian Kelleher and me, and said she didn't have a good hat to wear, so I assembled her this mint-green one:




A little closer look; isn't that bird a cutie? I ordered a big lot of birds off the Internet, and they feature in most of this season's hats.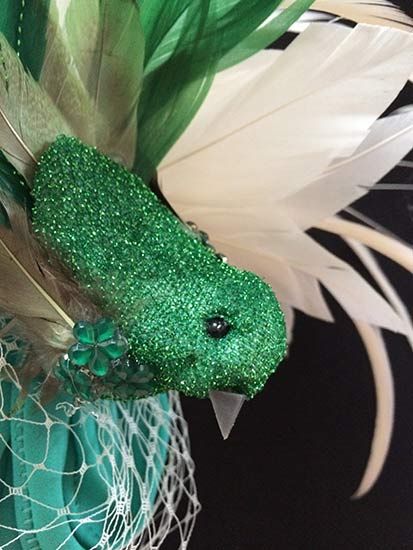 Damian looked incredibly swish in it.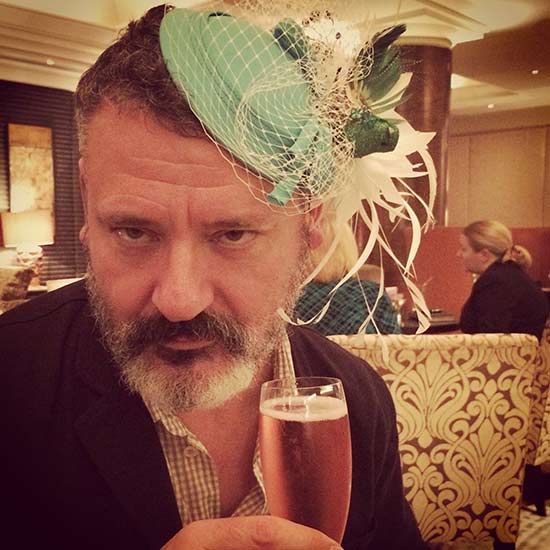 This red one's a gift from my mother; she bought it at the Bellevue Arts & Crafts Fair, near Seattle. I wore it to the Camberwell art college MA illustration Christmas party, and it was great seeing my course leader from art school, Janet Woolley. She was a brilliant teacher, and while we were studying, we had a visiting lecture from Simone Lia, here on the left. Simone makes amazing comics and hers were some of the first I saw that inspired me to make my own.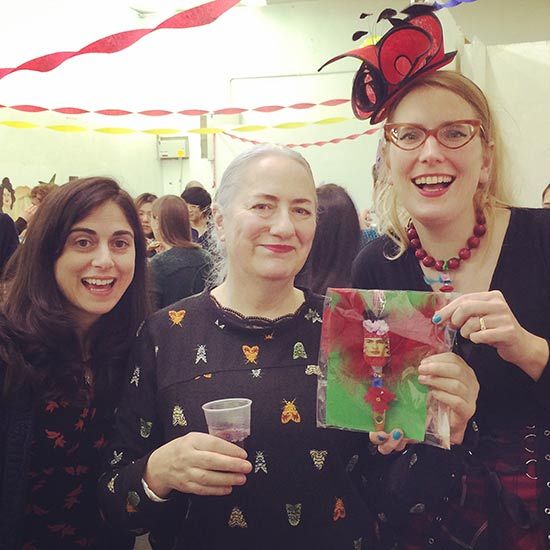 Mark Oliver (who studied with me), Mark Long, who started just after I left, and Jan's daughter, Jasmine Woolley-Butler.




Okay, this hat was for visiting Scholastic. Actually, it was a hat I've worn before, but I added the bird and some pompoms.




...And made videos. You can see all our videos here, several Scholastic authors (including Julia Donaldson and Liz Pichon) answering questions on our favourite things about Christmas.



Now it was awfully nice of publisher Nosy Crow to invite me to their party, particularly considering they don't publish me. They do one of the most fun parties, it's very sparkly.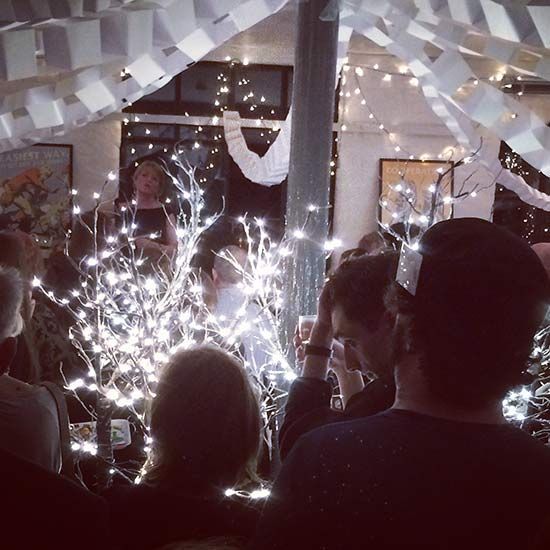 This started out as an all-white hat that looked very wedding-ish, but I redecorated it with some long feathers I found at Deptford market and a flashing giftbox from Poundland. (It's the first time my hat's had actual LIGHTS, which was rather exciting.) Here I am with Philip Ardagh:




Actually, I think I like it better in black and white. (Stuart took this photo.)




Ha ha, people were even wearing giant rodents on their head (designed by Axel Sheffler, in the blue jumper).




This last hat was verging on ugly, but that was okay because...




...I wore it to the Literary Review's Bad Sex in Fiction Award ceremony. I'd never been to that one before, but there were some familiar faces, including Philip Womack, Jo Riddell, her husband Chris Riddell, and Meg Rosoff.




Oh, I should mention, the Guardian did a great interview with Chris Riddell today, go check it out.

And I'm trying to remember which hats I have by keeping track of them on a Pinterest page, so do feel free to go over and have a peek.