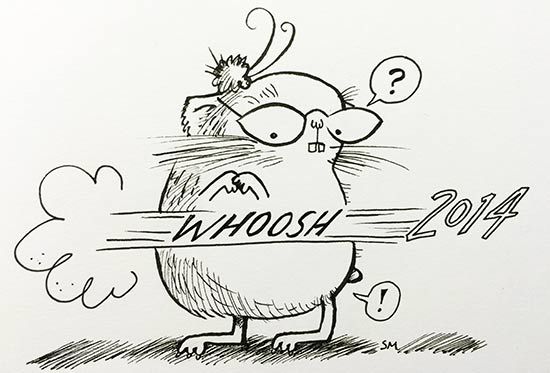 2014 started with a hamster. Superhamster, Stuart and I called him. We were good hamster babysitters.




One of the main reasons I keep this blog is so that the year doesn't rush by and leave only me with a few smudgy memories. I've been going through the blog posts of 2014 and rather staggered that so much happened only in this year. It's been both an amazing year and a very difficult one, because I've packed in so much travel and book events and still had the same amount of books to make. I got a bit overwhelmed, and for 2015 (and most likely 2016) I've decided to cut way back on doing events, so I have have more time to make books and let my brain work. But I'm not complaining, finally for the first time in my life I feel like I'm really doing the job I want to be doing more than anything in the world, and I only wish I had more time to do more of it.

So what happened this year?

FOREIGN CO-EDITIONS: One of the most amazing things was seeing Oliver and the Seawigs start coming out in different languages. Our rights team at Oxford University Press sold that book and the follow-up Cakes in Space to twenty different countries. Here it is in Japanese! I love what they did with the cover: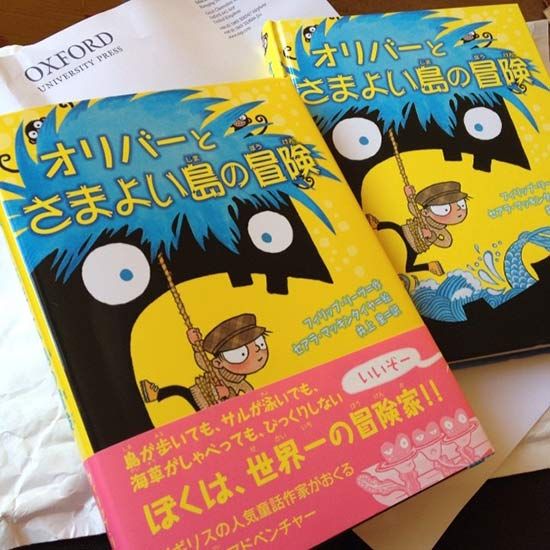 While I think that's my favourite foreign edition, the German edition has a few extra page and Colin the crab thinks the Germans do it best. (He didn't get to give his speech in any other language, poor chappie.)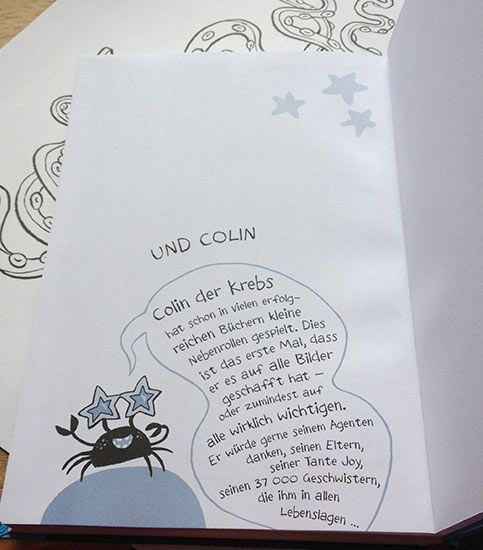 Another thing this year, I discovered DRY SHAMPOO in a big way.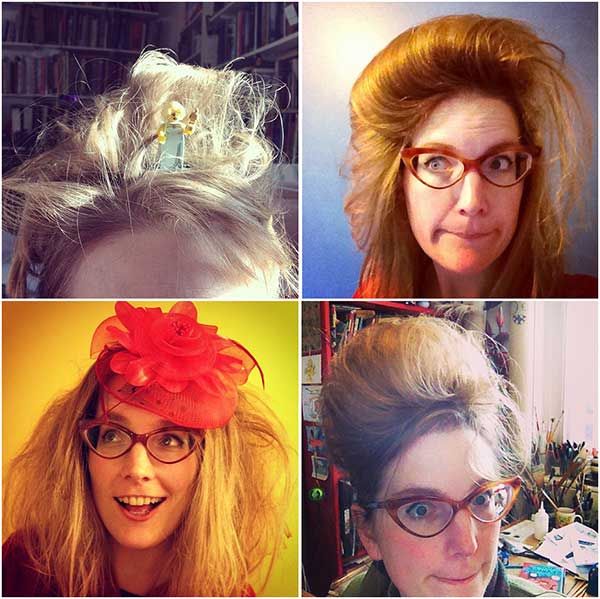 COMICS: In February I documented each hour of a day for Hourly Comics Day, in a comic which you can read here!




I kept going with my Shark and Unicorn comic strip in The Funday Times, appearing in The Sunday Times six times a year.




Here's my editor, Karen Robinson: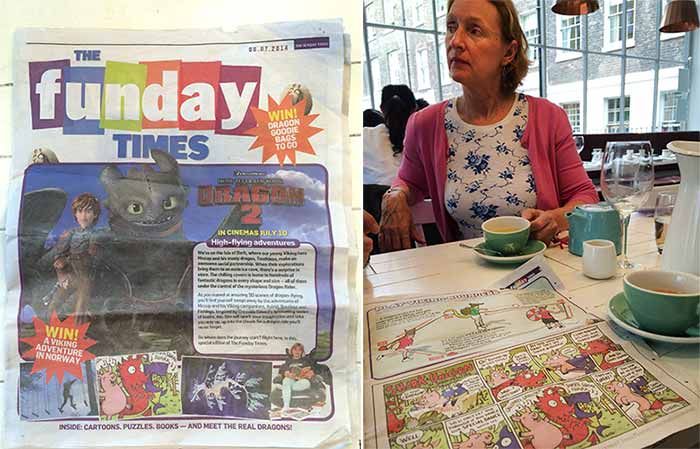 EVENTS: This was the year of events. Mainly big stage events, and mostly with my fab friend and co-author Philip Reeve. Here are kids who arrived dressed up in their own Seawigs!




In fact, dressing up was one of my favourite parts of the year, and I got such a buzz from seeing kids dressed up as my book characters. Check out this great Shark in the Bath!




And a lovely Iris the mermaid:




TRAVEL: This year I got to go to Norway, which is somewhere I'd always wanted to visit, but I could never afford to go. (Norway's rather expensive.) I got invited out by John and Helga Rullestad (who run the town's November book festival) and I totally fell in love with Skudeneshavn, the town where it's based. The first time I went out with a bunch of Welsh teachers and Heather Salisbury from the Hay Festival, as a sort of EU exchange program.




And I also got to go to the Emirates Lit Fest in Dubai! And ride a camel!




One of the highlights was getting to spend a decent amoung time with other authors I only usually say hello to in passing. Here are writer-illustrator Sally Gardner and journalist Katie Adie on a camel:




And Francesca Simon (author of the 'Horrid Henry' books):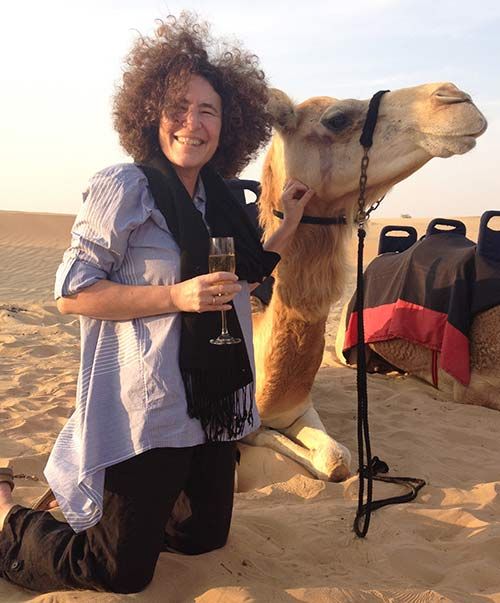 And Joanne Harris (who wrote Chocolat), with the only disappointing bit of food on the whole trip (a pea jelly).




SCHOOL VISITS: This one was to Hay-on-Wye, in exchange for the Norway trip.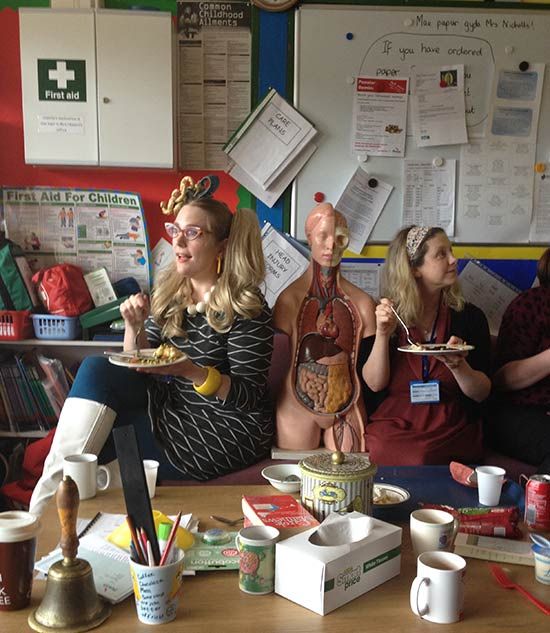 SHARKS! Here's the fab Scholastic UK team who worked with my on There's a Shark in the Bath: designer Rebecca Essilifie (who's originally Ghanaian) and editor Pauliina Malinen (who's Finnish). I love it that we're all from somewhere else way back when, but publishing books together in England.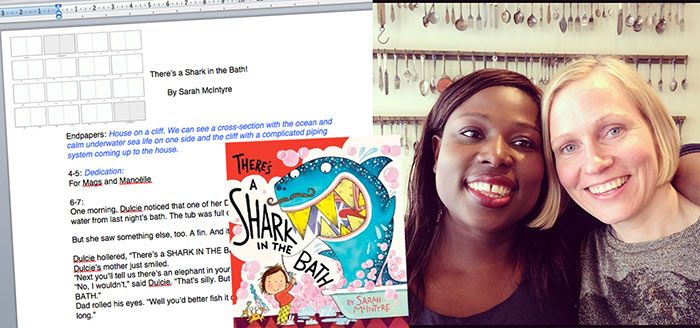 And I wouldn't be anywhere without my shark-blower-upper, the excellent publicist David Sanger.




What else? Lots of mucking around with Stuart. He puts up with me making lots of stupid drawings and taking silly photos.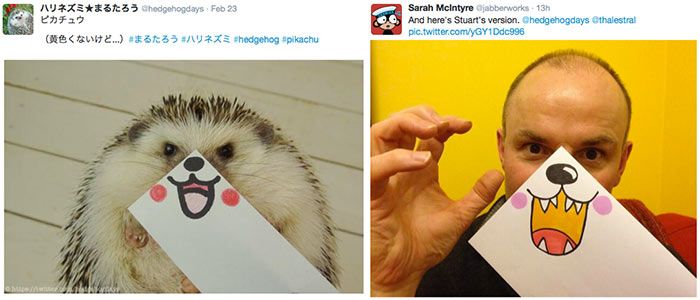 FAMILY: In the spring, my parents came to visit from Seattle and we rented a cottage in Derbyshire with them. This is my favourite sketch from the trip, when they're crashed out on the sofa after a day of sightseeing.




Stuart and I decided we could make do living at Chatsworth, that would be just fine.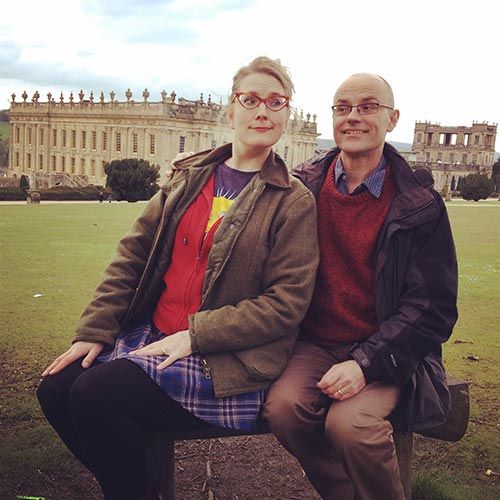 Unfortunately Stuart didn't get to spend time with his dad this year as he died in January. It's been hard for him, and just yesterday he was listening to one of his dad's old answering machine messages.




Another passing: right before my parents came to visit, my grandfather died (my mother's dad). There was a mixture of sadness and relief, as he'd been ill for a long time, but I will always remember him zipping about - a bit too fast - on his mobility scooter.




My next trip was to Spain, to do a whole week of international school visits, and my grandpa would have LOVED the showgirls of Benidorm Palace.




Soon after Spain, I wrote a blog post about the trials of going running in my neighbourhood. This has not been a good year for exercise. I need to do something about that next year.




If I didn't eat so much cake, I probably would've been burning off all these calories on stage, doing these high-energy events. Here's one at the Hay Festival, when Sam Reeve came up and helped his dad and me.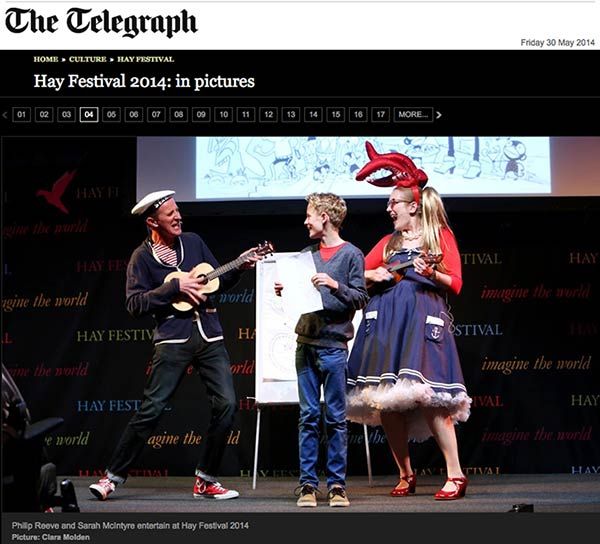 And for a second year at Hay, Philip and I managed to complete a whole giant comic strip on stage with Martin Brown (of Horrible Histories) and the audience's help.




In the meantime, I wasn't doing as many daily doodles as I usually have done, but I did get a set of Letraset markers and had fun trying out new pens. Here's Stuart reading the paper: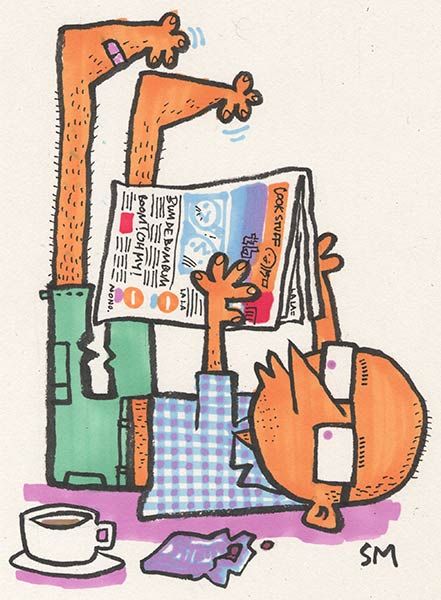 SEA MONKEYS: Sea monkeys aren't actually the main characters of Oliver and the Seawigs, but they're the ones that most caught people's imagination or whimsy, or maybe they're just the easiest to draw and knit. Manchester Children's Book Festival made their whole festival Sea-Monkey-themed!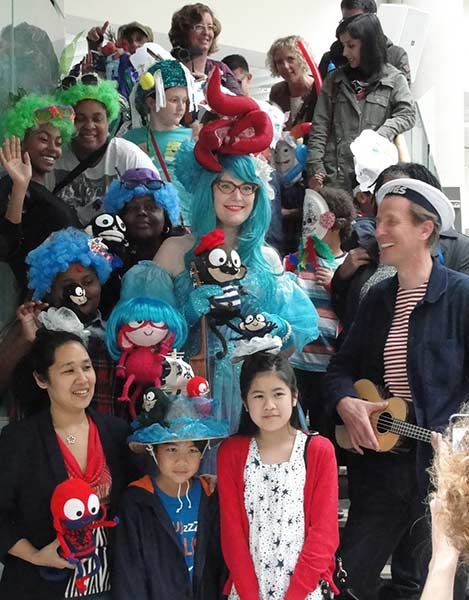 We also got involved with a charity called ReadWell, who bring new books to children in isolation wards in hospitals (since often they can't read books other children have touched). Writer John Dougherty introduced Philip and me to them at the Cheltenham lit fest, and it's a wonderful charity to support. (They're @ReadWellUK on Twitter.)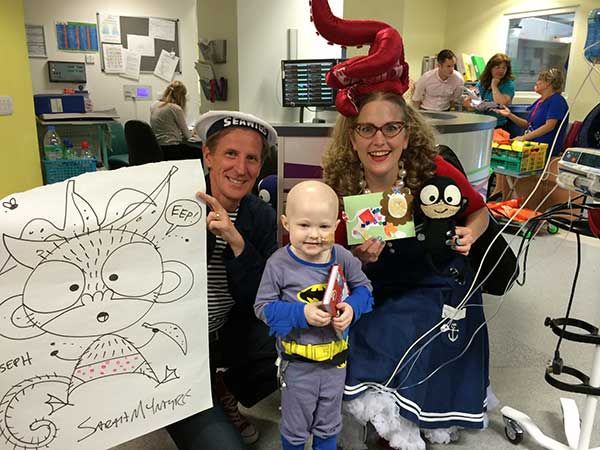 Now, I had NO IDEA what a big deal the Summer Reading Challenge was going to be. Design a few characters, do a few illustrations... ha ha, the Summer Reading Challenge was HUGE! Over 800,000 kids took part and it was mega.




I think my favourite thing was watching the librarians get really involved in the Mythical Maze theme. So many dressed up, created incredible displays and set up exciting-looking craft workshops. I loved this unicorn: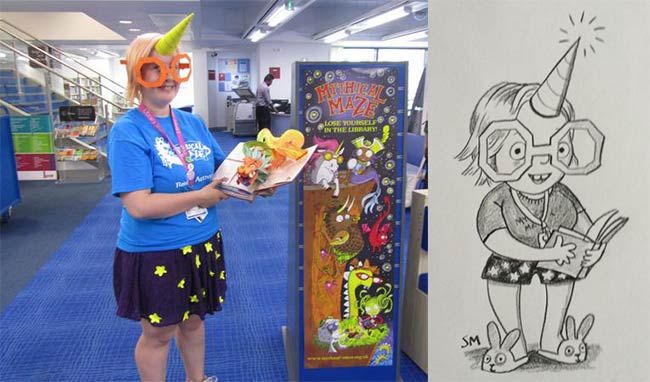 And one of the most amusing things was drawing a Sea Monkey with Camilla. She's a big supporter of children's books and was a very good sport.




The Summer Reading Challenge led to so many other things, such as creating this How to draw a Silly Unicorn piece for The Guardian:




And I had good backup in Damian Kelleher (who organised so much of my Summer Reading Challenge activity with the Reading Agency) and Liz Scott and Philippa Perry (below, in the blue shirt). Actually, Stuart and I got to go visit Philippa near Chichester on a mini break.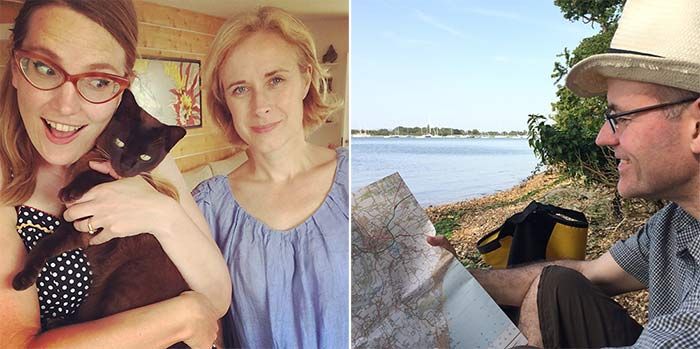 HOLIDAY: So yes, we did take time away to relax! Well, it was Stuart's idea of relaxing. We cycled 63 miles in three days.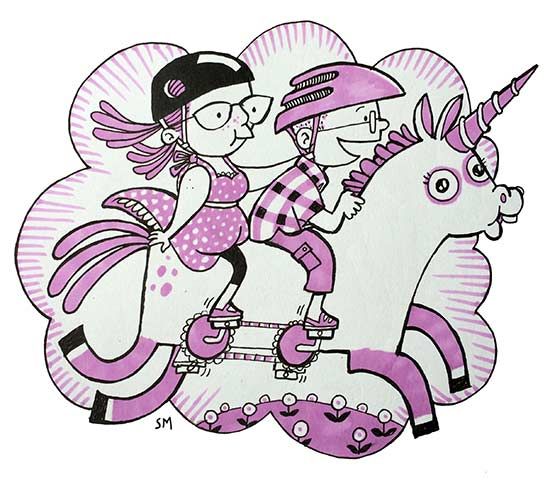 Pedal, pedal, pedal. But gosh, it's gorgeous down there.




When I got back, it was JAMPIRES time.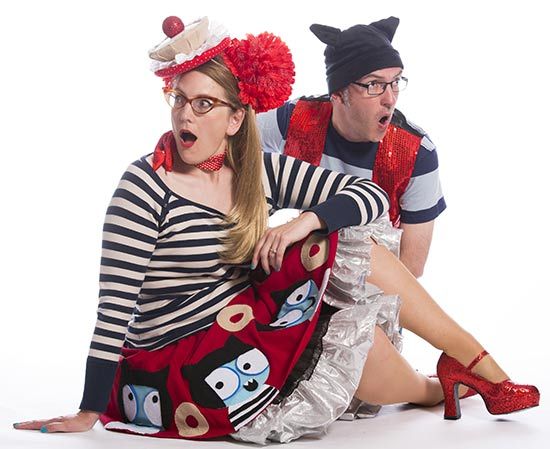 JAMPIRES: My comics friend David O'Connell and I had been working on this book with David Fickling for absolutely ages - at least four years - and we were thrilled that it was finally going to see the light of day. (And Jampires are not like vampires; they're totally fine with daylight, as long as there's jam nearby.)




Here's our fabulous publisher David Fickling, and our jam expert, Emma Preston-Dunlop of the Butch Institue.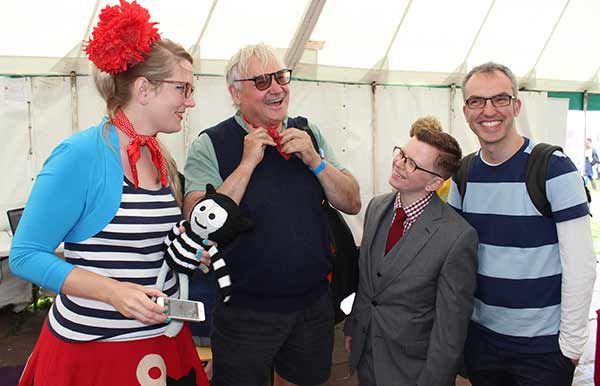 David built us a brilliant website at Jampires.com, and you can find out loads of interesting stuff about how we made the book, and get stuck into some fun activities.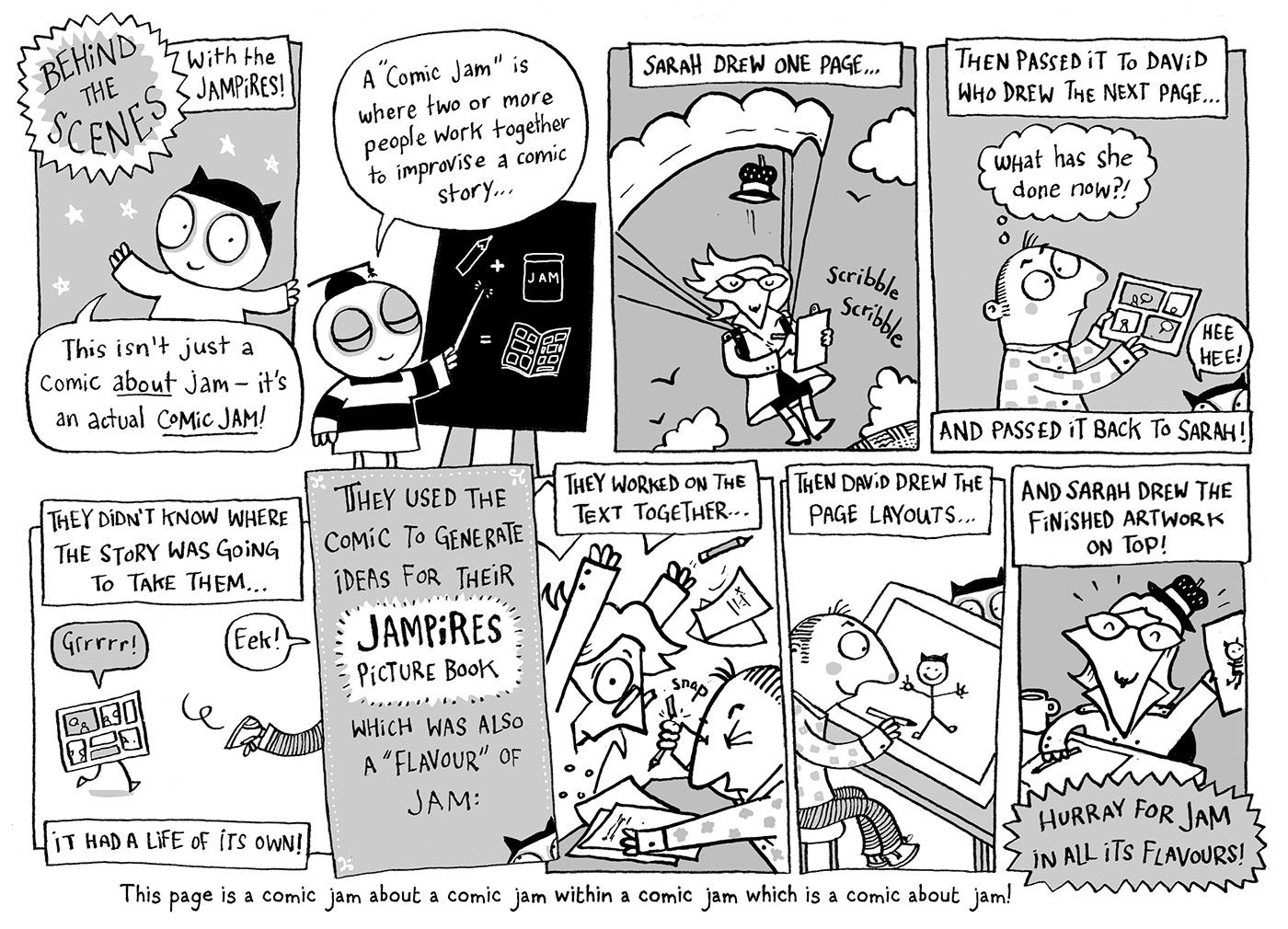 Dave even made sure we printed up the comic that our picture book was originally based on!




Back in the Fleece Station studio, Gary Northfield had a new book!




It's so fun watching books come together across the desk, and Gary's Garden is brilliant.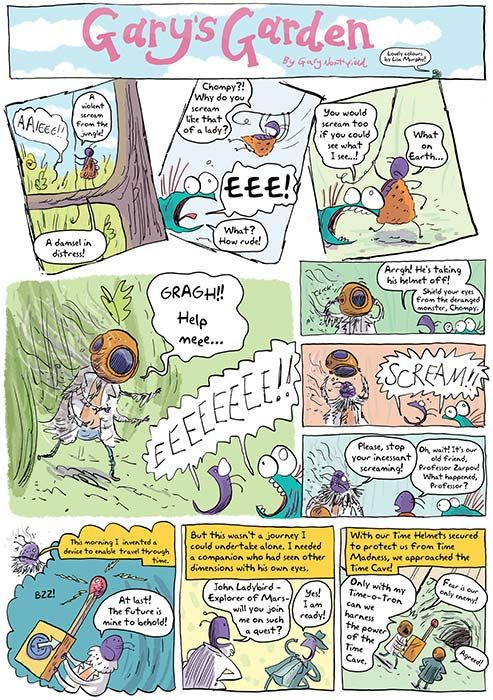 Here's the Fleece Station assembled to give the book a great send-off at Bookseller Crow bookshop in Crystal Palace. Our studio mate Elissa Elwick and I both arrived Chompy-the-caterpillar-themed.




Having Elissa at the studio this year has been brilliant; she's converted me to soya milk (it doesn't go off as fast!) and been such a good laugh. She'll have an exciting big book deal to announce in 2015, so keep an eye on that lady.




One very big thing happened at the studio... Gary got A DOG. A dog that started out very small and grew and grew and grew! He's now a powerful and hyperactive staffie-boxer mix and it means Elissa and I see a bit less of Gary as he looks after Stan. But we're hoping Stan will settle down and let Gary come back to work more often. We miss Gary very much and we even made a cardboard version of him to put in his chair. He's been working on a new book with Walker Books called Julius Zebra which looks like it's going to be ACE.




Gary's Garden wasn't the only new book coming out... Wait, is that a spaceman at the end of the garden...?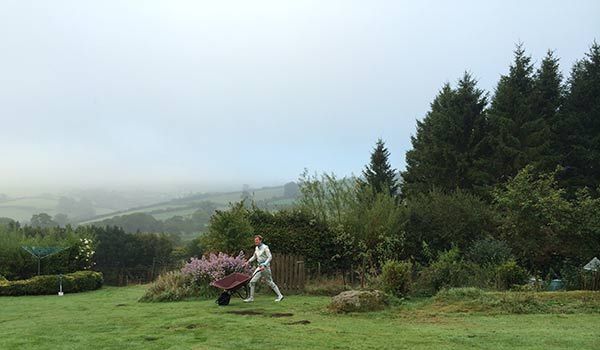 Why yes, it's my fellow space cadet, Philip Reeve, who created a smashing space-themed book with me.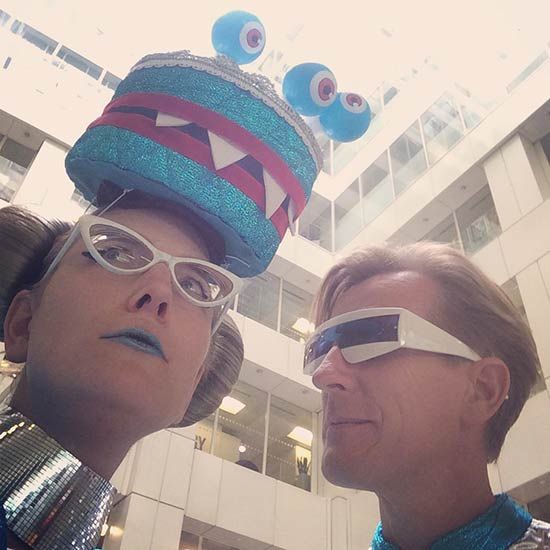 CAKES IN SPACE: We went ALL OUT with the Cakes in Space outfits. As they say, you only live once. Created by fab studio-upstairs costume designer Wendy Benstead and team and cake hat by good friend and sculptor Eddie Smith.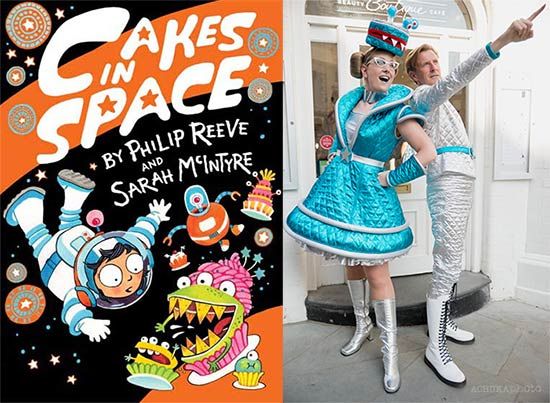 And here's our Cakes in Space editorial team, all in magnificent headgear! That's our designer, Jo Cameron (who made the fascinators), publisher Liz Cross, and editor Clare Whitston. We're already working together on Book 3, so stay posted!




That Reeve is such a goofball, we had so much fun dressing up.




And Dartmoor, where he lives, looks almost like an alien planet, so it's perfect.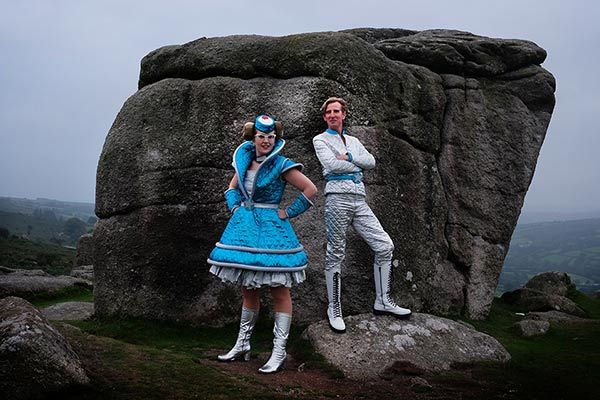 But we didn't stay on Planet Dartmoor, we ventured over to the Isle of Man for the Manx lit fest (and shot our album cover, in case we ever decide to record an album).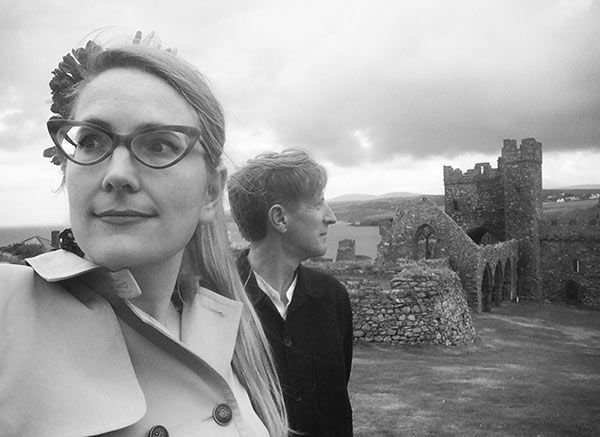 All the kids drew Pilbeam the robot with us, it was pretty awesome.




Philip and I hit quite a few festivals this year, including the Southbank's Imagine festival, Oxford Lit Fest, Cambridge Lit Fest, Edinburgh Book Fest, the FCBG and CLPE conferences, Hay Festival, Nine Worlds, Budleigh Salterton Lit Fest and North Cornwall Lit Fest. And I also did Leicester Author Week, World Con, YA Lit Con, and the Big Feastival and Oxford Story Museum with David O'Connell. More fun with wigs... (Here's Elaine McQuade from our OUP publicity team, while we were in Edinburgh.)




Another big thing I took part in was the 24-Hour Comics Marathon, in Kendal at the Lakes International Comic Art Festival. Seven of us made a whole 24-page comic book each, in 24 hours!




You can read my book, Scribble, online here.




Then it was back to Norway! This time Stuart came with me and we took part in Skudeneshavn's big annual book festival, called SILK.




When Maggie Djoennem, the librarian on the nearby island of Utsira, found out we were coming to SILK, she asked us if we wanted to stop over for another couple nights. Did we ever! We got to stay by the Lighthouse, in the island's artist residence:




And Stuart looked ever so good in his Norwegian jumper.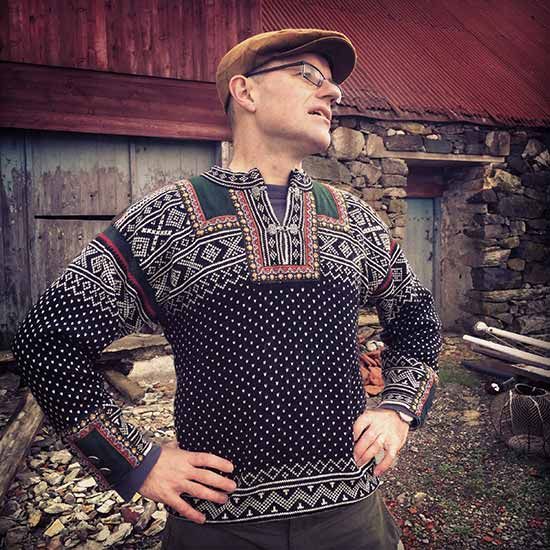 The people on Utsira were so kind and interesting... we were very sorry to leave and I miss them.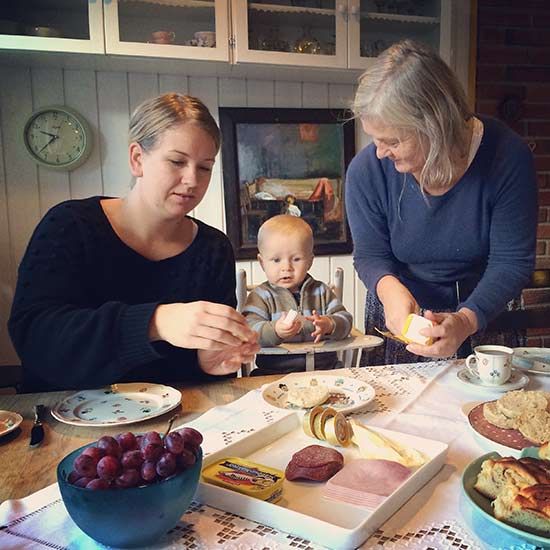 I made so many new friends in Norway, I hope I get to see them again.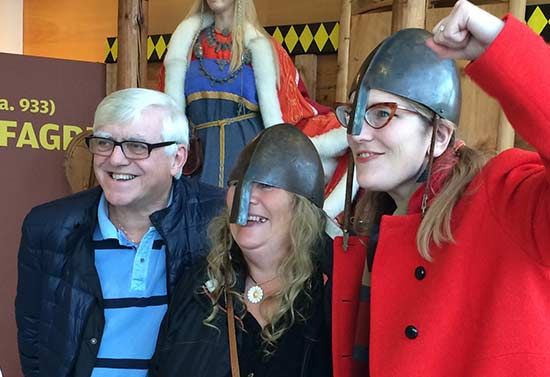 Back in London, Scholastic UK threw the first-ever party that anyone could remember! It was sparkly and amazing, on the top of the Centrepoint building. Here I am, with my Shark in the Bath editor, Pauliina.




And Thought Bubble! David O'Connell and I took part in one of the world's best comics festivals, held every year in Leeds. We ran the children's activity area - Jampires-themed - with the wonderful Matt Badham and Molly Bruton.




One of the highlights of the festival for me was seeing kids making comics, and some of them even running their own tables. I really hope to see a lot more of this in the future; these kids are pioneers.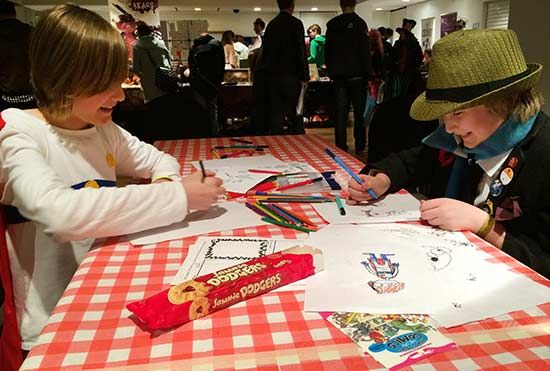 Jordan Vigay and Johnny Toons were some of the most focused and energetic young comics makers and the stuff they make is really good; we'll be seeing a lot more from these guys.




KNITTING: Our studio-mate-at-large Lauren O'Farrell (aka Deadly Knitshade) designed us a pattern for making a knitted Jampire! Lauren's been crazy-busy with commissions this year, so we haven't seen a lot of her, but exciting things keep popping up online from the whirr of flying balls of wool and the frenetic clacking of needles.




Cakes in Space IN THE TUBE! This is hugely happy-making, I still can't get over it. People keep spotting the posters at stations all over town.




And NEW BOOKS! I felt hugely honoured to be able to listen to all of Philip Reeve's upcoming book RAILHEAD, as he proof-read it before sending it to his editor. It's coming out next autumn and it's absolutely brilliant.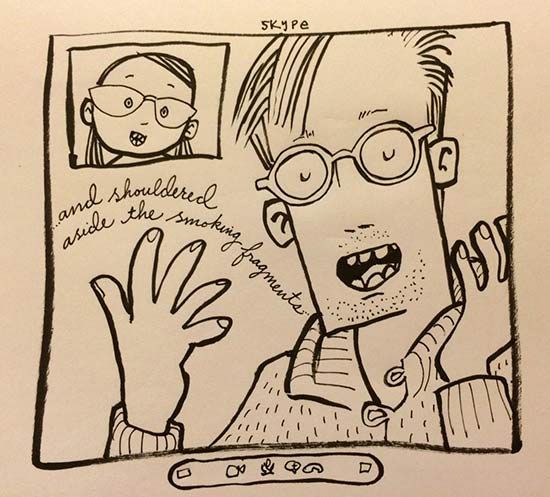 And next spring, my new Scholastic UK picture book, Dinosaur Police will be rampaging across Jurassic Britain!




We're SO excited for this one, get ready for a great dinosaur romp.




So what do I want to do next year? Well, I'd like to watch more films. I didn't get to see many this year, and almost the only telly I watched was two box sets Philip lent to me: Orange is the New Black and House of Cards (the American version). I recently saw Maleficent, which I loved SO much.




And the best thing Stuart and I saw at the theatre was Jeeves and Wooster, which we went to see with the Reeves. Although Stuart got to see comics friends Emma Vieceli and Andrew Ruddick act in Oklahoma while I was laid low with 'flu, and he said it was a great show.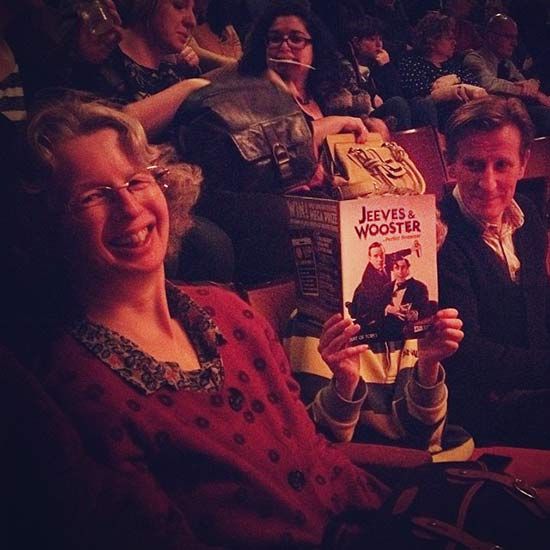 Next year I need to be careful not to get too distracted by the Internet. But I also love the way I can get inspired by it. Like yesterday, Joanne Harris (whom I met earlier in the year in Dubai), was tweeting a new story for '#storytime':




And while she typed out the story, I got busy doing a illustration to tweet at the end of it. That was fun!




So yes, I hope in 2015 I do a lot more drawing and post a daily drawing here on the blog.




And I'll leave you with some Cakes in Space caroling Poglites.




Have a happy Christmas!