A couple weeks ago I was exchanging e-mails with journalist Charlotte Eyre at The Bookseller magazine, and was pleased when this article came out, quoting Axel Scheffler, Ted Dewan, An Vrombaut, Simon James and me about how illustrators are disgruntled about being left out of so many mentions of their books.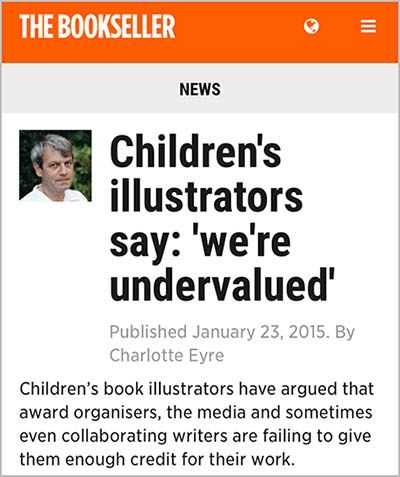 You can read the full article online, but here's a clip:





It's why I argue that people should say 'writer and illustrator' not 'author and illustrator', since BOTH the person writing and the person drawing are telling the story. Both are authors. (You can read a more lengthy article I wrote about this a few months ago: Why I hate the word 'author'.)




So I was shocked today to read the feature article in The Bookseller, lauding Michael Rosen as the creator of the enduring picture book We're Going on a Bear Hunt with an obvious lack of reference to its illustrator, Helen Oxenbury, although the article used her images. Here's the beginning of the online version (hidden behind the paywall):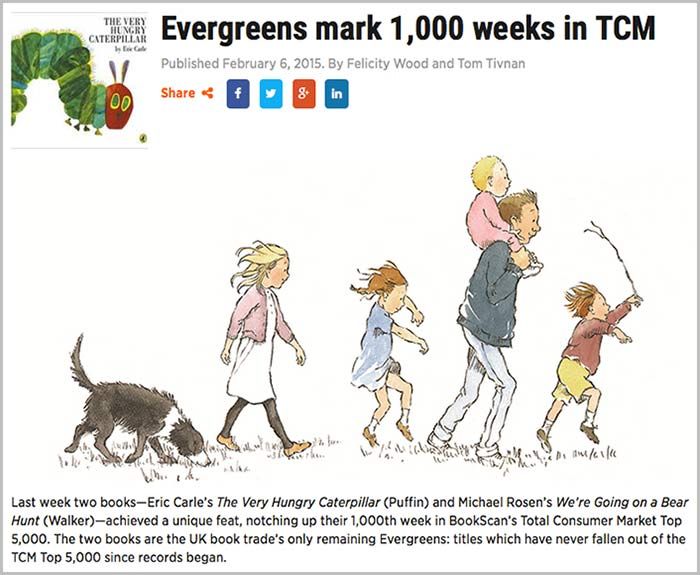 And the print version:




The only mention given to Oxenbury was by Rosen, a sentence in his profile next to Eric Carle. Even the listing with selling data should have given a clue, with her name written next to Rosen's on the book cover. But it only mentioned Rosen:




Now, I know this isn't Rosen's doing. He's freely credited Oxenbury at other times with her magnificent achievements in the book, and this Guardian article about the book from 2012 lets Oxenbury talk about her contribution to the book before Rosen. (You can read the full article here: How we made.)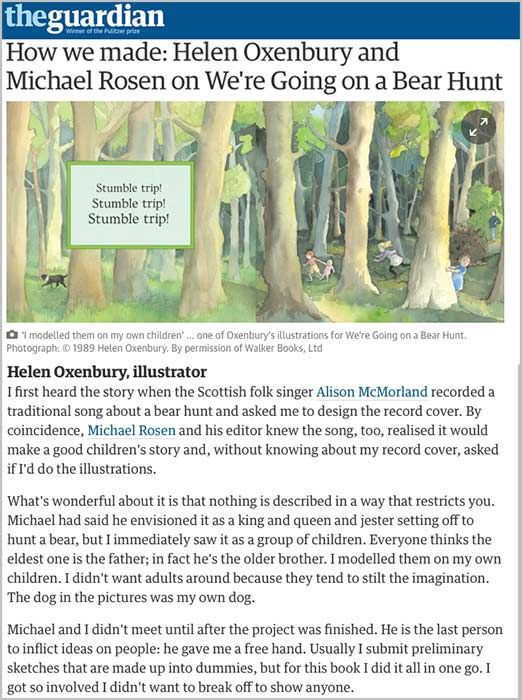 In articles about their books and media mentions, illustrators regularly get left out. You might ask, 'Does it even matter, as long as kids are able to find and read the book?' If I insist on credit for my picture books, am I just being A BIG ATTENTION-SEEKER?

...First, I need to say a few things about the idea of 'recognition' for an illustrator:

1. Illustrators do NOT just want recognition because we are insecure and need pats on the back to tell us we're doing a good job.

2. Illustrations do NOT usually care much about being recognised in the street. Very often we are quiet people and would rather go unnoticed while we sketch.



3. Illustrators do NOT usually count trophy cups and television appearances as the pinnacle of our careers. We're much happier when we get a freshly printed copy of our book, open it, and feel proud of what we've done. We're happy when its intended audience gets to read it. We're happy when we get paid enough money to live on.

4. Illustrators are discovering more and more that it's not enough to sit at a desk and turn out beautiful illustrations. In a media world driven by celebrity culture, it's the people who appear on television and national radio who sell the most books. (David Walliams, for example, has a massive head-start on us.) If no one knows who we are, we'll have an awfully hard time making a living. If there's any way we can get a mention on telly or national radio, it really helps sales.

5. Illustrators (sometimes grudgingly) tear ourselves away from the work we most love to take trains and buses around the country to tell people about our work, to 'make a name for ourselves'. We're not doing it to get popular and 'recognised', we just hope enough people will buy our books to let us keep doing this job for a living. We end up working several full-time jobs at once - illustrator, publicist, book-keeper, event organiser - and we get incredibly tired.



6. Most illustrators aren't so-called 'media whores'. But my publicists and I noticed that when I read two minutes of Oliver and the Seawigs on Radio 4 Woman's Hour, our book sales had an absolutely enormous spike. So anyone with business sense will look out for opportunities like that.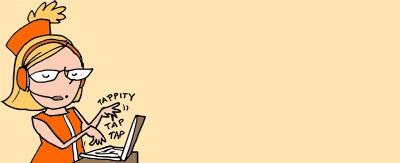 7. When illustrators read articles by people in our own book industry - often even people in the children's book industry - who leave our names out of publicity about our picture books and focus solely on the writer, we feel like we're fighting a losing battle if even our own people won't support us.

8. Many illustrators are scared. We don't have pensions so we basically need to do this job until we die, unless we have a mega-hit like The Gruffalo (which almost no one will). But we already get stretched to the limits of our energy and worry we won't be able to keep up when we start approaching the age of Shirley Hughes, Judith Kerr or Quentin Blake. And by then, it won't be easy to switch careers.

'...Well', you say.

'That's a hard lot for you illustrators. But I'm not an illustrator, why should this be important to me?'

1. Book quality: As a reader, you'll get less quality collaborations. If illustrators continue to be left out of book listings, we have no way of advancing our careers. We sadly begin to realise that the only way we can make a name for ourselves is to write our own books. Not every illustrator can write well. I don't believe every illustrator should have to write. I love collaborating with Philip Reeve on my books, but I still feel I need to come up with some solo books or my work will go unnoticed by the media and I won't be able to keep doing this job.

2. Diverse books: Do you want books only illustrated by people who are wealthy enough to do it as a hobby? I'm not sure I could have gotten into my job without my husband supporting me for ten years while I fought my way in. I know a few people who have done it completely alone, without earning partners or trust funds, but most fail, and the few who succeed have gone through financial hell. If we want stories told by a wide range of people (and illustrators tell a story in a picture book as much as the writers), we need to let these people build a public career. You can help by naming both writer and illustrator when you mention the book.

3. Teachers and parents are missing a trick: Children find drawing hugely inspiring. I see time and time again that children who would never write a words-only story will happily pick up a pencil and create a comic strip. I showed Oliver and the Seawigs to a 10-year-old boy who kept reading until he came to the first page without pictures, when he put it down. Why do you think books such as Diary of a Wimpy Kid and Tom Gates are overwhelmingly popular? It's because they have lots of interplay between words and pictures.




4. Business is missing a trick: The Bookseller is full of articles about how the children's book industry is becoming a greater and greater force in sales. Children's books are doing better than any other kind of book. And many, many at the top are books illustrated by Liz Pichon, Axel Scheffler, Martin Brown and his Horrible Histories team, etc.

But... here we come to another huge problem, one which I'm only beginning to understand.

I first heard about it when I queried the Carnegie Medal listing of only writers, not illustrators, on their shortlist. (The Greenaway Medal listing included writers, even though it's an illustration award.) That was a bit of a saga (which you can read about here: The Carnegie Co-Author Conundrum).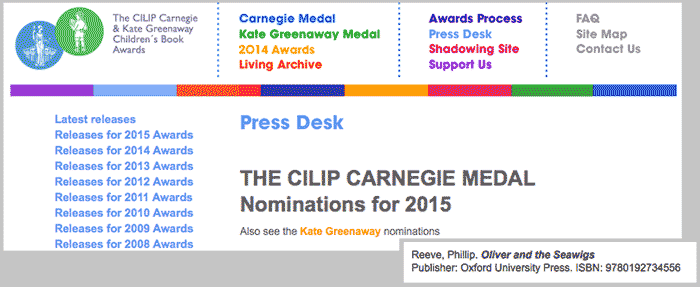 The result of my queries was that the prize's chair, Joy Court, investigated and quickly changed the listing. She's a kind-hearted librarian who truly loves books, and she was happy to bring about the change.




Court explained to me that they were following a format that had been used for years and years, and they just hadn't questioned it. But she also mentioned the influence of something called a 'Nielsen listing', of which I'd vaguely heard mention before. It's how the Carnegie committee received Oliver and the Seawigs' information from the publisher, and the information only included the name of the writer (Philip Reeve). When the Carnegie website person plugged the information straight into their website shortlisting, the illustrator got left out. (And Reeve always makes a big deal about us being co-authors.)

Now, this next bit is going to sound like boring business-y stuff. It's information I hardly know anything about. Almost none of the illustrators I know have any inkling of how this all works. But I'm starting to suspect more and more that it can mean life or death to our careers.

Take a look at this part of The Bookseller article: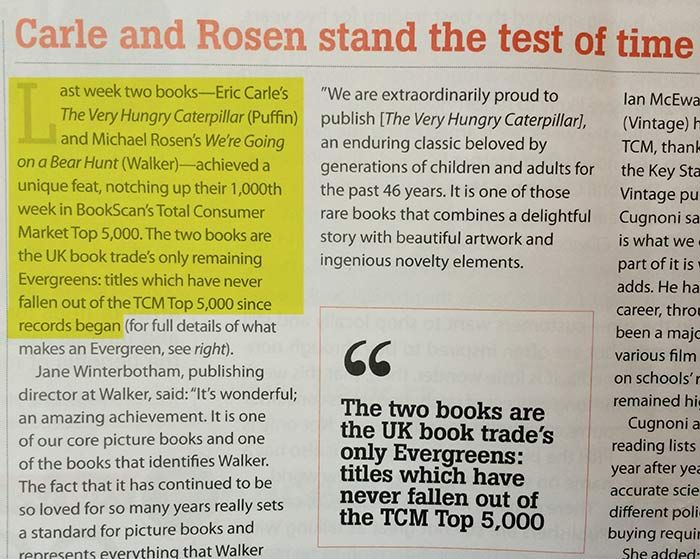 It wasn't just lazy journalism that left out Helen Oxenbury's name. This article was all about the tracking of how books sell, and while you can instantly find out how Rosen's books are doing on Nielsen BookScan, you can't track how Oxenbury's books are selling, except for the ones she wrote herself.

I've never actually seen a Nielsen BookScan or BookData entry; it's paid-subscription-only, accessed mostly by booksellers, publishers, librarians, agents and book journalists. Here's the Nielsen BookData website: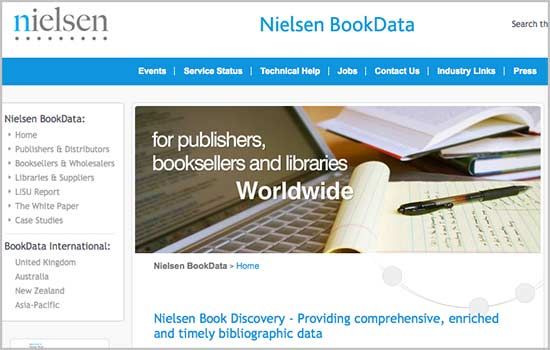 From what I gather, you can look up sales figures if you do a search for an author's name, or if you do a search for a book title. But you can't get figures by searching for an illustrator's name.





And these easy-to-access sales figures are how business gauge how books are doing, and how they publicise the successes. If the journalist only has information about the picture book's writer, they will publicise that the writer is doing well. Awards will be given to the writer. The picture book writer will get media appearances and invitations to do high-profile events. People will buy the writer's picture books. If the writer does particularly well, certain shops may stock only picture books by that writer, as is the case with airport shops who exclusively stock picture books by Julia Donaldson (because they know from Nielsen BookScan that her books sell well).

So where does that leave Axel Scheffler? He benefits from Donaldson's sales, and it's his work that the buyers are spotting in the shops and gravitating toward. If he works with another writer, his work will be just as high-quality, but the shops may not stock that book because of Nielsen BookData. If Julia Donaldson works with an illustrator who's less popular, the books will still appear in shops, regardless. I love Julia Donaldson and have huge respect for her, but this system isn't fair on Axel, or on any of us.

Here are the UK books I've worked on:




And here are the books my agent tells me that show up if you look for me on Nielsen BookScan:



If no one can see the illustrators' names in listings, no one will know about us to give us awards. If no one can easily access the commercial value of our illustration across all the books we make, no one can assess the commercial value of our career. Our work means nothing to people in business. And illustrators have to be business people. We are not free-spirited fairies who live on dew drops.

Readers don't care about our commercial value - they just want good books - but people who publicise books do. And readers mostly discover books through publicity and the media. We need recognition for our value to business to survive.

My agent (who represents a lot of illustrators as well as writers) joked that the silver lining for illustrators is that, if we're doing poorly, no one knows that, either.




So what needs to change? At least two things would make a big difference:

1. Remember the illustrator. People in the book industry need to remember to list the writer AND the illustrator of a book. If a writer is showing off a book cover, mention the book cover's artist. Awards groups, list both creators, don't default to the writer.

2. It seems to me that Nielsen's software needs updating.





It sounds like Nielsen's had people tell them this, including my agent, and an influential book-industry person who direct-messaged me, but no luck so far.





Which makes me think, why would Nielsen feel they need to change? Apparently it's a monopoly, there are no other book-data systems vying for people's business. So searching Nielsen could possibly run like Amazon, where you can click on either name and turn up all that writer OR illustrator's books, but why would it bother? It doesn't have to worry about its public relations, since there aren't any other options. But as the children's book business is growing in relation to other parts of the business, they might start to find tracking illustrators more important in determining what sells best.

I should add that The Bookseller does care about its PR and getting things right, and its senior editor apologised. I love The Bookseller, subscribe to it, and I know its journalists are working flat-out and make mistakes like we all do. But Nielsen is not being our friend right now in this.




So what are we supposed to do? What can I do, as an illustrator who's all but invisible to Nielsen? Not a lot. But I know a lot of people who care passionately about books, including The Bookseller, The Society of Authors, editors, agents. And some of them might be able to make changes.

So this is a plea to anyone who can help us, please do your part to influence Nielsen.

I'll end with a tweet by Joy Court from the Carnegie prize: