I got to be a judge in the final year of the Roald Dahl Funny Prize, and since it ended, there's been a big gap in the recognition of funny books. Many of the best of these books are illustrated, but too wordy to bag the Greenaway illustration medal, and too reliant on pictures to win the Carnegie writing prize. Funny books are more difficult to write than serious books or even books that make us cry. It's easy to dismiss funny things as less consequential or important than serious ones, but political cartoons that cleverly capture an idea often have far more impact than an impassioned article. Sales show that kids LOVE funny books, and laughing at a situation can often help take away the fear of things that would otherwise be scary or worrying. Comic timing is one of the most difficult skills to master... so why haven't we been heralding Britain's best?

Well, never fear! Some of my friends are ON THE CASE and have been scheming to develop This Book is Funny!, with plans to seek out the funniest books. I was at the pub a couple weeks ago with Alex Milway, Gary Northfield, David O'Connell and Matt Baxter (who all make funny books and comics) and Matt showed me the red logo he'd designed. Here it is!




And the very first book they're featuring on the website - www.thisbookisfunny.com - is my studio mate's upcoming book, Julius Zebra. Wahoo! Here are a few words from Alex Milway about the project:




And here is their very straightforward mission: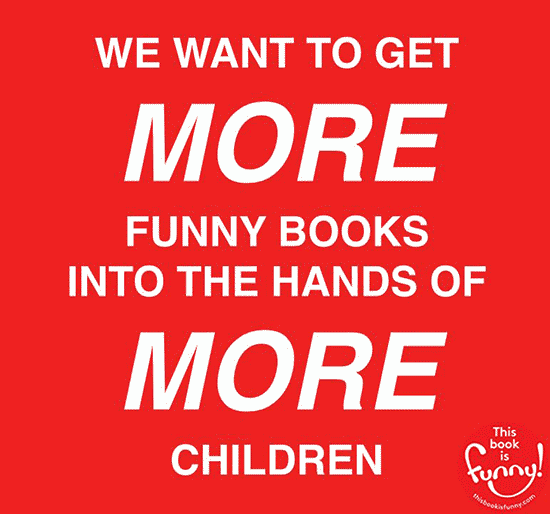 So plans for this include reviewing funny books on the website, hosting events, and supplying a red sticker to booksellers so that customers can more easily find funny books if they know that's what their kids love.

Now, my studio mate Gary Northfield has been making funny comics and books for years. You might recognise some of these titles - Derek the Sheep (his first book with some of his collected Beano strips), The Terrible Tales of the Teenytinysaurs (dinosaur adventure comics), Gary's Garden (collected strips from The Phoenix Comic) and his ongoing Phoenix Comic work.




But Julius Zebra is Gary's first book that isn't a comic. I couldn't help smiling when I saw his tweet, the first time he saw it printed up:





And here it is! It's a lovely thing, a solid hardback with beautiful stripey zebra endpapers.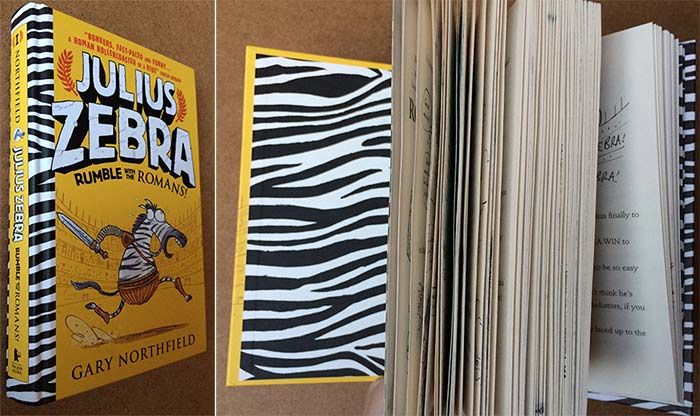 This book's going to be a winner with so-called 'reluctant readers' because every single story page is lightened by at least one picture. (The Horrible Histories book team also made this decision, as it proves so effective in keeping kids turning pages.) Schools will love it because of its researched ancient Roman theme, but serious history doesn't get in the way of plain silliness.

The book's a pleasing mix of plain text and cartoons, such as these, when we first meet young Julius. He hates going to the stinky water hole with his family and shows off his new-found independence: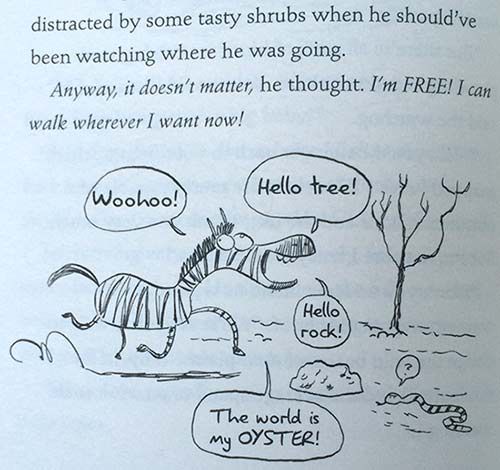 Look at him go, he's so confident, is Julius: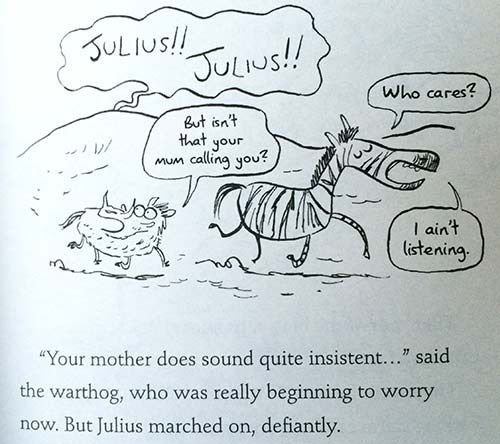 Ha ha, oh wait, maybe not!




Oh no! A lion has driven the animals away from the watering hold and Julius is separated from his family. The lion chases Julius and the warthog and all three of them fall into a hole, which turns out to be a TRAP. They're captured by humans and taken all the way across the sea, to Rome!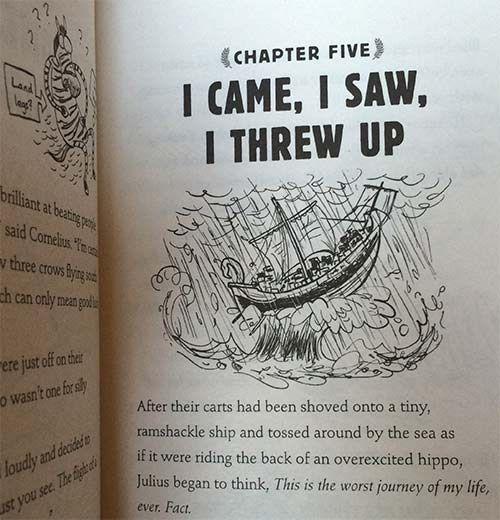 At first, Julius is quite excited, because he's heard that they're all going to the circus. He's excited to see juggling monkeys. But then he discovers they won't be watching the circus, they're going to be performing: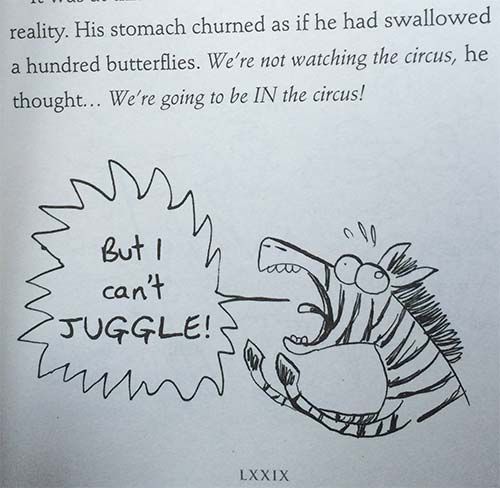 He gradually learns that it won't even be a jolly sort of performance...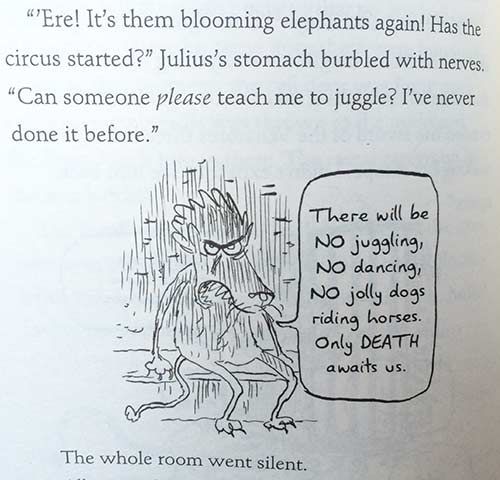 They are going to be thrown into the arena to fight trained GLADIATORS.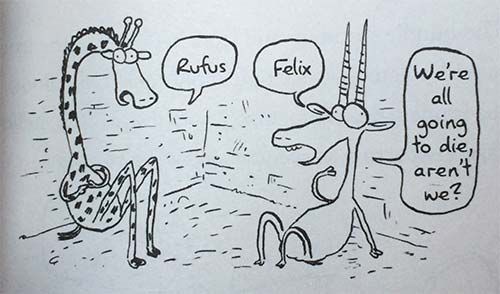 And bizarrely, they don't do too badly on their first appearance in THE COLOSSEUM! After Julius panics, he tries to fight back and hits a gladiator with a sword, and the crowd takes pity on him. Emperor Hadrian spares the animals' lives and enrolls them in his world-famous Gladiator School, Ludus Magnus. Their instructor, Septimus, is used to training tough men, and is less than thrilled when they present themselves at roll call.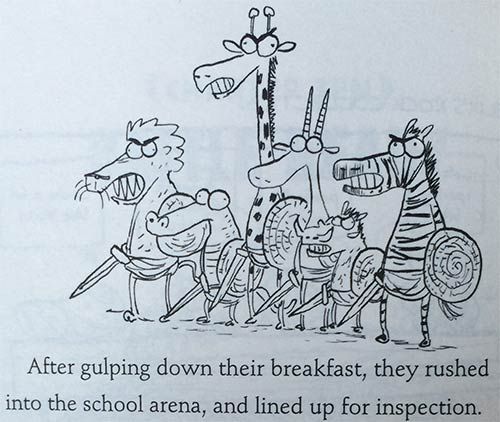 One of my favourite things about the book is the way the text breaks for little comic aside comments. This one's quite sweet:




I love the way Gary draws, even his wobbly energetic lines are funny, with their bugged eyes and gaping mouths. Don't be deceived in thinking this kind of drawing is fast and easy; Gary really poured himself into this book and it took AGES to write and draw (and redraw and redraw).




You might notice that all the pages have Roman numerals instead instead of our standard Arabic numbering system. Which means each page number is like a code to be worked out, and Gary provides an explanation at the end of the book: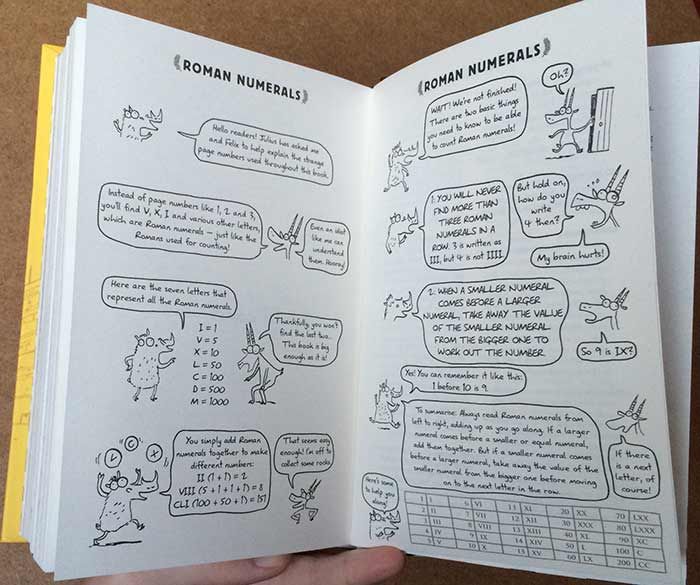 He also includes a four-page glossary, that's mostly educational, but Gary's personality keeps coming through.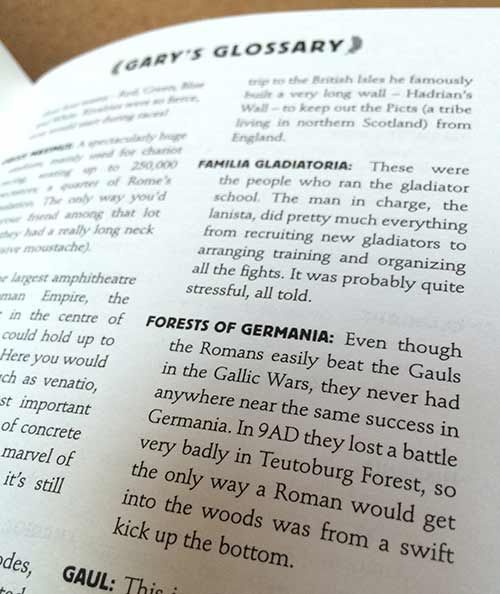 And right at the end of the book... oh, look! It's a photo I took across the desk, from where I sit in the studio.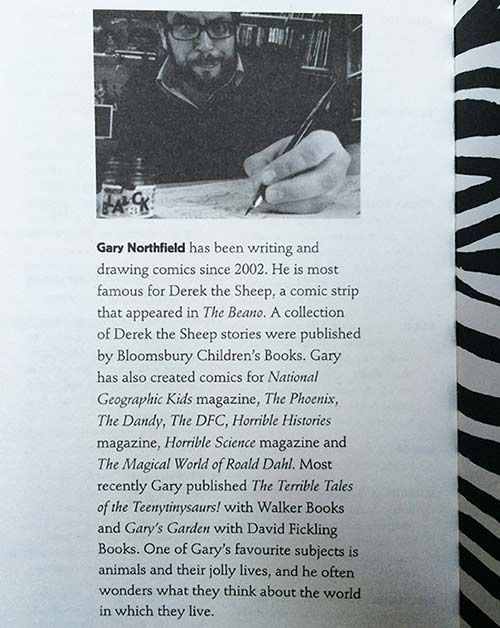 Gary worked with editor Lizzie Spratt at Walker Books, the same person who edited his Derek and Teenytinysaurs books, and with designer Jack Noel.




Oo, and look, it's funny writer Philip Ardagh, author of The Eddie Dickens trilogy with David Roberts and The Grunts books with Axel Scheffler! So what does Ardagh have to do with this book?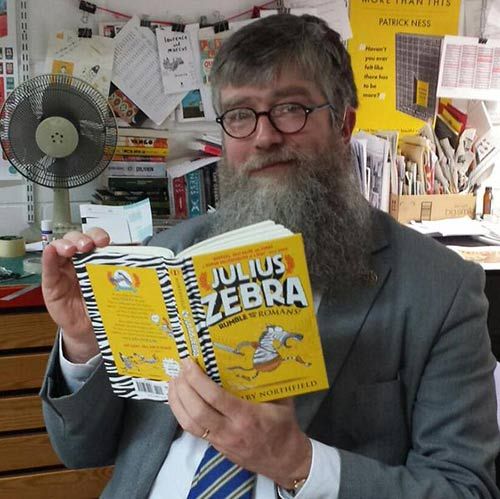 Ah, look there, right across the top of the book. A lovely quotation!




So this book launches at the beginning of March with Walker Books and will make a fabulous gift and be perfect for stocking in libraries. I anticipate people asking which age it's best for, and I'd say ages 6-12, but younger kids will enjoy it being read to them, and there's no reason to say adults and Gary's comics fans won't enjoy it, too. Gary's busy working on the second Julius Zebra book right now.




Congratulations, Gary! You've gone and written a blinkin' novel!