Today World Book Day UK hosted my co-author Philip Reeve and me along with a stupendous line-up of book people. Do we look excited?




It's been a ten-city, ten-day tour, and we were the London stop.




I never thought I'd be on stage with the amazing Jacqueline Wilson, Michael Rosen, Francesca Simon, Holly Smale and Steven Butler!




The venue was a big surprise. I'd never visited Walthamstow Assembly Hall before, and it felt like the big People's Palaces I'd seen during my student days in Moscow. Heavy, grand, and a bit imposing. But cool!





Check out the words above this doorway: FELLOWSHIP IS LIFE AND THE LACK OF FELLOWSHIP IS DEATH. ...WHOAAAA.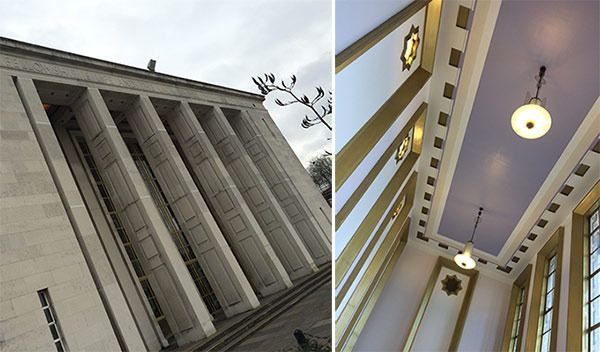 I guess it's the Fellowship of the Rings, check out the ceiling pattern. Here's what the hall looked like before the school coaches rolled in. (That's Reeve ahead, carrying my red Sea Monkey bag and his ukulele.)




And here's our presenter, magnificent ringmaster Steven Butler, who grew out his twirly moustache just for the occasion. You might know him as the guy who writes the Dennis the Menace books. He's been ringmaster for the whole tour, and he's still on his feet. Wow!




Steven memorized 'three unknown facts' about each of the speakers, which was rather impressive. My facts were:
1. When Sarah was born, her parents thought she was a sea monkey.
2. When she escaped from the zoo, they were sure of it.
3. She now draws sea monkeys in an attempt to distance herself from these silly creatures.

Philip's facts:
1. Philip wrote his first book when he was five, and it was called When Spike and Spook went to the Moon.
2. Philip is actually a highly advanced android named Wilf.
3. Philip hates being called Wilf; please never call him that.




Here we are, just before going on stage.




And we did our thing, drawing a Sea Monkey, singing some songs, reading from Oliver and the Seawigs, demonstrating the Power of Science with the Nom-o-Tron from Cakes in Space. (I told the kids that if they wanted to learn how to draw their own Sea Monkey, they could find out on my website.)




I love meeting other authors at festivals and things, but I hardly ever get to sit and watch their talks; I either have to leave or we're on at the same time. So it was great to get the chance to watch Holly Smale, writer of the Geek Girl books, in action!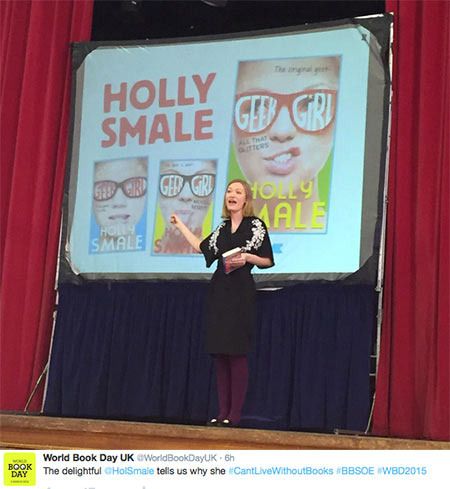 Holly got almost as much fanfare as Jacqueline Wilson, who entered to screams that rock stars would envy.




Jacqueline's famous not only for her books, but also for the chunky rings she always wears. So Steven decided he had to give her a run for her money on that front. Check out all the BLING!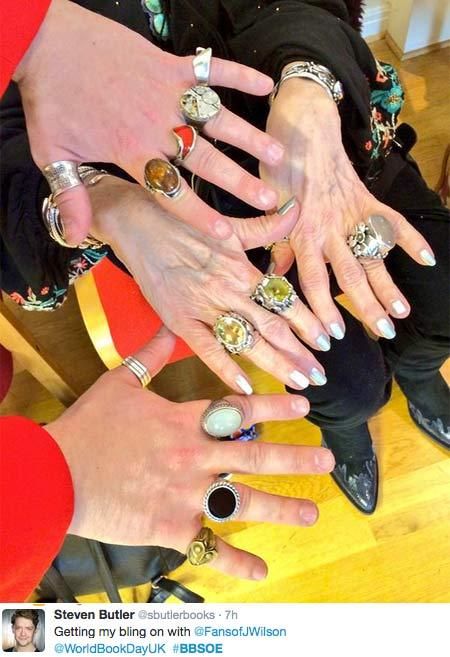 We got to hear Michael Rosen tell stories:




And Francesca Simon talk about Horrid Henry (and Perfect Peter):




Holly accidentally left her phone on-stage, so Steven took a big selfie.




I thought, with that many other amazing authors present, we'd have a great time but probably not sell a lot of books. But I was WRONG! Oxford University Press brought a big table full of books and sold every single one, and kids were sad not to get even more! The kids were going absolutely mad buying everyone's books and getting them signed, it was awesome. And even kids who didn't get our books brought Holly Smale's World Book Day edition of Geek Girl up for me to sign. So I drew geeky Sea Monkeys, which was fun.




Huge thanks to the colourful Kirsten Grant and her team, who organised the tour, Steve who did our tech, Steven for being a wonderful ringmaster, Newham Bookshop for organising books, our lovely OUP publicists Harriet Bayly & Camille Davis, and the local libraries for the use of the venue. And, of course, to all the schools who came along, and to my fellow authors, who made the day such fun. I'm excited to see which book characters people are going to dress up as on Thursday, World Book Day!

WORLD BOOK DAY DRESSING UP:
If you dress up as a character in one of my books with Philip or any of the other books, please please send along a photo, I'd love to see! Here are a few ideas from past years, if you're looking for some inspiration:

From There's a Shark in the Bath:


From Oliver and the Seawigs:


From Jampires (you can print a free mask from here!)


Princess Spaghetti from You Can't Eat a Princess! and You Can't Scare a Princess! (tiara-making tips here):


And you can download and print a free GOBLIN mask from Reeve's GOBLINS books!



Reeve and I would love love LOVE to see some Cakes in Space costumes! Astra, Pilbeam the robot, Poglites, killer cakes....DO IT DO IT DO IT!