Happy World Book Day, everyone! I've already seen one costume tweeted by Rebecca Mascull of her daughter Poppy, dressed up as Oliver from Oliver and the Seawigs. So fab, GO POPPY! She's interviewed Philip Reeve and me here on her mum's blog.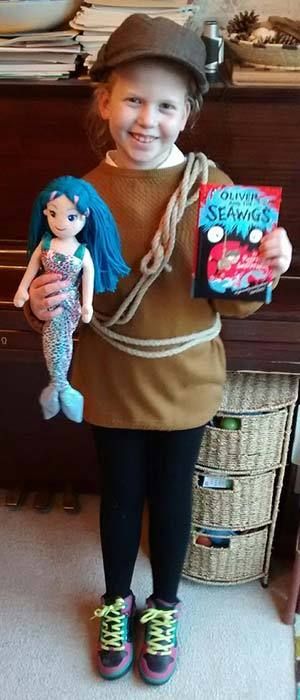 Last night we celebrated 'the year's most progressive, intelligent and entertaining works that contain elements of the speculative or fantastic'. I've blogged in the past about The Kitschies awards, but last week I was surprised to get a special request from organiser Glen Mehn to come to the ceremony to accept their Black Tentacle award. Children's Laureate Malorie Blackman won it last year, so I was more than surprised! Here's Glen presenting, and Anne Perry, who started up The Kitschies with her partner, Jared Shurin, painting names on the tentacle trophies. (She made the trophies but didn't know who was going to win this year so she painted the names on the spot.)




One of the great things about The Kitschies is that they have a special award for book cover artwork, such an important part of making books awesome. The winner of this year's cover award - The Inky Tentacle - was Glenn O'Neill, for Tigerman by Nick Harkaway (who coincidentally won The Red Tentacle back in 2013).




One of the highlights of my evening was meeting these two illustrators, Jim Kay (who won the Greenaway for A Monster Calls and is currently illustrating the new Harry Potter covers), and up-and-coming DAPS; the two of them gave a great presentation and were just so... goshdarn NICE. I hope to see a lot more of these dudes in the future.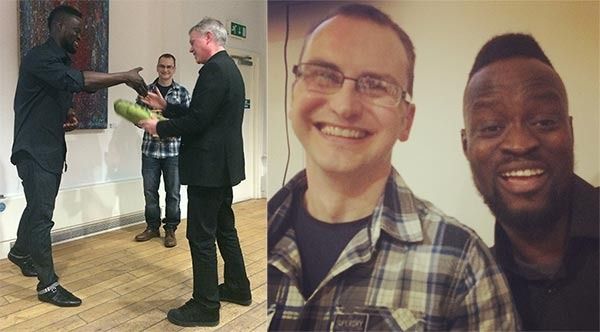 I didn't win The Black Tentacle for a book, it's more a judges' discretion general sort of award for 'outstanding contribution to geek culture'. And it gave me a chance to talk about the #PicturesMeanBusiness campaign, which I feel really follows the work Malorie Blackman's been doing with the #WeNeedDiverseBooks campaign. Getting into the book business can take a long time and it can be extremely difficult to make a living at it. Which can make it very elitist, since people with family money, or who are supported by earning partners have a huge advantage. That's tragic for books, because it means we hear a lot less from single people, and people who can't afford to be fully competitive by illustrating or writing full-time.

There are a lot of reasons for this elitism that need tackled, but the most clear-cut way I've spotted is by calling for illustrators to be recognised for their work. It's something everyone agrees with, in theory, but illustrators still get left out in awards listings, when writers show off their new book covers, in the media. And one of the reasons for this is faulty META DATA, a current buzzword in the business. When publishers submit information about their books that gets used by everyone else, a lot of time the illustrator (and translator) information is missing, or isn't provided in a useful way by the data sources. (For example, on Neilsen BookScan you can search the entire sales figures of a writer but not of an illustrator. So trade media such as The Bookseller magazine don't credit illustrators with having any effect on sales, because they don't have the figures.)



Photo tweeted by @EwaSR

There are many other ways we'll need to encourage diversity, but this particularly battle seems manageable, something we could actually achieve in the next few years if book people get behind it. For #PicturesMeanBusiness, we're challenging

* Data providers to update their software, making sales figures searchable by illustrator (and translator), and not hiding them in a second optional tier of information.

* Publishers to fill out ALL the data, including illustrator and translator, not just the mandatory field for the writer.

* Writers and Publicists, when announcing your new book cover, let us know who created it! When you tweet images by your illustrator, tag them, and when you use their artwork on your website, be sure people can see who made it.

* Illustrators: get on Twitter! The publishing world loves it, and it's much easier to credit you if you have a profile with your website link in it. You never need tweet, but set up this profile so people can link easily to you. (Everyone else, if illustrators aren't on Twitter, find creative ways still to mention them!)




Big congratulations to the other Kitschies winners! The Invisible Tentacle (for Natively Digital Fiction) went to Kentucky Route Zero, Act III, by Cardboard Computer; The Inky Tentacle (for Cover Art) to Glen O'Neill for Tigerman; The Golden Tentacle (for debut novel) to Hermione Eyre for Viper Wine; The Red Tentacle (for novel) to Andrew Smith for Grasshopper Jungle.




My husband, Stuart, snapped these photos with Hermione Eyre, and Kitschies judge (previous Red Tentacle shortlister and hatted writer of reknown) Frances Hardinge. Listening to Frances describe books was like its own work of art; she speaks like beautiful writing, it's amazing.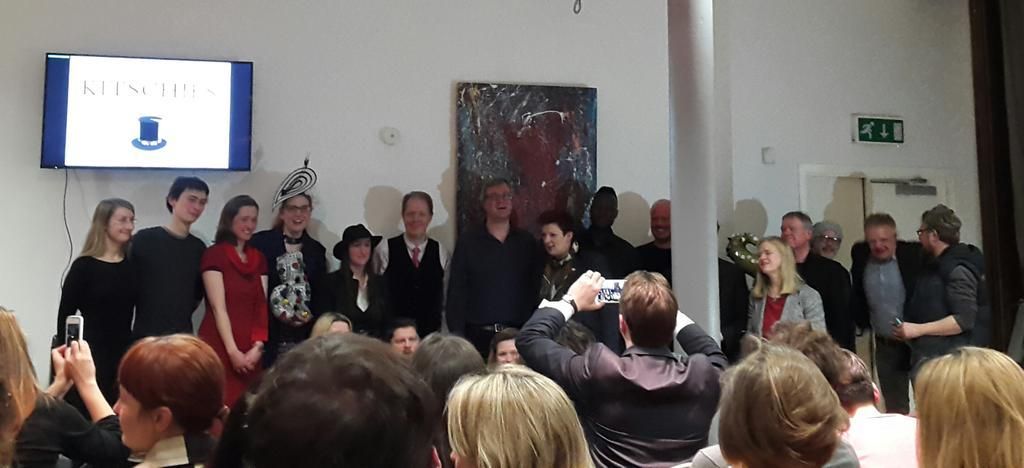 Photo tweeted by @natalielaverick

Big thanks and congratulations to all the hardworking Kitschies team, Glen and Jenni Hill who presented me with the award, judges, shotlisted creators and winners! You can see more tweets from the ceremony on #TheKitschies hash tag and find out about the shortlisted books on The Kitschies website. Here's a last little peek at The Black Tentacle and Jim Kay with previous Red Tentacle winner Patrick Ness.




My co-author Philip Reeve has blogged about #PicturesMeanBusiness and The Kitschies here on his blog!





And one more thing! Here's last year's Black Tentacle winner Malorie Blackman talking about #ReadingForPleasure on BBC Breakfast this morning!