At last, it's happened! The Bookseller trade magazine, from this week, is listing writers AND illustrators in the sales rankings for illustrated books! Hooray!!! This might look like a small thing, but it's a good start to being taken seriously as professionals who contribute to book sales.

Big thanks to journalist Charlotte Eyre and editor Philip Jones for making this happen. See here, you can spot Tony Ross, Garry Parsons and Axel Scheffler, who wouldn't have been listed as of last week: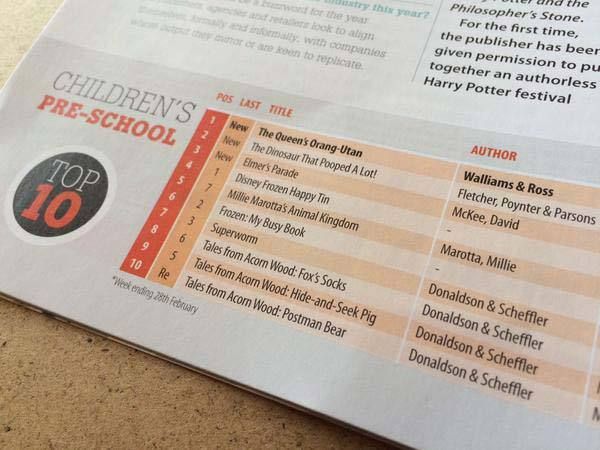 If you take a look at their covers, you can immediately see these books aren't just words and paper; so much of what makes them is the illustrations:





Huge thanks to everyone who's been supporting the #PicturesMeanBusiness campaign! Even when we've pointed things out, people have been incredibly helpful and made changes; there's no lack of goodwill, it's just sometimes people haven't noticed illustrators being left out. So what's happened so far?

What have we definitely achieved?

1. Carnegie listing: illustrators were included on the Carnegie medal longlist.

Writers were always listed on the Greenaway lists, even though it's an illustration award, and the listings had followed a long-standing format, using incomplete data supplied by Nielsen. (Philip Reeve has always freely credited me as a co-author for Oliver and the Seawigs so our own listing there was obviously incorrect. He's blogged about it here.) The committee still need to consider how illustrations play a part in judging these books, and if they can accept co-authored books in future lists.

2. An online and printed apology from The Bookseller for feature article celebrating writer Michael Rosen as the creator of the We're Going on a Bear Hunt picture book with no mention of illustrator Helen Oxenbury.

This kind of omission has been common in the media generally and hopefully we'll be seeing less of it. But The Bookseller is a trade magazine, and we really need our own book people to be pioneers in this - bloggers, publishers, parents, teachers, people who already love illustrated books.

3. The Book People amended the listings of winners on the website for the Red House Children's Book Awards to include illustrator Oliver Jeffers in the award for The Day the Crayons Quit.

Only writer Drew Daywalt had been credited, although apparently Jeffers was also credited in the printed press release. The website manager still hasn't fixed the listings for the other nominees. The Book People's Twitter spokesperson explained that they gathered their own data, but the website didn't allow enough characters on the line to include two names (so at least one co-author was also left out). The spokesperson said it might take awhile to fix this but they'd get on the case.

4. The Reading Agency amended their Summer Reading Challenge Record Breakers book collections online lists to include illustrators.

They had included some illustrators but not all, and they explained that their data came from the publishers. Kudos to them, they were very quick to fix this, and thanks to writer Caryl Hart for leading the way on this one.

5. The Bookseller magazine has begun listing illustrators in sales charts.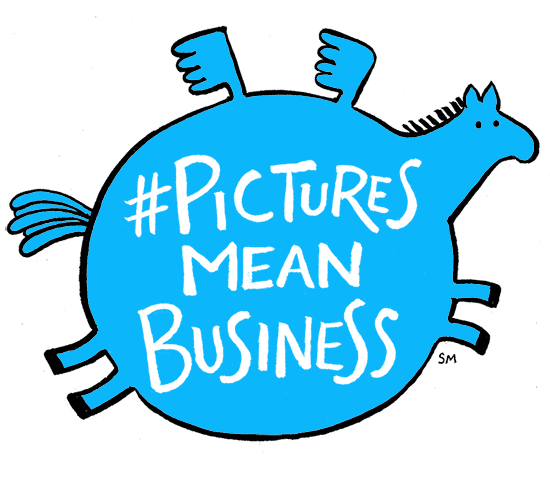 What still needs to happen?

1. The big book databases are still faulty.

These subscription-financed companies are still pumping out book information to many different sources that doesn't include the name of the illustrator (or often the translator). This is partly because their systems are badly in need of upgrading and partly because publishers still aren't filling in all the relevant 'meta data' when they register their books. Here's what's happening so far:

* Journalist at The Bookseller Charlotte Eyre and my agent, Jodie Hodges, are looking into this so they can go right to the companies with well-researched questions. So let them know if you have any good information or insights on the subject. I'm like most illustrators, I know something's wrong but I still don't know exactly what, because I don't have access to any of these subscription-only databases.

* Publishers, we're asking you: please, please be sure to fill in at least the names of your writers, illustrators and translators. And it would be great if you could include illustrator names on the front covers of illustrated books, to make the illustrator name easier to spot.

2. The wider media still needs to realise illustrators have a major role in creating picture books.

I don't want this to become a sort of witch hunt for people who accidentally leave out illustrators, but when, say, The Guardian does a features specifically about picture books, it seems nuts not to include the illustrators. Here's an example from World Book Day. The girl in the picture has made a terrific Superworm costume, based on the book by writer Julia Donaldson and illustrator Axel Scheffler. The costume is a based on Axel's paintings of Superworm, but the journalist credits the book as 'Superworm by Julia Donaldson'. Even the parent is more clued in, recognising the 'Axel Scheffler style eyes', but Axel's name should really be in the book credits. Let's let children (and their parents) be inspired by illustrators as well as writers.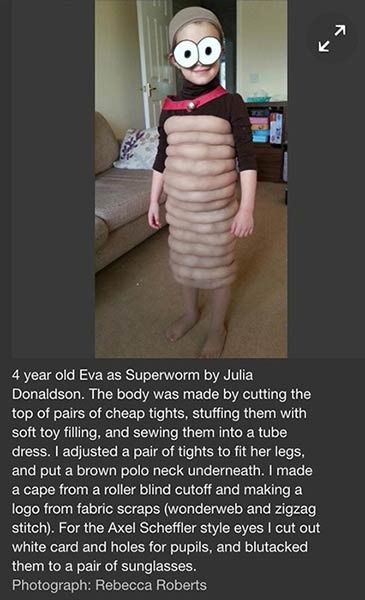 3. Teachers need reminded of the importance of illustration.

My Superkid co-author, writer Claire Freedman, supportively retweeted my bafflement at this World Book Day classroom poster. I love the enthusiasm of the teacher who made it, but since the whole poster is based on the visuals of Superkid, why has he or she only included Claire's name? (Claire didn't decide how Superkid was going to look.)




Teachers are missing a trick, if they're not teaching their kids that there's more than one role in creating a picture book, and that stories can be told through both writing AND drawing. Some people get into stories through words, some through pictures, and most through a combination of both. And drawing can be a way in to storytelling for many children. People who train teachers, if you could flag this to them, that would be wonderful.

4. ALCS payments need fixed.

To be honest, I hardly know anything about this yet, but writer-illustrator Debi Gliori has flagged it:
The ALCS site only has categories for author, co-author, contributor etc on its site when one is entering books to be included for future royalty payments. When I coauthored or in other words illustrated a few books, it deemed my contribution to be 0% and credited me accordingly. That needs fixed too.

Does anyone want to get on the case with this one?

Again, thanks for your support, and if you could keep using the #PicturesMeanBusiness hash tag, that would be great! (Click here for past blog articles on the topic.) This affects everyone, not just illustrators. We'll get better illustrated books if people can do it for a living.

Edit - UPDATE: Emily Drabble from The Guardian got in touch to show her support for children's book illustrators. She explained that the whole text was a quotation, and argued that it did still include Axel's name. She wrote:

'We always aim to credit the illustrator in all our content on children's books. So much of it comes from illustrators themselves and we are passionate about the work of illustrators on the Guardian children's books site.'