Leicester earthlings got a surprise last week when my co-author Philip Reeve and I teleported in with our Cakes in Space roadshow! We drew a picture of ourselves, in case we couldn't be seen because our costumes were so blindingly shiny:




We were thrilled to take part in Leicester Author Week, and this is the first time there that I've been able to do a double-act presentation. Which was a lot of fun! The Two Steves have been doing this double act thing for years, here we are with them (Steve Skidmore and Steve Barlow) and writer Andy Briggs, who all worked with their own groups of kids on the day. And we got to see a lot of kids! Over the two days, I got to work with over 800 Leicester school children on the city's innovative scheme, Whatever It Takes to get kids reading.

**Philip Reeve has blogged (magnificently) about our Cakes in Space day over on his website**, so pop over there for a read! (You can print out Cakes in Space drawing resources from my website.) I think one of my favourite things about the day was watching all these kids at the end of the session, rushing up to give Philip big hugs. I don't think he got hugged quite so much when he was doing his Mortal Engines talks. :)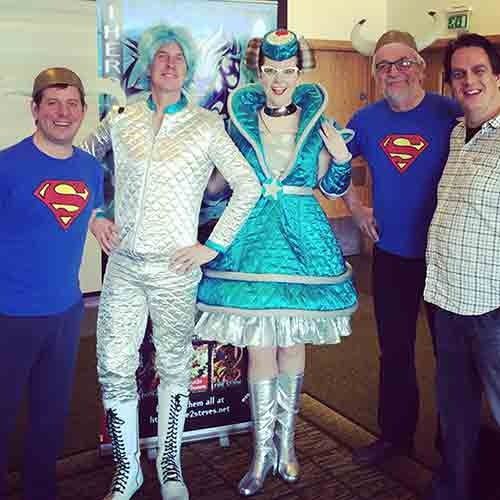 So... JAMPIRES DAY! I spent quite awhile talking about my co-author on this picture book, the excellent David O'Connell, and drawing, of course.




A teacher took this photo with the kids from her class, who were very appropriately dressed in jammy red school jumpers.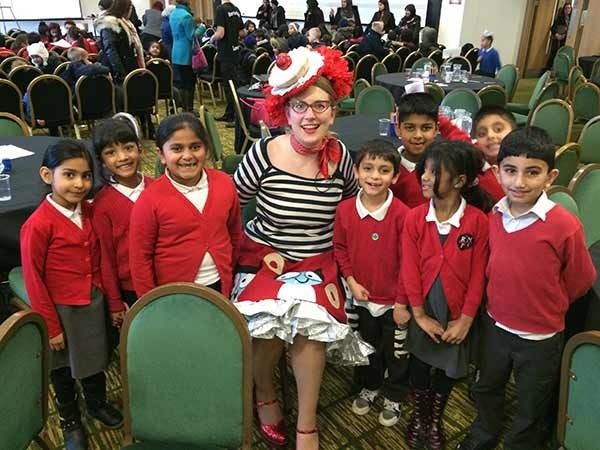 The team that run Leicester Author Week is what makes it great; they manage to combine a warm, fun atmosphere with total professionalism. The equipment always works, the planning is very straightforward, and every kid gets a book at the end of the day. Big thanks to technician Mark Lambell, multi-lingual storyteller Jyoti Shanghavi and head organiser Kate Drurey (with jam pot).





We started with a big stage event and I read JAMPIRES to the kids and teachers, talked a bit about how I made it, took questions and we sang the Jampires song. Then we all moved over to the workshop tables, and I led them in drawing their own Jampires. (Hey look, there's Philip drawing a Jampire on the following day!)




We talked about how foods can inspire characters, which can, in turn inspire stories. So we all wrote down our favourite foods and came up with a character who's obsessed with that particular food. The kids helped me come up with Peter the Pizzapire. Then they drew their own, and we started creating a world for their character, a place where the story could happen. Check out Icy the Icecreampire....




...and Pommy the Popcornpire! I hope the kids were able to take away their characters and settings and turn them into full stories.




Another fun thing about Leicester Author Week is getting to see lovely colleagues. Here are lovely writers Bali Rai and John Dougherty. (John helped me last year in Leicester to come up with the tune for my There's a Shark in the Bath song, with lyrics by Philip Reeve! It's fun being able to work together.)




I mentioned to the kids that they can knit their own Jampire if they like, and the pattern's available, along with lots of other creative resources, on the fab website David O'Connell designed, jampires.com.




Since every kid gets a book, and there are over 800 kids, that means a LOT of book signing! Luckily I got to sign both sets of books the day before, so I didn't have to rush too much. Here are the boxes of JAMPIRES books that met me when I first got to the hotel. Quite late in the evening, I was joined by John Dougherty, who had only just flown in from the Emirates Lit Fest in Dubai! (I did that last year, going straight from Dubai to Leicester without time to drop off stuff at home. Stuart rescued me by coming with a fresh suitcase of clothes and I had a dramatic and chaotic repacking session in corner of Gatwick Airport. An elderly lady was sitting on a bench nearby, and shaking with laughter as my suitcase kept popping with tentacles, massive petticoats and pirate gear.) Despite his travels, John remembered to bring a full range of pen colours.




Our Leicester hotel was nice and quite quirky. Check out the unexplained portraits of 'Wills' in the restaurant. And the stairway that led to nowhere except a big porcelain dog, marked 'The Kennel'.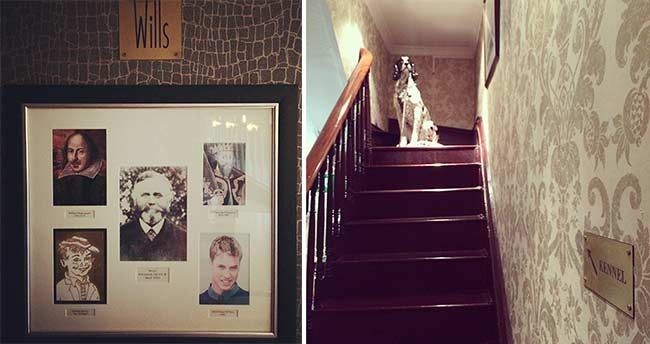 I don't usually get any time to explore Leicester, but this time my hotel was right near leafy New Walk, which gave me a whole different impression of the city.




I even popped quickly into the New Walk Museum, which is well worth visiting if you're in the area: cool Victorian paintings, dinosaur skeletons, mummies, and a collection of German Expressionist paintings and illustrations, among other things.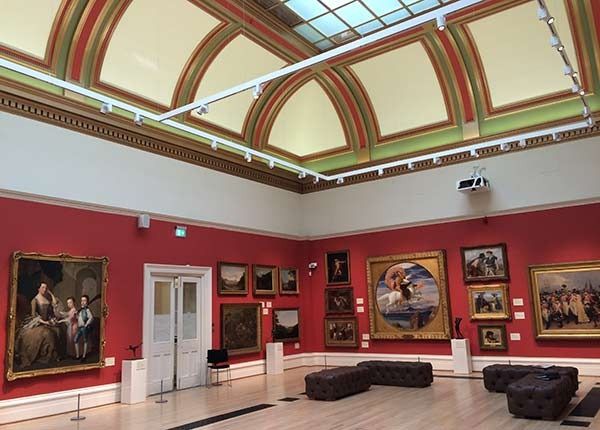 And we even got to join our Leicester friends Selina Lock and Jay Eales and Steve's wife Ali for a curry, hurrah! Huge thanks to the Leicester team, including Juliet Martin, Dan Routledge, Sandy Gibbons, Nicole Dishington (here with Andy Briggs) and everyone who made it happen! You can follow Whatever It Takes on Twitter as @LeicesterWiT.