I've read stories about princesses who have rooms in 'the highest room in the tallest tower' of a castle, but I never thought I'd actually get to live that story for a weekend!




When former Irish Children's Laureate Niamh Sharkey got in touch to see if I wanted to be part of a new festival at Lismore Castle called Towers and Tales, of course I said yes. And I brought along my trusty Jampire (knitted by Ann Lam). I'd been asked to do some picture book events for Jampires and There's a Shark in the Bath (but sadly, I seem to have lost my inflatable shark). Here's a drawing inspired by one of the Van Dyke paintings on the wall in the dining room:




It was better even than staying in a castle; we got to stay there with the family who own it, and they were so kind and gracious and provided HEAPS of food! Here's my writer friend Philip Ardagh, tucking in. (We did a lot of tucking in.)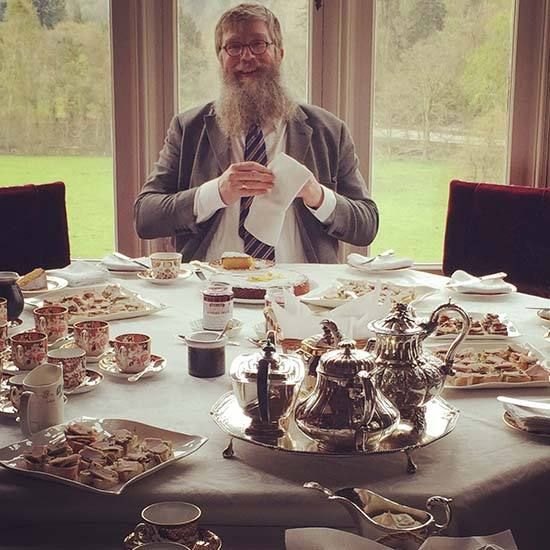 And I wore a lot of hats. But not one with Philip Ardagh on it, unlike Lady Betty Compton, who couldn't resist:




(Ha ha, here are the two paintings the drawings are based on.)




And here I am in the entrance hall with lovely writer-illustrator Chris Riddell, when we first arrived, both of us looking slightly overawed and massively excited.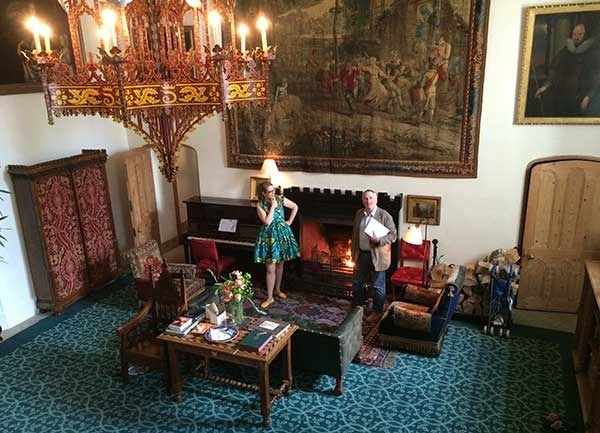 But I really ought to go back and start chronologically. What's it like, going to visit a big fancy castle? Well, here's Ardagh with his leprechauns, about to board the flight at Gatwick Airport.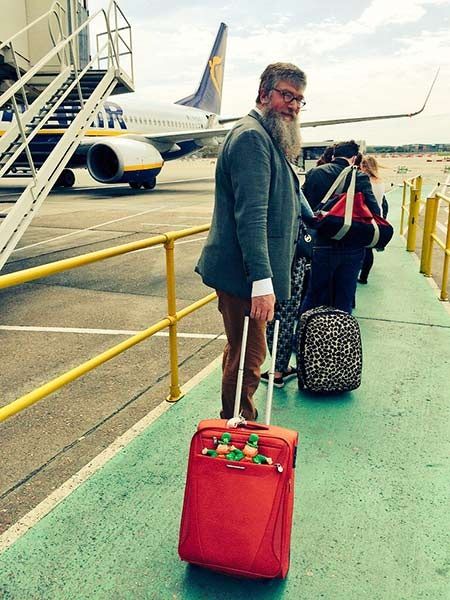 And Riddell, who really does draw all the time.




Look, he drew me!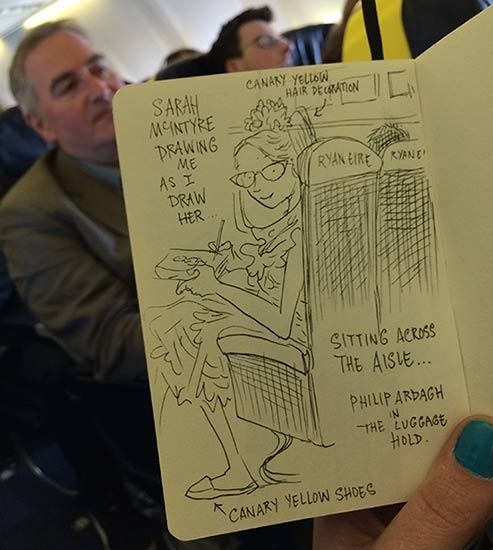 I sketched him, but I was slightly intimidated. Both of us had met book deadlines the night before we left - I finished Pugs of the Frozen North and he finished the third Goth Girl book - and we were both a bit shattered and had packed in a big rush.




Chris let me borrow his super-duper brush pen and I liked how the lines came out on this drawing a bit better. (Note: must order myself a Japanese Kurtake Million Years brush pen.) It's nicer than my Pentel brush pen and I can get more control with it.






After a driver brought us from Cork Airport to the castle, one of the first people we met was William Burlington, who owns the castle with his wife, Laura. He was so kind and down-to-earth and made us feel utterly welcome and at ease.




He and Laura are really into art (that's how they met) and have added some beautiful pieces to the family collection and set up a gallery in the castle and another in the town. But William's also a photographer and I found his website here, with some beautiful portraits. Here's a lovely picture he took of painter Sir Terry Frost (who, coincidentally, had a solo show in 2001 at the gallery that I used to run with friends).




I couldn't believe it when the footman helped me haul my suitcase up the stairs to the bedroom and I saw where I would be staying. Here's Jampire sitting on our bed, looking a little bit amazed.




And looking out the bedroom window: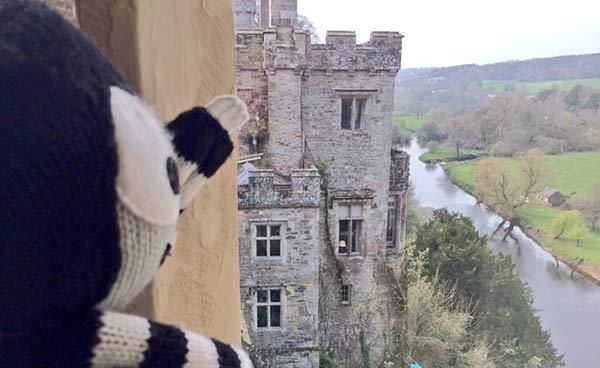 We regrouped for drinks in a beautiful sitting room. Here's Philip, doing his best to look magnificent.




And Chris on a very flumpy sofa:




Somehow Chris managed to draw a picture of us while he was talking, which is something I find very difficult. I either make a bad drawing or I have the most spaced-out conversation, but he manages to be articulate AND draw, which is quite a skill.




We were given lovely customised festival welcome packs. Check out my hand-drawn shark!




Here's writer Archie Kimpton holding up Jumble Cat from his book with illustrator Kate Hindley.




I share an agent with Kate and absolutely ADORE her work, so I shall have to look out for these two books: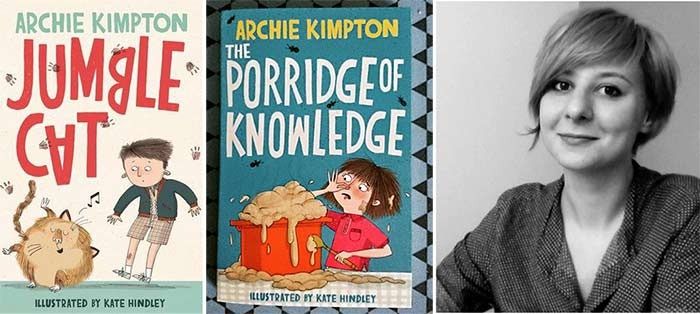 Then we had Afternoon Tea, looked a bit around the gardens, and pottered down the road as a group to see an art exhibition at St Carthage Hall, which is part of the Lismore Castle Arts project. Then it was time to get dressed for dinner. (Actually, William and Laura were so easygoing that I don't think we really had to worry about what we wore, but as you know, I like a good frock.) Here I am at my dressing table, feeling like I'm on the set of Gosford Park.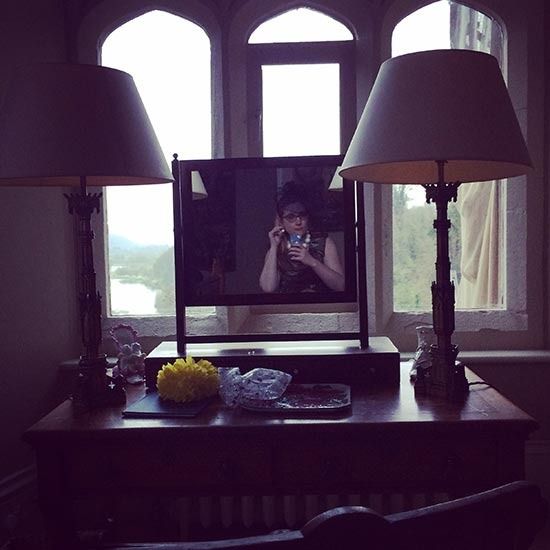 Such a fabulous dinner! That's Laura, standing on the right, and the butler, Denis, standing next to her. I'd heard about the super-efficiency of Denis, but I sat next to William on the second night's dinner and he said he'd been working for the family for over 30 years. And I got a sense of just HOW quick-on-the-mark he is when I was being filmed on the second day and said I needed to go get my ukulele. And seconds later, Dennis suddenly appeared with another ukulele from a cupboard, in case I wanted to use that one. I was massively impressed.




Here's William's sister, their actor friend Dominic West and Elaina Ryan from Children's Books Ireland.




Then lots of people chilled out on the flumpy sofa. Here's Brown Bag animation director Norton Virgien, Elaina, writer Marie-Louise Fitzpatrick, Niamh Sharkey, and Niamh's husband.




I couldn't keep my eyes open any longer, and had ambitions of trying out the huge bathtub in my room. But I ended up going to sleep quite late because there was so much to look at, even in my room, including a bunch of old copies of Vogue: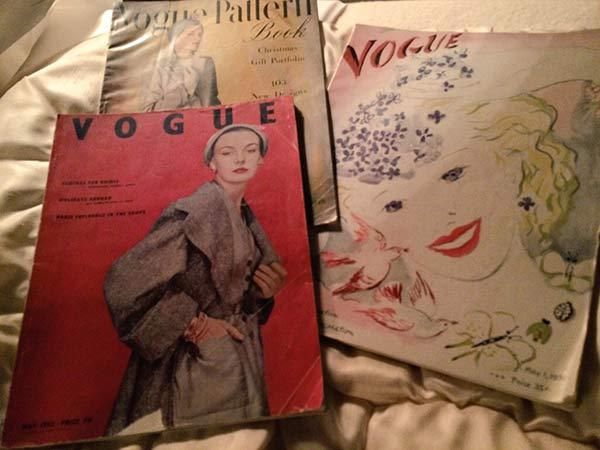 Funnily enough, there was even a long 1935 feature article about Bryn Mawr College, where I'd gone to university, and the article was hilariously anti-feminist. There were loads of funny bits but here's one: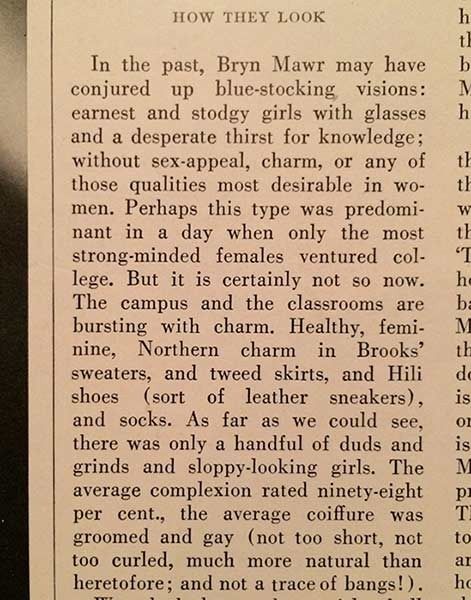 I was talking later to Laura, and she said that they'd found the magazines after the room had been derelict for awhile and was being rennovated. They've been bought by Adele Astaire, the sister of Fred Astaire. And she said that when Fred and Adele had started out, she'd looked even more promising as an actor and dancer than he had. So I did a bit of research on Adele before falling asleep and found this video, with the Lismore Castle link. How cool that we'd been reading the same magazines!



The next morning was FESTIVAL DAY. And the sun shone brightly on the castle's towers!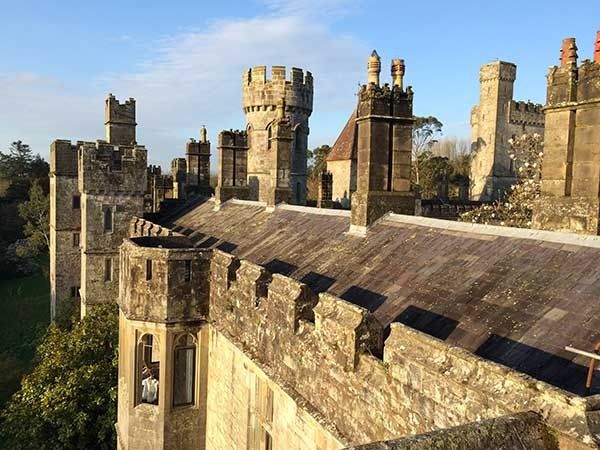 I reached out the bedroom window to take these photos.





Fortunately we didn't have too early of a start; the festival didn't start until 11am and my first event wasn't until noon. I'd seen a small staircase next to my room and heard from secretary Ed Lamba that the Gruffalo had been doing a photo shoot earlier on the roof. So I made a little foray up it, to see if it was the roof staircase. It wound up a very long way.




First I came out on a high platform where I met a friendly plasterer named Pat, who was fixing the crenelations by replastering them and drilling metal strengthening rods through them. He took me up a level higher to the very tip of the tallest tower. WHOA!





Then there was a great comedy moment when I had to go back down the ladder through the little trap door but I went down and my skirts and petticoats didn't, with a great FWOOMP, and billowed out around the top of the stair hole. So Pat fought back laughter as I had to go around tucking all the bits of my skirt back down the hole, so I could at last descend and go to breakfast.




Once again, it felt like something out of Gosford Park or Rebecca. I remember this one scene in Rebecca where the second Mrs de Winter has a huge breakfast buffet to choose from but only takes a boiled egg (or was it a little bit of fish?) and worries about all the food going to waste. Philip and I did our bit and I don't think anything will have gone to waste.




It was fun to see the castle courtyard gearing up for the festival, with lots of people in costumes.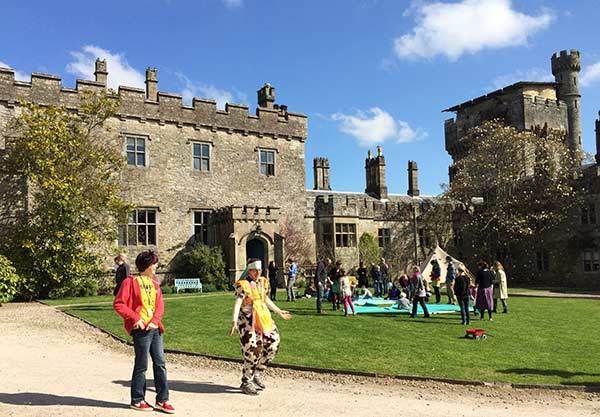 Chris and I drew some characters on the Book Swap bus for Waterford Libraries: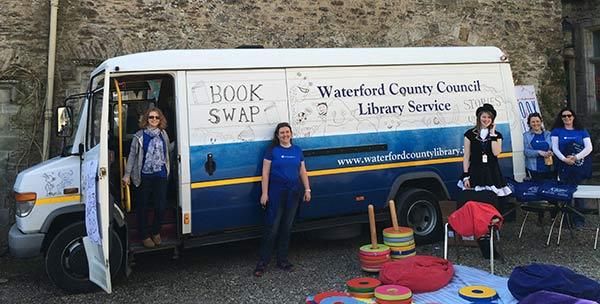 I did a big of song warmup (Photo borrowed from CBI on Twitter):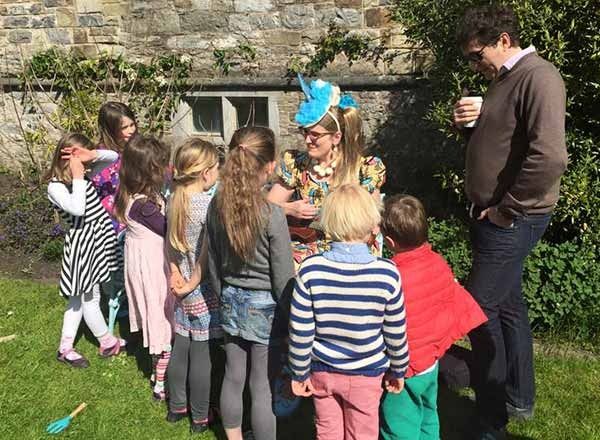 And then it was time for SHARKS! I read There's a Shark in the Bath to the big assembled crowd of kids and parents at the Heritage Centre and we sang the Shark song. (It was a bit tricky, not having my stage show buddy Philip Reeve there to lead the kids in the song motions and do all the Papa Shark voices, like we did at Mountains to Sea festival, but we did all right.)




Then I led them in making paper sharks! I usually just have the kids draw sharks, but wonderful organiser Maura O'Keeffe provided quality paper and craft supplies, so we were able to make them look extra special. I loved how they all had such different personalities!




Then the Heritage Centre coordinator hung the sharks out front on the railings, which hopefully did not intimidate any passersby TOO much. (Photo borrowed from the Lismore Heritage Centre Facebook page.)




I came back to the castle for a quick costume change, and William's brother-in-law decided he'd play the Queen of Hearts, so I helped him out with a hair pom-pom and lipstick.




His real name's Nicky but he made me guess his name, so I called him Colin all weekend.




Dominic read stories in the entrance foyer and I sat with a group of girls and listened to one about a knight, his daughter and a dragon.




I didn't manage to get a photo of writer Darren Shan, but I said a quick hello to writer Shane Hegarty between events:




And writer Sarah Webb, who'd organised Mountains to Sea festival in Dun Laoghaire. (You can see my blog post from that here.)




My next event was a Jampires Hat-making tea party. (Jampires is the book I created with David O'Connell and featured creatures who suck the jam out of doughnuts.)



Photo tweeted by Joyce Farrell

I'd never actually done this event before, but Maura said she could supply all the materials, so I decided to try it.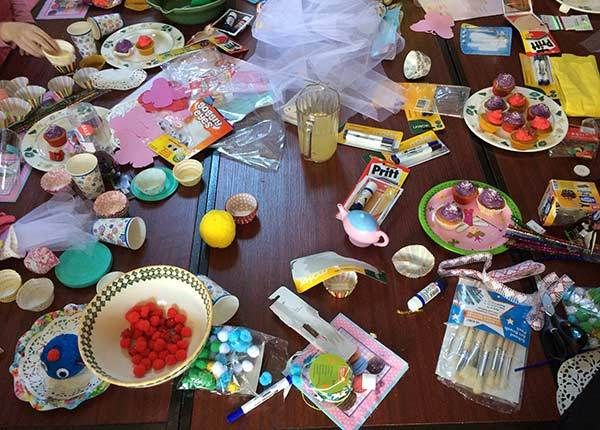 The hardest thing was drilling holes in the paper plates and getting everything to stick on; the Pritt sticks and glue weren't so helpful but we made good use of the elastic, staplers and pipe cleaners to anchor everything.




The hats came out very nicely! I loved the netting, it made everything bigger and frothier.




And the pom-poms were good fun.




We even had a couple adults making hats, such as this one: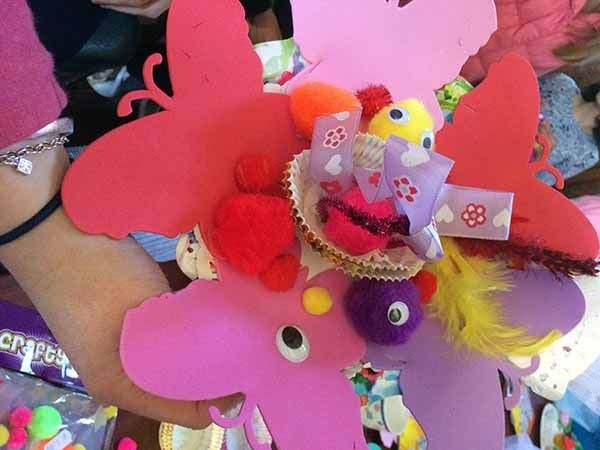 And here are some of the finished hats!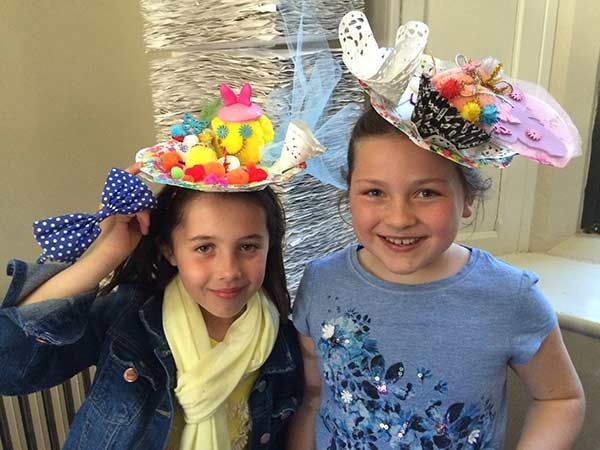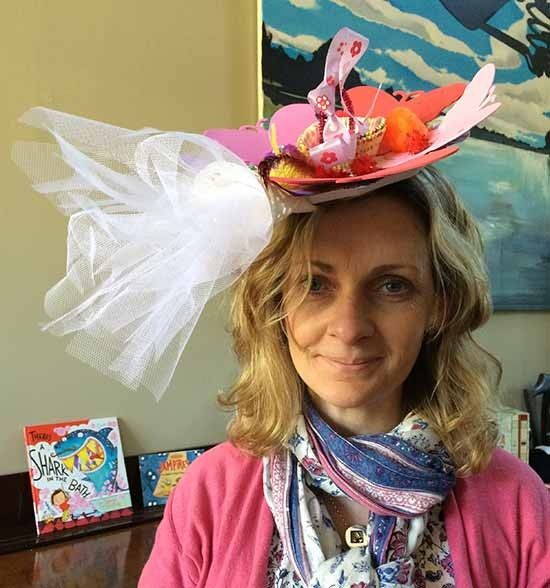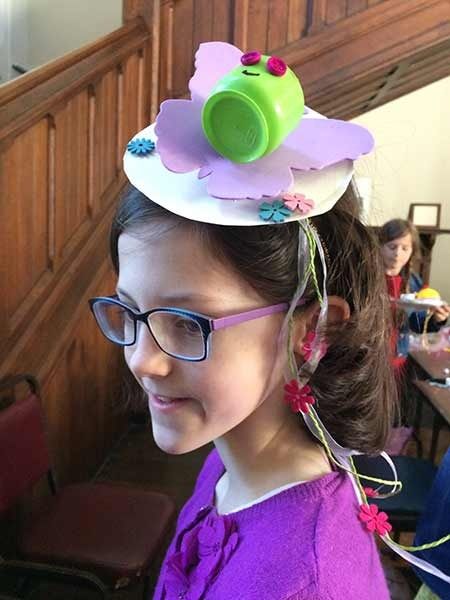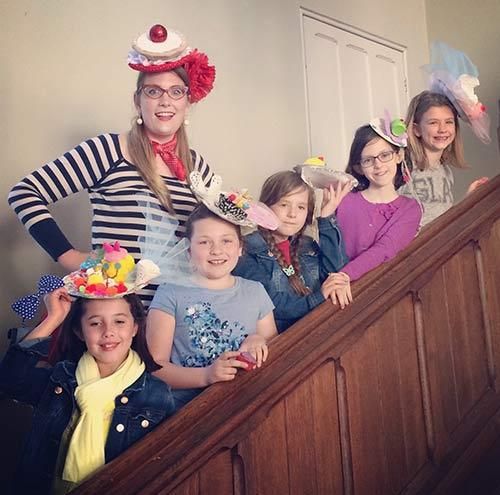 Then I had a big tired flop in this beautiful room (I could live happily in this room), and Mike Skinner from The Streets and Claire Le Marquand came and filmed me for a documentary video about the festival.




Then another lovely Afternoon Tea with the festival volunteers, and pre-dinner drinks:




William gave great kudos to Maura O'Keeffe (pictured here) for all her excellent planning work.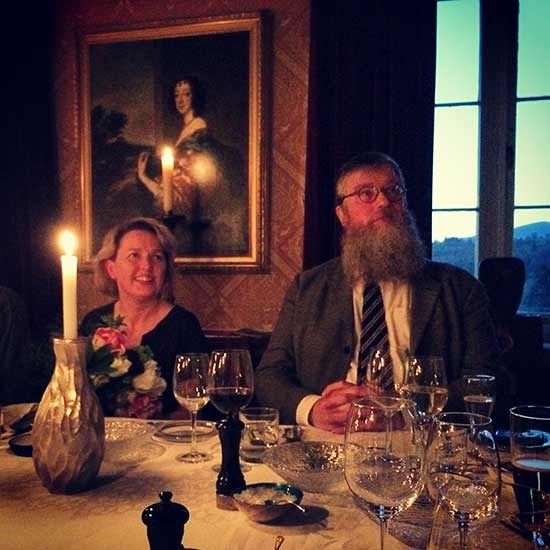 After dinner, I took photos of Niamh and her daughter, who was proudly wearing the hat she'd made at our workshop. (Yay!) The whole festival idea came about from a conversation one evening in this room, when William, Laura, Niamh and John Huddy from the Illustration Cupboard were having dinner. Lismore had hosted lots of arts events, but no children's book events, and this was a first.




I desperately wanted to stay awake so I wouldn't miss anything, but by 1am, my eyes just wouldn't stay open, I was babbling like an idiot and I had to go to bed. So I was quite envious of Philip, who managed to stay up with the gang until 5am! Many fine drinks and tower-climbing shenanigans. But we had an early flight back to London and Philip didn't look quite so hot when he came down to breakfast at 6am. It was hard to leave. I wrote a message in the guest book:




Chris made a drawing:




Jampire flat-out refused to go.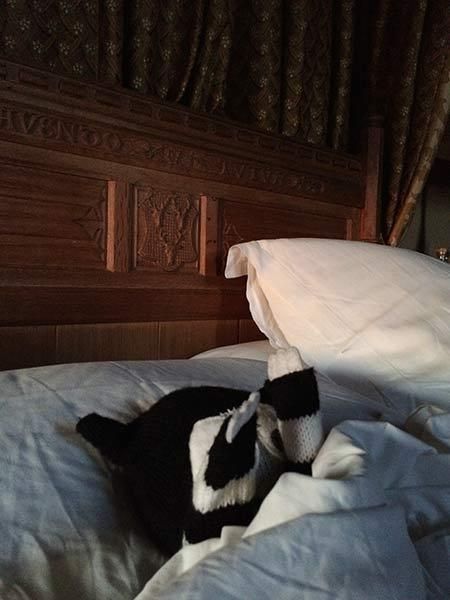 When I finally got him out of bed, he took long, weepy looks out the window at the sun rising over the Blackwater River. I knew how he felt, this was a storybook I didn't want to close. There were so many things I'd missed and still wanted to do: explore the gardens more, catch a glimpse of the kitchen, take a walk in the woods and see all the follies, see the castle art gallery. But I felt tremendously lucky to have been able to do and see as much as I had.




Jampire was not so mature and the only way I could convince him to come out of the room was to leave a copy of Jampires, so at least some of his friends could stay.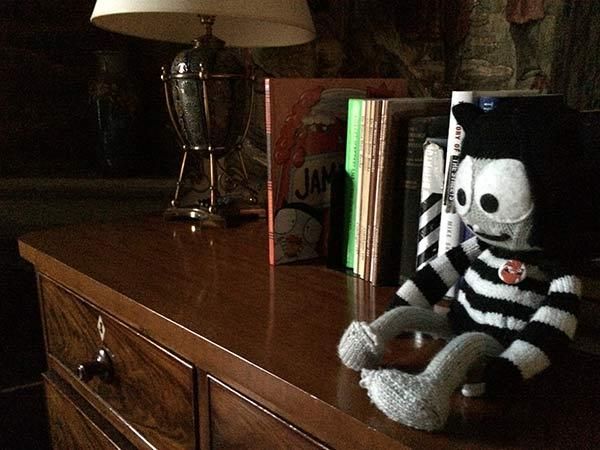 But then he threw a final tantrum on the lawn and could not be consoled.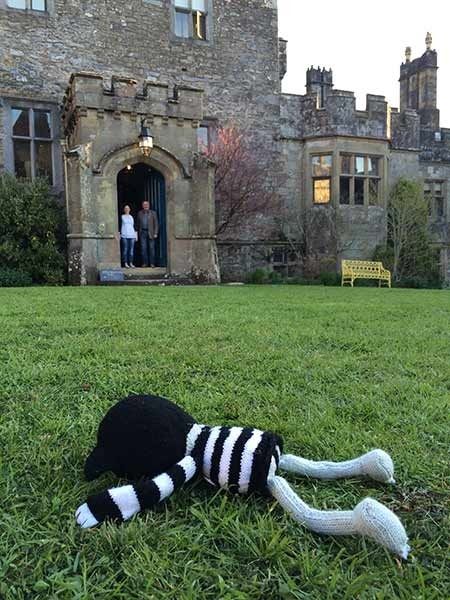 Thanks so much, William, Laura, Maura, Niamh, John, Denis, Ed, and all the staff and volunteers who made this festival happen. You were amazing!

PS It's not inexpensive, but if you have a party of 16 people or more and want to hire Lismore Castle and its 21 bedrooms, you can find details on its website. And if you want to see an earlier blog post I did about visiting Chatsworth (where William's parents live), you can visit it here.

Edit: See more photos on Marie-Louise Fitpatrick's blog!