My co-author Philip Reeve and I were so excited to get a message from our International Rights Manager Stella Giatrakou, saying she'd heard from French publisher Seuil that Oliver and the Seawigs had won an award in Switzerland! It's the Prix Enfantaisie, organised by Payot bookshops and the Swiss Institute for Youth, and they've been doing it for 20 years; 3,000 children voted for Oliver et les îles vagabondes from a selection of five books.




We weren't able to go to the Geneva International Bookfair to accept the award because we had already agreed to go to the Stratford-upon-Avon lit fest. But I knew the perfect person in Geneva to collect the award! She's Marie-Pierre Preece, the amazing librarian at the International School of Geneva, that I visited in 2012. (All the kids call her 'MP'.) Here she is on the left, with the picture I drew for her library during my visit: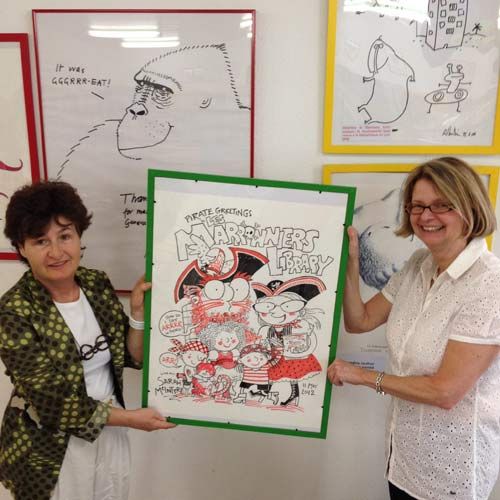 And MP asked Philip and me if we could make a video for the ceremony, which we did. (Note the excellent sound effect halfway through, that was Philip's doing.)




Yes, thank you, Payot, Seuil, our excellent French translator Raphaële Eschenbrenner, Stella at Oxford University Press, and MP! Here's MP collecting the award at the book fair, next to the winner in the other category, Max Ducos, for Le Mystère de la grande dune.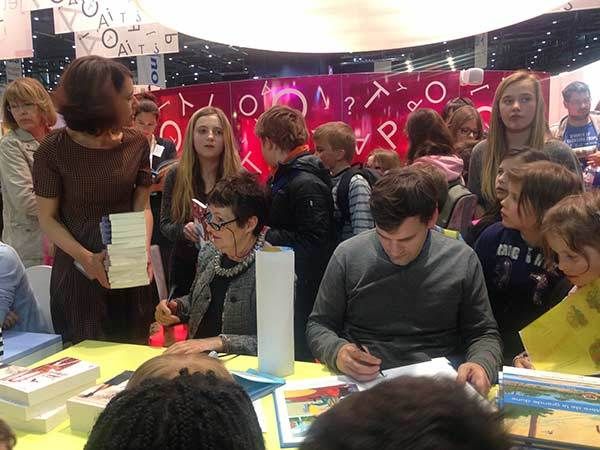 And MP signing our books! She wrote in an e-mail:

The second picture is me signing your book. The kids asked for a signature and I said, 'Well how, if the illustrator is not here?' and then one of them said, 'But you, Miss, can't you sign our books?' and I couldn't resist! But I signed 'de la part de', so all is honest and good.




Some of the kids spoke English and were able to understand the video, and MP translated for the rest. They also had some questions. So I rang up Philip on Skype this morning and we've answered them together. A big thanks to everyone who voted for our book!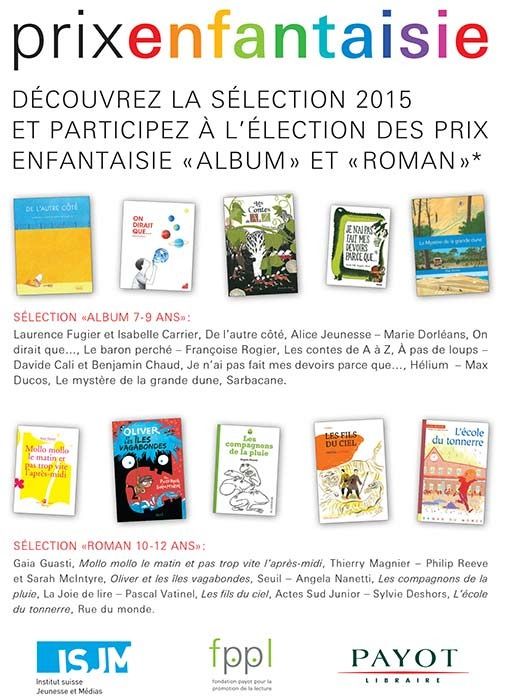 Questions from Swiss readers:

* Did you use a computer to create the illustrations?

Partly, yes! I started out by using old-fashioned dip pen and ink, and scanned those black-and-white drawings into the computer. In Adobe Photoshop, I added the blue colour (which is gray in some of the paperback versions).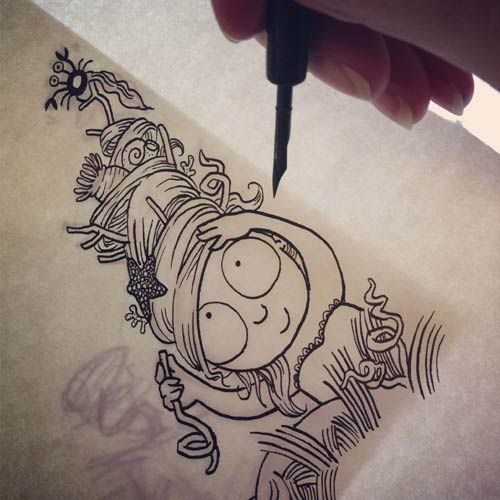 * Where did the idea of vagabond islands come from?

Sarah: Philip had the idea to write a sea story, and we originally thought it might be about a dog that washed up on a beach. But I was telling Philip about how I'd been to a meeting of the Children's Writers & Illustrators Group (part of the Society of Authors), and the acronym for that is 'CWIG'. I pronounced it 'Seawig', and joked that I'd love to draw a picture of islands with stuff piled up on their heads. (I'd just been drawing a lot of monster wigs for an exhibition.) Philip said, 'AHA! That's just what we need for this story!' and it all started from there.

* Why did you choose the sea and not another type of environment?

Sarah: Philip and I both grew up near the sea and love it. The sea is also the closest thing on earth that we have to an alien planet; scientists are still discovering strange alien creatures in its depths. So it's natural to think that any kind of creature could come out of it.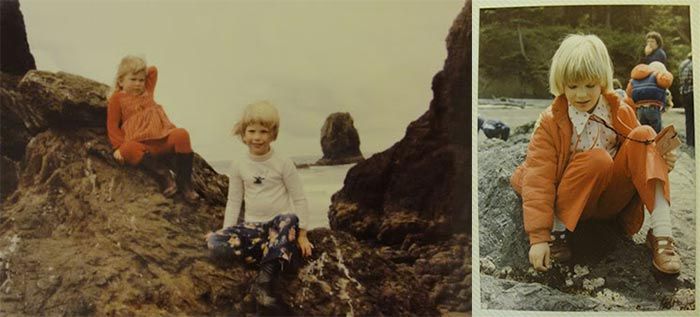 Little Sarah with her sister, Mary

* Where did you get the idea of the characters in the book?

Philip: We wanted a character who could go off and have adventures so we made his family explorers. Sarah really likes mermaids, so we decided we'd have him meet a mermaid. And the other characters just popped in when they felt like it.

* Why is the boy called Oliver? is there a link with somebody you know?

Philip: We were walking along the banks of the Thames while we talked about this story and we came to a place called Oliver's Wharf...

* Where did the idea of Sea Monkeys come from?

Sarah: From comics! In the American Archie comics I read growing up, there was always an advert for Sea Monkeys, and I never believed that, for only a dollar, they would look like the ones in the picture. But I did wonder about them.




* Did you go around the world like Oliver's parents?

Philip: When I was little, my parents took me around England, Scotland and Wales in a campervan, a bit like Oliver's Explorermobile.




Sarah: I grew up in Seattle and did travel quite a bit with my parents, to places in the USA and to Scotland, England and France. Recently we all went to China together, and I made a travel comic about it that you can read here.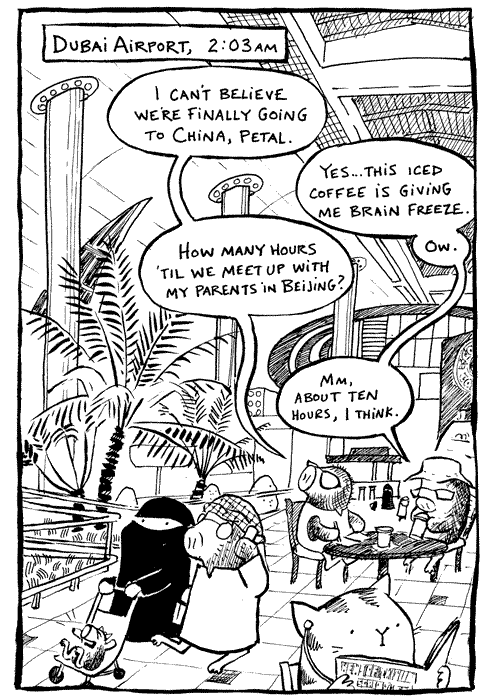 * Did other books inspire you?

Philip: Yes, but too many to name.

Sarah: In the beginning of creating our story, I thought a little bit about The Voyage of the Dawn Treader in the Narnia books, and the seagull in Watership Down, but by the time we'd finished creating our story, it was something completely different.

* How long did it take to write the book?

Philip: Including all the illustrations, about a year? We came up with the ideas together and I went away and wrote it, which took about a month.

* What books did you like as a kid?

Philip: Tolkien, Asterix, Tintin, Rosemary Sutcliffe.

Sarah: The Twenty-one Balloons by William Pené du Bois, In the Night Kitchen by Maurice Sendak, collections of Calvin & Hobbes comics.

* What are your favourite books?

Philip & Sarah: We both love Geraldine McCaughrean's The White Darkness.

* Why did you become writers and illustrators?

Philip: Because there's nothing else I can do!

Sarah: I've always loved drawing and writing gives me the chance to decide what I'm going to draw.

* Since when have you been a writer?

Philip: Since I was five. But my first published book was in 2001, Mortal Engines.

Sarah: Me, too, since about five. I made a book called My Fish. (You can read it all here.)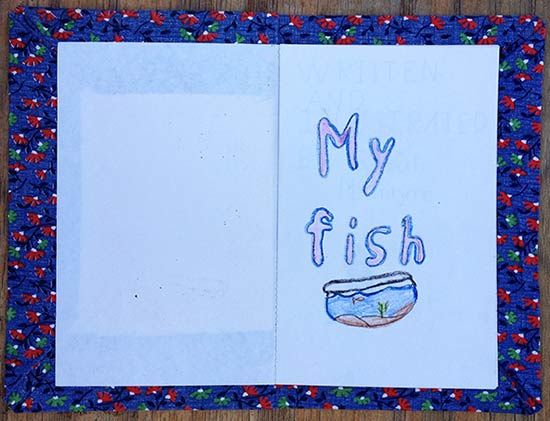 * Did you go to a special school to become writers and illustrators?

Philip: I went to art college but mostly I learned to write by just writing.

Sarah: I studied Russian at university, with a focus on Russian language and literature. But then I lived in Moscow for two years and discovered amazing Russian art and got very inspired. Over the next six years, I illustrated quite a few books and then went to art college for two years to study illustration.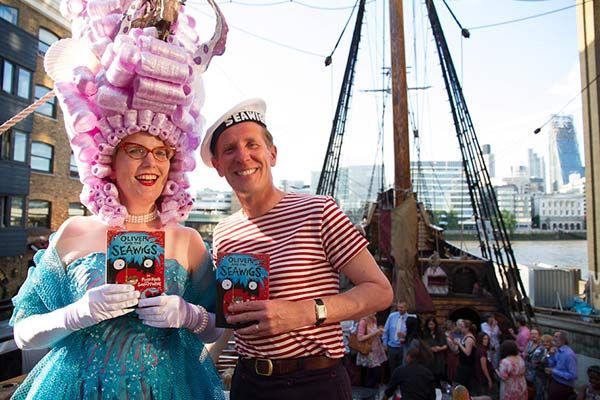 * How is it to live an author's life, how do you organise your days?

Philip: I don't organise my days, they just happen.

Sarah: Days can be so different! One day I might be working at my desk, then the next day I might be traveling to talk about my books in front of hundreds of people on stage.




* Do you have another job?

Philip: I do illustrate sometimes for other writers.

Sarah: Sometime publicising the books feels like a whole second job! I once wrote an article about how I have a fleet of clones helping me with all the work involved in being an illustrator.




* Will there be a follow up?

Sarah: Yes! The characters won't be the same - Philip and I wanted to come up with whole new worlds for each book - but they'll all be adventure stories. We've published one called Cakes in Space (or Astra et les gâteaux de l'espace in French, published by Seuil). You can learn how to draw some of the characters here on my website. And our next book is coming out in English, Pugs of the Frozen North, and hopefully in French, too!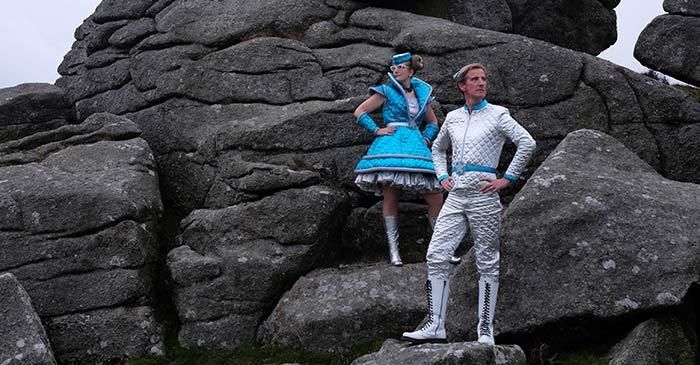 Photo by Sarah Reeve