This Saturday was ALLIGATOR themed in southwest London...




...for the grand launch of Richmond's new independent children's bookshop, The Alligator's Mouth!




There was much cake and Gruffalo:




And here's the team who run it! With all these indie bookshops shutting down, it's extremely brave to be opening one, but wonderful, too. Children's book sales are still on the rise, and we need our indies to look out for new talent and highlight the books picked by specialists, which might not necessarily be taken up by big chains. The three who run the shop are, from the right, artist and designer Mark Pembrey, Margaret Wallace-Jones and Tony West. Margaret and Tony used to run the Lion & Unicorn Bookshop, but the sky-high Richmond rent forced them to close. But they didn't let that beat them!





The Alligator's Mouth can count on strong support from British writers and illustrators. Even superstar writer Jacqueline Wilson turned out for a signing!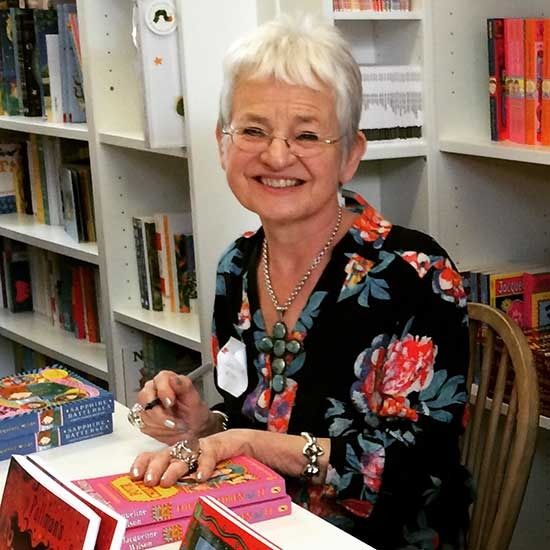 I was so pleased to meet lovely writer Smriti Prasadam-Halls and writer-illustrator Sophy Henn. I'd seen Sophy's bold covers pop out at me before, and it was fun talking about her technique, using pencil and Adobe Illustrator (not Photoshop, as I would have expected). Sophy has a real screen-printer's aesthetic, which gives her books that lovely retro, limited palette simplicity.




Here's Tony with pooch and writer-illustrator Chris Riddell, who arrived to cut the ribbon and officially open the shop.




I know it looks like he's actually taking a snip out of Margaret here, but I promise there was a green ribbon.




And here's the lineup of authors who stopped by, posted by Chris on his Instagram.




Stuart and I popped out to get some lunch and do some shopping and managed to catch writer-illustrator Ian Beck at the end of his signing session.




And here's writer Natasha Farrant! I read her book After Iris when I was judging the Roald Dahl Funny Prize, and while I didn't find it screamingly funny, it was wonderful and warm, with a gentle humour that I loved. I wasn't quite sure why it had been submitted for the prize, but it was one of my favourite reads in the stack, and it was great to meet its author at last.




The shop was absolutely heaving all morning - such a turnout!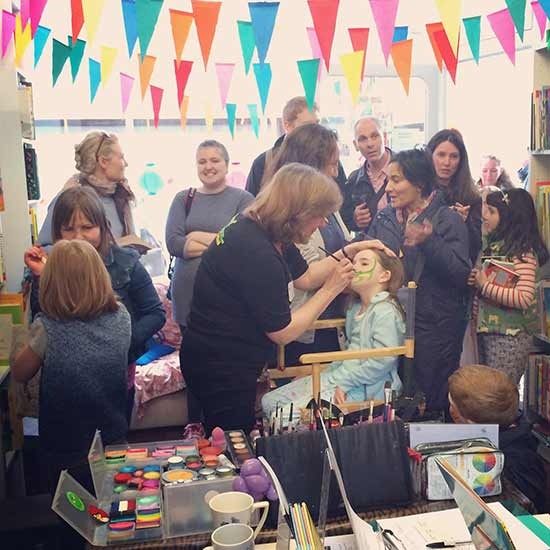 Sadly I missed seeing Barry Loser writer-illustrator Jim Smith, but I grabbed this bookshop tweet. (Do follow them at @alligatorsmouth!) I've read Barry Loser: I am Still Not a Loser and it really IS screamingly funny. The drawings are kind of awful, but in the most wonderful way, that makes turns a funny book into one that actually made me laugh out loud. Drawings of hoverpoos and two old people kissing are forever burned on my memory.




I wasn't actually able to tell Tony that I would be coming to the launch; I'd spent so much time doing book promotional activities and travelling that I thought I'd better save the day to spend with Stuart. But when Stuart found out about what the indie bookshop was doing, he said, 'No, this is something we really should do', and we were able to make of it a lovely day together. Richmond's lovely, and we had a great lunch at the Tide Tables vegetarian cafe under the bridge, and Stuart bought a jacket on the high street.




It's definitely a destination; not only do you get a children's bookshop, but a couple streets away, you'll find an indie comics shop! We ran into Sam, who works there, and whom we met at my Jampires co-author David O'Connell's wedding, and he took us back there for a visit Raygun comics.




Behind the desk, here's Chris and Sam, and Sam's very interested in stocking more self-published comics, so if you make your own, think about getting in touch with the shop at @Raygun_comics.




So, hurrah for indies! If you can support The Alligator's Mouth (and Raygun), that would be fabulous!