Blog written with my co-pilot Philip Reeve: So our shiny silver space shuttle set us down in sunny Glasgow, where we'd been invited by Scottish Book Trust to do one of their Authors Live events.




These events take place at the BBC's Glasgow studios; there's a small invited audience of children from local schools, but the show is also broadcast live online to any other schools who want to sign up for it.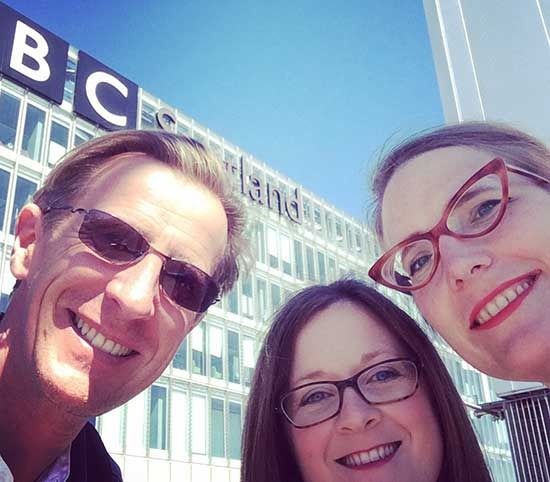 We arrived on Wednesday afternoon to meet Scottish Book Trust's Heather Collins and some of the team who were going to be in charge of the broadcast. Part of the Cakes in Space show involves a video transmission from some spoon-crazy alien life-forms called the Poglites. At all the festivals we've done we've used a video which Philip and his wife Sarah Reeve shot on his phone, of two Poglite puppets in a spaceship set made out of old polystyrene packaging.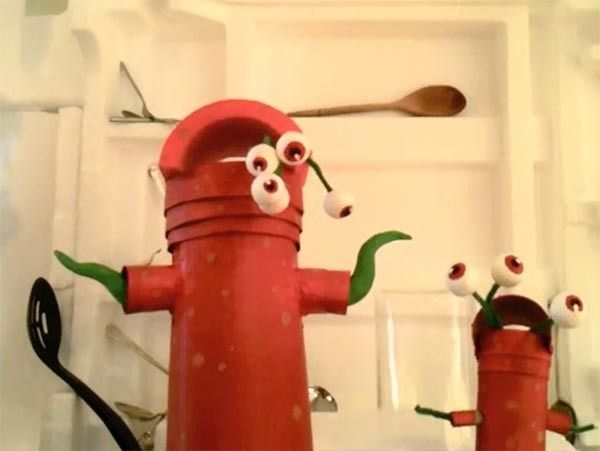 But to be shown by the BBC it needed to be 'broadcast quality', so we brought the puppets with us and re-shot the whole thing in one of the vaguely futuristic-looking stairwells at the BBC.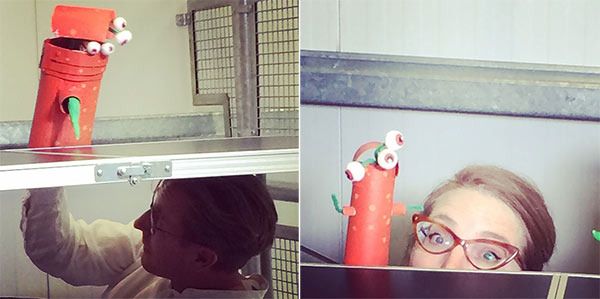 The actual show took place on Thursday morning. We suited up and waited nervously in the hotel lobby for the shuttle to take us to BBC HQ…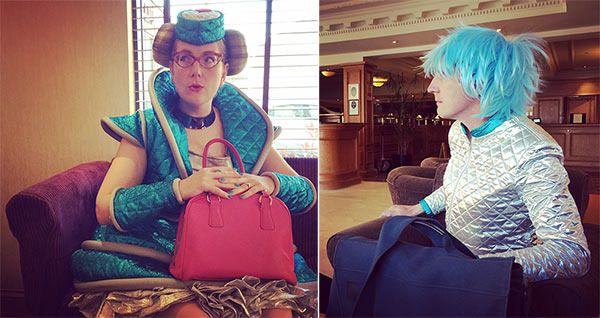 Filming was to take place in an open atrium area in the middle of the BBC building, which had been decorated for the purpose with stars and silver podia (grammar). It takes a LOT of people to arrange even a simple broadcast like this. Here are some of the team…




And here are some of the audience - a weird and wonderful collection of interstellar oddballs shipped in from a neighbouring star-cluster.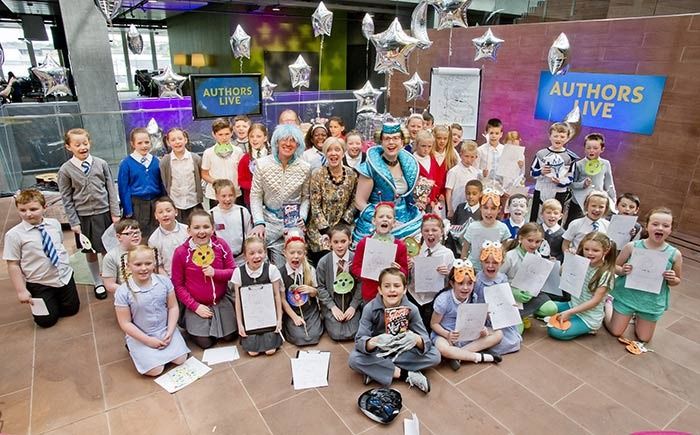 Photo by Alan Peebles

They seemed friendly though. One of them, Abena, brought us this nice letter, so we knew they Came In Peace.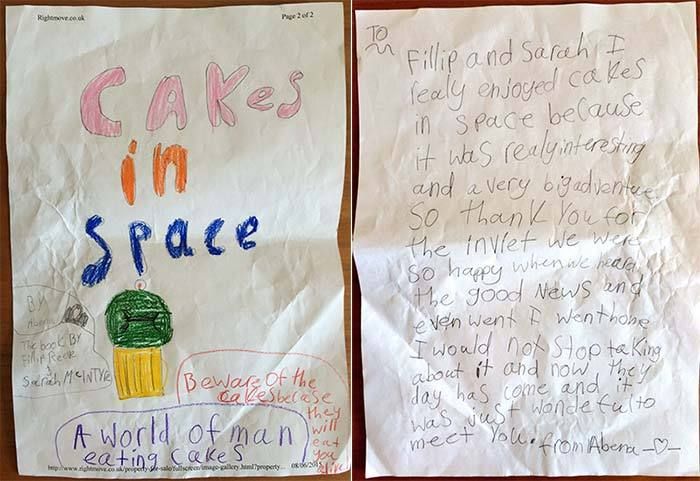 We'd never done a live broadcast before, so we were a bit nervous, but everything seemed to go well.


Photo by Alan Peebles
Photo by Alan Peebles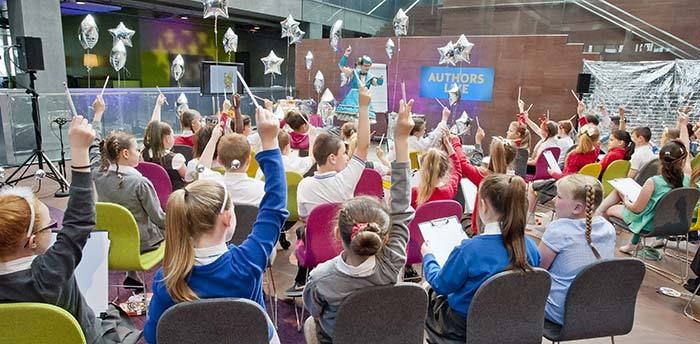 Photo by Alan Peebles
Photo by Alan Peebles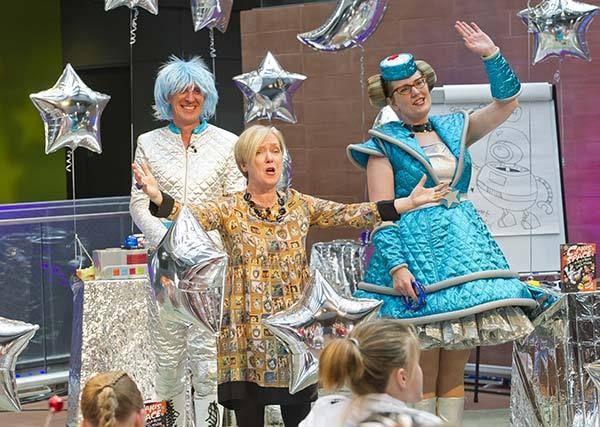 Photo by Alan Peebles

And you can see for yourself, because one of the great things about the Authors Live scheme is that recordings of the shows are kept on the Scottish Book Trust website, where anyone can watch them whenever they fancy. So we now have a lasting record of the Cakes In Space show, which future generations will be able to look at and say, 'WHAT were you THINKING?'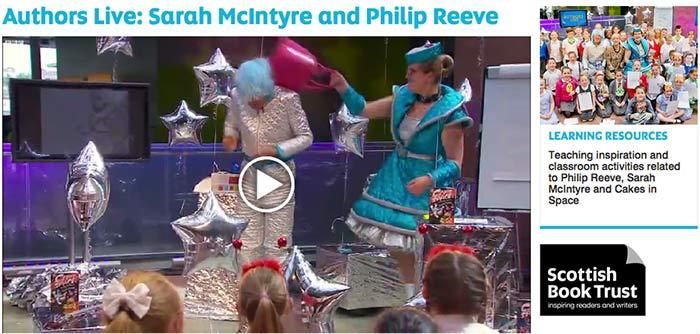 Click on the image to watch the video!

It's especially nice to have this record because this was the last Cakes in Space show we'll be doing (at least for a while). In the autumn we'll be unveiling a whole new show based on Pugs of the Frozen North. Big thank yous to Heather and her team from Scottish Book Trust, teacher Jennifer Buchan (who created Author Live's Cakes in Space Learning Resource page), and Janice Forsyth, Donald, Irene, Neil, Liz, photographer Alan Peebles and everyone at BBC Scotland for making it all possible.




While we were in Glasgow, we also managed to catch up with Sarah's Glasgow Auntie and our friends Adam Murphy (who draws the Corpse Talk strip for The Phoenix and his comics colourist partner Lisa Murphy. (Great to see you guys!)