I wasn't sure how a 5-year-old would hold up over days exploring Paris.




But our friends' daughter, Tess, was a real trouper, and I thought I'd post some of our sketchbook drawings we made together.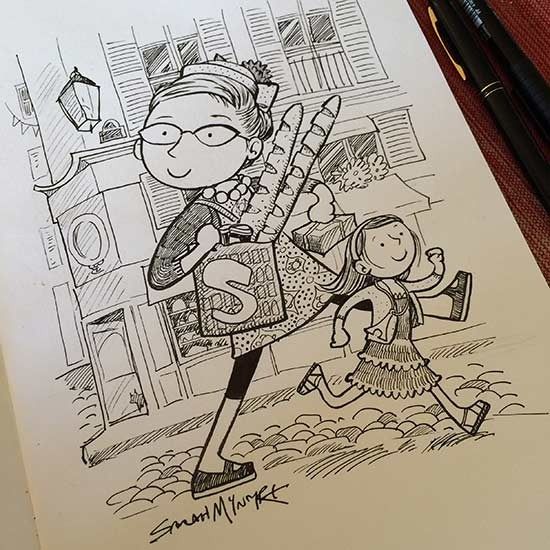 Keeping a travel sketchbook with a child turned out to be a great way to keep myself getting to precious about my drawings. I never knew when Tess would come in with glitter pen or a fat blob of red ink. And it didn't really matter.




I was a bit nervous about letting Tess use my Pentel brush pen because most kids I know are pretty heavy-handed with their pen tips. But Tess got the hang of it on the second brush stroke, and had fun echoing the grape vine texture around the top of the cafe where we were eating. (We had a late lunch at Chez Prune, which I'd visited years and years ago with my friends Mags and Mano, and it was still good food, with nice waiters who let us practice our stumbling French).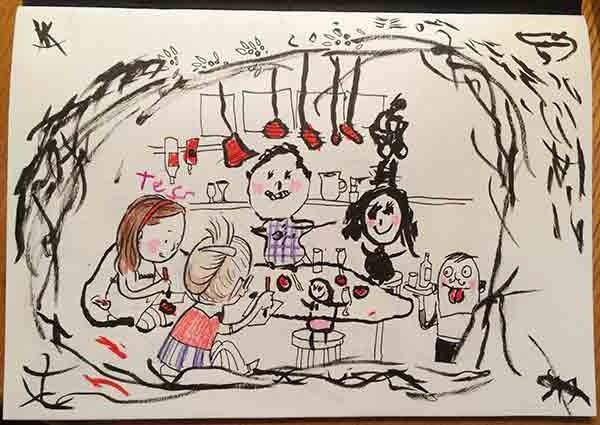 Here's Tess drawing at breakfast the first morning:




And our slightly bleary drawings and mark making:




Donna, Jake, Tess, Stuart and I headed over to the Jardin du Luxembourg and Tess immediately wanted to sail one of the boats in the little lake.




It turned out to be a lot of fun. There was a good breeze, and the boat would sail across the lake and veer off at odd angles at sudden gusts of wind, so we never knew quite where it would end up, or which other boat it would hit.




We got boarded once by pirates (a very confident, slightly older American girl ran that ship), and entangled with Dutch and Brazilian ships, but all was well.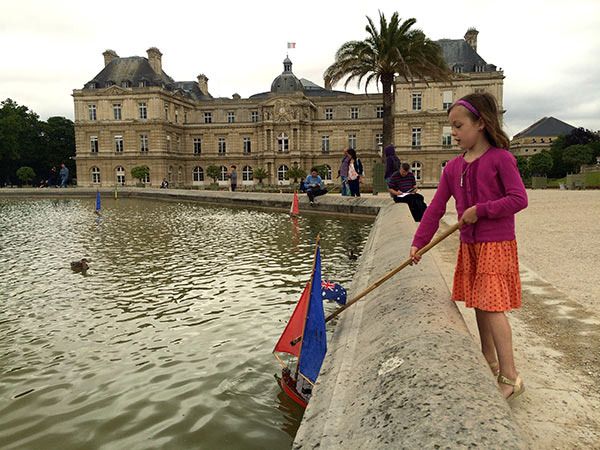 For lunch, we went to Crêperie du Clown.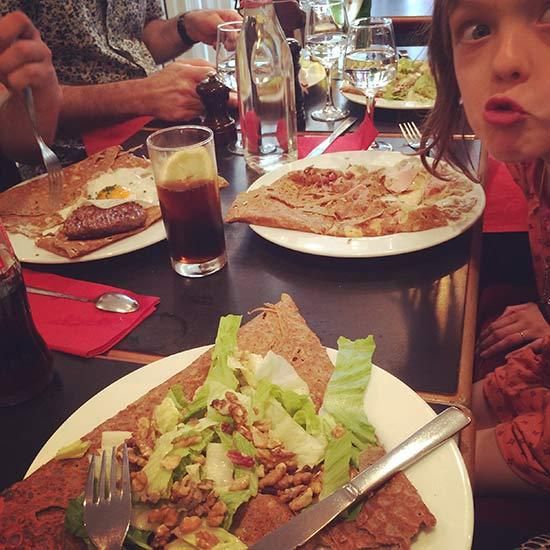 We drew the boat picture, and another picture of our food and the rather creepy clown sculpture by the entrance.




Sometimes we just drew random stuff, like Peppa Pig. The one on the bottom left is Tess's Stuart Peppa Pig.




We also bumbled around the pretty streets, did a lot of window shopping, and bought some trinkets in a market in the Latin Quarter.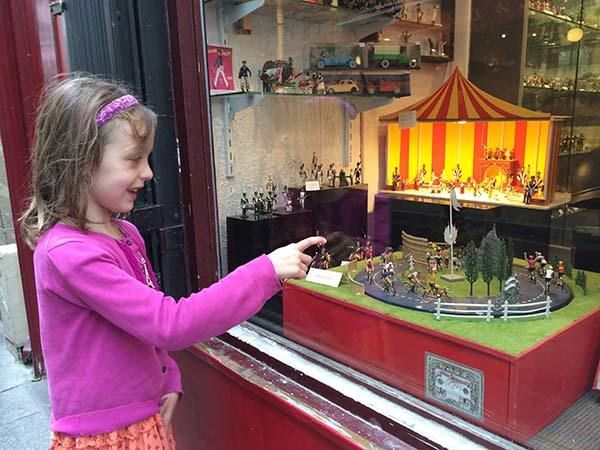 I learned from my friend Donna a good New York word for trinkets: Tchotchke




We also went to Disneyland Paris! I might do another blog post on that. But here's Jake and Tess, a storm in a teacup.




Tess loved all the princess-y stuff at Disneyland (she'd had her parents read my book with Gillian Rogerson, You Can't Eat a Princess! to her so many times they were totally sick of it, ha ha). But her favourite ride turned out to be driving the cars at Autopia.




We were there at Disneyland for ten hours and she didn't have a single meltdown, which was a total miracle. (We hired a pushchair that she could jump in and out of, so that bought us a bit more time.) On the way back, she was tired but she still wanted to do some abstract brush pen drawing, inspired by the railway tracks of the Thunder Mountain ride.




On Stuart and my last day there, we all met up in Montmartre with the Brink Morrisons, a family I'd stayed with in 2012, after being a guest at the Paris Sci-Fi & Manga Show with Emma Vieceli. Here's a drawing I did of them back then, when Emma and Luc were much younger: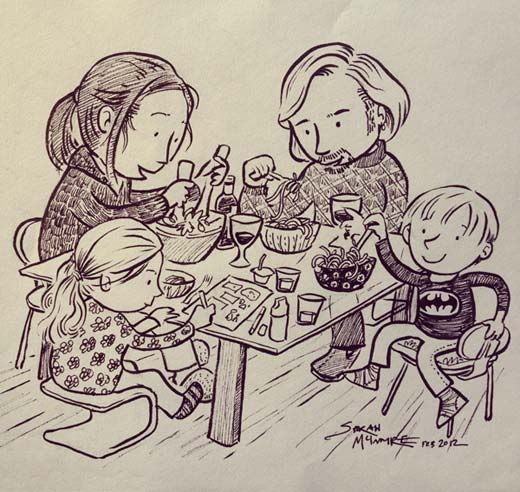 And a drawing we'd made together then: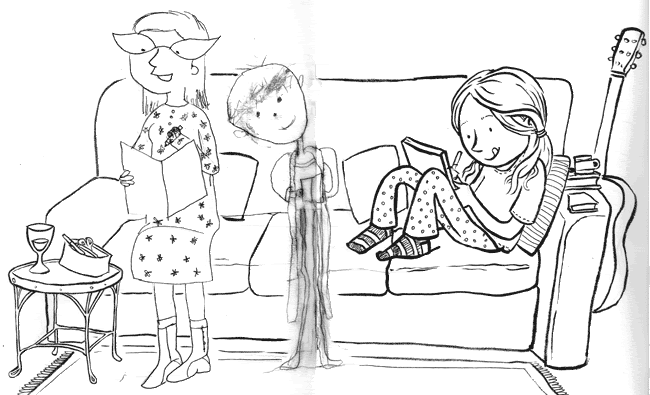 We thought we'd do another group drawing, and Emma, Luc and Tess all pitched in:




It's not easy fitting four hands around a piece of paper! We got some good practice in drawing upside-down.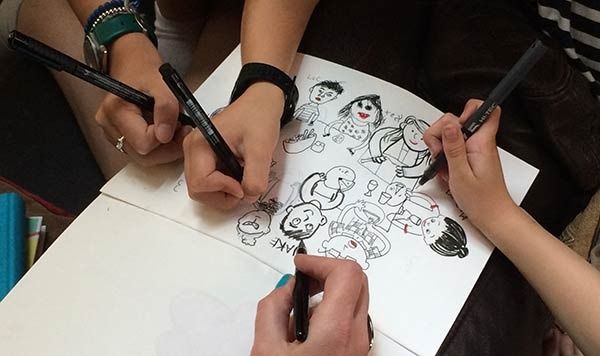 And here was our final drawing of us, gathered around the table eating Barbara's amazing quiche lunch.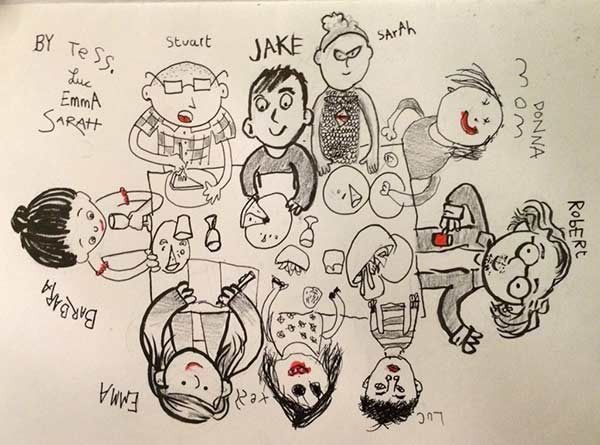 Thanks for drawing with me, Tess, and being so much fun!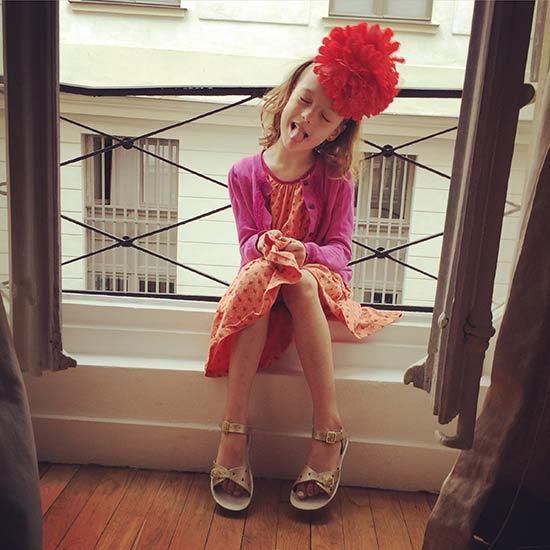 When we got back, I spotted Emma's drawing on Instagram. Thanks, Emma!




List of pens we used:

* Pentel Brush Pen (You can buy replacement ink cartridges and the ink is waterproof when it dries, so you can paint over the lines without smearing them.)

* Faber-Castell Pitt Pens (especially the fine 'F' pen)

* Tombow brush pens (we had a red one)

* And we also had crayons and a pencil