Brighton
and I hardly ever go, unless I make elaborate plans to stay the night, because it seems far away. But people in publishing who live in Brighton are ALWAYS making the trek up to London for evening events. I started imagining I was like one of those north Londoners who won't go to events in south London, which is just silly. I felt like a wimp. So I finally went, just for an evening.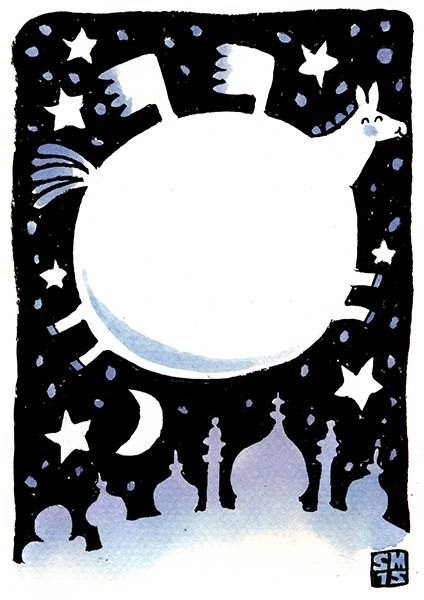 Here's a doodle of the
Dartmoor Pegasus
over
Brighton Pavilion
. (My
Seawigs
and
Cakes in Space
co-author,
Philip Reeve
, created the original fat Pegasus, is from Brighton and often tells me stories about it.) First stop was
Liz Pichon
's house, where I got to have a peek in the writing shed where she creates the
Tom Gates
books! She apologised about it being messy but I said she hadn't seen my desk. Liz's books are leading the way for books for so-called 'middle grade' readers in the way they bring together text and lots and lots of drawings.
Tom Gates is right up there with Wimpy Kid and Captain Underpants and if you haven't seen the books, definitely check them out. I suspect the success of Tom Gates is one of the reason our publisher was so interested in publishing my highly illustrated books with Philip. So Liz is a bit of a hero, really.
Here's Liz with her husband Mark, who's a sound engineer and does a lot of work with her on apps and things. It's great seeing such a fab creative partnership.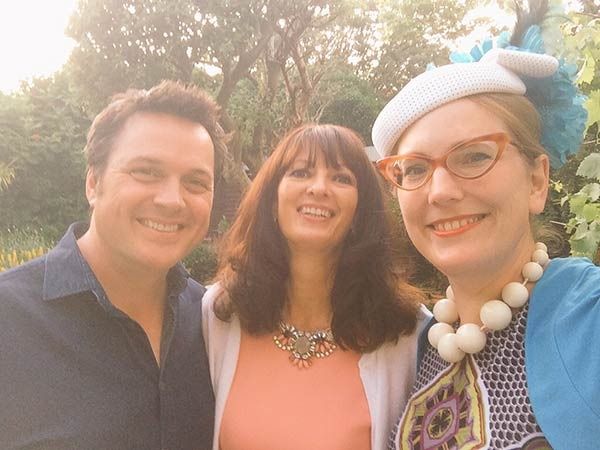 Next stop was
Chris Riddell
's house, where Liz had masks so we could dress up in Chris's 'The Doodler'
Children's Laureate
superhero costume.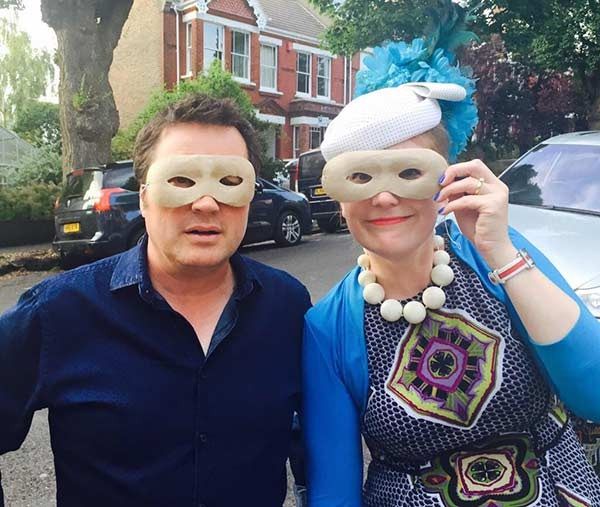 Photo by Liz Pichon
He and his painter-printmaker wife,
Jo Riddell
, had a few people around to the garden for drinks to celebrate book number twelve in his
Edge Chronicles
series with writer
Paul Stewart
. (Also spot
Adam Stower
and
Zoe Tucker
.) Chris sometimes tells me he lives his social life vicariously through my blog, so hello, Chris, if you're reading this! I think being Laureate is going to mean Chris is much MUCH more social than me for the next two years.
Writer-illustrator
Sue Hendra
and I sneaked back in the woods behind his house to check out his studio. It was locked, but you can see another
blog post I made about it here, when Chris gave me a tour
.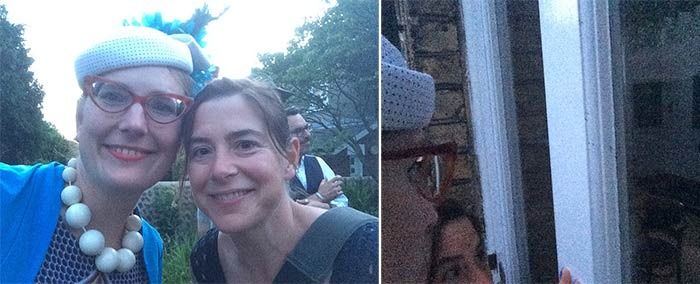 After a lovely evening, the train ride back (full of sunburnt beachgoers) was a bit of a jolt. In fact, it was so totally undignified that it was rather hilarious. I coped by tweeting this photo:
So it CAN be done, Brighton in an evening. But I'm still tempted next time to pitch a tent on the beach.
Sometimes I get invited to events in