Today's our official publication day for Pugs of the Frozen North!




With a dog sled team of 66 pugs, pug lovers will not be disappointed. But what about the other characters, which one is your favourite? Mine is Helga Hammerfest, a gentle giant of a women who's in tune with nature and instead of dogs for a sled team, has two polar bears named Snowdrop and Slushpuppy. She also has a luxurious beard, which comes in handy when the pugs get too cold: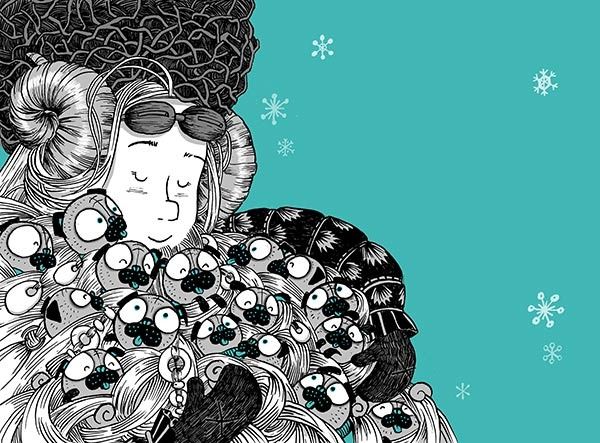 When my co-author Philip Reeve and I were talking about characters we wanted in the story, Helga was top of my list. I'd set myself the #NonIdentikit challenge to draw attractive women who weren't beautiful in a Hollywood standards sort of way, and facial hair on women is such a taboo in our society. Which made me want to defy that standard, so I drew this girl:




I think this was Helga as a teenager, growing up in Anaktuvuk Pass, or whatever remote place she came from. After drawing that, I started making decisions about how the Helga in our book would look. Here's an early drawing I made of her for the book, in India ink and dip pen. (I'm tracing from the pencil drawning, on my light box. Helga's meeting Mitzi Von Primm, who very much plays up to fashion and finds Helga a bit disturbing:




When I first start drawing pages, they start as 'thumbnail roughs', which are small (but not quite as small as thumbnails, in this case). And then I move on to sketching it out in pencil, in the size I'm going to draw it for the book. (I drew most of the images at either 100% or 110% of their final printed size.) I sent scans of the pencil roughs to our editor, Clare Whitston, and our designer, Jo Cameron, to make sure that the drawings showed the right things and worked with the placement of the text.




Then I put the penciled page on my light box and trace over it with dip pen and ink. I have to be very careful not to smudge the ink! If I do, I can fix it later in Photoshop, but it takes time and is fiddly, and I like to get it right the first time if I can.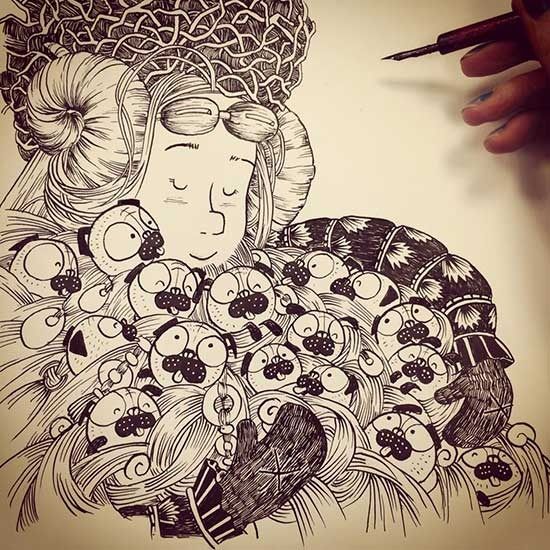 Next, I scan the ink drawing into my computer and open the file in Photoshop. I colour it using my Wacom pen. Here you can see the coloured layers under the ink! I'm only allowed to use black and one colour for the inside pages - blue - but I can use different opacities of the colour, which let me have darker and lighter blues, and a lighter shade of black (grey).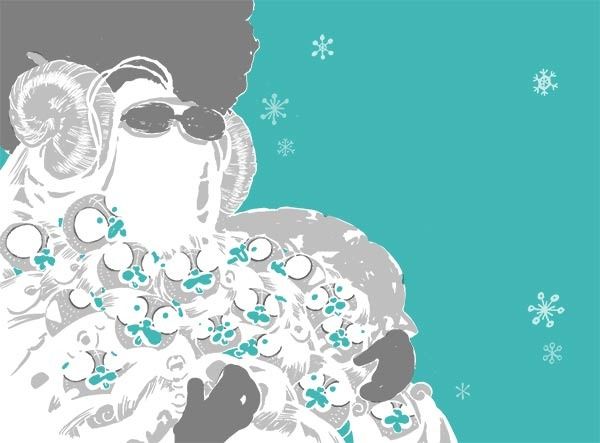 I e-mailed the picture file to Jo Cameron, and she placed the text around the picture and sent the book off to print. Huge thanks to our Oxford University Press team for all their work on this book! With our publisher Liz Cross, editor, head designer, design group, publicists, rights sales team, publicity tour coordinators, printers, it's quite a large team!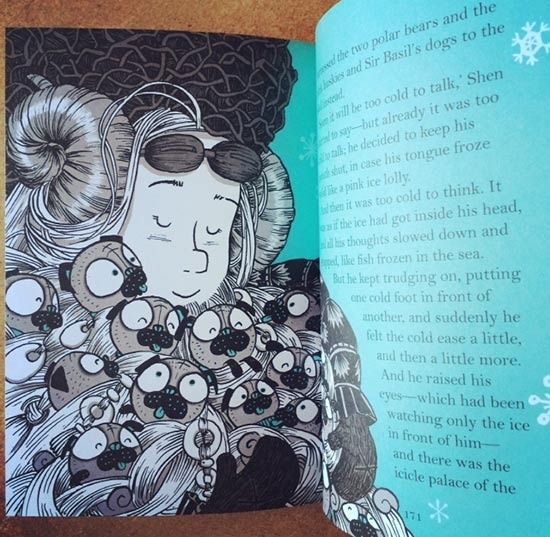 And big thanks to Stephen Holland, Page 45 owner, who's written an indepth review of Pugs of the Frozen North for his amazing blog! You can read about (and buy) the book from him online or in his Nottingham-based shop which sells comics and illustrated books.
________________________

EDIT: Ha ha, this just in on Twitter from Jo and Team Pugs at the OUP office. I might never sleep again!