Last night my studio mate Elissa Elwick and I went straight from the studio to the first in a new series of Illustrator Salon events, featuring illustrator, animator and writer Steven Lenton being interviewed by Nosy Crow publisher Kate Wilson. Here's a little drawing I made of them:




And here you can see some of the books Steven's illustrated for Nosy Crow! We've recently seen some great picture books by people who come from an animation background, such as Benji Davies, Jon Klassen, Jim Field, An Vrombaut and Jonny Duddle. (Can anyone help me add some more female animators to that list?)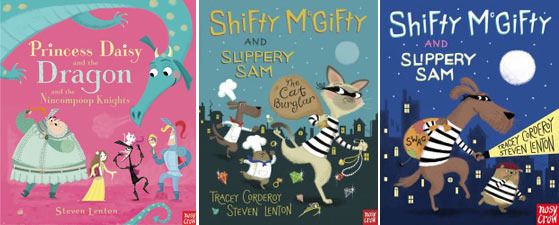 Steven talked about character design being his key element in setting up a story, and you can see some of his canine personalities here: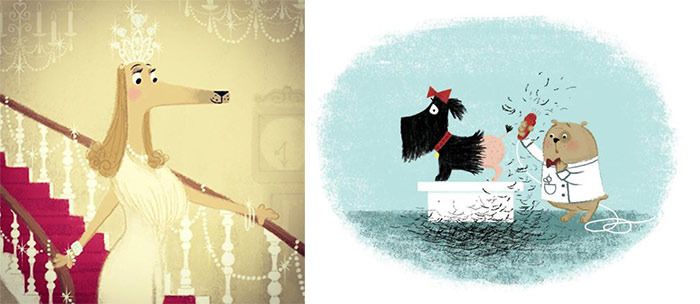 Like most animators and illustrators I know, Steven mentioned his huge love of early Disney artist Mary Blair's artwork. ...Ha ha, I was just writing this blog post and mentioned that to Elissa, and she turned around with two Mary Blair books in hand:




I'd previously heard a talk by Jon Klassen, who much prefers settings and backgrounds, and finds the characters the hardest thing to come up with, so it was interesting to hear that Steven's the oppositive. But both love shape over line, and try to get rid of a lot of their line work (outlines) in their final art, even if they use a lot of lines in their rough sketches. Steven and Kate both talked about the benefits of working digitally; how it gets rid of the cost and time involved in having to get artwork scanned. I can imagine the Photoshop layers also make the artwork much easier to convert into moving parts for apps. But when Kate asked him about some of his favourite illustrators, he mentioned David Roberts, who works with real pens and paint and submits his artwork to be scanned. Steven said that if he ever gets in a rut, he might spent a couple months working on getting away from digital artwork and using more traditional materials.

I know what he means, I keep thinking I could try to rely less on line (I'm so attached to using lines!), but I'd need some time to explore that way of working before launching straight into a book with it. And I've just downloaded loads of amazing Photoshop digital brushes from Kyle T. Webster but the trick is going to be getting time to learn how they work. Steven talked about spending a lot of time promoting his books, and having big ideas but not always the budget. I've been seeing him loads on the festival circuit, usually with his fab writer co-author Tracey Corderoy. Here's a photo I took of them and their custom-designed friends at Edinburgh Book Festival this year: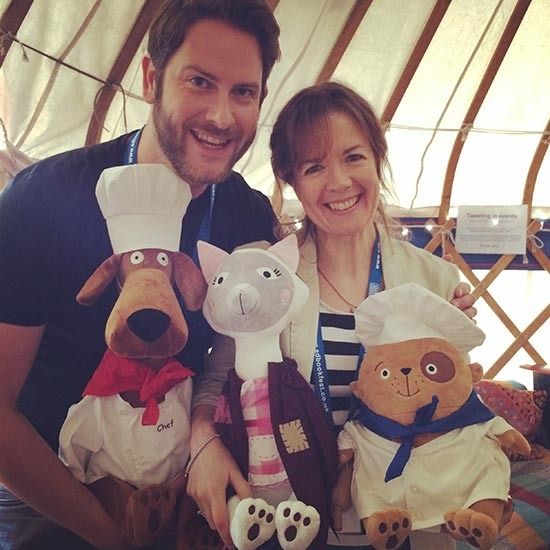 It was great to see lots of familiar faces in the audience, including a gang of us who are all represented by Jodie Hodges at United Agents (@JodieHodges31 on Twitter): Karl Newson (who's just recently signed on and check out his work; it's amazing, @Karlwheel), Elissa Elwick (@ElissaElwick), my amazing Jampires co-author David O'Connell (@davidoconnell) and me!




I really appreciate Kate and editor Tom Bonnick at Nosy Crow responding to the #PicturesMeanBusiness campaign to credit illustrators by profiling them in this way. They're going to ask lots of illustrators to speak, not just Nosy Crow illustrators, and keep an eye out on the Nosy Crow blog and Kate's Twitter (@NosyCrow for future events. I really liked the venue, too - The Book Club in Shoreditch - funny lightbulbs stuck to the ceiling like we were in some sort of wasps' nest, and a good range of drinks and cocktails. I think my only suggestion for future events would be to offer name tags at the door, and encourage people to write their Twitter names as well. Elissa, Dave and I went for pizza afterward and as we talked over who'd been there, I kept having the awful realisation that I'd met loads of people I knew fairly well from Twitter and would've loved to have talked with longer, but never managed on the night to figure out who they were in person. ARGHH.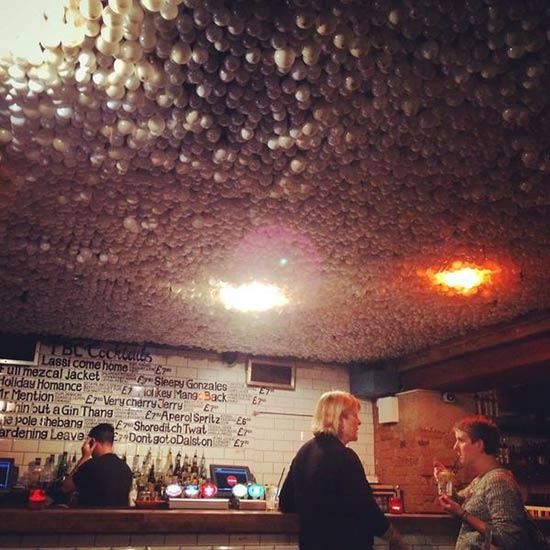 Thanks for a great evening, Kate, Tom, Steven, the bartender, and everyone who made it so much fun! I'm really looking forward to the next one. You can follow Steven on Twitter at @2dscrumptious and do be sure to check out new #PicturesMeanBusiness comments on Twitter, and feel free to leave some yourself!


Edit: Yay! Steven has tweeted me some names of female illustrator-animators. Thanks, Steven! They include: Yasmeen Ismail (@YasmeenMay), Leigh Hodgkinson, @hoonbutton (I didn't realise Leigh was an animator!), Fiona Woodcock (@FionaWoodcock) and Candy Guard (@Candy_Guard.



Fred, by Yasmeen Ismail

Oo, I'm spotting a few more: here's Helen Piercy (@HelenAnimate) and Emma Reynolds (@EmmaIllustrate). Emma refered me to Sam Jones (@iam_samjones). Also Julia Woolf (@Juliawoolf).

And you can read more about the evening over on BookMachine's blog!