On Thursday in London, my co-author Philip Reeve and I celebrated the launch of our book Pugs of the Frozen North with a Pug Walk!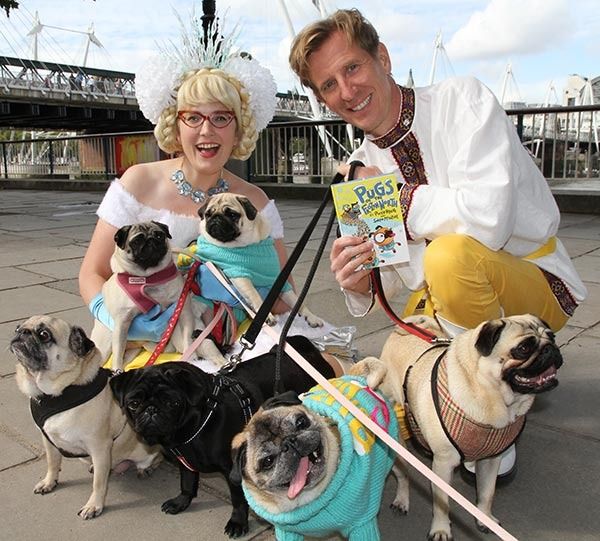 Photo by Dannie Price

Our team at Oxford University Press had been getting very excited in the run-up to the Pug Walk, and had invited The Pug Dog Club to join us. I wasn't quite sure what to think: what would happen when we got so many pugs all in one place? What if it rained? What if some of the pugs got in fights? Would pugs mind a complete stranger picking them up and putting jumpers onto them? Would the owners get annoyed at me if I made them growl? We met on the Southbank in London, wondering what would happen.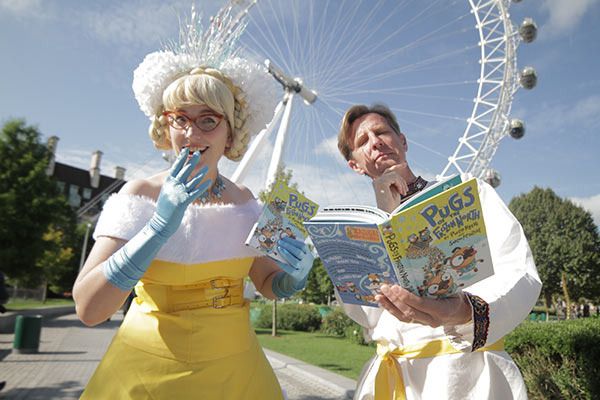 Pugteam's Liz Scott came down from Manchester with some marvellous knitted items for the pugs. Do you remember my blog post about all the amazing knitted sea monkeys at the Manchester Children's Book Festival? Well, Liz's friend Ally from Ally's Wonderland, who had created those, took on the task of making pug jumpers! Here you can see the exciting packages: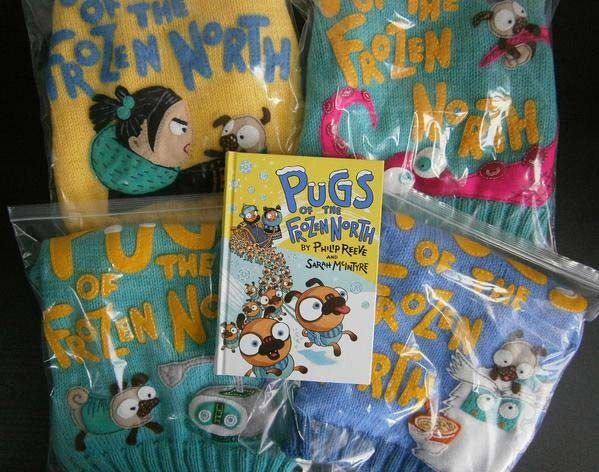 Photo by Ally's Wonderland

But would the pugs want to wear them? Here's club member Sam, and Liz, putting a jumper onto little Benny Bean.




Okay, what do you think, little pug?



Photo by Dannie Price


You know what I discovered about pugs? They don't seem to mind being dressed up...




On top of that, they don't mind posing for photos. In fact, they seem to LIKE posing for photos, and they turn their heads so we can photograph them at all their best angles.



Photo by Dannie Price

I believe they might be almost as vain as I am.



Photo by Dannie Price

And then the owners started handing us lots of their leads, and I thought, Eek! What if they don't like each other? But this was not a problem! The pugs were such placid little things, they sniffed each other and nosed about, but they seemed as happy as they could be. And gosh, were they cute.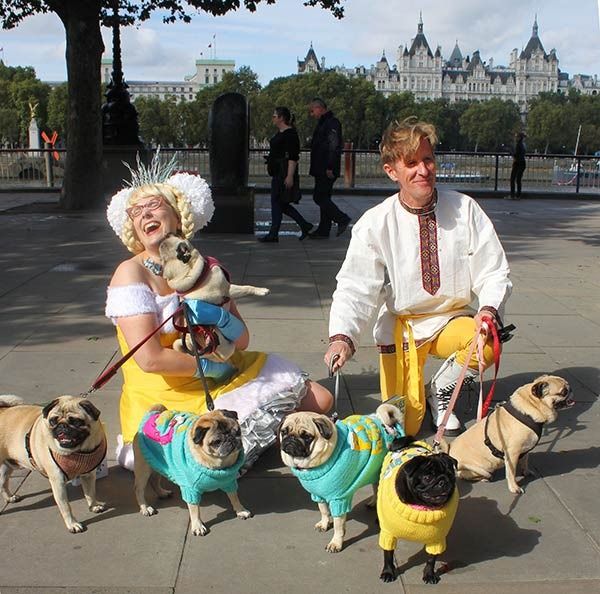 The only time they got slightly ruffled is when someone came by with a slightly wolfish sort of dog - not a pug - and the pugs made little muttering noises and moved about restlessly until he'd gone away.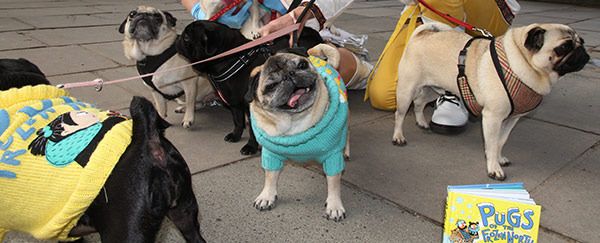 Photo by Dannie Price

We picked up quite a crowd while we were there; everyone, it seems, loves a pug, and the more pugs, the better. Here we are with the pugparazzi.




Would the pugs mind us picking them up? ...Not at all, we discovered!



Photo by Dannie Price

Oh my goodness, they are SO FUN to cuddle.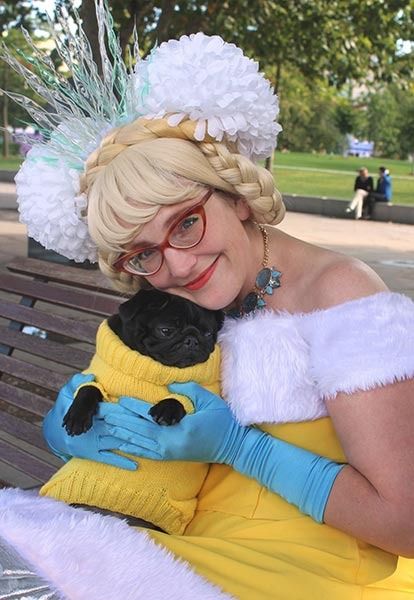 Here are two of the pugs, having a little chat.



Photo by Dannie Price

SO CUTE.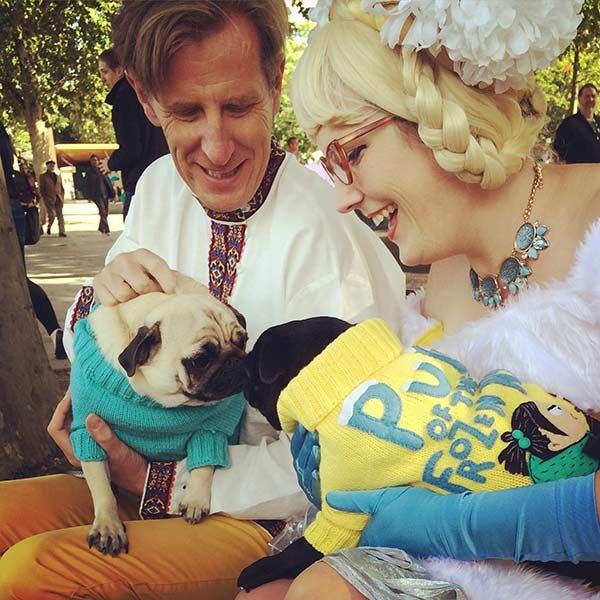 We read them a bit of Pugs of the Frozen North and they seemed to like that.




Then we took them on a little walk down the Southbank to Foyles Bookshop (making many stops along the way). Oddly, I didn't see one pug do as much as a wee, they were almost strangely tidy little dogs.



Photo by Dannie Price

And they're quite strong, there was a lot of power at the end of those leashes. Philip and I thought that perhaps Sika and Shen in our book might not have needed all 66 pugs to compete in the sled race to the North Pole; 20 or so might have done just fine. When we reached Foyles, we saw they'd created a big window display for our book!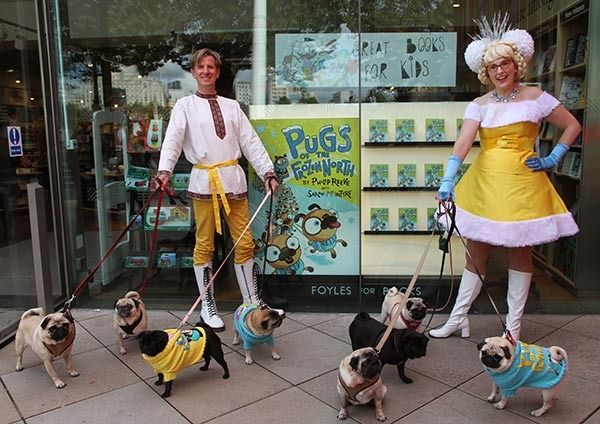 Photo by Dannie Price

We took a group photo with the pug team. I wish I could remember all the names of the pugs. There was Coco and Tuppence and Princess and Pudding and Benny Bean... a proper grumble of pugs. (That's the collective noun for a group of pugs!)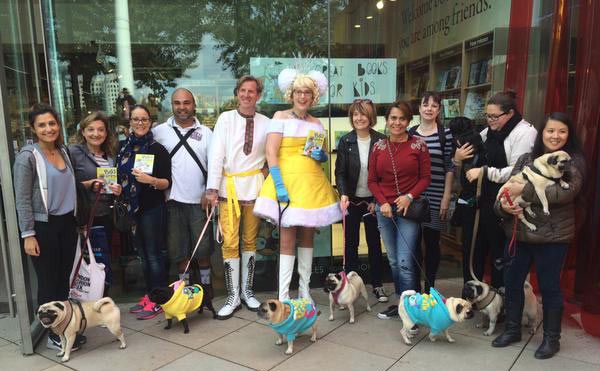 I got awfully attached to them.




Here's Coco and his lovely Colombian owner:




And this is Sam and her Benny Bean, who fell asleep in my lap while I signed everyone's books.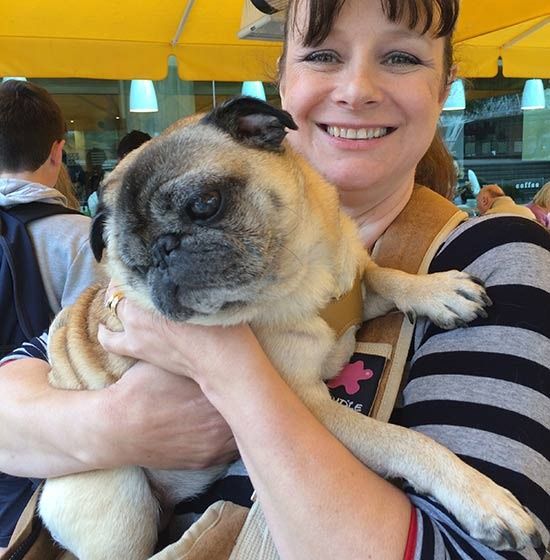 He had his chin on my wrist but he never knocked my pen once. The pug club people were very friendly and it was fun seeing them chatting and exchanging numbers. Some of them are involved in the Pug Dog Welfare and Rescue Association UK, and they'll be auctioning off some of our books, pug goodie bags and several of Ally's beautiful pug jumpers that you see here. (I'll let you know when they announce it!)




I was totally smitten. I used to think that if I was ever going to get a dog, I might get a labrador. But I think, living in the city, if I got a dog, now it would be a pug. I'm a Pug Convert.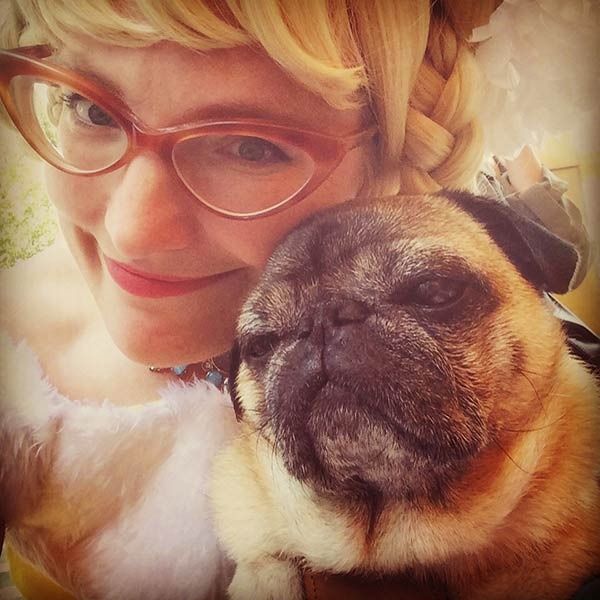 Huge thanks to Liz Scott and the Oxford University Press team, the Pug Dog Club, Ally's Wonderland, Foyles for hosting the signing, Dannie Price for taking photos (along with Keo Baxedine and Alesha Bonser, who passed my iPhone around) and Philip, of course, for writing such a brilliant book! Here's a closer look at Ally's jumpers:




You can see they're directly inspired by illustrations in the book. Here's Sika, when she first learns Shen's dogs aren't the big sled-dog huskies she was hoping for: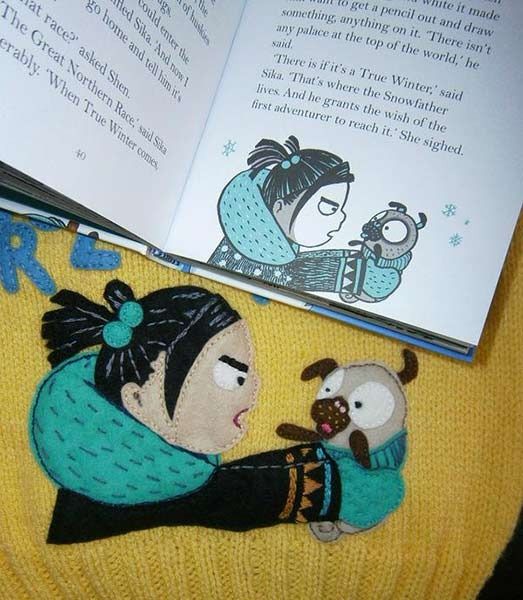 Photo by Ally's Wonderland

And here's a pug with SNOBOT, Professor Shackleton Jones's robotic companion which proves very good at digging him out of a deep snowdrift.



Photo by Ally's Wonderland

Here's the fearsome Kraken of Kraken's Deep, which the 66 pugs defend Sika and Shen against:



Photo by Ally's Wonderland

And a yeti! I won't give away the secrets of the Yeti Noodle Bar, but it's a combination of much yumminess and terrible peril.



Photo by Ally's Wonderland

Thanks so much, Ally! You can follow her on Twitter at @allyleeswonder and here's her Facebook page. And you can see a few more photos on Twitter under the #PugWalk hashtag. (Ha ha, if you WANT to see more photos! I had such a hard time whittling this blog post down to, like, 200 of them.)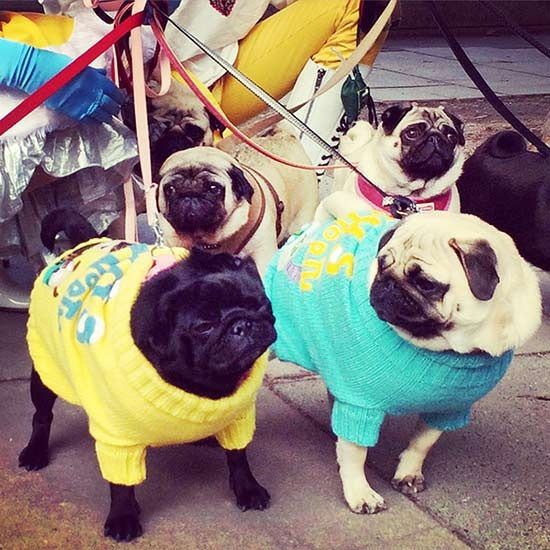 I actually felt myself going slighty teary when I had to leave the pugs to go sign more books in Foyles, I didn't want to get Benny Bean off my lap or say goodbye to everyone. So all those pug owners, please give your pugs an extra cuddle when you read this and say it's from Philip and me. Cheers!


Photo by Dannie Price
**Click here if you'd like to learn how to draw a pug or download a free pattern to knit your own pug!**