I've done lots of events in the past, but last week was the first time I've ever gone on an Official Book Tour! Here are ten things I learned, while travelling around the country telling people about Pugs of the Frozen North with my co-author, Philip Reeve.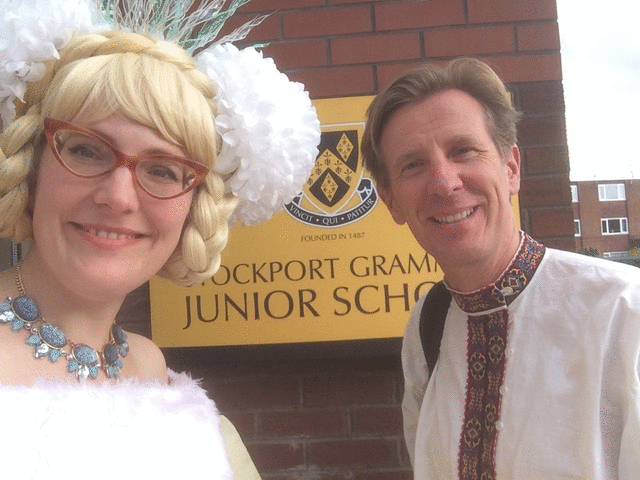 1. Touring turns me into an incurable fantasist: When Philip and I talked with kids enough about our 'Refrigerated Pug Bus', it almost feels like we were really touring in one. Our bus had a huge yellow ribbon painted down the side with 66 pugs tumbling along it, and a giant rotating pug sculpture on top of the bus. Sadly we didn't manage to take any photos of it.




2. People who love pugs REALLY LOVE PUGS: It's not like other animals, the Pug Love is completely obsessive and since pugs are great little animals, the love is well deserved.



Fabulous pug owner at Simply Books, Bramhall (near Manchester), super pug fan at Cheltenham Lit Fest

3. Anyone can draw a pug: Some of the best pugs were drawn by people who said they couldn't draw, and some of the really wonky ones were the best and most characterful. (If you want to learn how to draw - or knit! - a pug, click over to my website.)






4. Most of the real work happened before we even arrived at the school: The most eager, attentive, involved children were (rather unsurprisingly) the ones who had already read the book. But even kids who just knew who we were and had been given a bit of buildup by their teachers before the event got way more out of the visit than the kids who had no idea who Philip and I were. We had wonderful audiences except at one school where even a teacher at the end of the event said, 'So... are you the ones who wrote and illustrated this book?' (The book itself and the poster with our book covers, and everything we'd been saying for the past hour hadn't been a clue.) And the same went with book sales: way more kids were able to get excited and take home a book to read when they had pre-ordered books, assisted by our fab booksellers who came along with us. (Kids almost never remember to bring book money on the day and then feel gutted they can't have a book.) There's something very exciting about meeting authors and then immediately being able to go away and read their book, a dedicated and signed copy that they might treasure for a lifetime.




5. I can't get any other work done on tour: I brought along all these other projects - character development for a new book, a magazine article that needs writing, I was going to blog each evening - but with early morning starts, and rolling back from dinner at 11pm or later, all I could do was wash my tights and flop onto the bed, hopefully not forgetting to set my alarm clock.



(The bits where we get to hang out with pugs is more energising than tiring, actually.)

6. Being tired makes me really stupid, and I love my publicists: I had a Frankfurt Book Fair deadline right before the tour and was staying up until 3am to finish artwork. So by the time I went on tour, I was already tired and the first thing I did was have a massive panic that I'd forgotten to pack my yellow costume skirt. After getting my kind next-door neighbour to agree to go upstairs and send it to me courier, I realised I'd rolled it into a tiny ball and stored it in my handbag, and just forgotten to check there. I felt like such an idiot diva. Having a publicist there meant I could focus all my energy and brainpower on the events and the kids, and Philip and I were able to do more events than I would have been able to do in a day I'd organised all by myself. I've been so busy with book deadlines that I haven't been able to take on hardly any school events this year, but with the publicists stacking them all up together for one tour, I was able to hit loads of schools at one go. By the end of each day I was practically jibbering and the pubicists were very patient.



A constant stream of pugs requires the occasional chihuahua break. Publicist Alesha Bonser was very accommodating.

7. I should have made sure my costume had room for expansion: I could have ordered salads every night at the restaurants. But at the end of an exhausting day of school events and travel, I always thought, I deserve this burger/pizza/etc.) Also any cake offered mid-day, like anyone's really going to turn down cake or a biscuit after running around in front of 300 kids. Book tours don't come with a personal trainer and I was bursting out of my dress. Philip and I had a No Pudding Pact, which turned into a No Chip Pact and neither resolution lasted very long.



Home-baked pug biscuits at Simply Books bookshop; publicist Liz Scott with knitted pug 'the pug made me order it'; Bath dinner with Andy Mulligan, Simon Mason, JAKe, Robin Stephens, festival organiser John McLay, Harriet Venn, publicist Alesha Bonser, Philip; and
girfan (@MrsHirez) makes the world's best brownies, as seen on the train from Bath to Cheltenham

8. Book tours are awesome: I never could have organised that many visits on my own or met that many people, and Philip and I got better and better at our stage show as we practiced it several times a day. We live far apart, so often the first time we do a show at a big festival, we haven't rehearsed it even once. But after awhile, we start figuring out which activities are a bit cringe-y and which lines get a good laugh. And we get little ukulele blisters on our fingers, which makes us feel like proper musicians, even if we're not.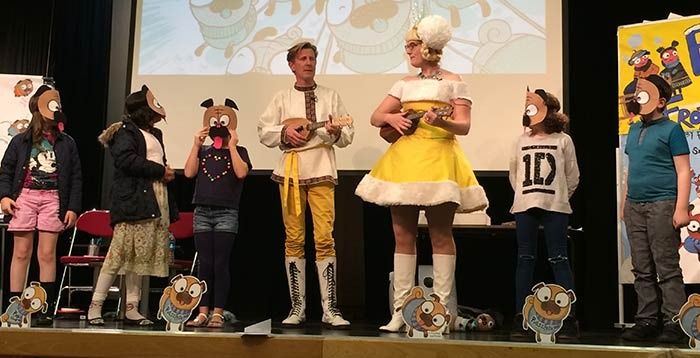 9. A book tour ends with a huge list of people to thank: Big thanks to Oxford University Press for sending us out! To Liz Scott for all the overall organising and meeting us for the Manchester leg of the tour, Sarah Howells and Karin Andre for the midlands, Hattie Bayly for Essex and Cheltenham, and Alesha Bonser for Essex and Bath, Phil Perry working in the background, and my husband Stuart, for putting up with my packing frenzy and having a lovely hot dinner when I returned.





Huge thanks to Sue & Andrew and their team at Simply Books (including their Knit & Natter team who knitted all the pugs!), Sheryl at Chorleywood Bookshop, Ros with Federation of Children's Book Groups, and Caroline at Just Imagine, and Peters Books Showroom, Earls High School, Stockport Grammar School, Greenbank Prep School, Olive Hill Primary School, Newfield Park Primary School, Butler's Court School, Pinkwell Primary School, Buckhurst Hill Primary School, Alderton Junior School, John McLay and Gill McLay at Bath Kids Lit Fest and Jane Churchill at Cheltenham Lit Fest for hosting us! You can see a few more photos on Twitter at #PugsRoadshow and Philip has blogged about the tour here.




10. Despite all this collaboration and working together malarky, you can only fit one author in a chair at a time. (Yes, I'm looking at YOU, Philip Reeve.)