Literary agents! Illustration agents! We need your help!
Sales of illustrated chapter books are booming - David Walliams's and Tony Ross's illustrated novel is at the top of the overall UK sales chart today - but many illustrators are getting cut out of almost all career-advancing publicity.





One of the main reasons is that illustrators (particularly of illustrated fiction, or so-called 'chapter books' or 'middle grade books') aren't getting their names on the front covers of their books. While they're often credited on the back cover or inside the book, it's the front cover that does the publicity rounds, and what readers and reviewers use to judge who created it. If the illustrator's name isn't on the front cover, they're far less likely to get proper recognition in metadata, so their books won't be searchable online. They may get left out of award lists. Their names may not be included at all in Advance Information sheets sent to reviewers (as noted by Fiona Noble at The Bookseller*).

Here's where we need your help! We need you agents to unite in your efforts to make sure that in contracts, illustrators get a guarantee that their names will be on the front covers of the books they illustrate. My guideline has been any book that has at least one illustration per chapter. In the #PicturesMeanBusiness campaign, we're not asking for a lot - not even total equality with the writer in front-cover billing - just that there BE a billing. If the publisher wants to put the illustrator's name in smaller font, that's okay, as long as it's visible on the front cover.




We need your help in this because illustrators are afraid; we worry that if we make too much of a fuss, we'll be branded as 'trouble' and the publishers will commission from work from illustrators who don't stand up for themselves. I'm only able to argue the case because I have such solid support from my own agent Jodie Hodges, publishers, series co-author Philip Reeve, and his agent Philippa Milnes-Smith.




Publishers may offer to pay illustrators an extra fee, so they don't have to put their names on the front covers, but this isn't good enough. Why are publishers ashamed to admit their books are illustrated? Illustration is a key selling point, and not showing the book is illustrated inside is missing a key marketing angle. Pretending that the writer did the pictures (in the name of single-name branding) is false advertising. Illustrators work freelance just like writers - we don't get salaries or benefits - and illustrators need to build careers based on our names.




When publishers say there's no room on the cover for the illustrator's name, this is rubbish. Foreign editions often rejig the cover so this isn't a problem, such as my Dutch publisher, who have completely taken the #PicturesMeanBusiness campaign on board:




Without a front-cover credit, illustrators are always going to be left out. We need you to urge publishers to be leaders in doing the right thing, not the last publishers to follow, kicking and screaming. Illustrators are watching how publishers respond, and the publishers who continue to put up the most resistance may find they have trouble commissioning work from the best illustrators. We need you as agents to keep an eye on publisher practice, too.





If your illustrator is working with a celebrity writer, don't let the publisher tell you that it's common practice for all celebs to have single billing. This certainly is not the case with picture books, as seen by examples here. (All these covers credit their illustrators.) Celebs are usually much more quick to recognise artistic skill than some publishers, I find, and are pleased (not ashamed) to be paired up with an artist working in a different field to their own.




If you can tweet your support with the #PicturesMeanBusiness hash tag, we can get a good idea of which agents are supportive and WILL stand up for their illustrators. Even if you don't tweet, we ask that you'll join us in making sure your clients don't get any nasty surprises when their book comes out, uncredited. We need you agents to lead the way, even for illustrators who don't have agents. We need to make the deliberate omission of illustrators something that everyone finds distasteful.




The great thing about this campaign is that, in public, almost everyone agrees with it and supports us fully. It's kind of a no-brainer. But we still need your brains and your clout. Recent sales of physical books show that people are very interested in how books look, their craftsmanship, their tactile qualities. Illustrated chapter books are filling a big niche in the children's book market, in that under-filled gap between picture books and text-only books; it's just the gap where we're losing kids who will turn into readers for life, and pictures really help keep those kids on board. Interest in illustrated books for adults and comics/graphic novels is on the rise. Britain isn't a major manufacturing nation anymore, but illustration is one thing we can be proud to say that we create and export, and we do it very well.

Find out more about the campaign on the website www.picturesmeanbusiness.com and in the Twitter conversation at #PicturesMeanBusiness.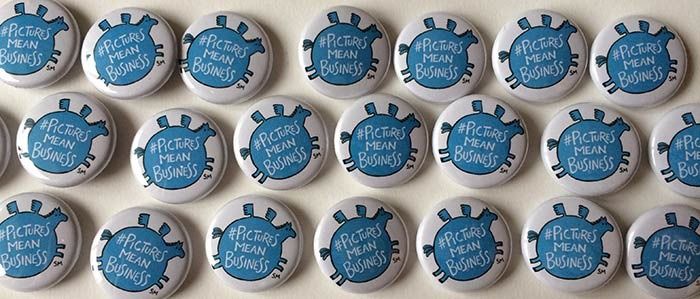 *