I love how the town of Kendal in the Lakes District puts on a good display when it's time for its Lakes International Comic Art Festival!




One of the highlights for me of comic festivals is when I see young comics creators publishing their own work and experimenting with fun ways to market it. Check out this great stand by Zoom Rockman! (He's been publishing since he was eight years old.)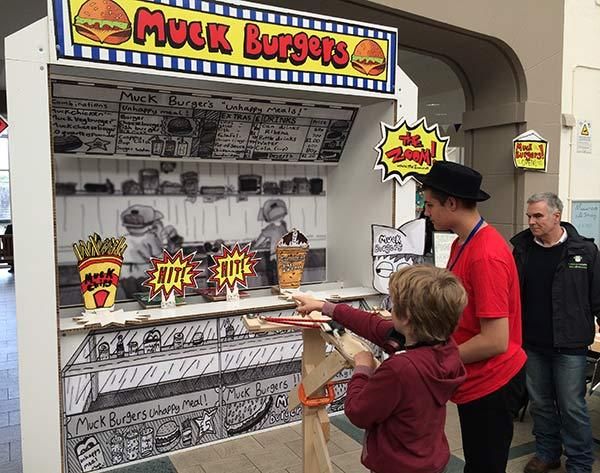 Here's his Skanky Pigeon character and, hey, a few friends and I have little cameos in The Zoom comic!





When I first saw Zoom at LICAF, he was drawing grumpy faces onto the spuds he put into his Unhappy Meals (shown here). He's @The_ZoomComic on Twitter.




And hey, two more familiar faces!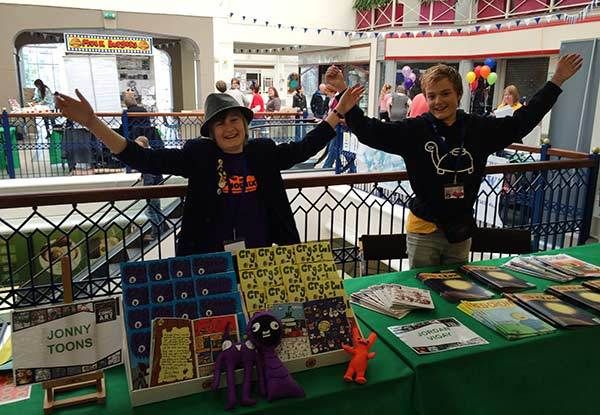 Here's Jordan Vigay, whom I first met at Animated Exeter festival, and then again at The Phoenix Comic festival in Oxford. He publishes The Red Crow comic. (He's just joined Twitter as @JordanVigay.)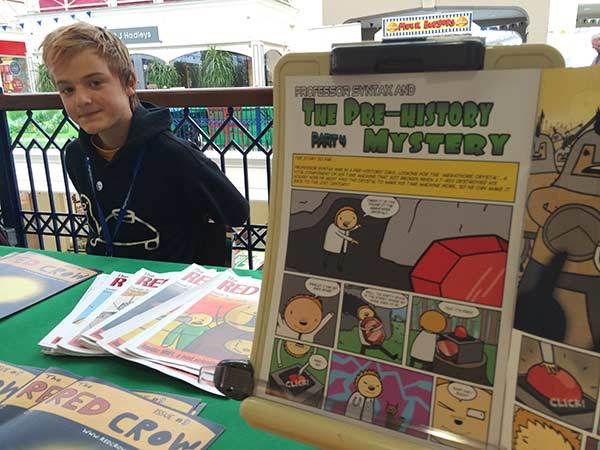 And here's Jonny Toons, whom I first met at Thought Bubble festival in Leeds. His comics magazine's called Crystal Orb and you can follow him on Twitter at @JonnyToons.




And this week The Bookseller reported that both Jordan and Jonny will be contributing to The Phoenix Comic, which is very exciting!




The other awesome thing about LICAF was being there when Philip Reeve and concept artist Ian McQue met for the very first time! Ian's art is hugely inspired by Philip's Mortal Engines quartet, and I think Ian's artwork has helped shape how a lot of fans see that world now. (Here's an early image of the traction city of London.) I had dinner with them and it was fun seeing them be such mutual fanboys. Philip's Railhead publisher, Oxford Univerity Press, commissioned Ian to do several book-related images, and here's his digital painting of a Hive Monk:




I wasn't able to go to their Railhead event because I had an event at the same time (gah!!) but I hear it was packed-out and amazing, with Ian doing live drawing while Philip did readings from the book.



Photo by Sofi Croft on Twitter

Philp and I felt honoured to be asked to features our new book together, Pugs of the Frozen North, for the festival finale show. Here on the Reeve & McIntyre Sofa of Mystery are some top snow scientists we discovered in the audience.



Photo by Jody Lawson on Twitter

It was fun meeting people after the show; check out this beautiful crocheted pug! (Here's a free pattern if you want to try knitting a pug!)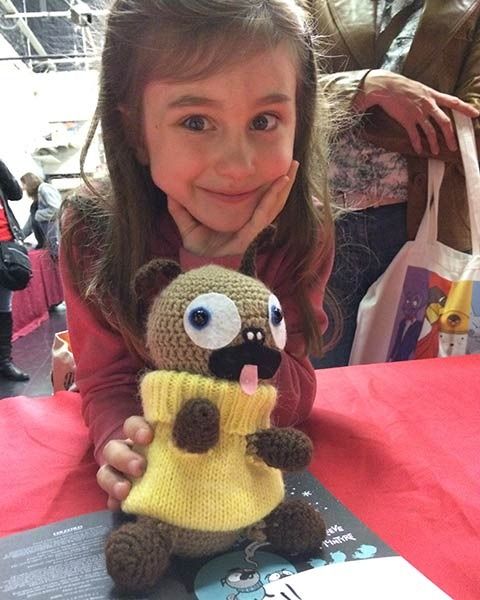 And we even had our portraits drawn by a couple member of the audience! (Thanks to Forbidden Planet for hosting that signing.)




Other exciting things: seeing Skipton-based comics collective Team Ketchup and their second comic anthology.



I think Jody Lawson took this photo, too!

Hey, spot the yeti from when I illustrated the Summer Reading Challenge! So fab!




I didn't have a lot of time to run around buying comics, but I really, REALLY wanted to get copies of the 24-Hour Comic Marathon publications. I took part in the 24-Hour Comic Marathon last year (you can read my comic here) and it was a gruelling thing to do - make a 24-page comic book in 24 hours - but a lot of fun, too, and sort of therapeutic to pump out a book that fast, and then have it printed and ready to sell the very next day. (Publishing can feel so SLOW sometimes!) And here are all six comics from this year, completed the day before I bought them!




Emma Vieceli was one of the artists who took part (and she's also a LICAF Patron):




Here's John Allison's comic: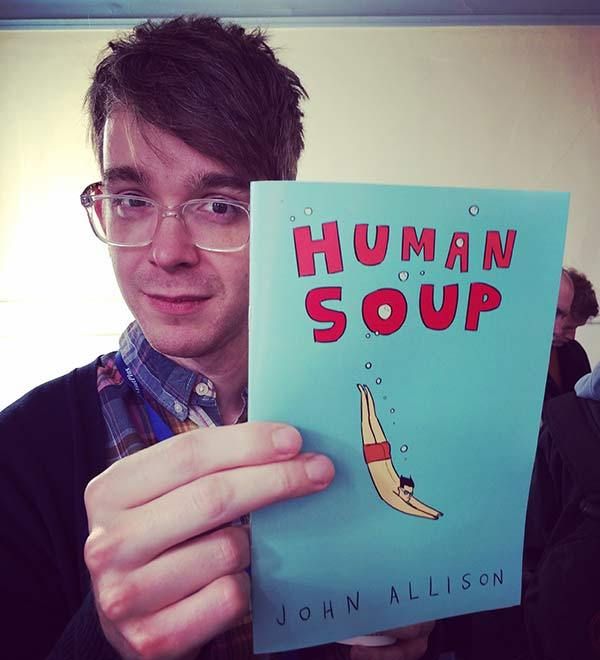 And Jade Sarson's!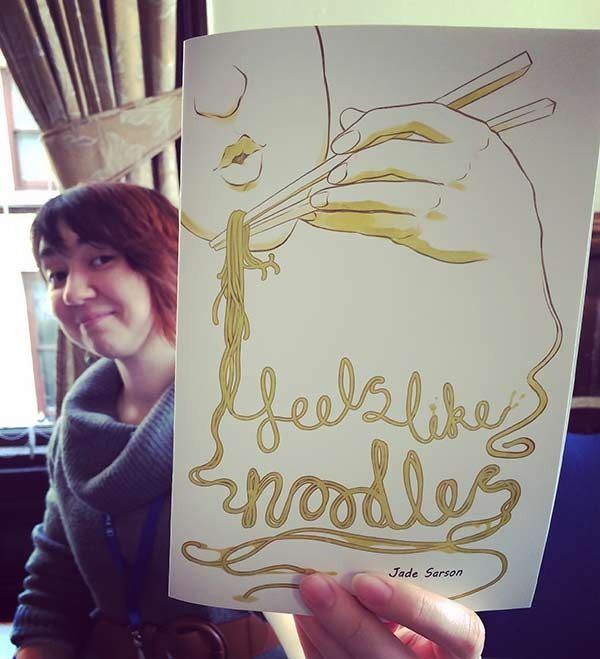 Here you can get a peek of some of the interiors...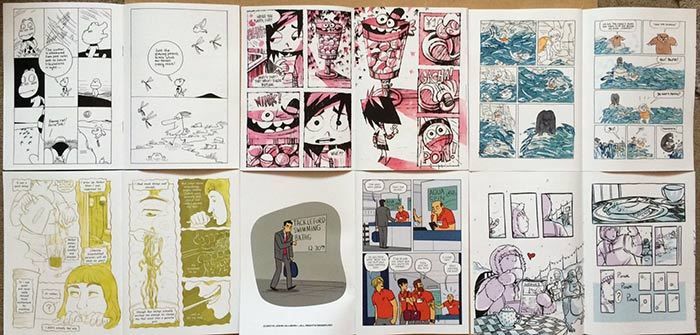 Check out this page of Jonathan Edwards (Jontofski)'s 24-Hour Comic, and its pencil rough! He painted the pink tones first, then drew the black ink on top. Such beautiful compositions. Hopefully all six comics will be collected into a book, like the 24 by 7 book that Fanfare published of our comics last year.




Dan Berry and Richard Short also made 24-Hour Comics. But not all the comics that weekend were drawn on paper; Joe Decie (who took part in the 24-Hour Comic Marathon with me last year) painted a comic with acrylic pant on a wall in the walkway between two pubs.




You can see more photos here on Joe's Tumblr page.




The other terrific thing I saw at the festival was The Three Rooms in Valerie's Head, a performance by writer David Gaffney, comics creator Dan Berry and musician Sara Lowes. I had no idea what to expect - Dan gave me the tickets on the street - and it was FASCINATING. Dan, David and Sara were like a band, immersing us, the theatre audience, into their weird and wonderful story. We could see them looking to each other for the timing, and it was fun watching Dan's face as he could see and hear people's immediate response to each panel of his comic on the screen while David Gaffney gave a dramatic reading of the text. There weren't any speech bubbles in the artwork, David supplied all the words, which made it almost like watching a rough animated film. The story was, in turns, creepy, mysterious and very funny.




Like last year, Dan had been in charge of this year's 24-Hour Comic Marathon and taken part himself again. He also teaches, and hosts the incredible Make It Then Tell Everybody podcasts, and I don't know where he found the time to make SO MANY images for this peformance, but it was wonderful. I really hope they take it on tour, to places such as the Edinburgh Book Festival; people will love this show.




Oh, and another highlight was meeting Nev the Pug, together with his devotee Laura Sneddon.




There wasn't a lot of dressing up at this particular festival, but I did spot a few ace costumes, including this Batgirl in my signing queue in the Page 45 room. (Spot my Jampires book with David O'Connell - which started with a Comic Jam! - and my picture book There's a Shark in the Bath.)




Page 45 is a terrific Nottingham-based bookshop, hosted by the hugely knowledgeable Stephen Holland and Jonathan Rigby. And Stephen was having a big birthday! Philip and I drew him a card with lots of cuddles from pugs and Sea Monkeys. (You can read Stephen's highly illustrated review of Pugs of the Frozen North on the shop website. They ship internationally!)




But I wasn't just doing Pugs events, I also hosted a Dinosaur Police event, along with a handy local police officer.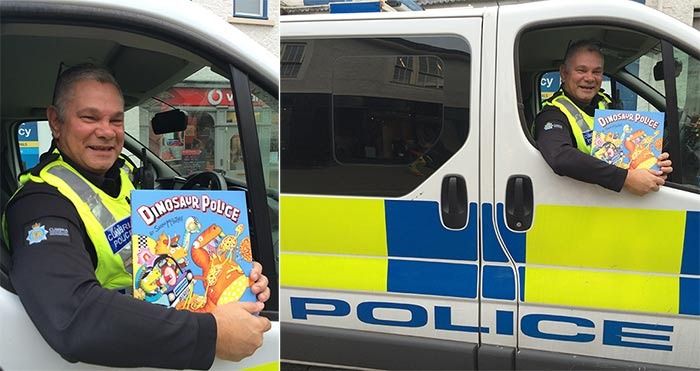 Check out the T-Rex drawings kids made!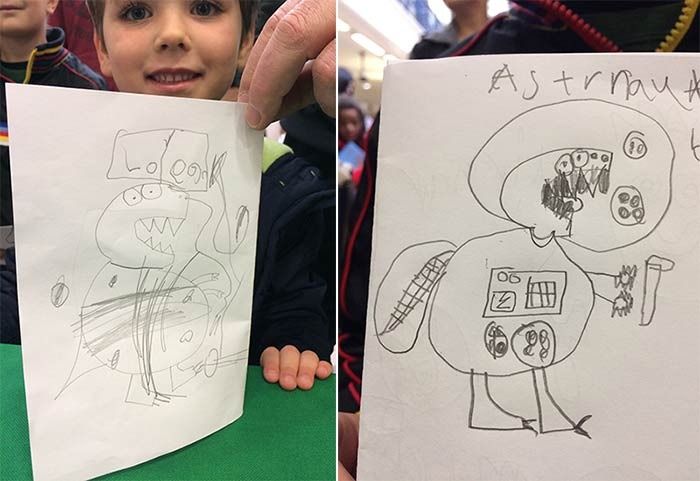 I wasn't sure what age the audience was going to be, but we had five-year-olds, teenagers, adults, and it was good fun.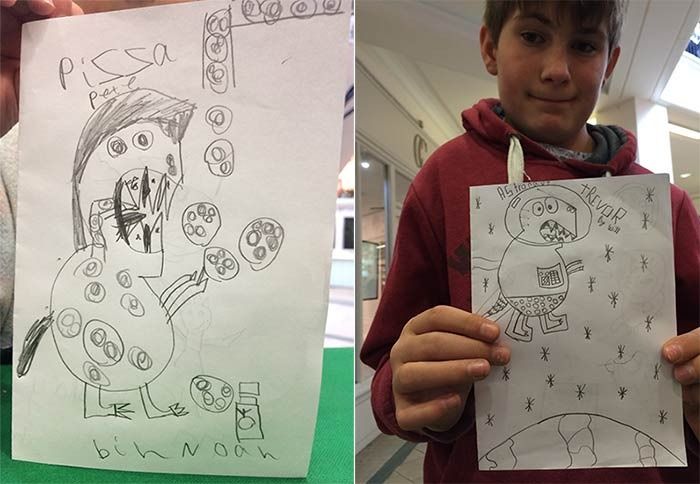 Oo, there's one by a mum, on the right. I love it when the adults get involved and draw, too.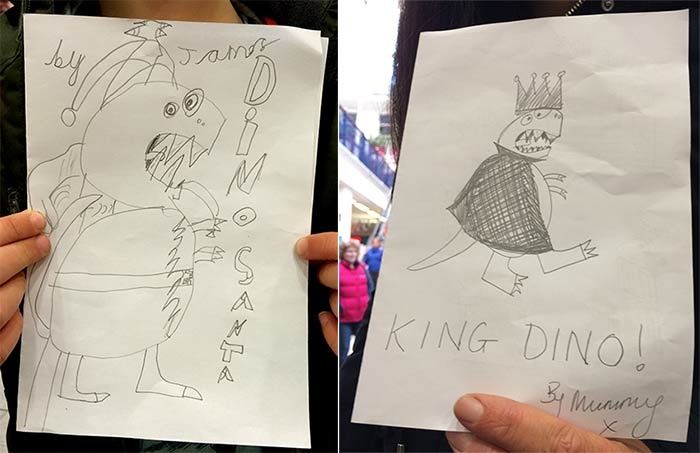 I had everyone create a profession for their dinosaur:




And this guy started turning his Football Dinosaur into a comic. I hope he kept going with it!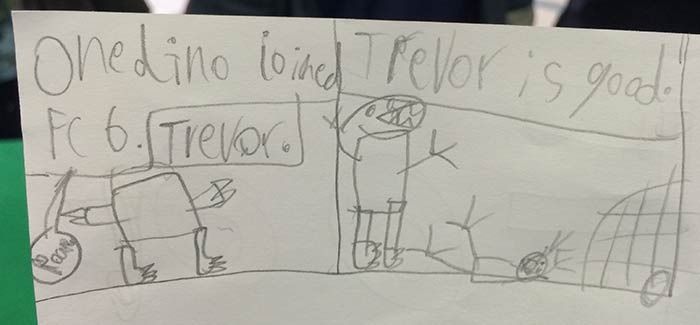 Philip Reeve and I also led a Comics Jam session in Kendal Libary. (Here's a selfie with the people who took part in the background.)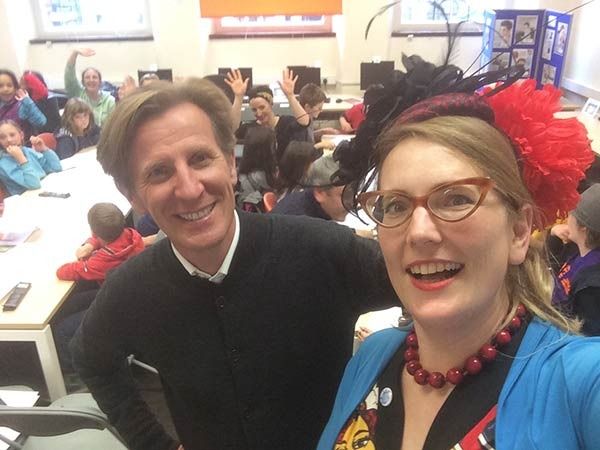 The great thing about a Comics Jam is that everyone comes away with a comic, and they all take exactly the same amount of time to create!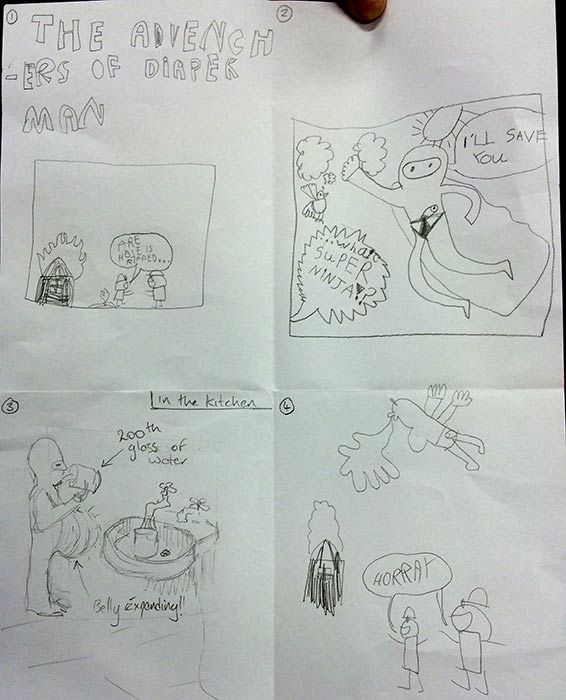 Here are a couple of the comics people made.




Hey look, it's Dr Mel Gibson, a genuine comics doctor! And she's brought her suitcase of recommended comics for her own workshop.





I could tell a lot of these kids in our sessions had comic-creator parents; the level of drawing was very high!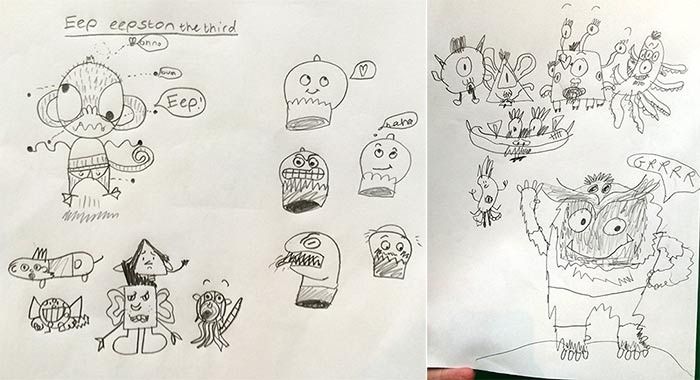 And it was great to catch up a bit with people I hadn't seen for ages, including the small-but-very-remarkable Felt Mistress, Louise Evans.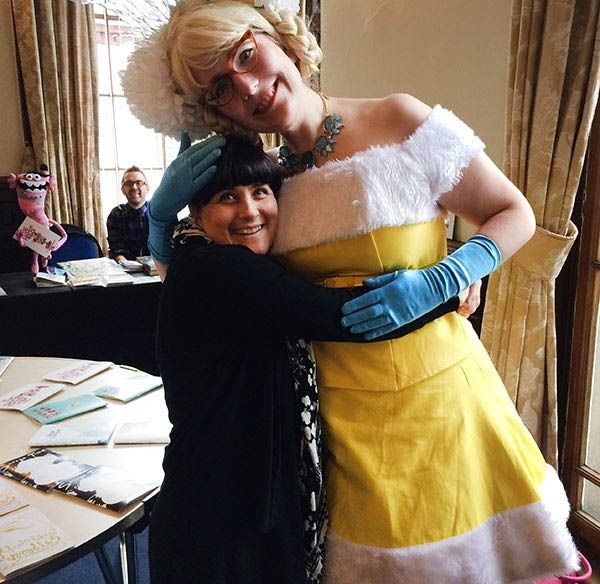 Felt Mistress and Jontofski are such a power couple: Jonathan draws creatures, Felt Mistress sews them, and we all get to enjoy them.




It's Supercrash author Darryl Cunningham!




And Canadian artist Kate Beaton! I love her history comics SO much and she has two new books out: a picture book called The Princess and the Pony and a collection of comics called Step Aside Pops!.




It's Asia Alfasi! I first met her at Hi-Ex festival in Inverness, but I hadn't seen her in years, and I wish I'd had more time to catch up with her. (Can someone remind me of the name of her tablemate? I used to know and I've blanked!)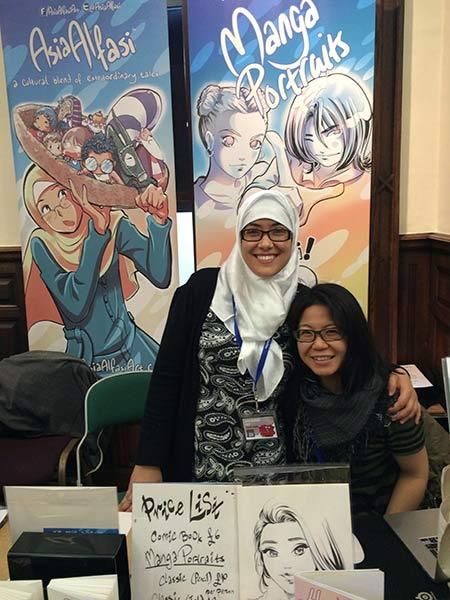 Great to see Sally Kindberg and Steven Appleby: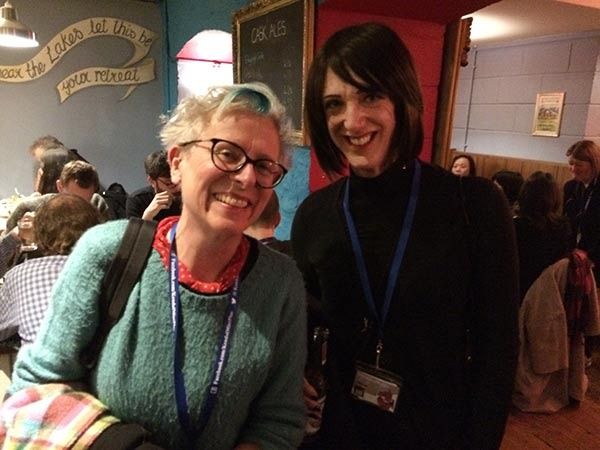 In the pub, it's French creator Boulet, Nora Goldberg, Joe Decie, Warwick Johnson Cadwell and John Allison:




My former studio mate Ellen Lindner, over from New York City with her husband Stephen Betts: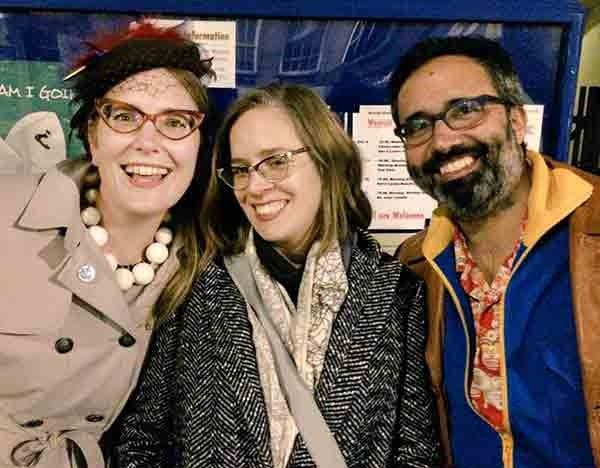 Andrew Ruddick (aka Pud) and Emma Vieceli (who often has a hard time getting all her books at comics festivals, and Page 45 had ALL THE BOOKS. Wahey!)




Ed Hillyer (aka ILYA) and Jontofski:




Stephen Holland and Jonathan Rigby: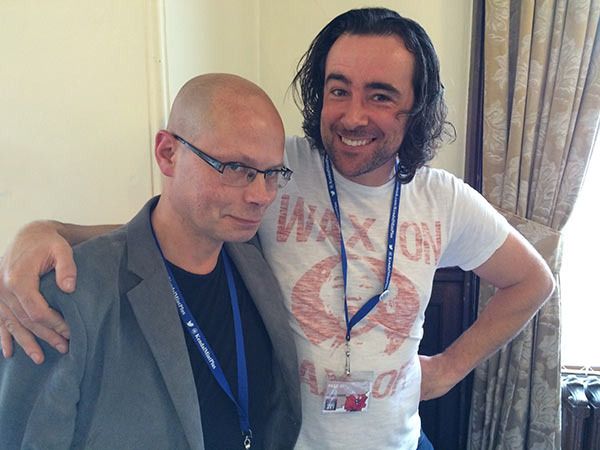 And, of course, a HUGE THANKS to the red-shirted team who ran the festival so beautifully! Julie Tait, Carole Tait, Angela Diggle, Phil Welch, Katie White and everyone who helped out! And my wonderful hosts at Ash Meadows Guest House, Philippa and Peter!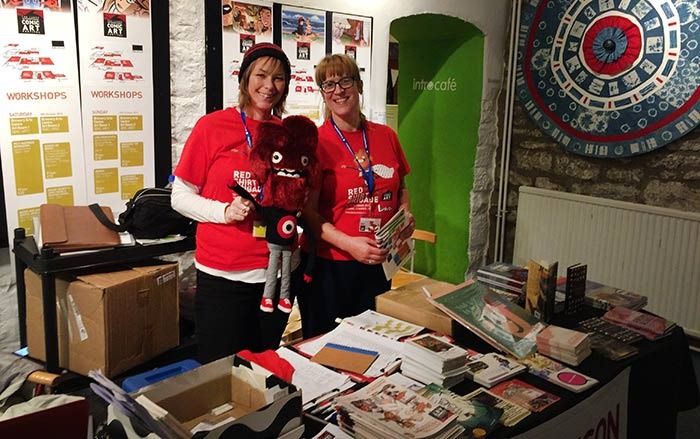 You guys were amazing. Follow LICAF on Twitter at @comicartfest!