Two more days of Norway school visits! I wasn't entirely planning to make this visit a comics-themed visit, but comics games work so well that I've fallen into it anyway.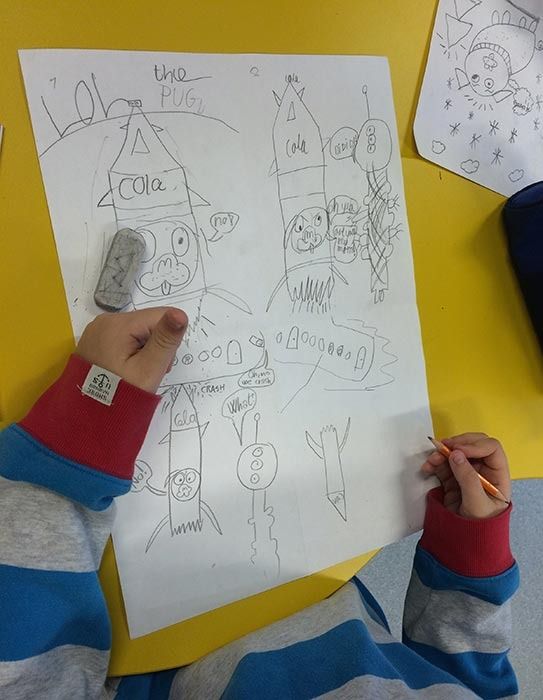 I'm back at my loft apartment above the art gallery, blogging on their little wooden table in front of the window overlooking the orange roofs of Skudeneshavn, with Radio Norge playing... uh... Phil Collins... in the background. This evening as I was coming home from dinner, a young couple (Peter and Lisa) spotted me and said they recognised me from Skudeneshavn's top 'feel-good book', by Svein Arthur Kallevik.




Oddly enough, Svein Arthur spotted me on London Southbank when Philip Reeve and I were on our London Pugwalk, and recognised me from the encounter at Johannes's waffle cafe, even under the wig and icicle tiara! I didn't realise I was in his book, which was a nice surprise. :)




(Here's my drawing of Johannes from February last year.)




On this visit, I'm staying in the apartment connected with Studio 21, a new gallery run by Eli Aarskog Monsen and Ingvar Torbjørn Øritsland. For the SILK Festival this week, they're featuring the lovely graphic work of Stavanger-based artist Anette Moi. The gallery's shut on Mondays, but they opened it up after my first day of school visits to show me the exhibitions. The prints are all very reasonably priced and I hope they make lots of sales. (You can see details about Studio 21 on Facebook.)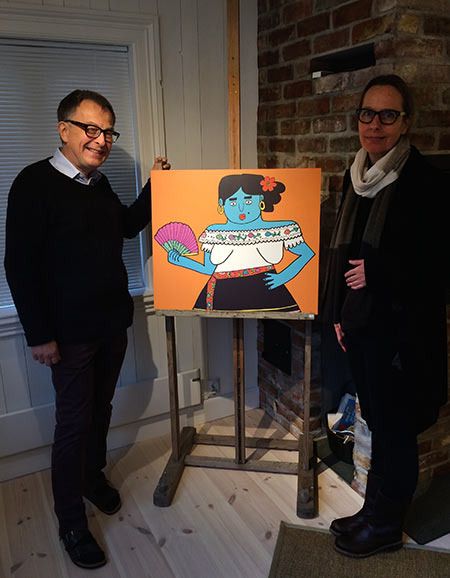 Check out Anette Moi's picture book, I Love Stavanger. Such pretty colours and wonky lines!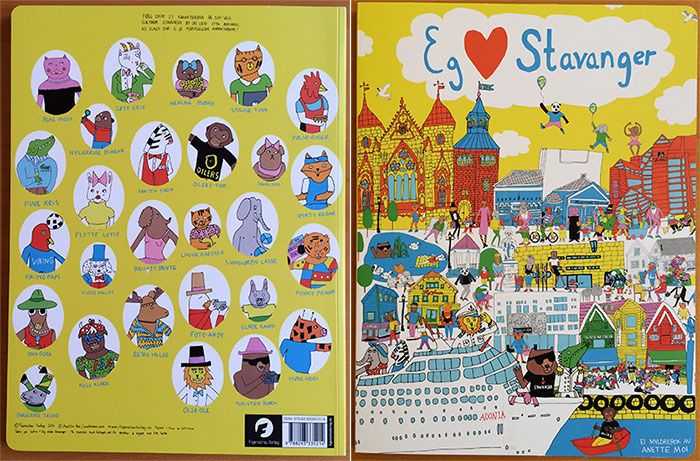 And these pictures made me smile, especially the polar bear.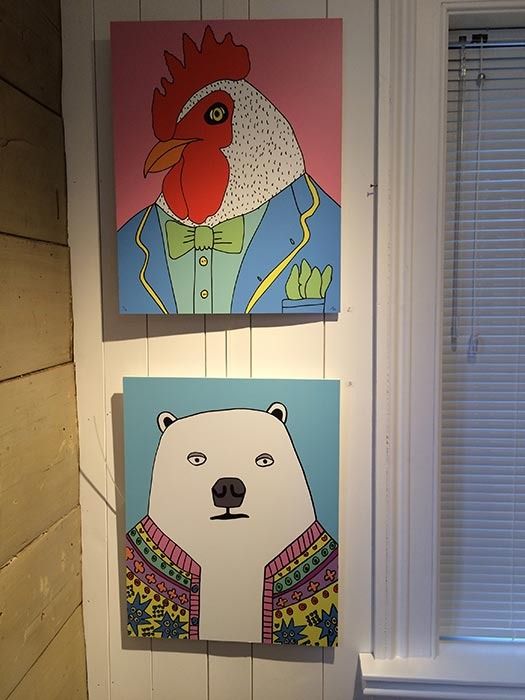 Some drawings of Stavanger buildings, which made me want to go out and draw a bunch of Skudeneshavn buildings... (I hope I have some time to do it on this trip!)




Love her sense of design so much.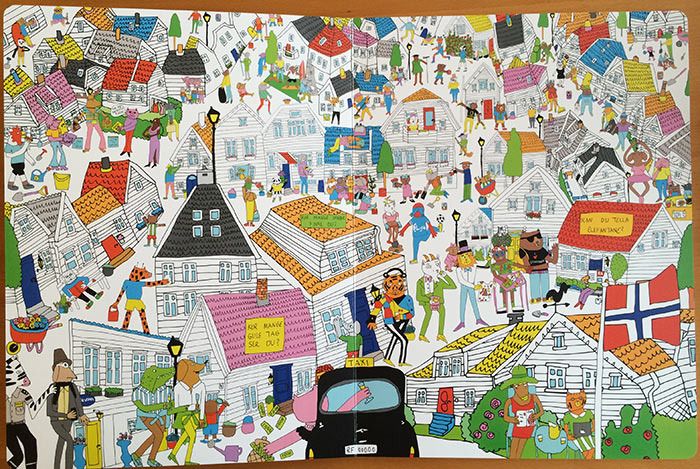 Right, back to school visits! The very first school I visited was Torvasted Primary School, and it's so brand-new that the building's only been open for one month!




Norwegian kids tend to be very cheeky, but this group was cheeky in a really nice way, and I enjoyed the visit very much. I'd only ever done Pugs of the Frozen North events as a double act with writer Philip Reeve, so I was wondering how it would work, but it seemed to go well.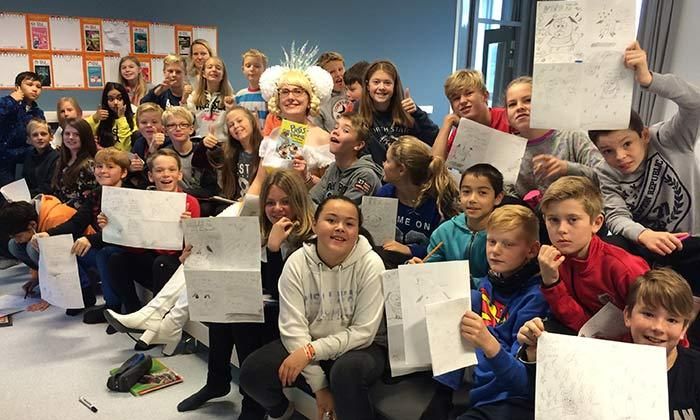 We used pugs as characters and set off on Comic Jams featuring our pugs. (They tell me that 'pugs' is 'mops' in Norwegian.)




The kids drew quite confidently, it was nice to see. (In our Comic Jam, each of the four panels is drawn by a different person. You can find out more about Comic Jams over on the Jampires website.)




This comic made me laugh. I told them I might use the 'It is hurting' panel for my new Facebook profile picture, ha ha.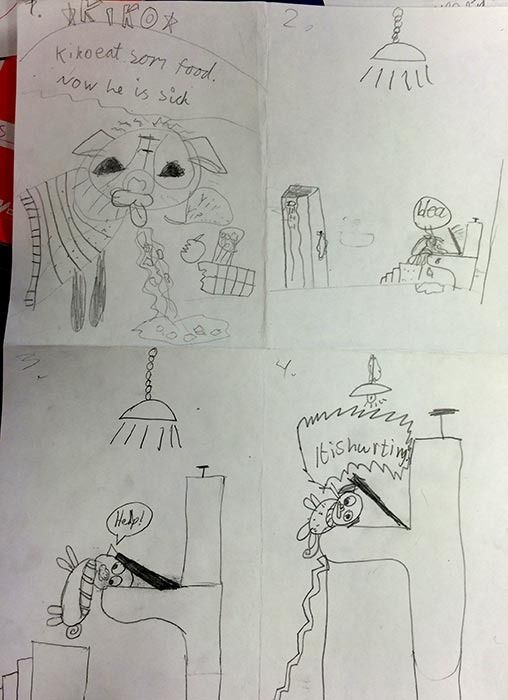 Teacher Evy Vikingstad gave me a tour of the library and I went straight for the stacks of Norwegian picture books, to see if I could find out about some Norwegian illustrators.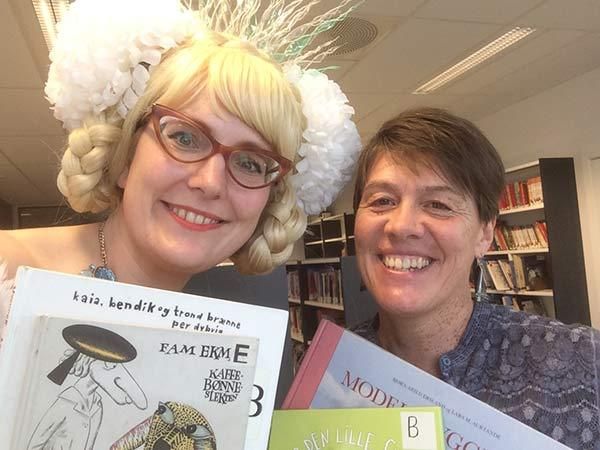 Some of the pictures in this book by Per Dybvig made me smile: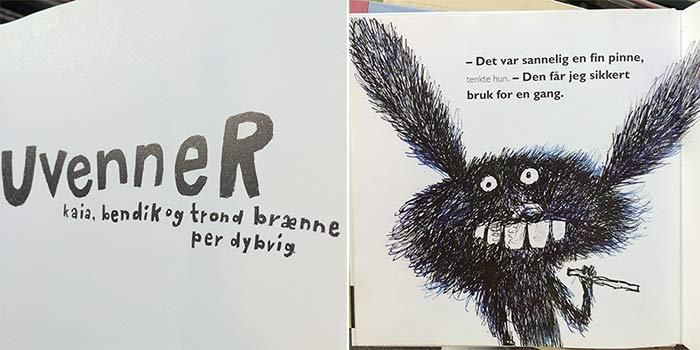 And then I got to have lunch with Headmistress Liv Hammervold, Norwegian rapper Lars A. Toennessen and tattoo artist Anders Meland. Lars and Anders are travelling around the country for ten weeks teaching all-day juggling workshops, which culminate with a performance of the children's new skills at the end of the day. They've been doing it for years and kids look forward to being in Year 7 so they can take part.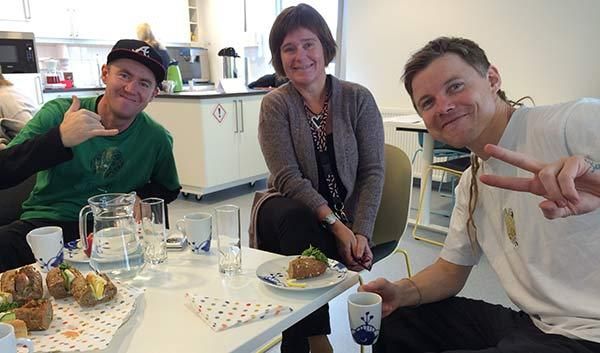 A little peek at the pretty, very Norwegian school lunch:




In the afternoon, I visited Avaldsnes School, which is very near the Viking Museum I toured on my first visit to Norway. There's an island nearby where more than 10,000 people gather every year to camp, in the old style, dressed as Vikings. So here are a few of our Vikings, with their Comic Jams: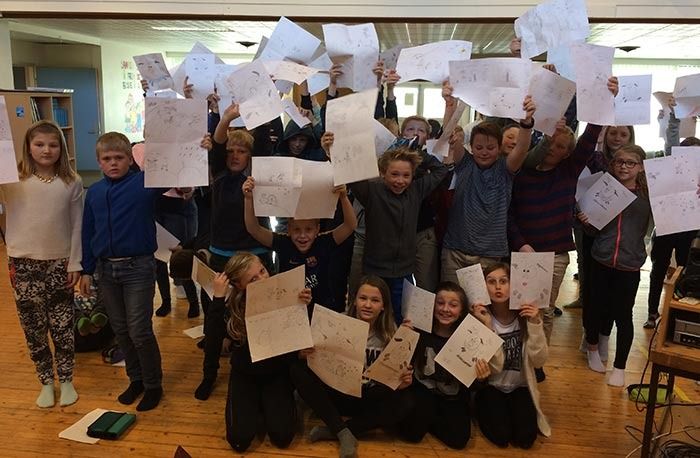 And my nice teacher hosts, with a glimpse of the library on the left.




This morning, I started my second day of visits at Sevland School. I like this wooden tower stuck in the middle:




And here's my group with their Comic Jams! A lot of them sent me messages on Instagram, which made me laugh because I usually work with younger children who aren't on social media, so I'm not used to getting messages from 11-12 year-olds, but it was very sweet of them.




Here's part of the giant Great Northern Race board game they helped me make. They suggested a Viking as one of the perils, and we were going to give him a sword, but then decided an attack chicken would be funnier.




I love seeing what ideas the kids have for their pug stories, especially when they draw them very boldly, like this one.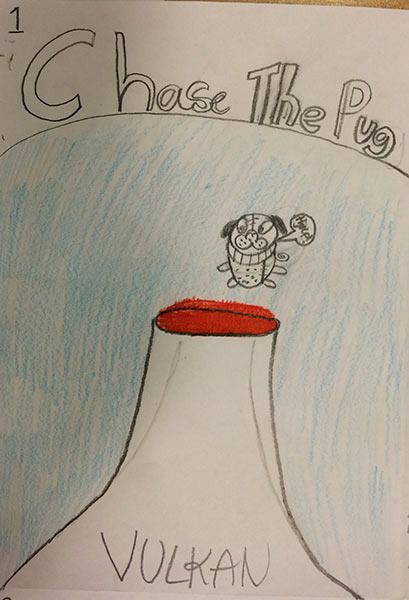 I like the 'Kaboosh' sound the lightning makes!




And this wins so far for most glam pug.




Lunch in the staff room, and you can just about see SILK Festival's Silje Maria Skaadel (in front), who was my excellent driver for most of the day.




And then we went to a very small school. The state had closed it, but the community wanted so badly to keep their school that they reopened it privately, as Kvalavag Montessori School. It's in a beautiful, wild-looking rocky area, and I had my nose glued to the car window the whole way.




They were a really fun, enthusiastic group of kids and funnily enough they all had mobile phones, so we had a massive selfie session at the end. (I wonder if any of them will pop up on my Instagram!)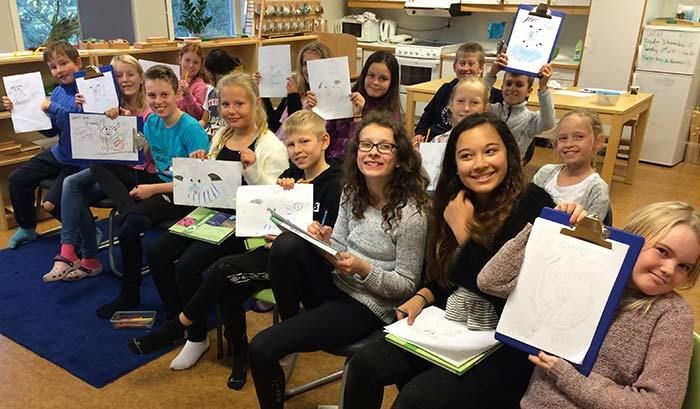 Here you can see some pug drawings and a Comics Jam:




Poor pug is stuck in cheese on Pizza Planet: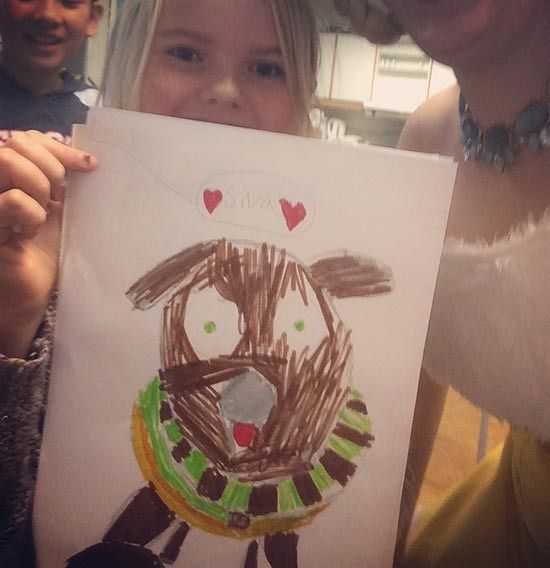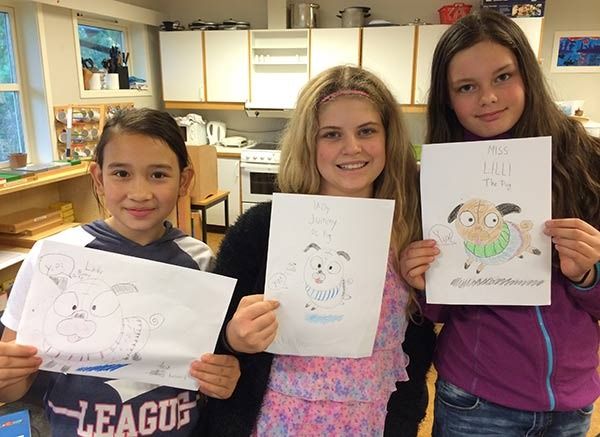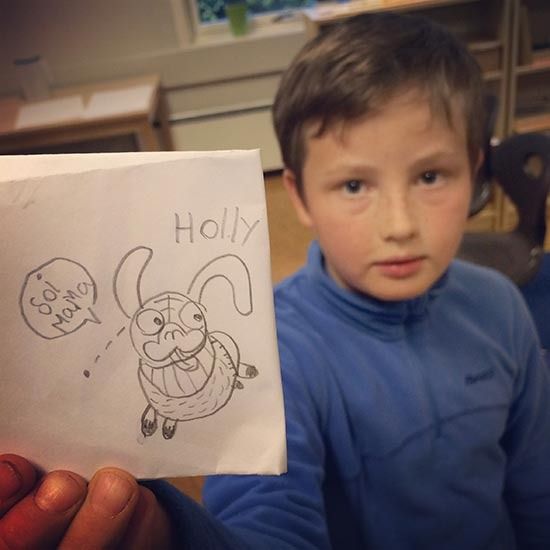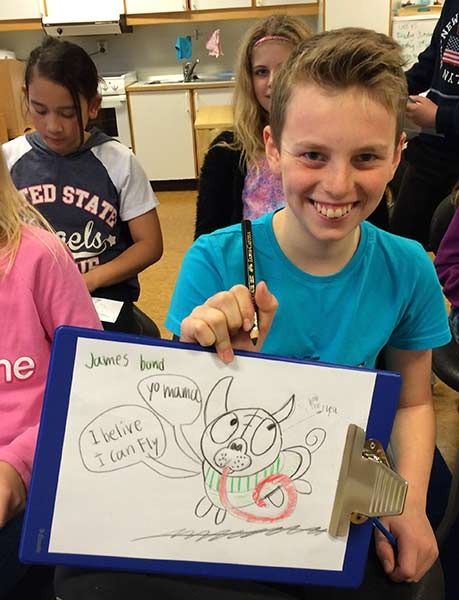 Here's a lovely teacher, and SILK Festival's stalwart trouper Ellen Skaadel, who drove me on the last leg of that day's tour.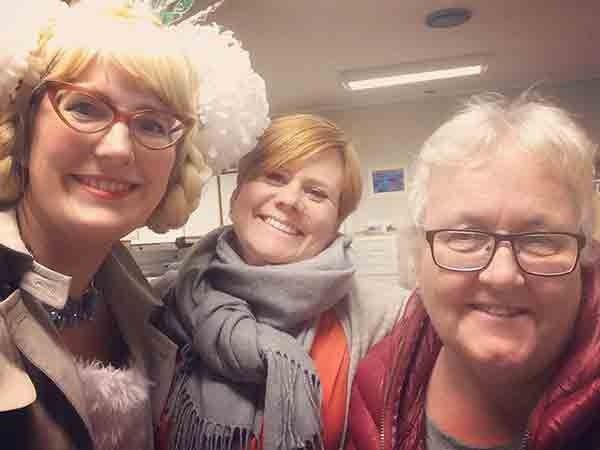 Thanks so much to the four schools for hosting me, and John, Silje and Ellen for looking after me!