This was a busy weekend! I'll blog next about the pirate shenanigans at the Society of Children's Book Writers & Illustrators Conference next, but first up, Thursday night's Guardian Children's Fiction Prize ceremony. Big congratulations to David Almond, who scooped this year's prize with A Song for Ella Grey! (Here he is with writer SF Said and me.)




David's books reworks the myth of Orpheus, whose wife Eurydice has died, about how he travels to the underworld to bring her back. (You can read a Guardian review by Marcus Sedgwick here.) I don't think anyone was surprised David had won, only that he hadn't won the prize earlier! (You can only win it once; Philip Reeve won it for the fourth book, A Darkling Plain, in his Mortal Engines quartet, so our books are disqualified.) I haven't yet read A Song for Ella Grey but I'm excited to dive in. (Click here to see the books on the prize longlist.)

Other highlights of the evening: Seeing illustrator and writer Michael Foreman and his hot-off-the-press new book spanning his career, A Life in Pictures. I think the last time I saw Michael was in 2008, one of the very early book events I went to, as a reviewer. He has an amazing career and he'd only just seen the first copy of this book; Philip and I felt honoured to get a peek. Seven Stories centre in Newcastle will be hosting a year-long exhibition of his work, tied in with the launch of the book, so if you're up there, do go along to see it! Here's a peek at some of his work on the Guardian website.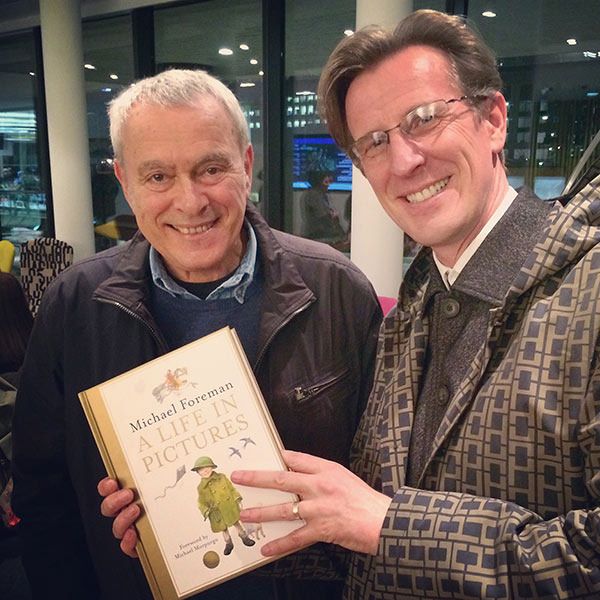 Second highlight, An Island of Our Own-shortlisted author Sally Nicholls brought along her new baby and I got to give it a cuddle. :) I've read An Island of Our Own and really enjoyed it, particularly the way she portrayed the Internet. So many stories I hear about kids and the Internet are about its dark side, but Sally focuses on the amazing power of the Internet for good, and how the young people in the story interact with it.





And one more highlight, getting to see Tall Story and Shine author Candy Gourlay. Candy's one of my favourite people but she's always surrounded by a zillion people she knows, and we're both very busy, so I see her A LOT less than I'd like to! But I did photobomb her a couple time that evening and it was great to see her a bit more at the SCBWI conference.




Hee hee! Polaroids have made a comeback! Here's one with Horrid Henry's Francesca Simon and with Philip.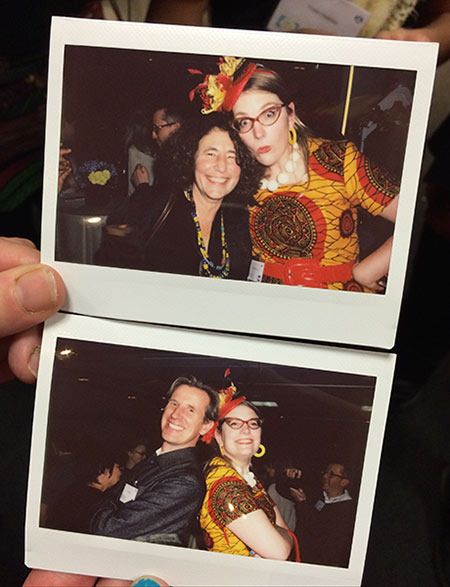 A few more pics: Kate Saunders signing a copy of her shortlisted book Five Children on the Western Front, and shortlisted writer Jon Water (for My Name's Not Friday with Guardian reviewer Julia Eccleshare, Philip and last year's longlisted author Natasha Farrant (for her second Bluebell Gadsby book, Flora in Love).




Shortlisted author Frances Hardinge (who always wears a good hat) and The Lie Tree which I'm desperate to read and I may have accidentally dropped that copy into my handbag. I adored her previous book, Cuckoo Song. (Here's a bit about that on my blog from earlier.)




And lots of Guardian child reviewers and shadow judges!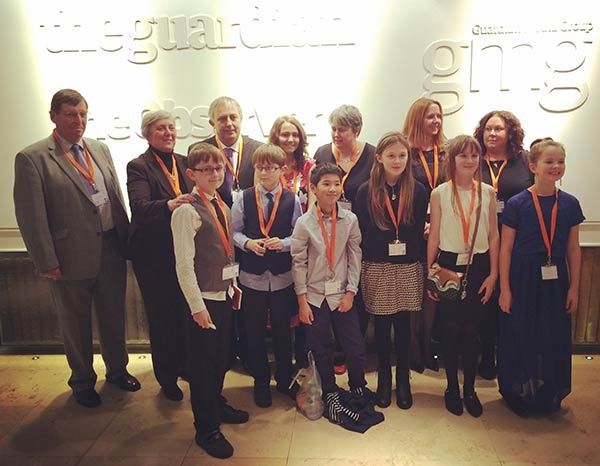 Big thanks to Emily Drabble (taking the photo of David) and Children's Book team for inviting me along, and you can follow them on Twitter at @GdnChildrensBks and be sure to check out their website, which is packed full of the fun activities and tutorials that don't make it into the printed pages.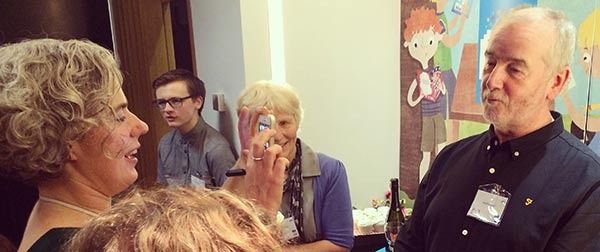 Find out how to draw PUGS here on the Guardian website...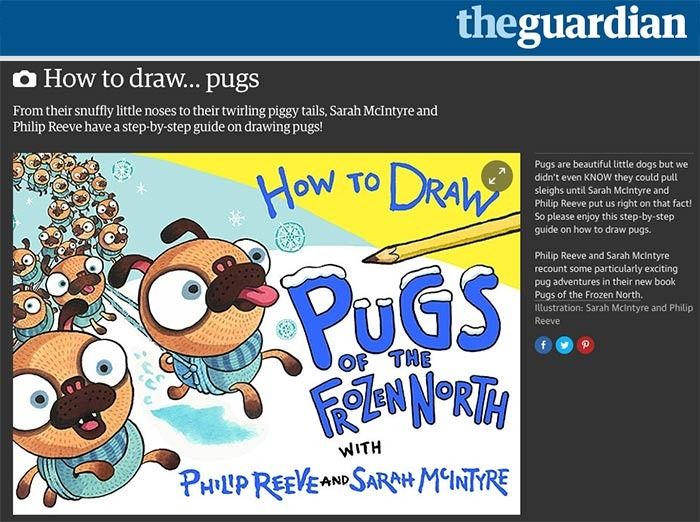 Also, big thanks to Books For Keeps for featuring Pugs of the Frozen North by Philip and me in their list of essential Christmas gift books! And including Philip's Railhead in their Books of the Year list.